A few ingredients and a few minutes are all you need to have this Easy Homemade Salsa ready for dinner.  Eat this salsa with your favorite chips, or use it along with your favorite Mexican dinner.
*Love these recipes?  Be sure to sign up for the BruCrew email to have them delivered to your inbox, so you do not miss any.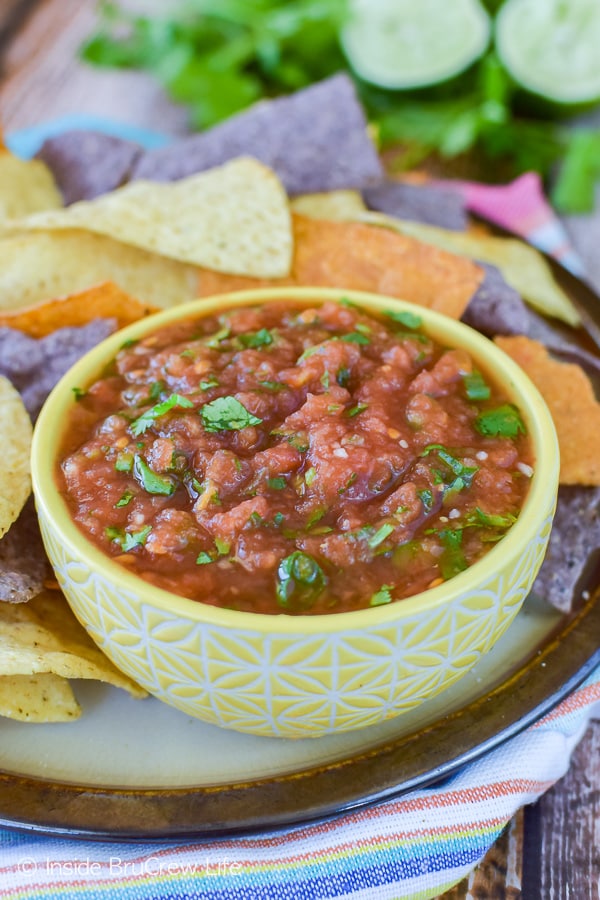 CLICK HERE TO PIN THIS RECIPE FOR LATER!
As soon as we pick up our kids from school in the afternoon, they almost always ask,  "What's for dinner?"
It's like these little humans in our home think that food is a necessity or something.  I could totally be fine with Homemade Chocolate Chip Brownies for dinner, but that isn't really looked upon as a nutritious dinner choice.
If you were to ask each one of our family members what their favorite meals are, I can guarantee that pizza and tacos would be in the top 3 for almost everyone.  These two meals get made the most around here.  Good thing everyone loves them.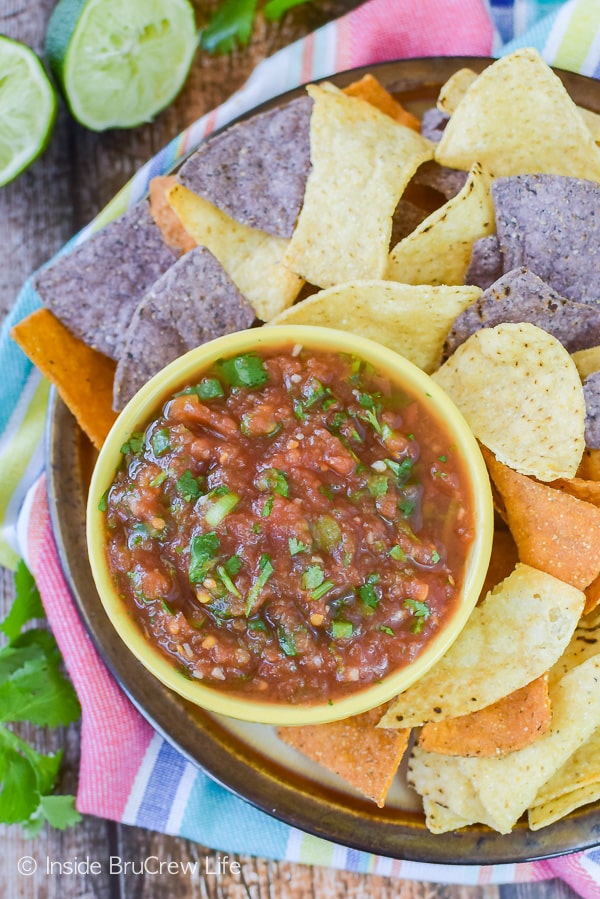 And we cannot have tacos without having salsa.  I cannot believe that I have not shared this simple homemade salsa with you.  Almost seven years of blogging, and I have kept my favorite salsa recipe from you.
Since Cinco de Mayo is just around the corner, I decided that it was time for our family salsa recipe to come to the blog. My husband has been making this salsa for years, and it truly is so delicious.  And so easy!!! It's the perfect topper to these Chicken Enchiladas or this Fiesta Nacho Chicken Bake.
Although, my hubby doesn't measure when he makes food. So, I had to stand right there with him this time, so I could measure everything he put in.  He said I was cramping his mojo, but I couldn't share a recipe that said a pinch of this and a pinch of that.  Ya know?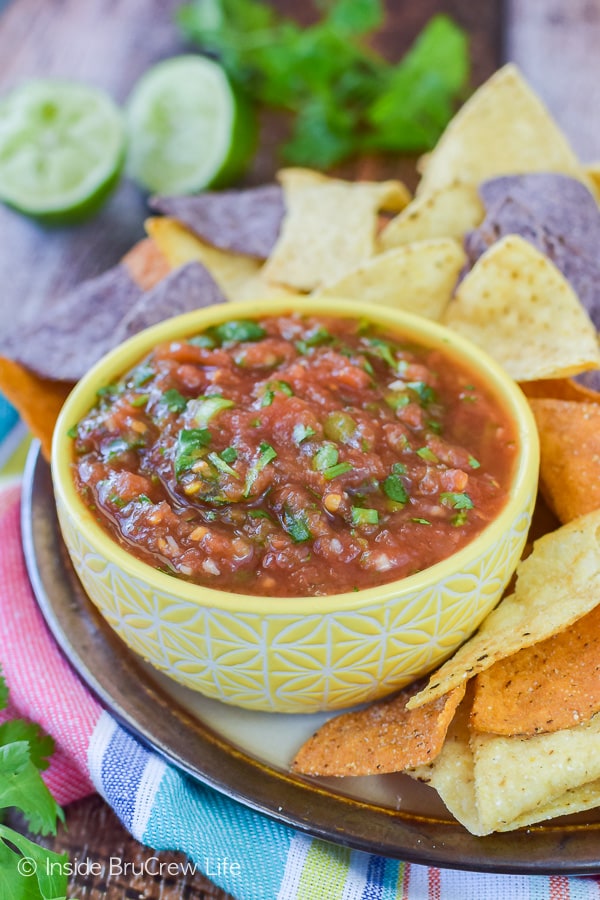 Whenever we go out to eat, we like to get the chips and salsa as an appetizer.  Most of the time, I am not crazy about those salsas because they just don't taste right.  My husband says it is because his salsa is made with love!
I prefer my salsa to have that fresh tomato taste, but it can't be chunky.  And it cannot taste like tomato puree.  This is salsa, not sauce.   Yes, I do know that I'm picky.  Anyone else out there that is particular in their salsa must haves?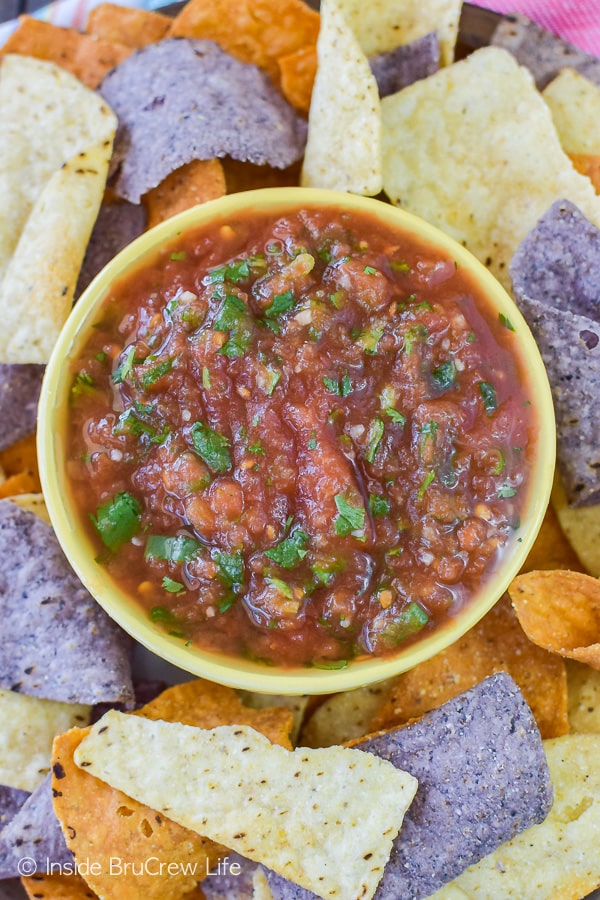 Now I'm sure you are anxiously waiting to see what makes this salsa so amazing that I could eat an entire bag of chips with it.
How to make our Easy Homemade Salsa recipe:
Canned tomatoes are the secret to our awesome salsa.  Say wwwwhhhaatt?  I know, you are shocked, right?
My husband does a ratio of 2:1.  Two cans of spicy tomatoes and one can of regular diced tomatoes, drained and pureed to your preferred consistency.  We like to use an immersion hand blender, but if you don't have one of these, a regular blender works just as well.
Then add some fresh onions and cilantro, and this Easy Homemade Salsa is ready for you to go to town on it.  We usually make a double batch because it never lasts long around anyone here.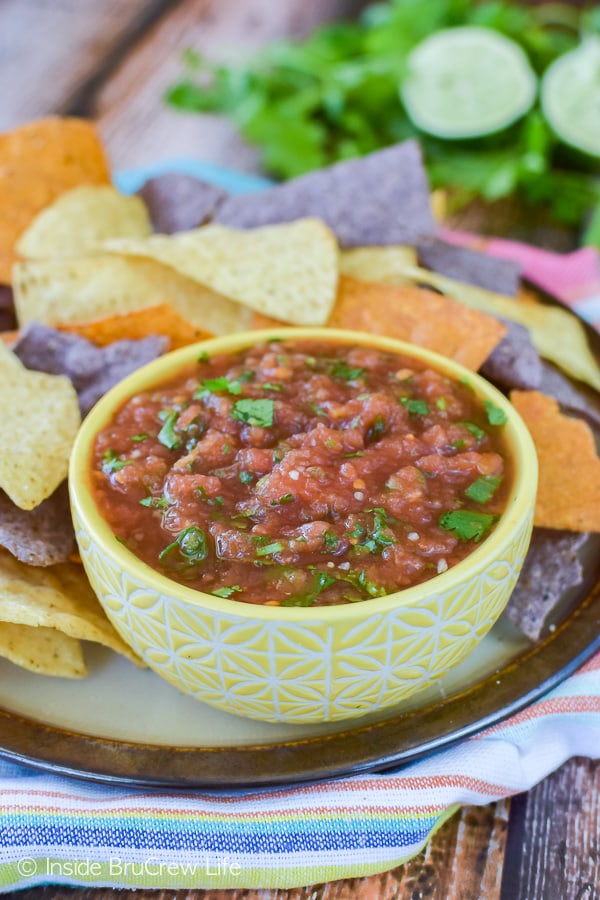 Looking for more dip recipes to dig into with a bag of chips?
Stay up to date on all the BruCrew baking here:
FACEBOOK | PINTEREST | GOOGLE+ | TWITTER | INSTAGRAM | BLOGLOVIN
 Sign up to receive an email in your inbox for each new recipe:
EMAIL SUBSCRIPTION
 Easy Homemade Salsa recipe: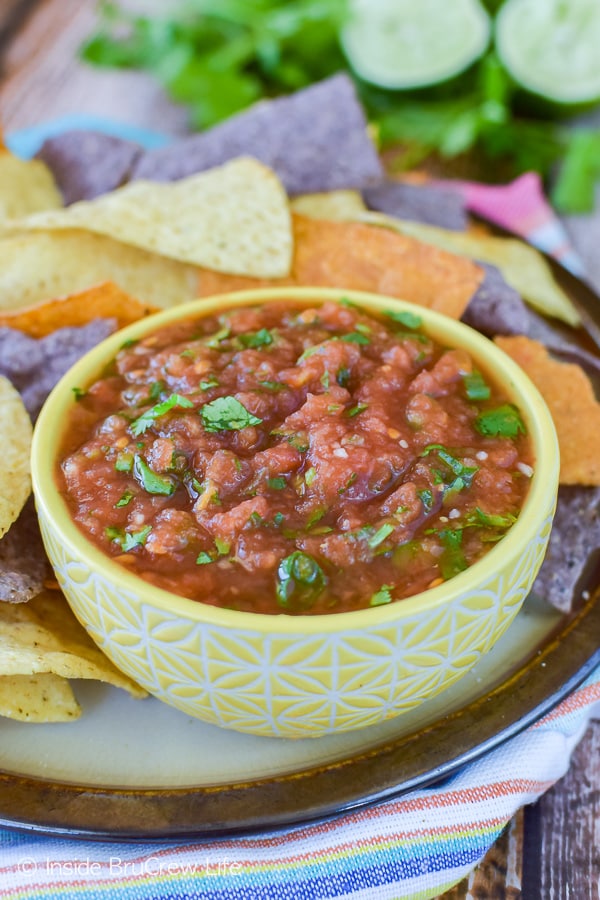 A few ingredients and a few minutes are all you need to have this Easy Homemade Salsa ready for dinner.  Eat this salsa with your favorite chips, or use it along with your favorite Mexican dinner.
Ingredients
2 - 10 ounce cans diced tomatoes and green chilis, drained
1 - 14.5 ounce can diced tomatoes, drained
3 green onions, diced
1/2 cup finely chopped fresh cilantro
1 Tablespoon minced garlic
1 small lime, squeezed
1 teaspoon salt
Instructions
Use an immersion blender or regular blender to puree the tomatoes to the desired consistency.
Stir in the onions, cilantro, garlic, lime juice, and salt.
Refrigerate for a few hours for the flavors to come together. Serve with tortilla chips.
Notes
*You can use mild or hot tomatoes, depending on how spicy you like your food.
https://insidebrucrewlife.com/easy-homemade-salsa/
Copyright Inside BruCrew Life

*This post contains an affiliate link.  Thank you for letting me share products I know and love.
SaveSave
SaveSave
SaveSave