Grab a bag of chips because in just a few minutes you can be enjoying this Easy Salsa Recipe. Tomatoes, cilantro, and lime mix together to create the best homemade salsa. It's the perfect topping for nachos, enchiladas, or tacos.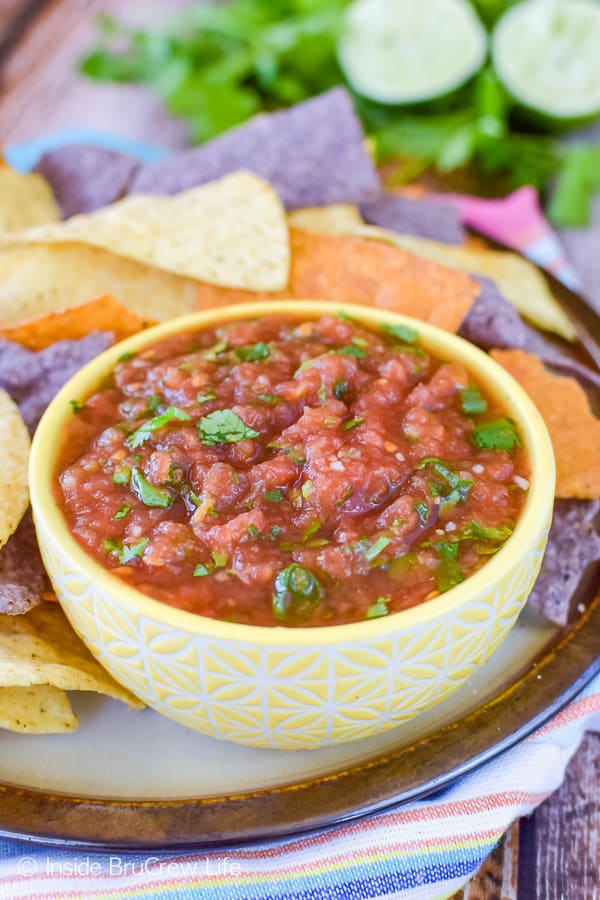 Easy Homemade Salsa
Taco Tuesday just isn't complete without a bowl of freshly made salsa. My husband has been making this homemade salsa since we got married. It is our go to recipe any time we are having tacos.
Although, my hubby doesn't measure when he makes food. So, I had to stand right there with him this time, so I could get the exact measurements for his easy salsa recipe. He said I was cramping his mojo, but a recipe that says pinch of this and a pinch of that isn't helpful. Right?
It's so easy to make!!! Open a few cans of tomatoes and blend to your favorite consistency, then stir in some finely diced veggies. We love to season ours with a little bit of lime juice and salt and pepper.
With Cinco de Mayo just around the corner, spicy salsa is the perfect addition to this Easy Chicken Enchiladas recipe or this Nacho Chicken Casserole.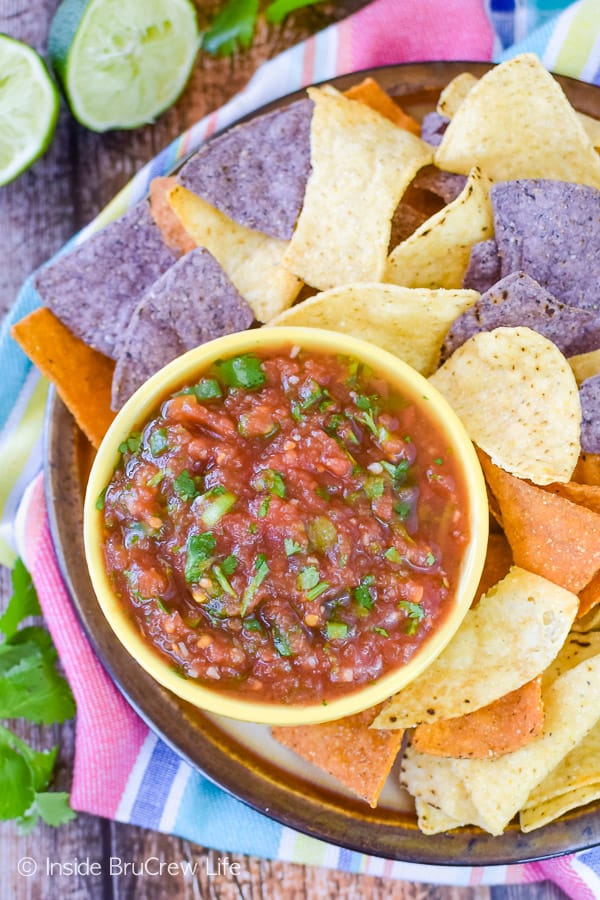 Salsa Ingredients
The secret to our homemade salsa is that we use canned tomatoes. Adding a few fresh veggies gives it that restaurant style salsa flavor that we love.
My husband does a ratio of 2:1. Two cans of spicy tomatoes and one can of regular diced tomatoes, drained and pureed to your preferred consistency.
Canned Tomatoes - two cans of diced tomatoes and one can of regular diced tomatoes balances the spicy flavor
Onions - We prefer to use green onions, but you can use any kind of onion. Traditional salsa is made with white onions.
Cilantro - adds a great herb flavor
Minced Garlic - fresh or jarred is fine
Lime Juice - squeeze the juice from one lime
Salt - season to taste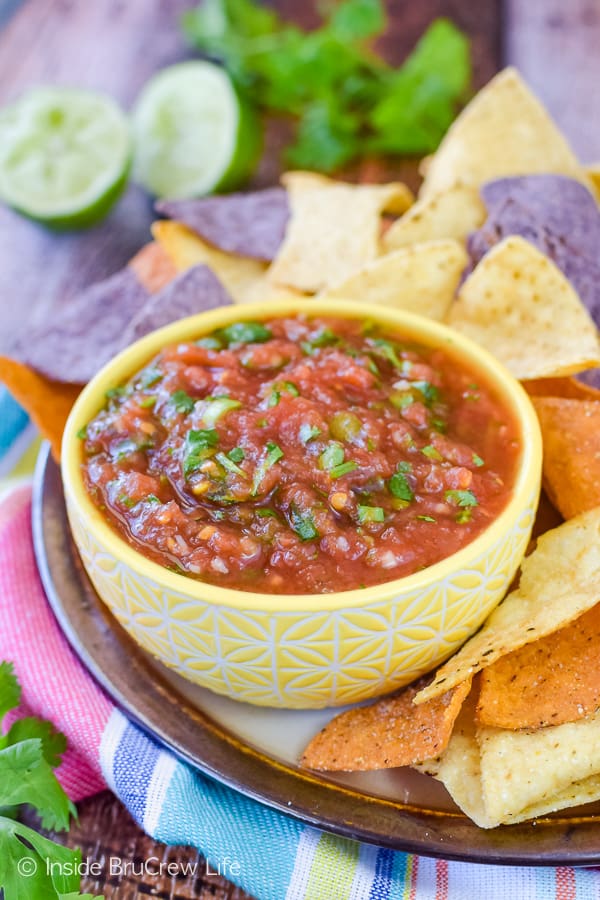 How to make Salsa
This easy salsa comes together in just minutes. It can be eaten right away, but it really tastes best if it can chill for an hour or more.
Step One: Puree Tomatoes.
Open three cans of canned tomatoes and drain.
Use an immersion hand blender or regular blender to puree the tomatoes to your preferred consistency.
Step Two: Chop Veggies.
Dice green onion and cilantro into small pieces.
Stir the veggies and garlic into the tomatoes.
Step Three: Season to Taste.
Add lime juice and salt to taste.
Refrigerate at least one hour, so the flavors can deepen.
Salsa Variations
Mild - Use 1 can diced tomatoes with mild green chilies and 2 cans of regular diced tomatoes.
Medium - Use 2 cans diced tomatoes with green chilies and 1 can regular diced tomatoes
Hot - Use 2 cans tomatoes with green chilies and 1 can hot tomatoes with green chilies.
Smoky - Use fire roasted canned tomatoes with green chilies plus 1 teaspoon smoked paprika.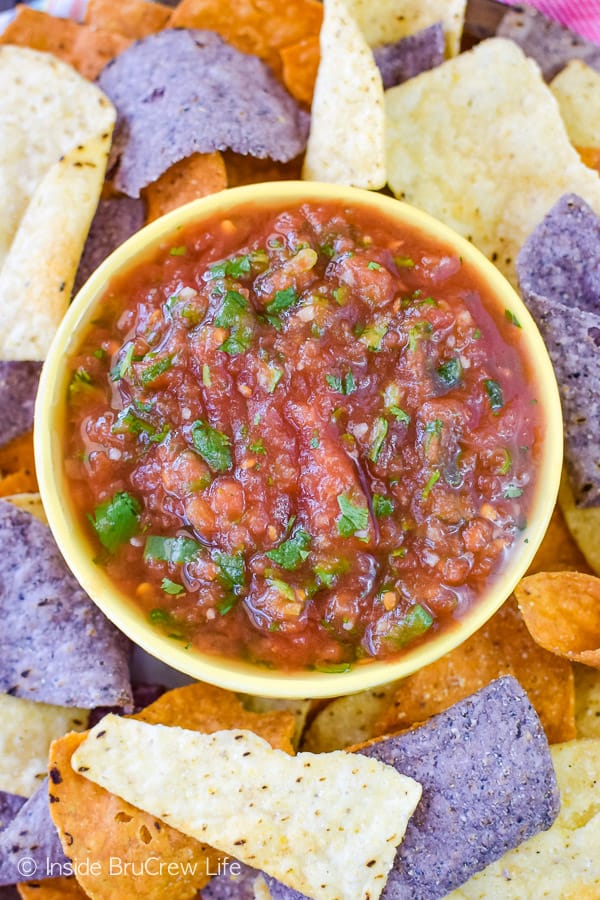 Storage
Refrigerator - Store the homemade salsa in a tightly sealed container in the fridge for 5-7 days.
Freezer - Freeze salsa in freezer bags or container for up to 1 month. Thaw in the refrigerator before serving.
Frequently Asked Questions
Is this salsa spicy?
That depends on what canned tomatoes you buy. If you use mild tomatoes with regular tomatoes, the salsa is not very spicy.
How do you make homemade salsa hotter?
There are three different ways to make homemade salsa even hotter. Use tomatoes with hot green chilies. Add a teaspoon of hot sauce. Stir in some diced jalapenos.
How do you fix bitter salsa?
To correct a bitter salsa, try stirring in a little bit of honey or sugar to sweeten it. You can also add more lime juice and salt.
CLICK HERE TO PIN THIS RECIPE FOR LATER!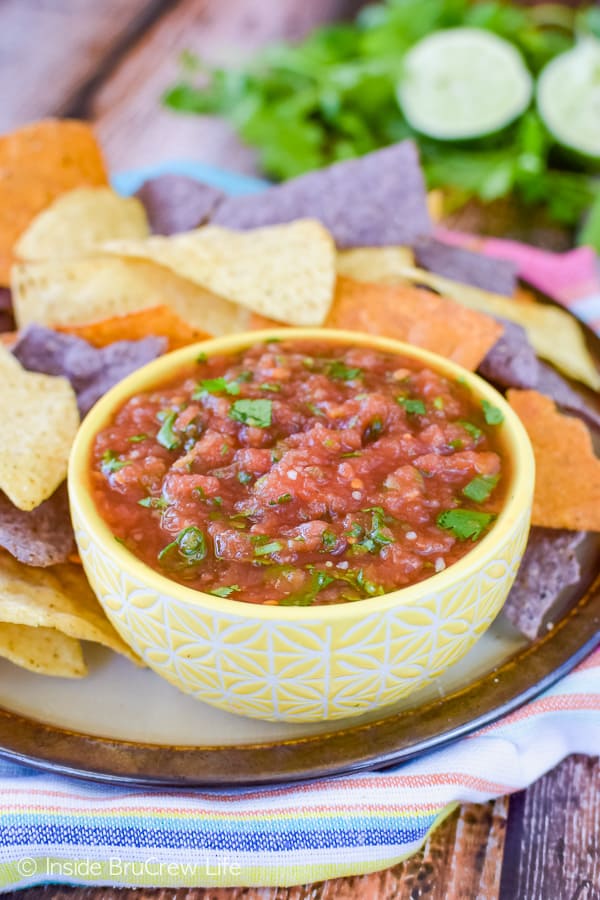 What to serve Salsa with
Other salsa recipes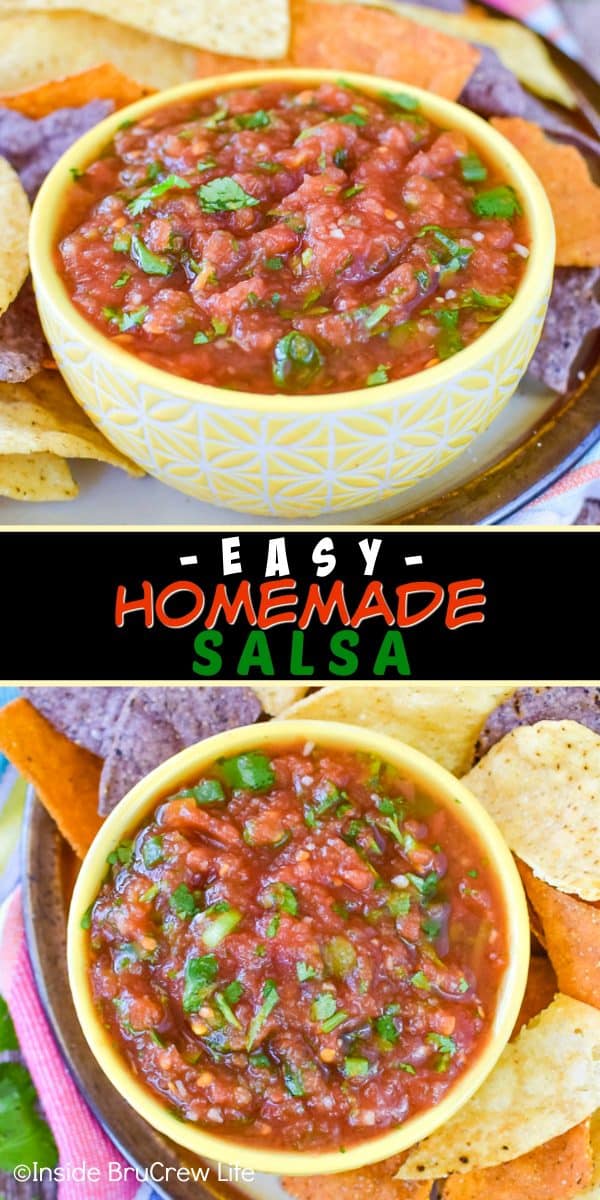 *This post contains an affiliate link. Thank you for letting me share products I know and love.
**The post for Easy Homemade Salsa was first published on April 29, 2015. The photos have been updated and it was republished on April 20, 2019.
SaveSave
SaveSave
SaveSave