Spicy Bacon and Cheese Pinwheels: These easy rolls are filled with three kinds of cheese, bacon, and spicy green chilies. Perfect for snacking on after school or while watching the big game.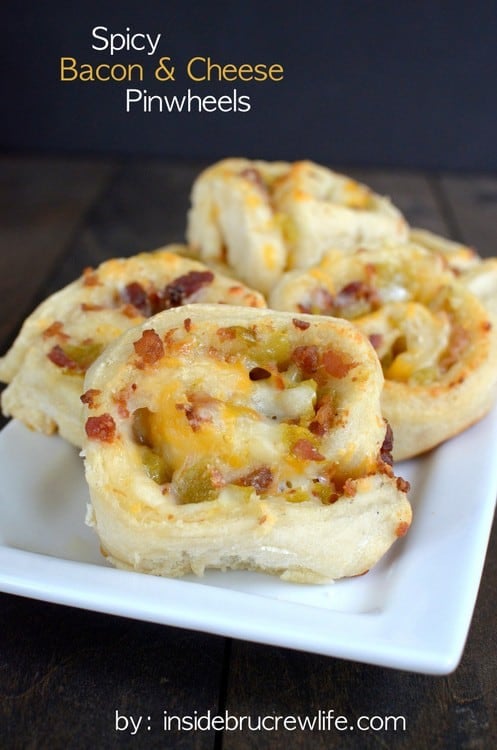 "What's for dinner?"
We hear that question without fail every single day right after school. Most of the time we haven't even pulled out of the parking lot yet.
Our kids are definitely in the "hungry all the time" stage. All the sports and activities has them burning off the food that they are consuming. So, I have to have something ready for them to eat after school that can hold them off until dinner is ready.
Most days we tell them fruit or veggies, but then there are days when I have have fun and make things like these Blackberry Brie Bites for them to munch on while doing homework. That is if I don't get to them first. Mmmmm those Brie Bites are so good!!!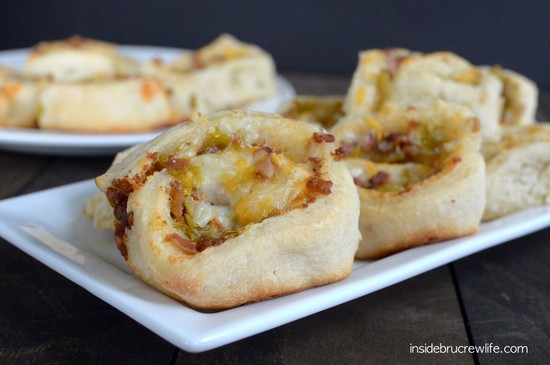 These pizza rolls are a fun snack and so easy to make. One way I like to keep them simple is by using a roll of refrigerated pizza crust. Open and spread out...that's my kind of crust.
Melted butter and Parmesan cheese gets spread over the crust. Then mix together your favorite cheeses, bacon, and green chilies. I used a mixture of mozzarella and cheddar cheese because that is what was in our fridge that day, but feel free to use any kind.
Now for the tricky part. Rolling it up without everything falling out. My advice is to start on the longest side and go slowly and evenly. Yes, some of the cheese and bacon will fall out. It's ok, just keep rolling.
Cut the roll into 12 even slices and place them side by side in a buttered dish. I used a 9x13, but just so you know you will have some room at the end of the dish. Now here is where you can add the fallen cheese and bacon back in. Press it gently into the rolls that are in the pan. When you are satisfied with how they look, pop them in the oven for 20 minutes.
Ooey, gooey cheesy goodness in just mere minutes. Who needs dinner when there are rolls like this around?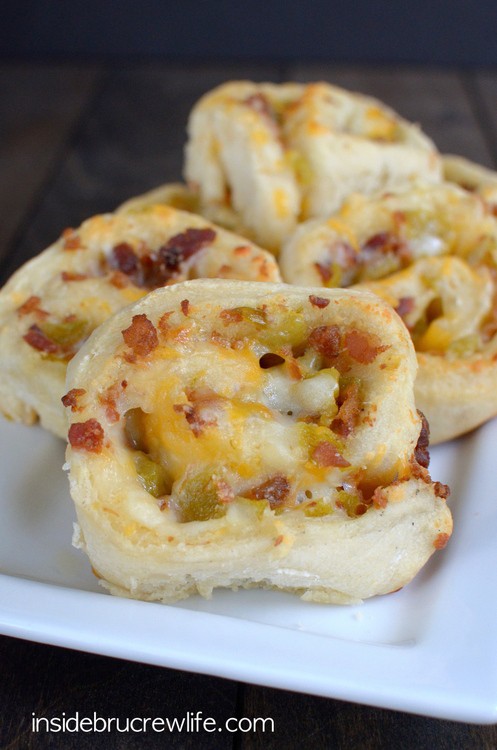 More Cheesy Dips