I am so excited to be partnering with the American Dairy Association this month to share a fun Back To School Dairy Fuel recipe. These Pizza Pinwheels are made with yogurt and cheese and make great lunches or after school snacks.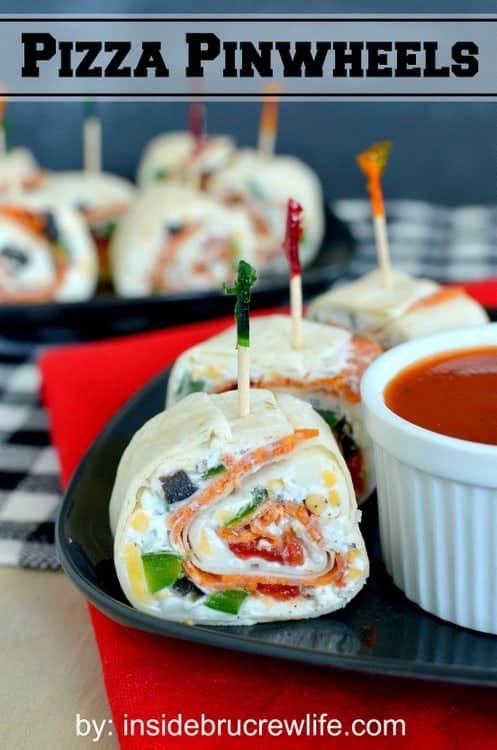 Do you remember school lunches as a child? Now I'm sure school lunches have come a long way since I was in school, but I just remember them not being my favorite. I always wonder how many school lunches end up in the trash just because it isn't something the kids do not like.
We have our three kids bring a bagged lunch to school most days because we like that they can choose what they will eat for the day. They do request these Reese's Peanut Butter Pudding Cookies quite often.
My kids like that they can pick different foods every day, and they like choosing how much of something they can eat. I can tell just how much they are growing by watching how much they want to eat each week.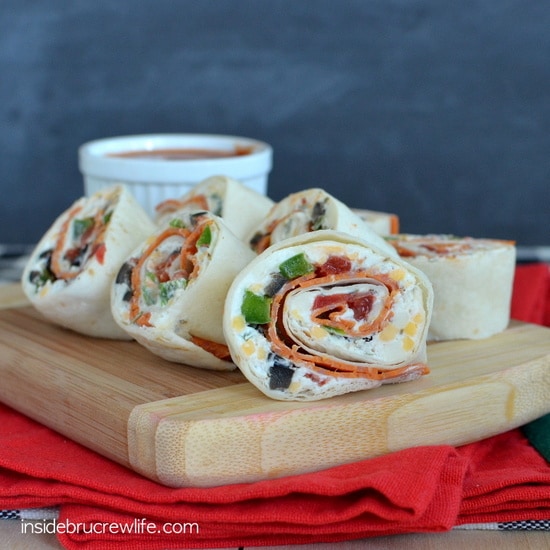 Our kids are old enough now to pack their own lunches in the morning. Most days I just have to help warm the Chicken Noodle Soup or fill up containers with Veggie Pasta Salad if that's what they pick. They definitely are not big sandwich eaters, so I always have to have different lunch options on hand for them to choose from.
By keeping an eye on what they pack in the morning, I can make sure they aren't sneaking extra cookies or cake in their bag. We try to encourage them to eat more fruits, veggies, yogurts, and cheese.
These healthy choices help keep them fuller throughout the day, and they also provide the energy my kids need to stay focused on their school work.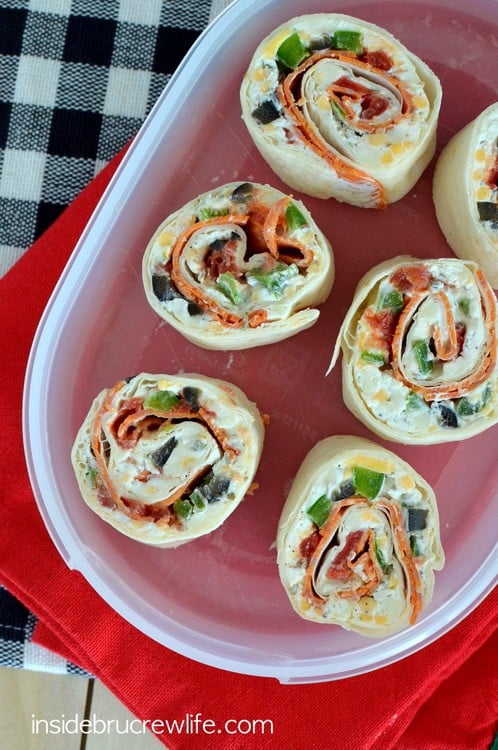 This past week I wanted to try something new for lunches and our after school snack time. Our family loves eating pizza, so I incorporated those flavors into a fun pinwheel. I love being able to add yogurt and shredded cheese to the cream cheese for an added boost of protein.
Those extra proteins help keep my kids healthy and awake while they are learning at school or playing on the playground.
Did you know that most people do not get the recommended servings of dairy each day? In fact, each person usually needs one more serving a day than what they actually consume.
Here is a handy dairy tracking sheet for you to print and place on your refrigerator if you are not sure your family gets enough dairy.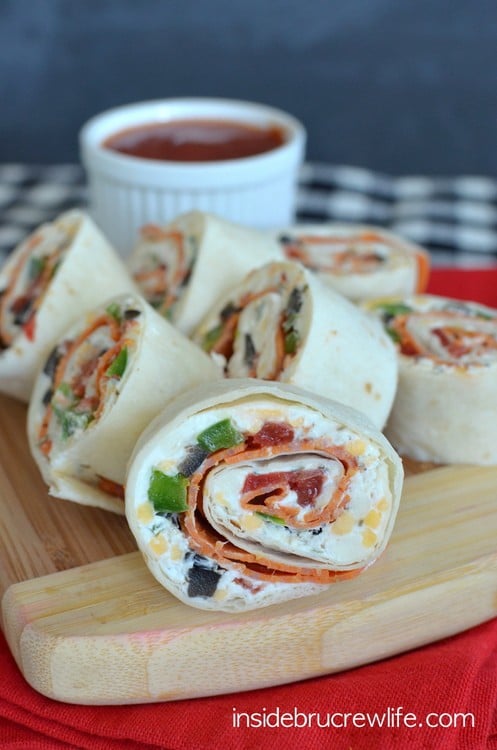 Pizza Pinwheels
These pinwheels are great finger foods which kids of all ages love. There is just something about small bite sized food that is just so much fun to eat.
These easy pizza rolls are great for school lunches, after school snacks, mid night snacking, or tailgate parties.
Protein from the yogurt & cheese and lots of veggies make these a pretty healthy snack option for any time. Cheese tastes great, and it helps people eat more of the right foods.
If you want to read more about how cheese can be incorporated into your healthy living, check out this fact sheet on cheese.
I love how easy these Pizza Pinwheels can be made to your taste. Feel free to put your favorite toppings in with the cheese mixture, then serve these on a plate with fun toothpicks.
Honestly, they will disappear in a hurry, and you will feel great knowing you helped everyone get another serving of dairy for the day.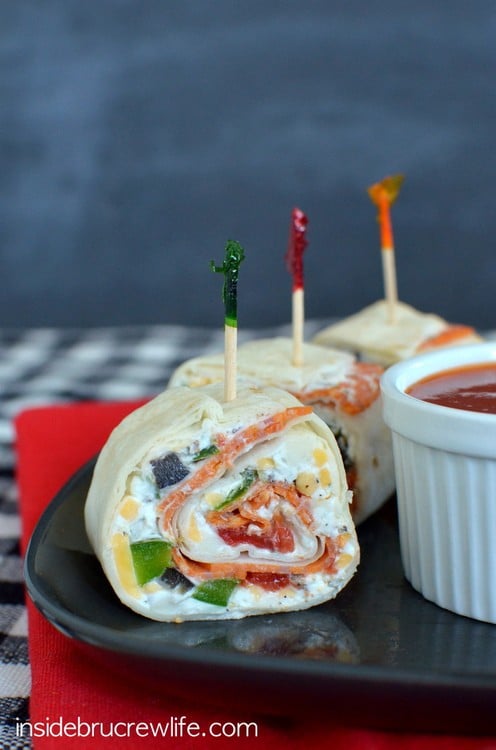 Connect more with the American Dairy Association:
Facebook | Twitter | Pinterest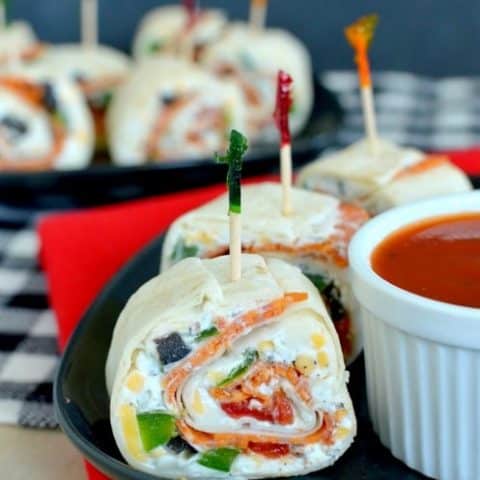 Pizza Pinwheels
Cheese and yogurt pinwheels take on a pizza flavor when filled with your favorite pizza toppings.
Ingredients
4 ounces cream cheese, softened
1/4 cup plain greek yogurt
2 teaspoons dried oregano
1/8 teaspoon garlic powder
1/4 cup shredded cheddar cheese
1/4 cup shredded mozzarella cheese
1/4 cup diced black olives
1/4 cup diced green pepper
1/4 cup canned diced Italian style tomatoes, drained
1/2 cup pepperoni
3 tortilla shells
Instructions
Combine the cream cheese, yogurt, oregano, and garlic powder. Stir until creamy.
Stir in the shredded cheeses. Spread the cheese mixture evenly on the 3 tortilla shells.
Evenly sprinkle the olives, green peppers, and tomatoes over the cheese mixture. Top each tortilla with a layer of pepperoni.
Gently roll the tortillas up tightly, making sure everything stays inside.
Wrap in plastic wrap and refrigerate for at least 30 minutes.
Take off the plastic wrap and cut each tortilla into 8 pinwheels. Serve with toothpicks if desired.
Nutrition Information:
Yield:

24
Serving Size:

1
Amount Per Serving:
Calories:

63
Total Fat:

5g
Saturated Fat:

2g
Trans Fat:

0g
Unsaturated Fat:

2g
Cholesterol:

12mg
Sodium:

120mg
Carbohydrates:

3g
Fiber:

1g
Sugar:

1g
Protein:

2g
Disclaimer: I was compensated by ADA Mideast for my time in creating this recipe and post. All opinions are 100% my own.