Monkey Bread Muffins are a delicious breakfast treat. Homemade dough rolled in cinnamon sugar and drizzled with a sweet glaze makes a muffin recipe that everyone will go bananas for.
*I am partnering with Dixie Crystals to bring you this breakfast recipe. Click HERE to see the full recipe.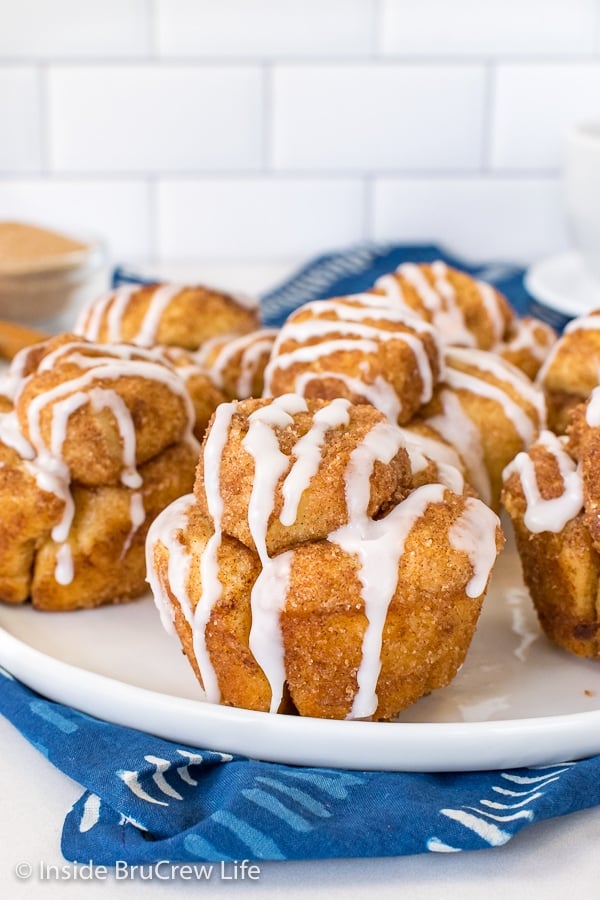 One of our kids absolute favorite breakfast treat is monkey bread. You know the stuff, right? Biscuit dough cut up and rolled in butter and cinnamon sugar and then baked to gooey perfection.
If you have never tried it, trust me and head to the kitchen now because you need monkey bread in your life ASAP. You are going to love this homemade recipe because it tastes like the inside of cinnamon rolls.
Since brown food isn't the prettiest, I added a drizzle of sweet glaze over the tops of these Monkey Bread Muffins to make them pretty and even more delicious. It's not necessary, but tastes oh, so good!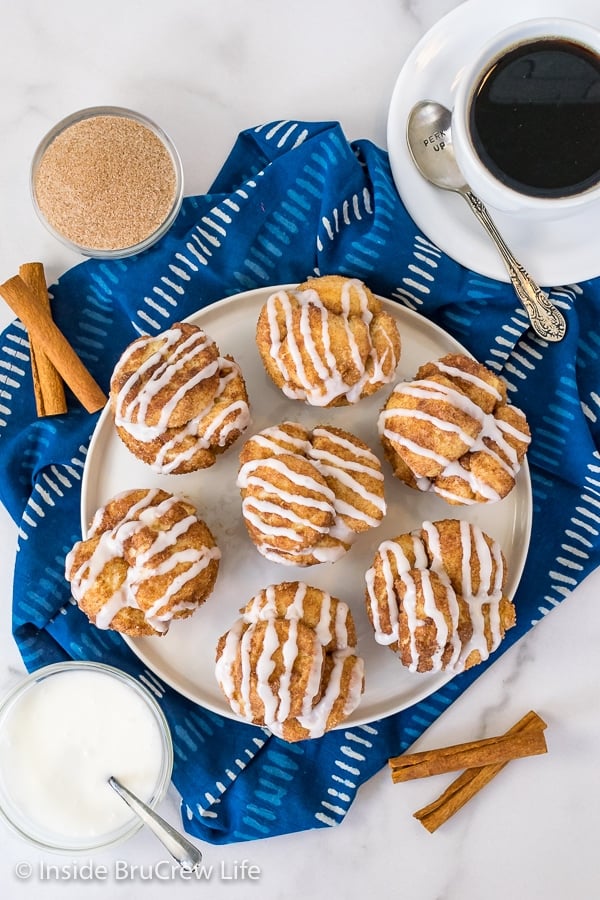 What is Monkey Bread?
This sweet, soft pastry is also called pull apart bread, sticky bread, or bubble loaf. It is typically baked in a ring (bundt pan) and served in the United States for breakfast.
The recipe consists of dough balls that have been dipped in melted butter, rolled in Cinnamon Sugar, and baked in a bundt pan until crispy, gooey, and delicious.
Monkey bread is usually sweet, but it can be savory too. Think pizza pull apart bread or garlic parmesan pull apart rolls.
Do I have to use a bundt pan for monkey bread?
I'm so glad you asked. No, you can also bake it in a loaf pan or in muffin tins.
Monkey bread in muffin tins makes these monkey bread bites the perfect individual size for breakfast or brunch.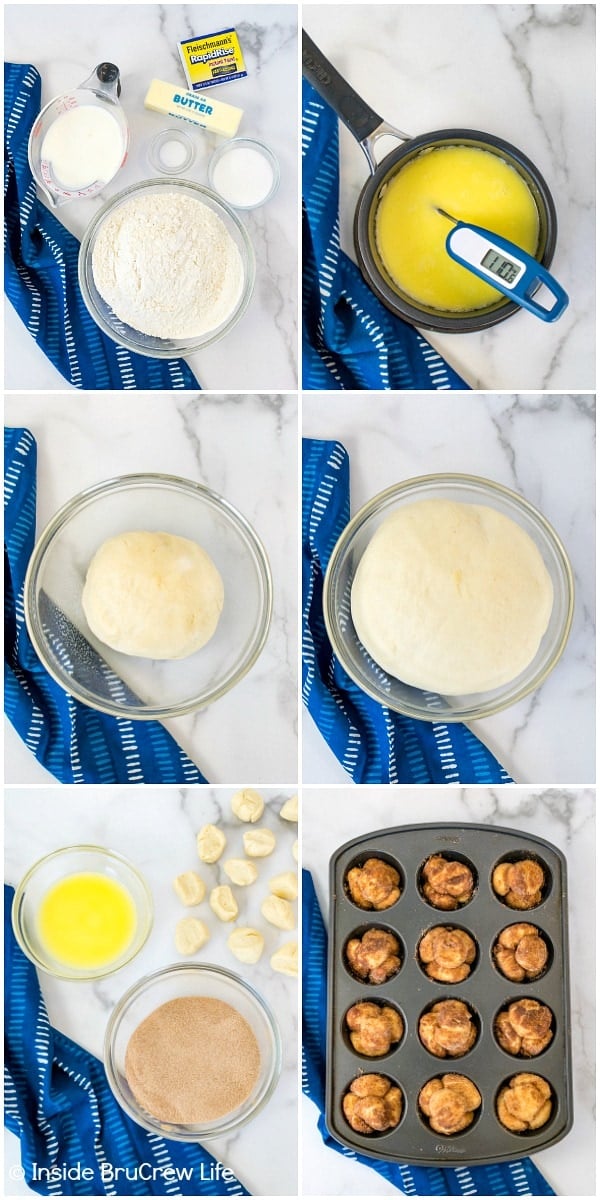 Most monkey bread recipes use canned biscuit dough, and that totally works in a pinch. But let's be honest. Everything made from scratch is better.
Yes, it does take longer to prepare than the common short cut version with store-bought dough, but it is so worth it!! Scratch dough is much lighter and softer.
For the base of this mini monkey bread, I used the dough recipe from this Raspberry Chocolate Chip Pull Apart Coffee Cake. It's easy to make and tastes so good.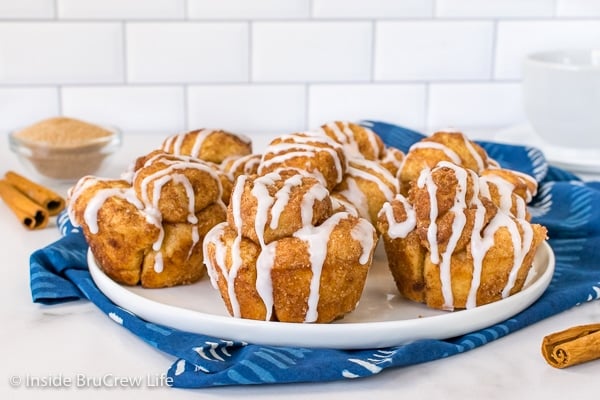 For this recipe we are starting with a homemade bread recipe that uses quick rise yeast. This step will skip a rise time making it faster to get to the finished monkey bread bites!
How to make Monkey Bread Muffins:
Stir together all the dry ingredients in a bowl. Yeast included.
Place the milk and butter in a pan over low heat. Stir until melted together. Remove and cool to 110 degrees, so the heat does not kill the yeast when you pour it in. A cooking thermometer is great for know what your milk temperature is.
Pour the heated milk into the dry ingredients and mix with a dough hook until it all comes together in a dough ball. Place on a floured surface and knead about 10 times until smooth.
Place the dough ball in a greased bowl, turning once to coat the dough. Cover with a towel and place in a warm place to rise and double in size. This will take about 45 minutes to an hour.
Punch the dough down and cut into 72 even pieces. PRO TIP: Cut the main dough ball into 4 balls, then cut each of those balls into 3 smaller balls. Cut each of those balls into 6 smaller pieces.
Roll in butter and cinnamon sugar and place 4 dough balls in each greased muffin cavity, pressing down slightly. This will give you 18 muffins.
After baking, let the monkey bread muffins cool in the pan for about 10 minutes before lifting out gently. This allows the extra butter and sugar goodness to soak into the cinnamon pull apart muffins.
A drizzle of glaze makes these cinnamon sugar muffins look and taste so good. It's totally optional, but I highly recommend the extra glaze.
I am sharing this recipe over at Dixie Crystals today.
Click on Monkey Bread Muffins
to see the full recipe.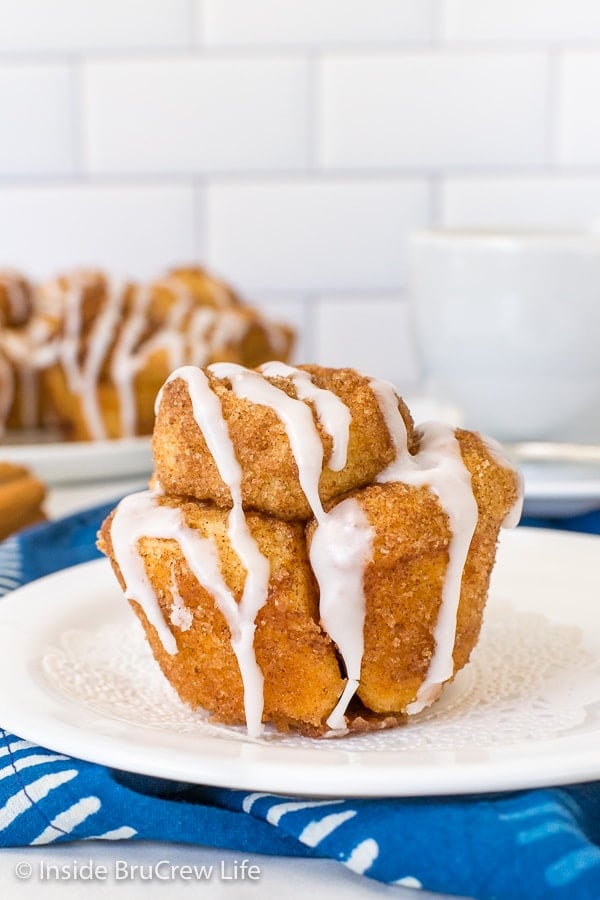 More breakfast recipes: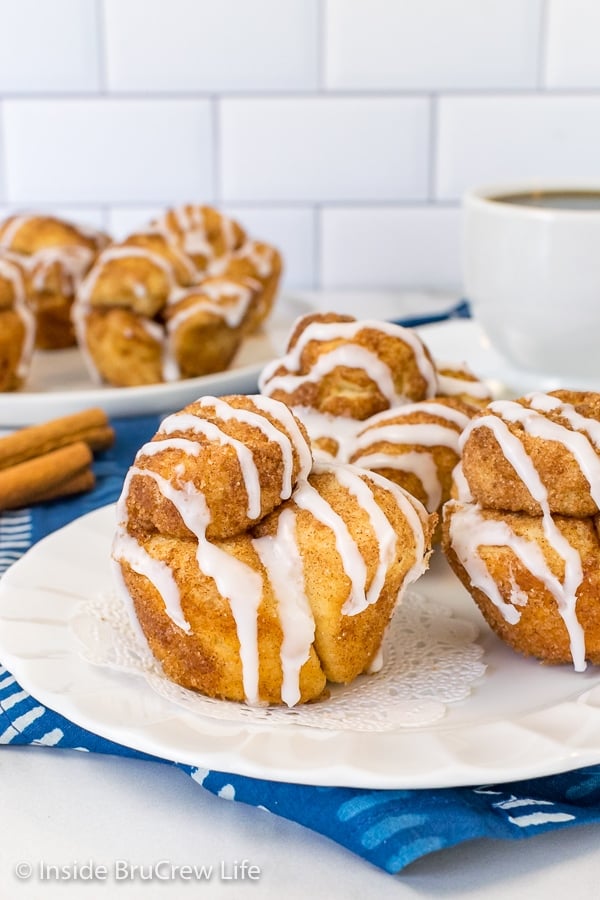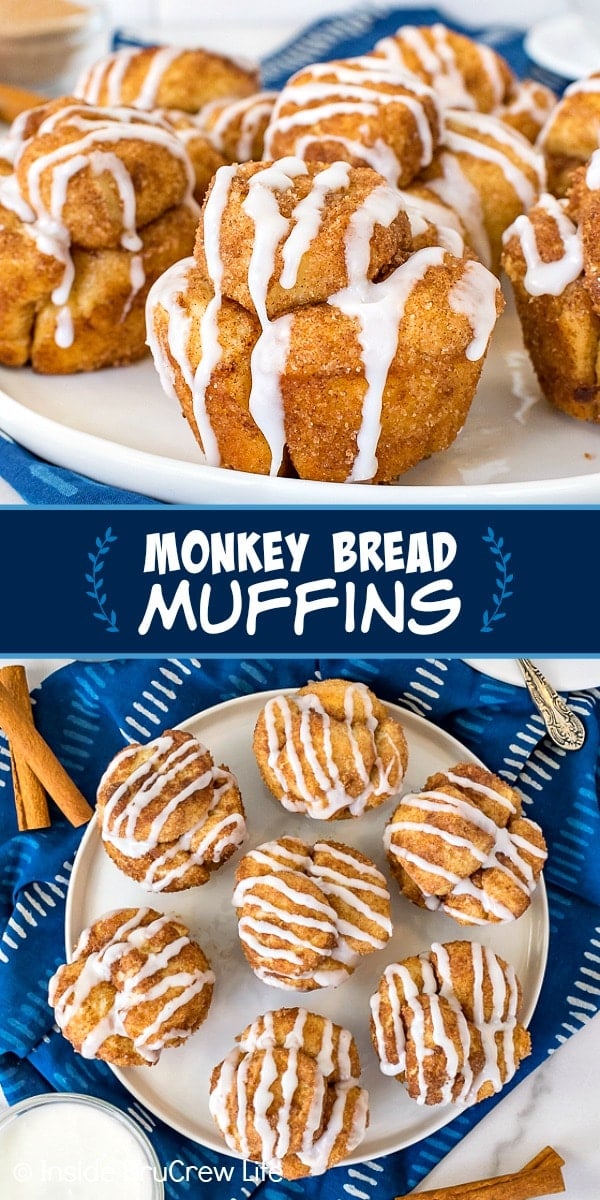 *Dixie Crystals has sponsored this recipe and post. All opinions expressed are 100% my own. Thank you for letting me share products and brands we use and love. See my disclosure policy for more information.*