This Philly Cheese Steak Queso Dip is a delicious and easy appetizer to add to your game day plans. If you need an easy queso to dip all the things in, this is the recipe you need.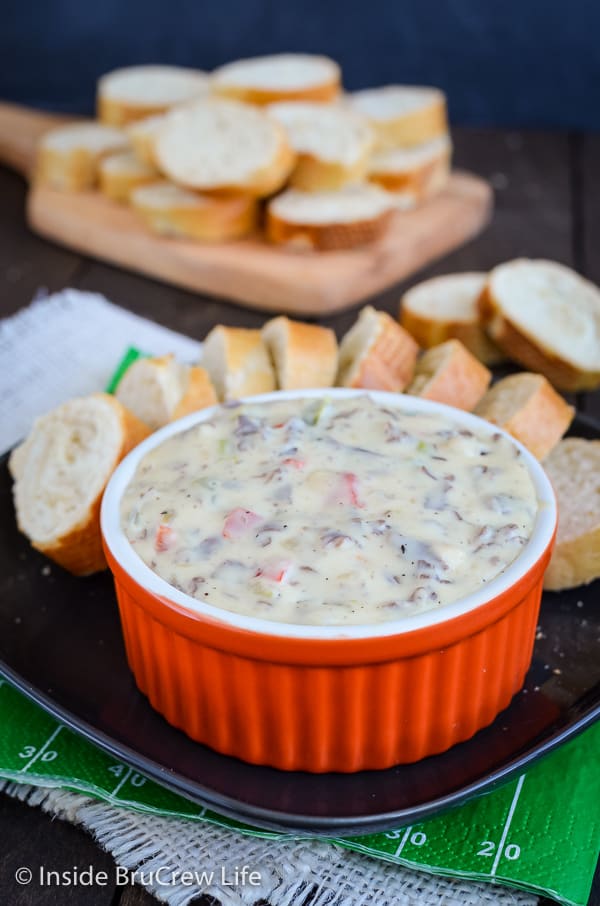 Let's be completely clear. I look forward to Super Bowl Sunday for one reason, and one reason only. The game day food!!!
I'm sure that doesn't surprise you one single bit given the amount of recipes I share here. The past month every Sunday afternoon there has been a game playing. I only know this because I walked through the room to get to the kitchen about 8 times each game.
No, not to eat. I just get a little stir crazy when I don't have anything to do. So, I get up and wander around and see what is in the fridge and the cupboards, maybe do some dishes, and then possible bake something.
All while the boys are in the background cheering on their teams.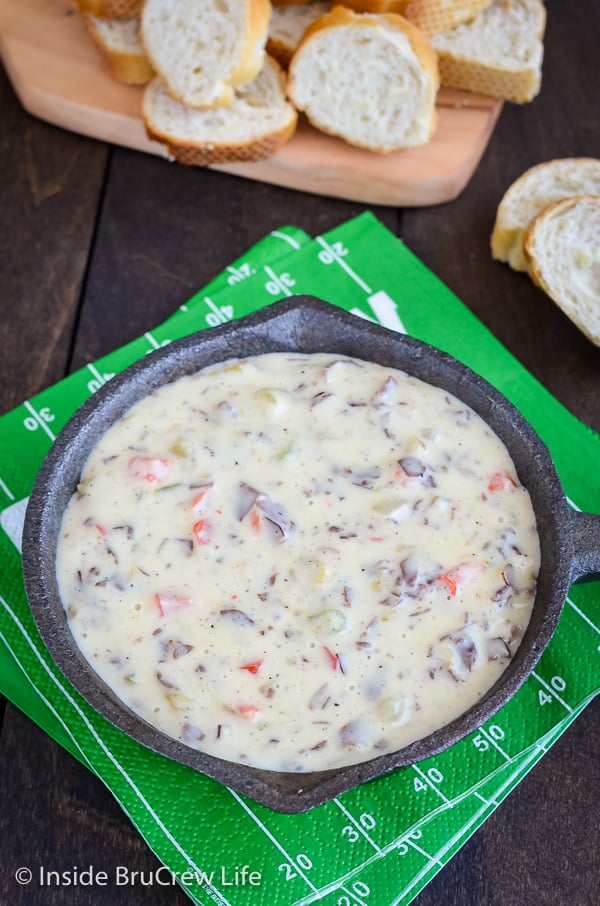 Now I can totally start loving football when the chips and dip start coming out. I am excited to start thinking about what game day food we will be making for Super Bowl Sunday.
I can't wait to eat Pizza Pinwheels, Buffalo Chicken Totchos, and Football Rice Krispie Treats!!!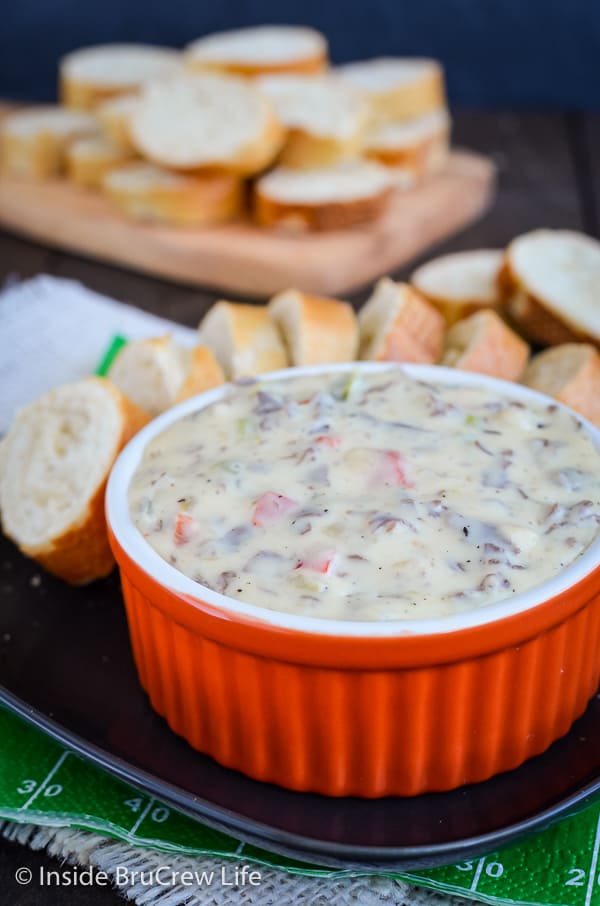 One thing that is always a given is some sort of cheese dip. It is a battle of the wills when anything like this is around.
It is me against the dip. I want to eat it all, especially when it is this Easy Buffalo Chicken Dip. My skinny jeans tell me to ration my servings. Any guesses who wins that battle every time?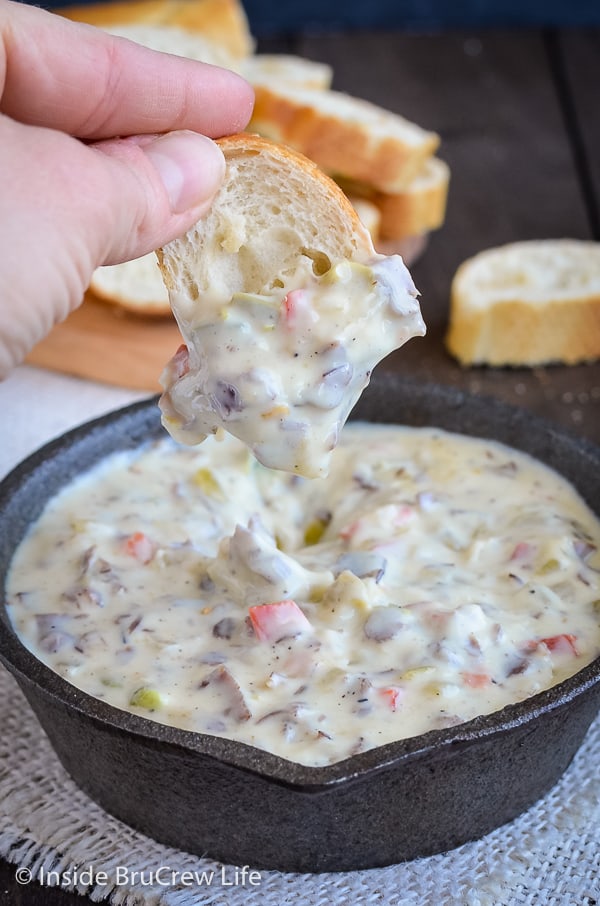 A few months ago, my husband kept saying we needed to create another queso dip since we all love this Chicken Fajita Queso Dip so much. His idea was to create a Philly cheese steak version.
So, this week I picked up the ingredients, and we made it. Our kitchen smelled so amazing as it was simmering together.
The mixture of cheese, meat, and peppers was incredible on the crusty pieces of bread. This beef queso got thumbs up from everyone around the table. My husband has done it again and created the best queso dip ever!!!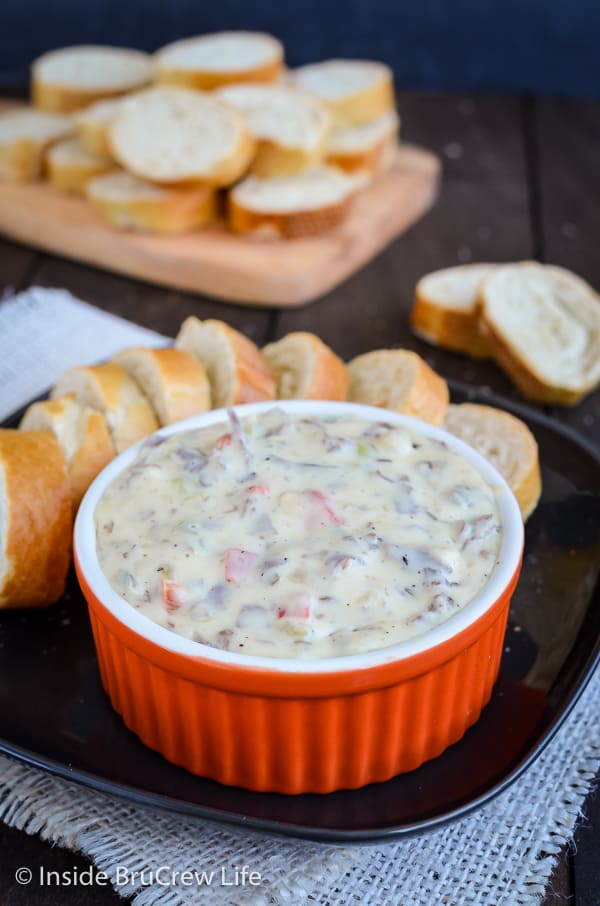 How to make Philly Cheese Steak Queso Dip
Heat olive oil in a skillet and sauté the onions and peppers until soft.
After the veggies are soft, add the roast beef and green chilies. Once everything is warm and sizzling, set it aside.
Add the Velveeta cheese and milk to a saucepan. By adding a little bit of milk, it helps make it a little bit more creamy for dipping.
Once the cheese is melted and creamy, stir in the meat and pepper mixture.
Recipe Tips
You can use whatever color peppers you like. A mixture of red and green gives it good color though.
Add a little more milk if you want an even creamier and runnier dip. Just remember the juices from the meat and peppers will get stirred in too.
You could also serve this as a meal by placing the meat and pepper mixture on buns and topping with the melted cheese.
Double this white queso dip recipe because it disappears in a hurry.
What do you serve with dips
Chips
Fritos
Crackers
Bread Sticks
Baguette
Toast
Bagel Crisps
Pretzels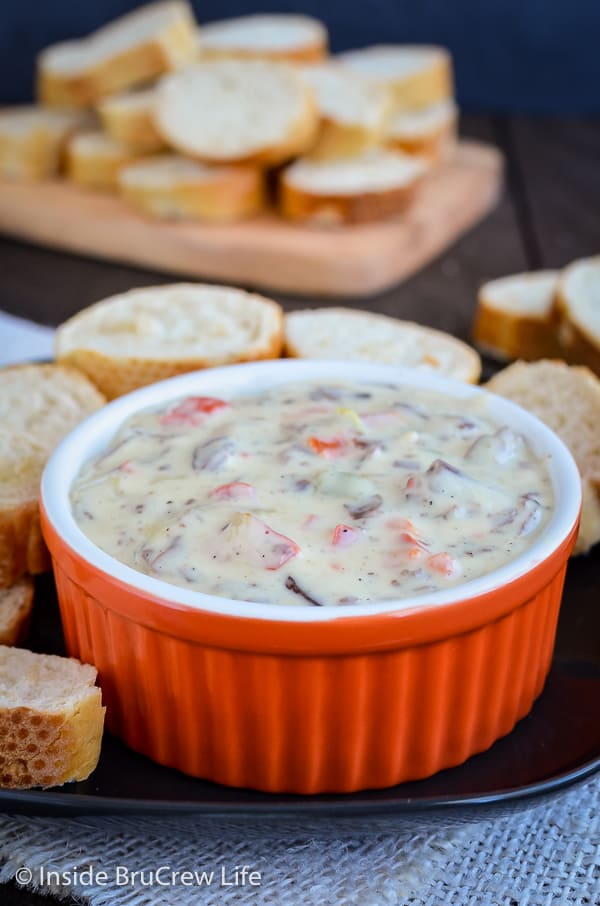 More of the best snacks for a Super Bowl party
CLICK HERE TO PIN THIS RECIPE FOR LATER!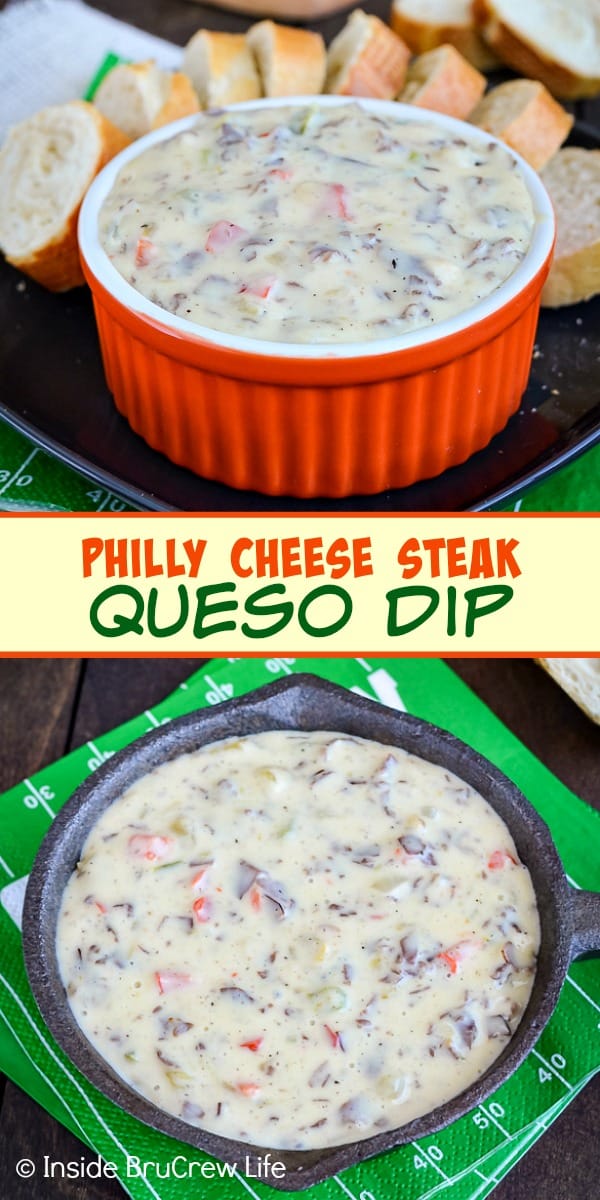 *The post for Philly Cheese Steak Queso Dip was first published on January 23, 2014. The post and photos have been updated and republished on January 28, 2020.