Strawberry cream cheese and chocolate chips add a fun little flavor to these easy rolls. Make these easy Strawberry Chocolate Chip Rolls for a special breakfast treat for your family this week.
*This recipe was sponsored by Challenge Dairy. I am partnering with them as a brand ambassador this year creating delicious recipes.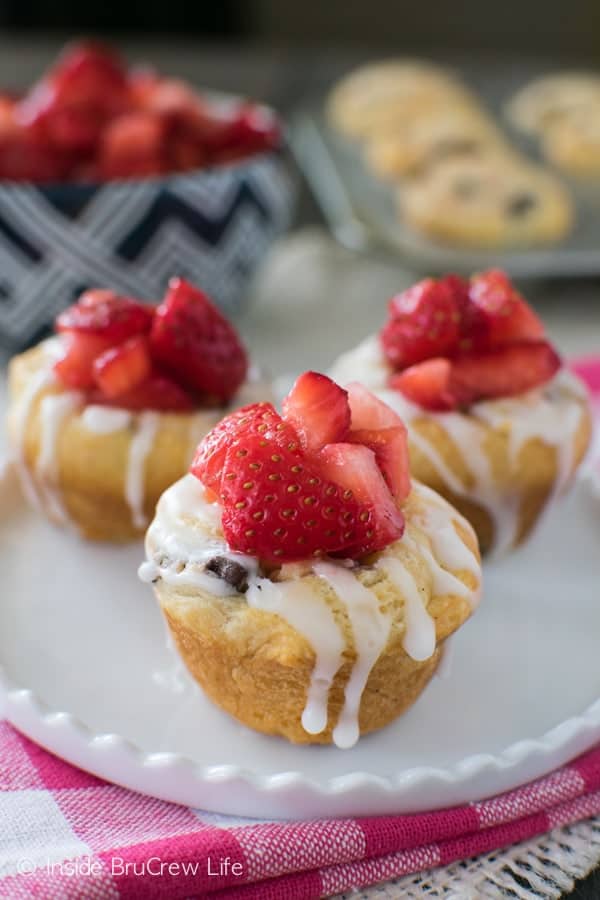 Finding fun ways to change up breakfast is something that I enjoy doing. Of course, these breakfast treats have to be something that I can make the afternoon before because mornings and I do not get along. Muffins, pancakes, cinnamon rolls...they all happen the day before. It's just how I do breakfast.
Our kids are not huge breakfast eaters, so I'm always trying to make things that will entice them to grab something in the morning before they head off to school. These Easy Cinnamon Sugar Waffles were a hit, so I knew another roll that was simple would be perfect this week.
And of course, adding a little bit of chocolate always gets their attention.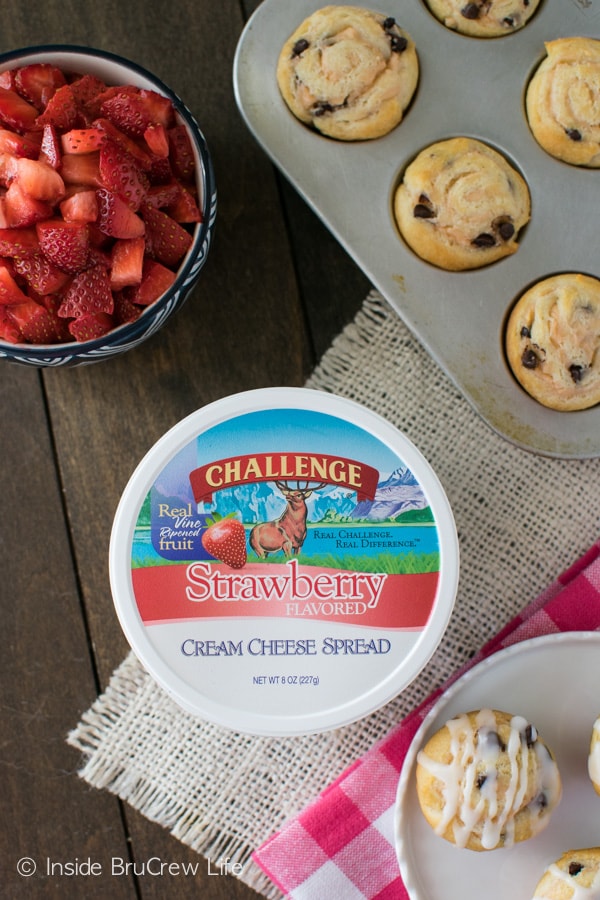 These strawberry rolls are very simple to put together. So easy that even the kids could help you make them the night before.
And of course a breakfast pastry that only takes a few ingredients makes it even better. I love recipes that are 5 ingredients or less, don't you?
Let's talk about this new strawberry cream cheese from Challenge for a minute. It has such a great strawberry flavor because it is made from fresh berries. They also use less sugar and no dyes in this delicious spread. It's a great choice for spreading on toast or bagels. Or for filling easy rolls with...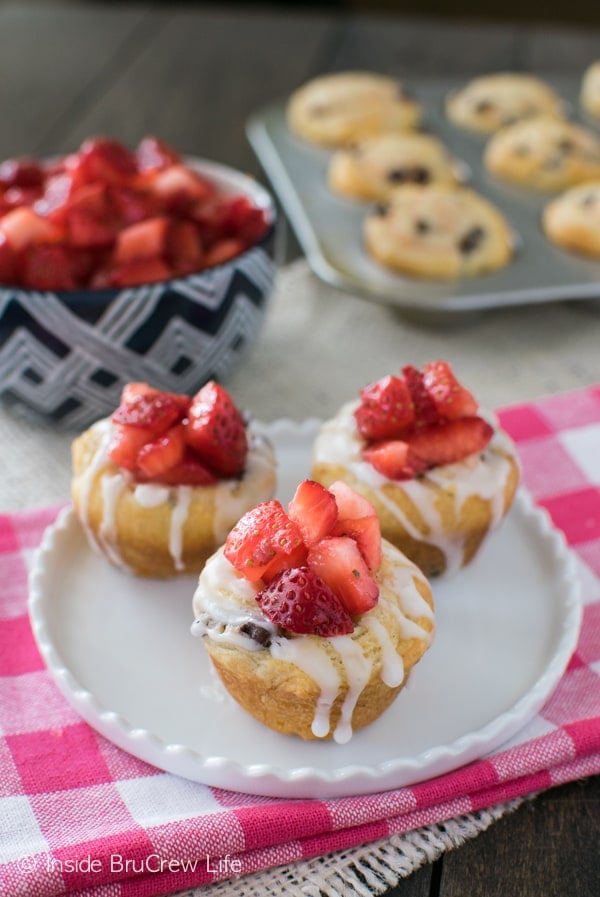 Grab a package of refrigerated crescent dough. We always have a few in our refrigerator for easy meals.
Unroll it and press all the seams together, then spread some Strawberry Cream Cheese on top and sprinkled it with the mini chocolate chips. You can leave the chocolate chips out if you are opposed to chocolate for breakfast. Although we always add the chocolate because our kids would revolt if I left the chocolate out of their breakfast treats. What can I say? They all inherited my sweet tooth!
Roll everything up from the longest side of the dough, and cut it into 16 even slices. Bake them in a greased mini muffin tin to get the mini muffin look.
A little glaze drizzled on top and some fresh strawberries makes these the cutest little treats for any breakfast or brunch!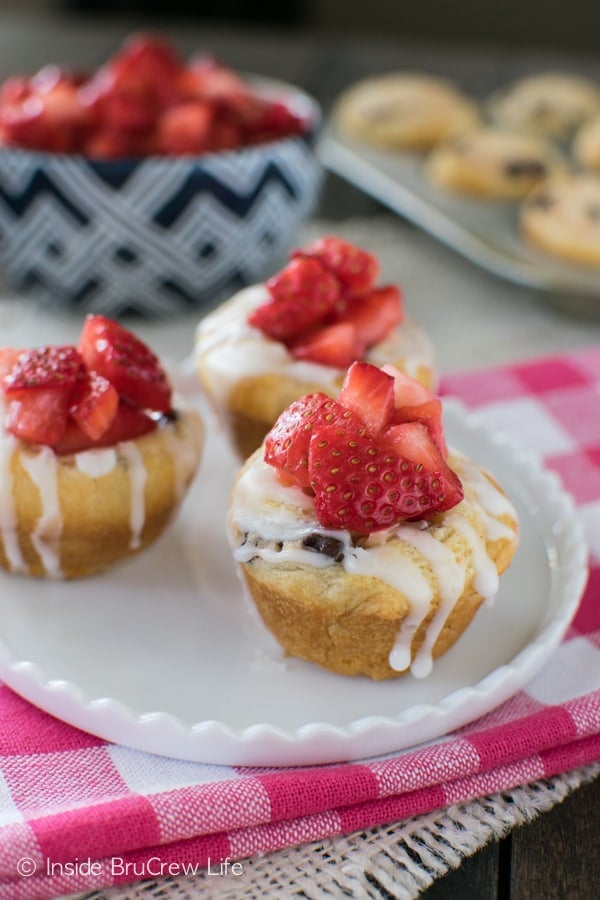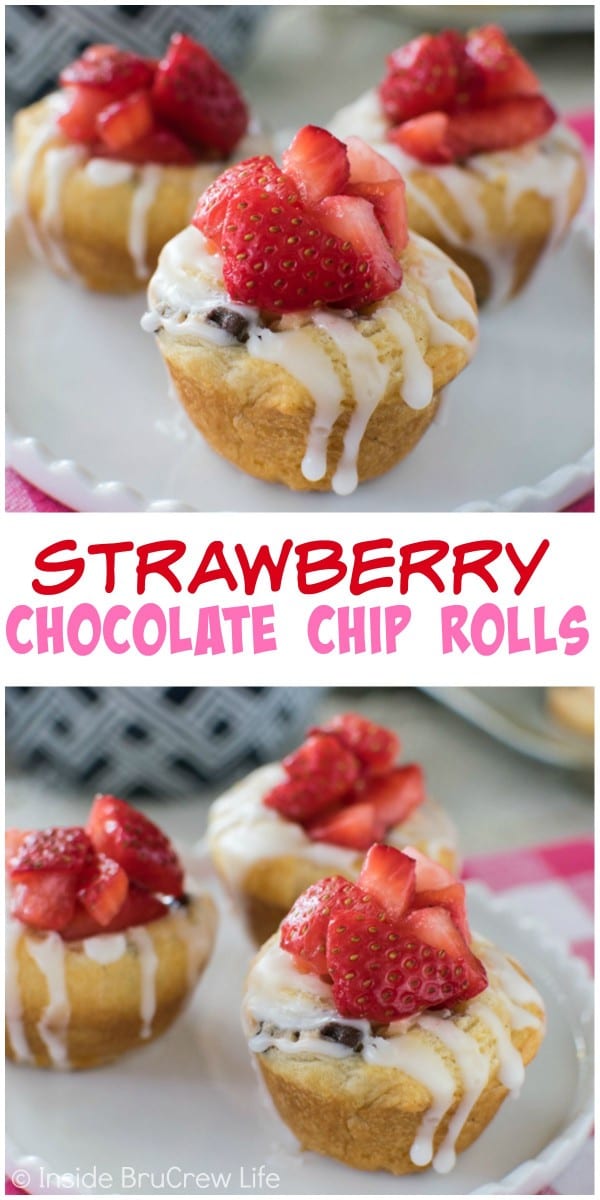 *This post was created in partnership with Challenge Dairy. All thoughts and opinions expressed are 100% my own. Thank you for letting me share brands that we love with you.