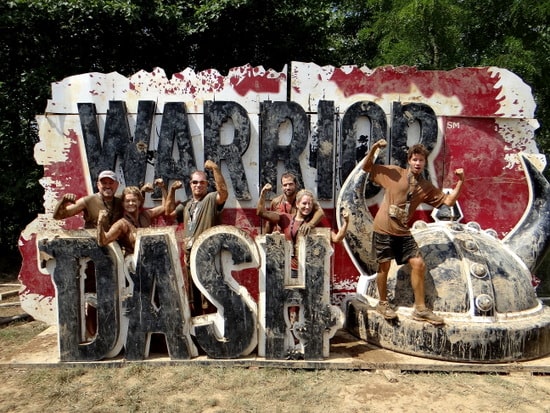 Last weekend my husband and my oldest son and I joined some friends and ran the Warrior Dash in a town near ours.
Yes, I'm crazy 🙂
Seriously I am such a girlie girl. I love cute clothes and accessories. I don't leave my house without make up or real clothes on. No pajama pants or yoga pants leave my house unless I'm going to the gym. Now obviously there have been a few instances, but I can really only think of one or two where I did go in a store that way. So running a mud run is quite a stretch for me. But it actually isn't the first one I have done.
Two years ago my husband and I did and finished a Tough Mudder. 13 miles of running through the mud and water in 50* weather. Now that was crazy!!!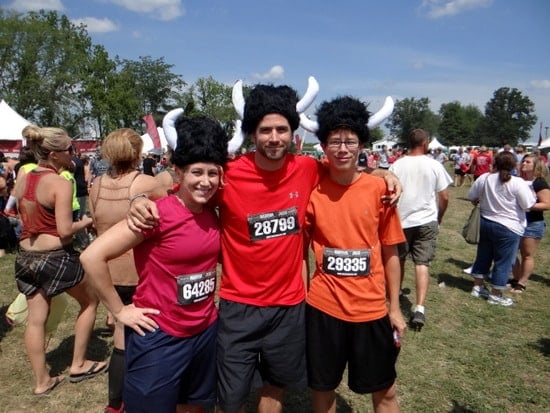 Don't we look fabulous in our fuzzy Viking hat?
Our son really wanted to run this race this year. He was so excited to find out he was old enough. All the soccer he did this summer totally paid off for him. He said it was so easy and wanted to know if we could run it again. Ok, so crazy runs in the family 😉
There are quite a variety of people that show up in costumes for these mud runs. We saw all sorts of wigs, tutus's and masks. I decided to go all out...and wore my wonder woman socks.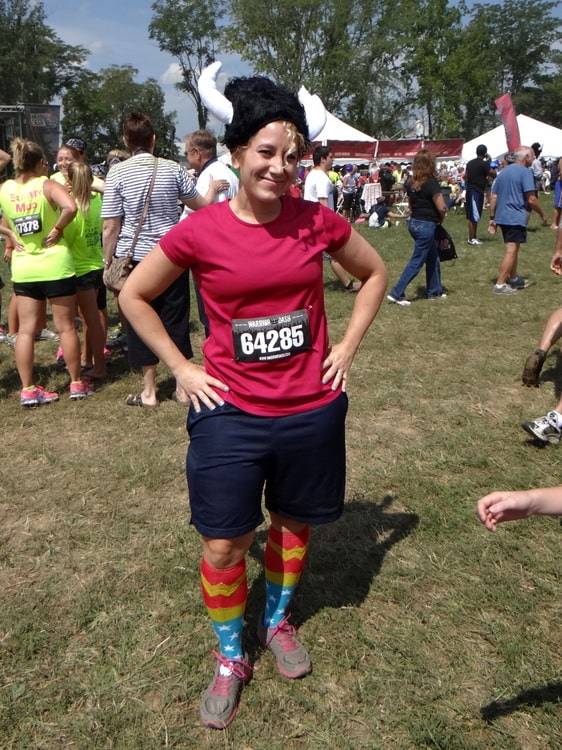 They had the entire course roped off, so I don't have a lot of event pictures to show you.
But just picture in your mind running through trails in ankle deep mud. Then climbing up pure mud hills with pools of mud water in between. That was hilarious to try to climb. You had to have someone at the top of the hill reach over and grab your hand because it was so slippery.
There were some planks to climb up and down, over and through water. 15 foot high walls with 2x4 grips and a rope to hold onto. Swimming to and around a floating pier. Up hills and down hills. Over a tight rope with a gully underneath. And so many more. And you did all of that with mud caked to your shoes, making you feel like each foot weighed 10 lbs more.
Have I mentioned yet how FUN this actually is? Seriously! I know it sounds like pure torture, but it is one of the funnest things I have done. It's like being a kid again. You don't care about the mud (well, not too much anyway) and you just let loose and have fun with your fellow racers. Everyone is so helpful and friendly. It is a blast!!!!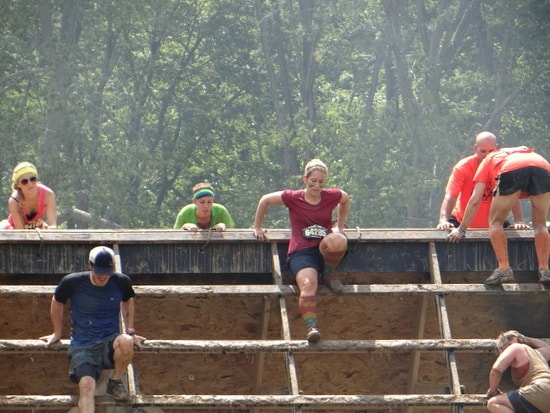 This was right at the end of the course. Now I know what you are thinking...you look so clean. Believe me, we were completely coated in mud before this, but then they have you swim through a pond before running to this A frame wall.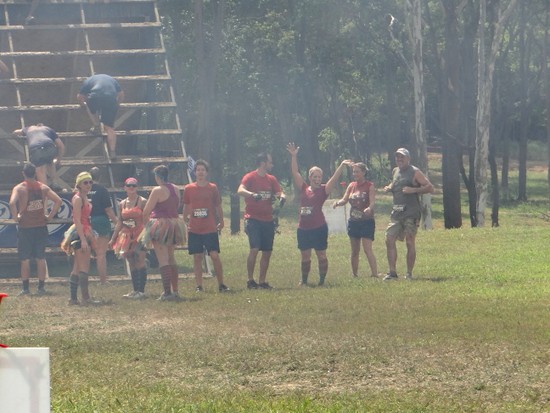 The end was in sight. We all grabbed hands and ran through the fire (that you can't see)! It was just two little patches of a little fire and smoke that you jumped over.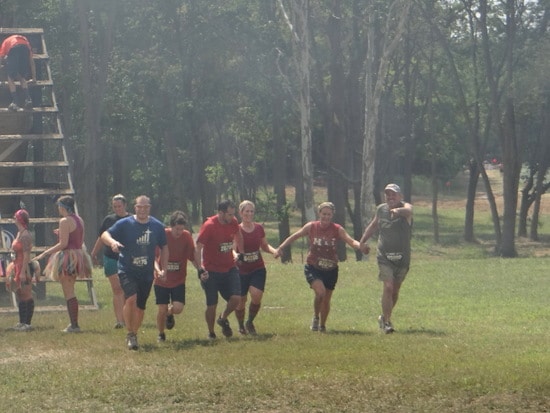 And then to end it all, we had to swim/crawl through about 50 feet of mud trenches under barbed wire.
Yup, that is me right there at the front of the picture. There is so much mud in this water, that you can't sink. You just doggie paddle your way to the other end where you slip and slide trying to get up and out to cross the finish line.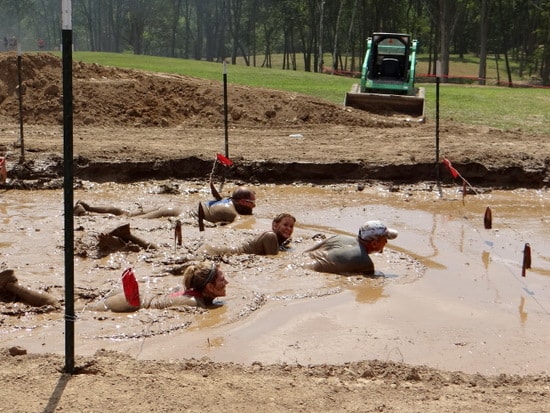 If you ever get the guts to sign up for one of these races, make sure you drag your friends with you. Honest! You will have the time of your life. It is so much fun to do this kind of thing with a group.
The great thing about these mud runs is that all the money collected goes towards some charity or organization. We ran through the mud knowing that this race was all for St. Jude Children's Hospital. That makes being coated in a mud bath that much more enjoyable.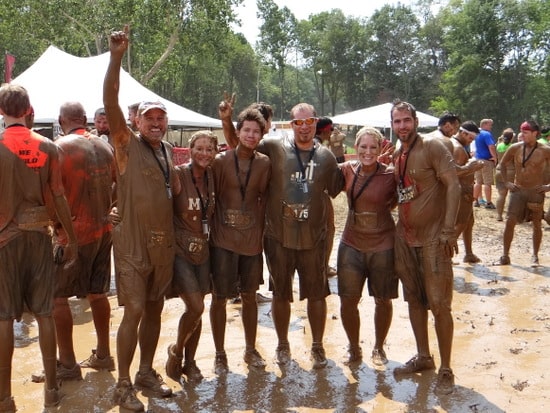 Pictures after this kind of thing is a must. We tried to take a water camera with us to the Tough Mudder and it got too coated in mud, so we don't have pictures from that one.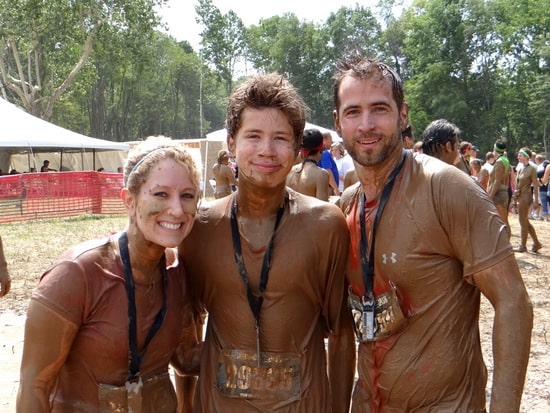 I'm glad one of our friends came along this time and snapped some fun shots for all of us. It is one thing to say you did a mud run, but pictures are just so much better! Other wise no one believes that you were swimming in mud and running through fire.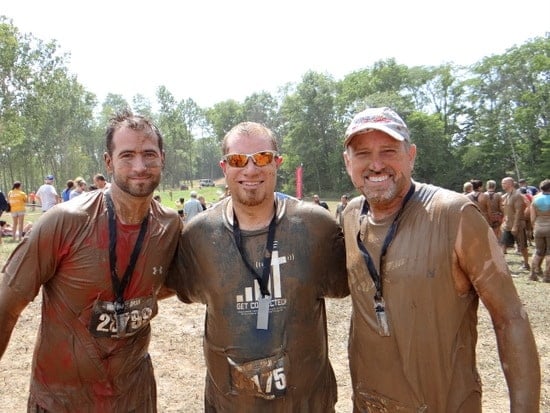 We are already talking about another one next year. Spartan Race anyone?