White Chocolate Caramel Cappuccino Bars: Fudgy white chocolate bars loaded with caramel chocolate chips and then topped with a coffee frosting is just what your middle of the week needs.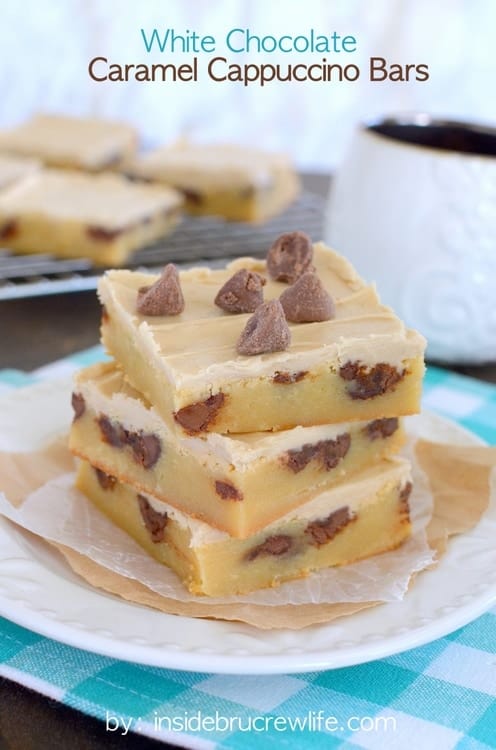 I have realized that I am never going to remember science now that I am out of school.
You would think that by the time I was quizzing our third child that some of this science would have stuck. I mean this is the third time I have gone over the same material. But nope, all that cell and plant information has still not stayed in my brain.
We had a good laugh the other night when I was trying to quiz my youngest son for his science test. Now don't get me wrong, as soon as I read the information again it all came back to me. Let's just say if he had been quizzing me, I would have been in trouble.
I blame it on sugar overload. I mean how can science stuff stay put when I am thinking about things like these Homemade Chocolate Chip Brownies? There is no available space for that kind of information in my brain. Every brain cell is completely filled with dessert and dinner ideas.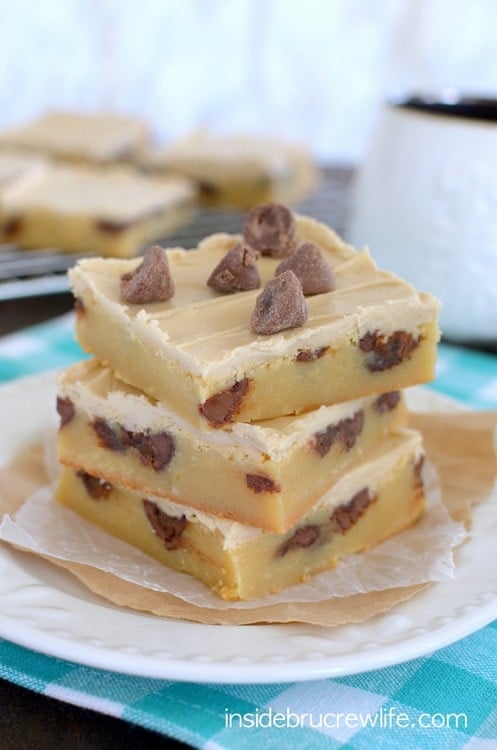 How can one even think about insects and plants and cross pollination when there are delicious white chocolate bars sitting in the other room?
It definitely takes some strong will power to resist these bars. My husband took one bite and declared them AMAZING.
He also may have called them sugar bombs, but I'm going to stick with the "amazing" review.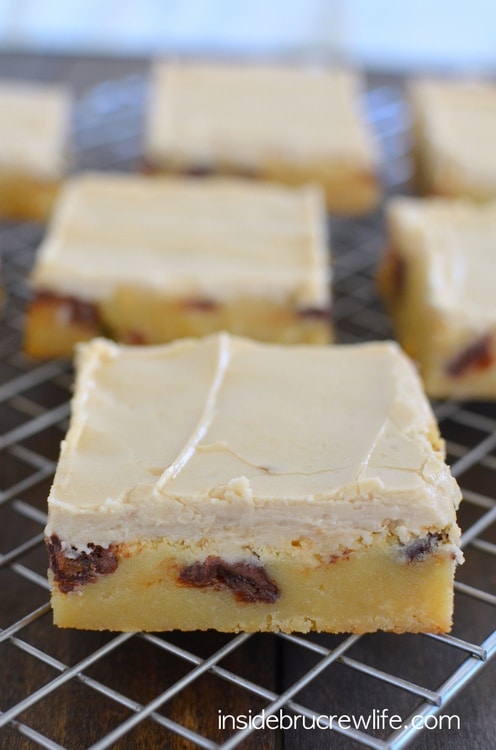 These bars start with a stick of butter and a bag of white chocolate chips that get melted down together. Now don't expect it to look all creamy and delicious. It really just looks like butter in a pan once it melts. Add some brown sugar, eggs, and flour to make it into a white chocolate batter.
Recently I found the Nestlé Tollhouse filled chocolate chips. Of course caramel is like my kryptonite, so I had to try those first. They are so good, but before I could eat the entire bag I dumped them into the white chocolate batter.
Now I could have stopped right there, but lately I am all about my bars having frosting. This time all I could think about was a coffee frosting. As soon as the bars were cool enough, I topped them with an easy coffee frosting. If you can't find the coffee extract, go ahead and mix 1 teaspoon hot water with 1 teaspoon instant coffee.
It's a very good thing that we made a meal for a family in our church. I really wanted to hide in the closet with these fudgy bars, but finally decided that my living cells...aka my thighs...really did not need the whole pan. A plate full of these yummy bars left my house before I could change my mind.
Although now I'm wishing I had a few of these because white chocolate, caramel, and coffee in one bar is just plain crazy. Crazy awesome that is!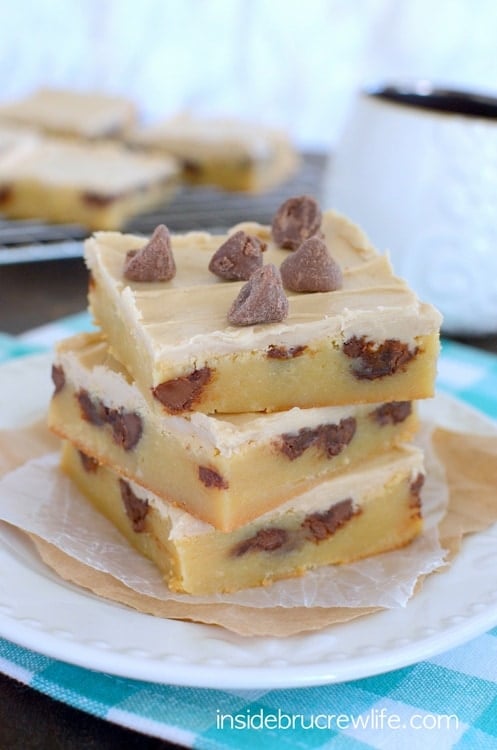 A few more fun recipes to add a little caffeine to your day: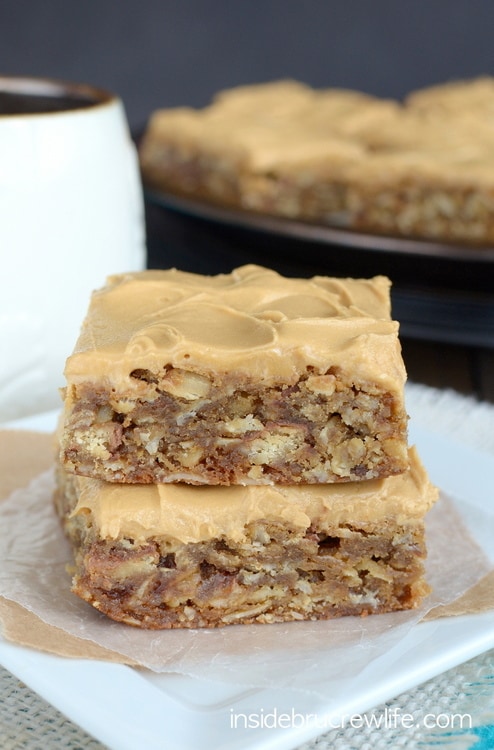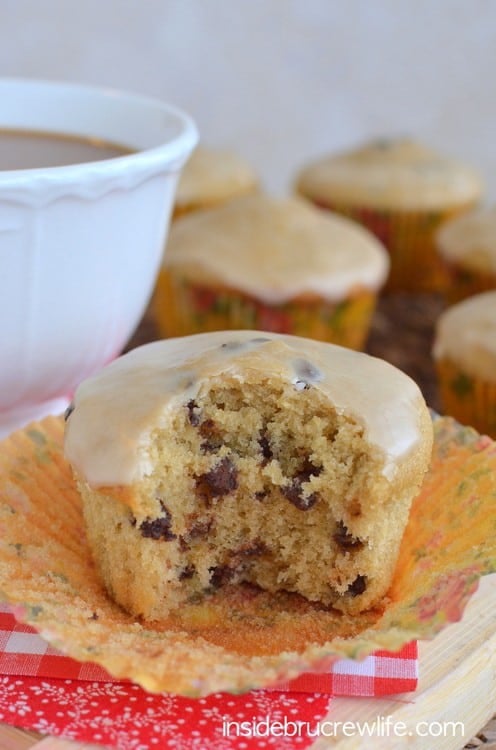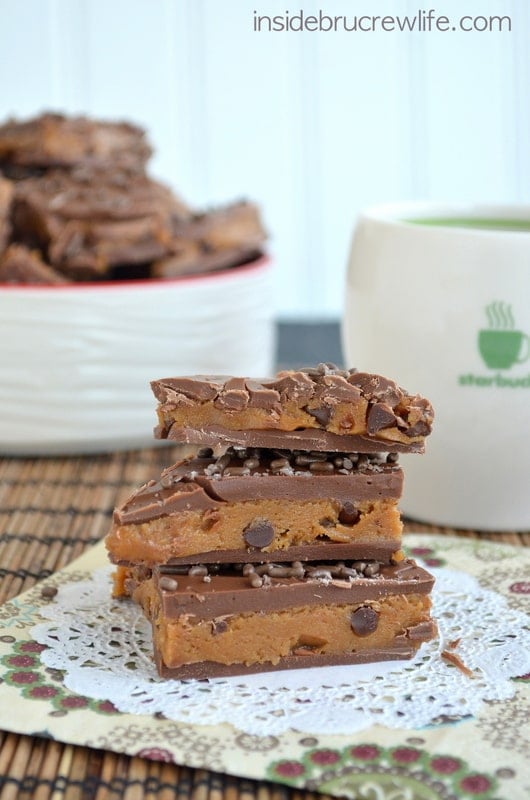 *I was provided product and coupons for this post from Challenge Butter, no other compensation was given. All opinions in this post are 100% my own.