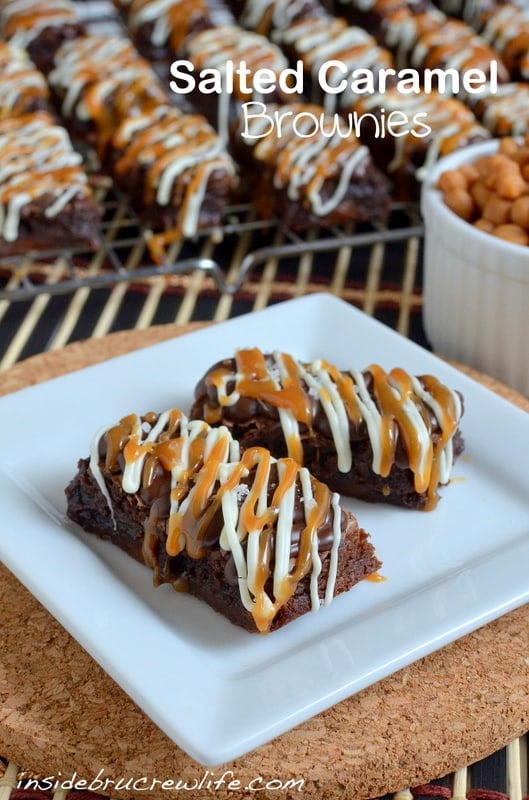 I feel like I am leading you astray from the pumpkin craze with today's post. I am just as pumpkin crazy as everyone else out there, but can I confess something?
Lean in a little closer…I don't want anyone else to hear this.
I might be on my downward slope of pumpkin baking! Sssshhhhh! Do not repeat that!!!
This is apparently one of the hazards of posting pumpkin recipes in August. I guess this is how magazine editors start to feel when they are proofing Christmas photos, and it is 90 degrees outside.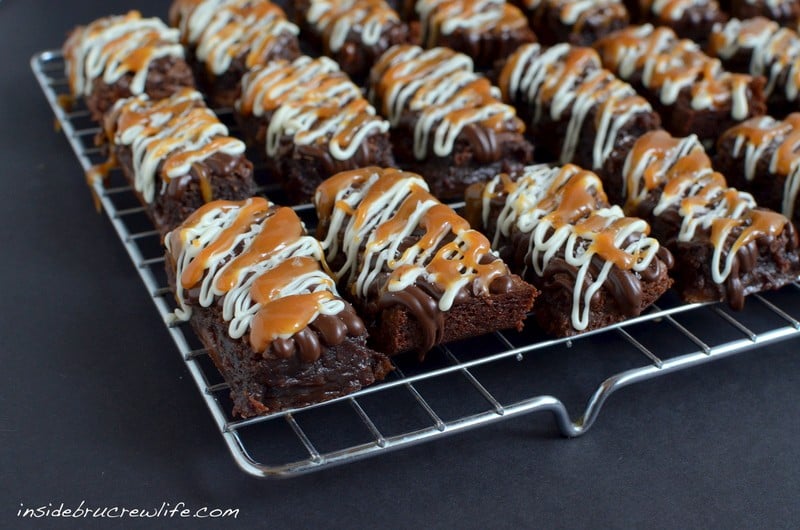 There are a few more pumpkin recipes that I have up my sleeve, but part of me is ready to move on to the next obsession.
Which brings me to these bad boys. Salted Caramel…thrills my soul every.single.time!!!
I have lost count of how many of the fabulous coffee drinks I have consumed this Fall so far. Obsessed? Yes.
A few weeks ago my daughter and I stopped for coffee, and lo and behold, they now have a salted caramel brownie pop! Yes, it is as fabulous as it sounds.  And yes, I paid the 1.50 price for one measly pop! I am writing it off as recipe research!
In true foodie fashion, I totally was going to recreate them for you. But…I got lazy and took the easy bar route instead. I really didn't think you would mind once you saw the amount of goodness that was going onto the top of them.
And the best part…you can have these Salted Caramel Brownies in under an hour flat! Gotta love easy peasy mix recipes right?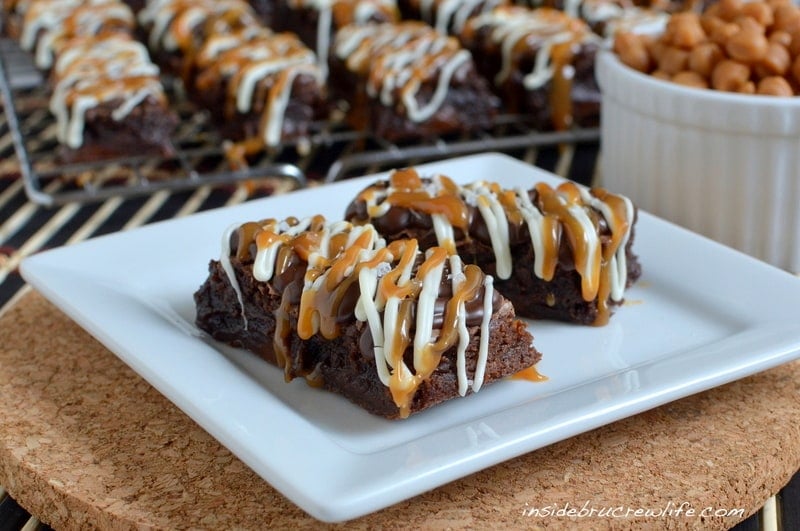 Like this Salted Caramel Brownies recipe?  You may like one of these recipes too…
Salted Caramel Mocha Brownie Cups
Salted Caramel Coffee Chip Cheesecakes
Salted Caramel White Chocolate Mocha Scones
Check out my Sweet and Salty Pinterest board for more fun treats from around the web.
Yield: 24 brownies
Salted Caramel Brownies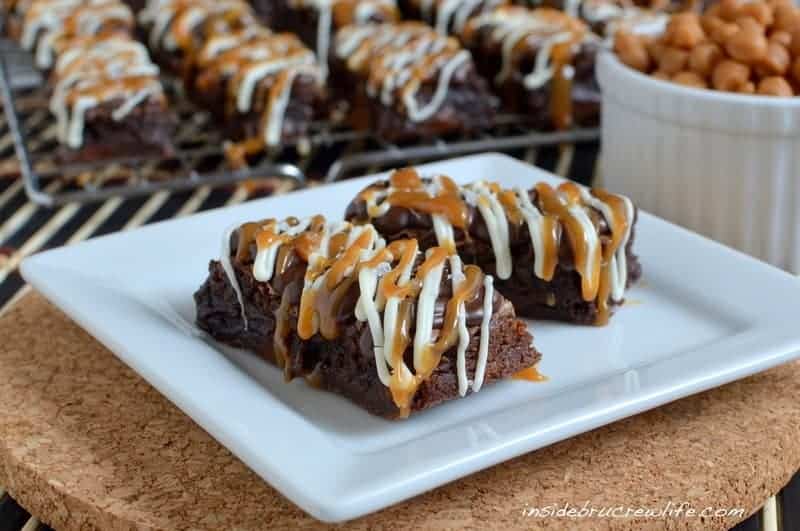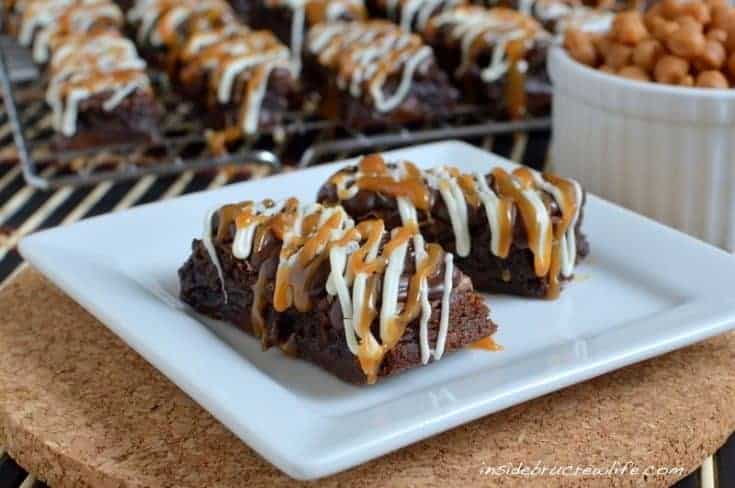 Brownies filled with caramel candy and drizzled with caramel, white chocolate, and sea salt.
Ingredients
1 box brownie mix
1 - 10 ounce box candy Milk Duds
3/4 cups chocolate chips
1 teaspoon shortening, divided
1/2 cup caramel baking bits
2 Tablespoons heavy cream
1/4 cup white chocolate chips
2 Tablespoons coarse ground sea salt, divided*
Instructions
Preheat the oven to 350 degrees. Spray a 9x13 pan with nonstick spray.
Make the brownies according to the package, but substitute brewed cooled coffee for the water in the recipe.
Stir in the milk duds gently. Spread the batter into the prepared pan. Bake for 25 minutes. Cool completely.
Cut the brownies into small squares or rectangles.
In a small microwave safe bowl, combine the chocolate chips and 1/2 teaspoon shortening. Heat for 30 seconds and stir. Repeat until melted and smooth.
Spoon into a plastic bag and cut off a tip. Drizzle over the top of the brownies covering the top as much as possible. Let set.
In a small microwave safe bowl, combine the 1/2 teaspoon shortening and white chocolate chips. Heat for 20 seconds and stir. Repeat until melted and smooth.
Spoon into another plastic bag and cut a tip off. Drizzle over all the brownie pieces. Let set.
In a small saucepan over low heat, combine the caramel bits and heavy cream. Stir until completely melted. Stir in 1 Tablespoon sea salt.
Drizzle the caramel over the tops of the brownies using a spoon. Sprinkle with a little bit of sea salt for garnish. Let set. Store loosely covered. Makes 24 brownies.
Notes
*You can adjust the amount of sea salt to your liking.