Need a quick pick me up snack? Add some candy bars and coffee to an easy oatmeal bar cookie. These Java Twix Oatmeal Bars will have you grabbing two or three before you even know it.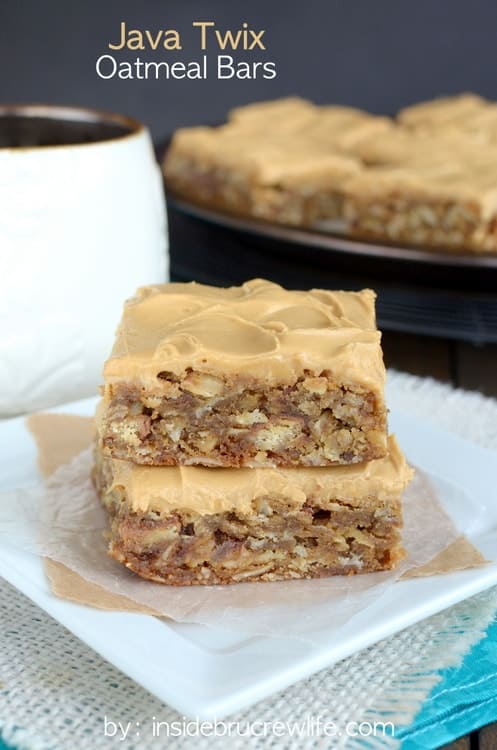 I have realized that I bake in food stages. I get a particular food or flavor in my head and I just can't stop adding it to different creations. Right now that food craze that I am digging is coffee.
Of course, most of you that read my blog regularly are thinking, "you use coffee all the time, this isn't new." And you would be right. But let's not forget the banana phase where I posted banana treats for an entire week…and haven't stopped. There is actually banana bread in my oven right this very second…and I added coffee to it 🙂
Oh, and the coconut phase that I go through once a year. Believe me, our kids are glad I have moved on from the coconut. Treats definitely don't disappear as quickly when they know I have added the coconut to it. I keep hoping one day they will learn to love it as much as me. My daughter does like toasted coconut now, so I'm claiming that as a small victory.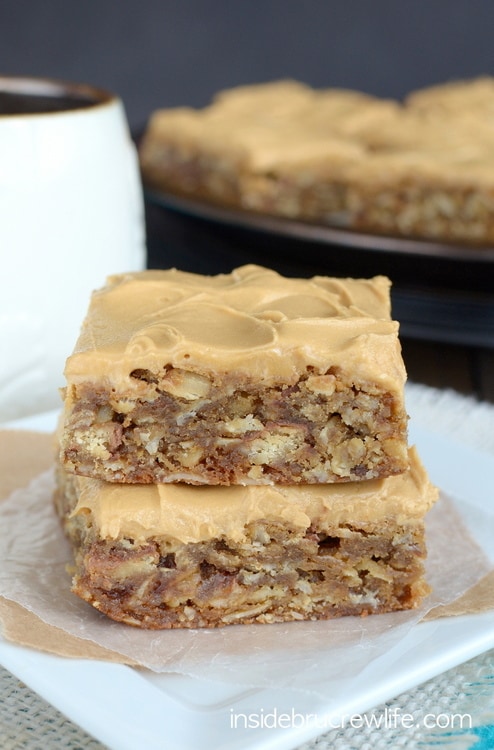 But back to the coffee love. My husband and I both love drinking coffee every day. He usually goes through a few more cups than I do. I'm more of a habitual coffee drinker. I don't do it for the caffeine…in fact, too much caffeine gives me problems. Shakes, palpitations, chest pains…it's not fun. It was an easy fix to correct though just by watching how many regular cups of coffee I have a month. Yes, this does mean I am a decaf coffee drinker for some of the month because I hate giving up that cup of coffee every afternoon. Like I said it is more of a habit for me. And now you all know that I am an old fart that has to drink decaf. Oh, the joys of getting older 😉
I have found that I can add coffee to the crazy things I bake and it doesn't seem to bother me. Bring on the coffee laden treats I say!!!!
A few years ago I tried making Oatmeal Cream Pies from scratch. They were good, but I got lazy over the years and adapted them into a bar cookie. I'm blaming that on old age! Last year I made them into Oatmeal S'mores Bars. Delicious and gooey!!! But…I think these Java Twix Oatmeal Bars blow all the other ones out of the water. By a mile!!! They are seriously that good!
These bars do call for a mixture of butter and shortening. Using the two together gives it a slightly cakier and chewier texture. I know that there are some people out there that have an aversion to that white stuff…I am not one of them. I use it in frosting and I use it in some cookies and bars. This happens to be one of them. Feel free to use all butter if you like and let me know how it works for you. Butter usually will make a cookie spread more when baking. But these are in a pan, so you won't have that problem. I have been using this version for years, and just haven't adapted that part yet. Maybe the next version I'll mess with that part.
Some instant coffee dissolved in milk adds just a lit bit of flavor to the oatmeal bars. You don't want to over power the other parts of the cookie. The other parts being the Twix candy bars. Does anyone else remember the Java Twix Bars? They were a specialty candy bar years ago, and I was sad when they didn't make a come back.
Now you could eat the bars just like they are, but why not add some frosting. Coffee frosting gives it another hit of flavor. Go ahead and lick the spatula…I know you want to. I admit I did. Just be careful, or you will want to hide in the closet with the frosting instead of putting it on the cookies. That thought went through my head a few times. I even considered scraping it off the cookies and going to hide with it. But logic and reason won out. Reason being I am headed to Miami in a week and I really don't need more "frosting" added to my body in places I don't want it.
These cookie bars would even work for breakfast. I mean it is oatmeal and coffee after all 🙂 Probably more logic and reasoning I should work on.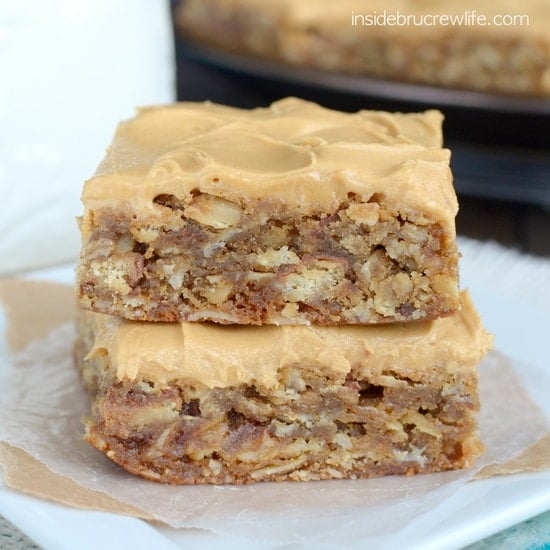 Stay up to date on all the BruCrew baking here:
FACEBOOK | PINTEREST | GOOGLE+ | TWITTER | INSTAGRAM | BLOGLOVIN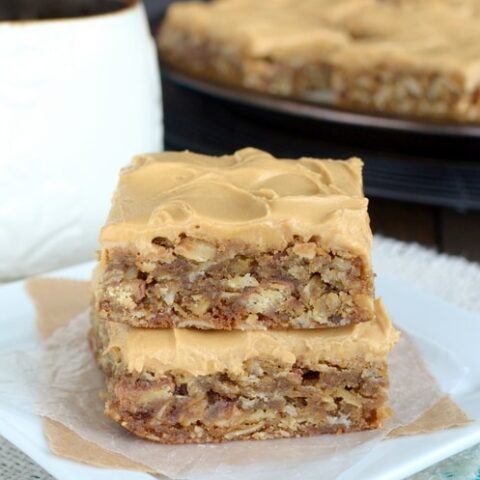 Java Twix Oatmeal Bars
Twix candy bars and coffee frosting give these oatmeal cookie bars a fun and delicious twist.
Ingredients
For the Bar
1/2 cup unsalted butter
1/2 cup vegetable shortening
3/4 cup packed brown sugar
1/4 cup granulated sugar
1 tablespoon milk
2 teaspoons instant coffee
1 teaspoon vanilla extract
2 large eggs
1 3/4 cups all-purpose flour
1/2 teaspoon salt
1 1/2 cups rolled oats
1 1/2 cups chopped Twix candy bars
For the Coffee Frosting
1/2 cup unsalted butter, softened
2 tablespoons hot water
2 teaspoons instant coffee
2 cups powdered sugar
Instructions
Preheat oven to 350°.
For the Bars: In a mixing bowl, cream the butter and shortening with the sugars.
Dissolve the instant coffee in the milk. Add the milk, vanilla, and eggs to the creamed mixture and beat again.
Sift the dry ingredients together and slowly add to the mixture. Stir in the chopped Twix bars by hand.
Line a 9x13 baking dish with foil and spray with non stick spray. Spread the batter evenly in the pan. Bake for 25 minutes. Do not over bake. Remove from the oven and let cool completely.
For the Frosting: Dissolve the coffee in the hot water. Beat the butter and coffee together. Slowly add the powdered sugar. Beat until creamy.
Spread on the cooled cookie bars. Let set. Cut into 24 bars. Store in a sealed container on the counter.
Nutrition Information:
Yield:

24
Serving Size:

1
Amount Per Serving:
Calories:

302
Total Fat:

16g
Saturated Fat:

9g
Trans Fat:

0g
Unsaturated Fat:

6g
Cholesterol:

39mg
Sodium:

82mg
Carbohydrates:

36g
Fiber:

1g
Sugar:

24g
Protein:

3g
Nutrition facts are an estimate and are not guaranteed to be accurate. If you need special diet advice, please see a registered dietician.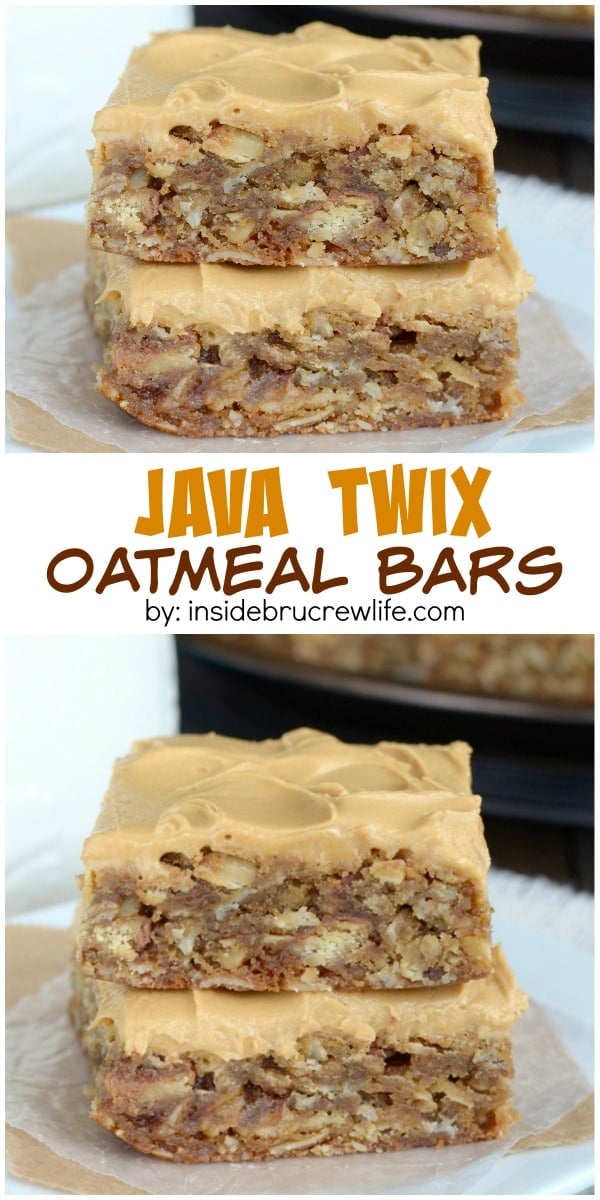 More fun and delicious recipes that include coffee: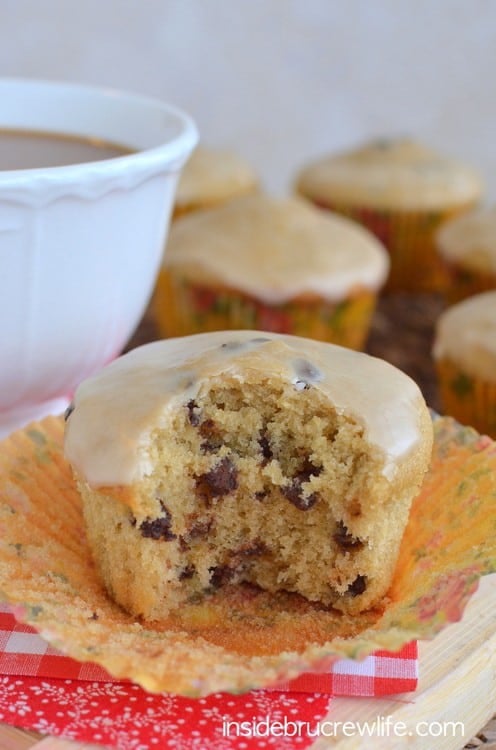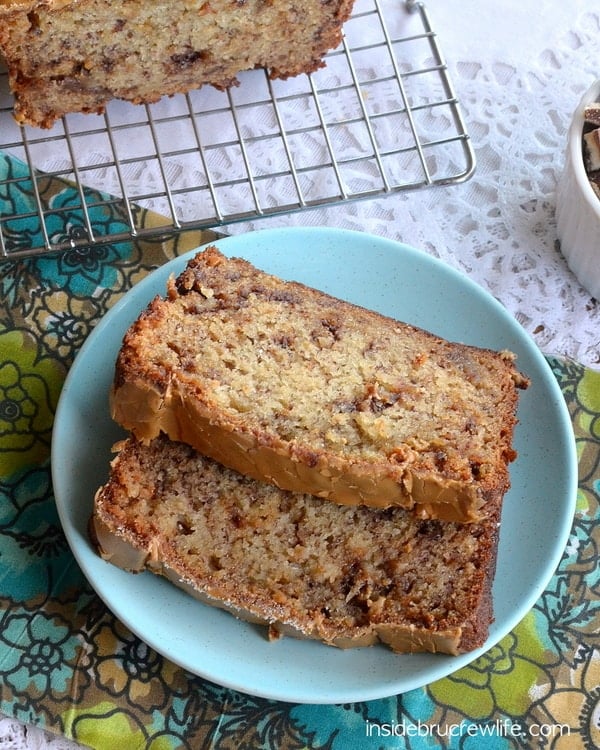 Java Twix Banana Bread