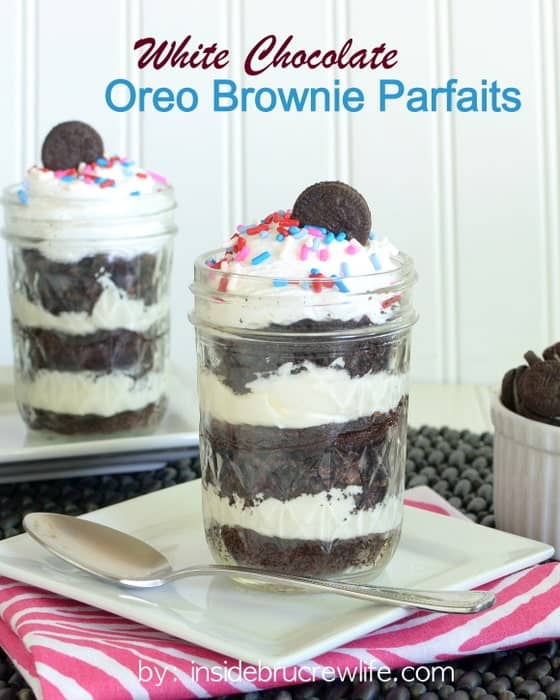 You look like you could use some sugar. Maybe some Oreos or a brownie or two? Of course, if the week has been extra rough, 5-6 brownies.
Even if you think you don't need this extra sugar, trust me on this.
You want some of these sitting in your fridge just waiting for you to come home to.
I don't know why, but brownies are my one of my most favorite things. The only thing slightly better than a chocolate brownie are gooey Loaded Blonde Brownies (see still a brownie:-)
For these bad boys you need to bake up the brownies in a larger pan and then cut out circles with a 2 inch cookie cutter. Each jar is going to get two circles.
What you do with the leftovers is up to you!!! I hear they are good right from the pan or crumbled up over ice cream.
But that's just what I hear;-)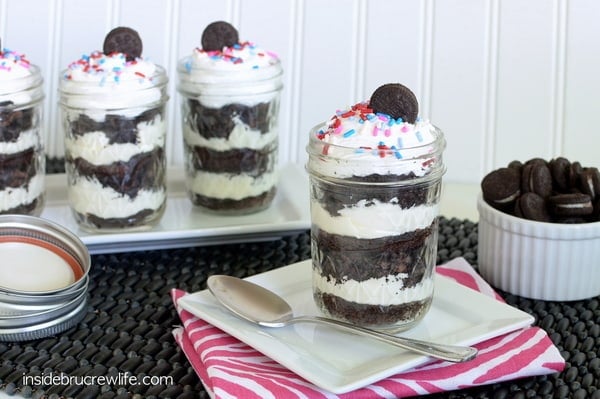 Have you had a chance to try the new cream cheese indulgences? I tried out the chocolate cream cheese in this cheesecake s'mores danish.
And the leftover cream cheese just sort of disappeared...someone with a spoon took over.
I have been to Walmart like every day this week. Maybe if I kept a running list of what I needed, I could avoid this place. Because for some reason I end up buying something extra EVERY TIME.
This time the white chocolate cream cheese begged to come home with me. I was powerless to resist its sweet talking. The minute I got it home, I had to open it and try a spoonful.
Oh my...it's a good thing I had an agenda for the stuff because I could have kept on shoveling it into my mouth.
Oh yea, guess what else I bought? These chocolate cream filled cookies decided they needed a new home! I felt it was only right as a food blogger to fulfill their life long dream.
And what better place to house them, but in a jar with brownies and cream cheese.
Everything just looks so much better in cute little jars, right?
I think these White Chocolate Oreo Brownie Parfaits would be perfect for Mother's Day. Or any other day....like a Wednesday maybe?
Make up about a dozen for mom...because she totally deserves it...and another dozen for everyone else.
And if you don't have any jars or just want to make it easier, layer it all in one giant glass bowl and go to town on it.