Candy, cookie chunks, and chocolate chips add a fun flair to these easy Loaded Blonde Brownies. These dessert bars are the perfect way to empty out the pantry.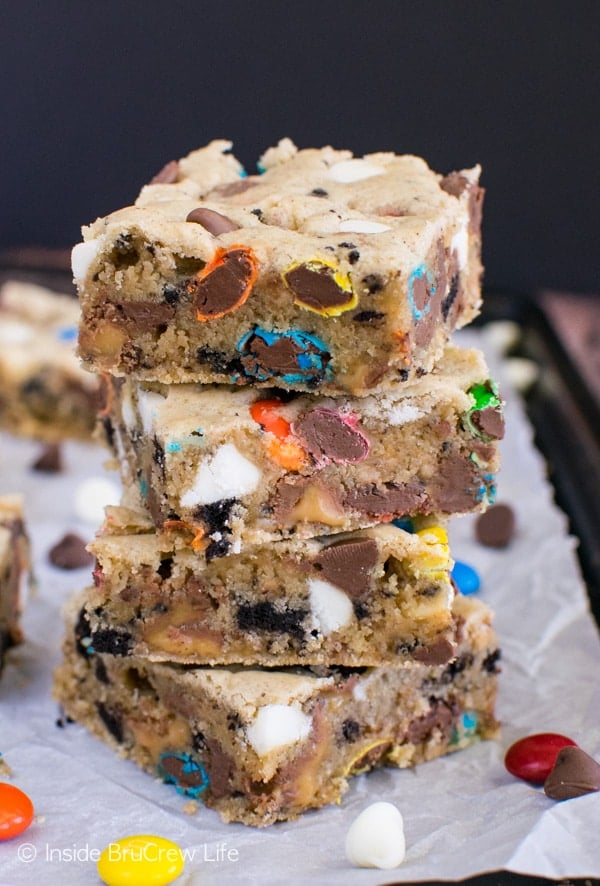 (photos updated July 2016)
CLICK HERE TO PIN THE RECIPE FOR LATER!
I have finally come to the realization that I don't mind running. Again.
Last fall I really started running to get ready for a Tough Mudder. The more running I did, the more I didn't mind it.
This past weekend my husband went mountain biking with a friend. Today he took me back there, and we ran the whole trail. All 3 1/2 miles off road. Booyah!!!
There is something fun about running through the woods early in the morning and listening to the wildlife scurry as you pound past.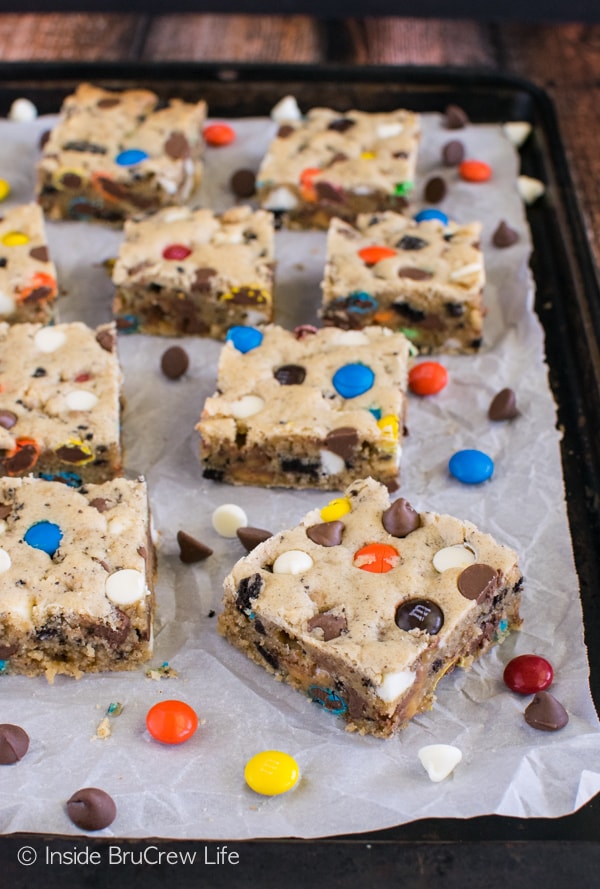 And it is even more fun when you send your husband in front of you to clear all the spider webs away first. Hee hee!!!!
Loaded Blonde Brownies
Did you see these loaded blonde brownies? They are so full of delicious goodness like caramel candy bars and Oreo cookie chunks! And M&M's! And chocolate chips! And toffee bits!
Ok, so I pretty much emptied all the half used bags of baking goodies from the pantry into the dough!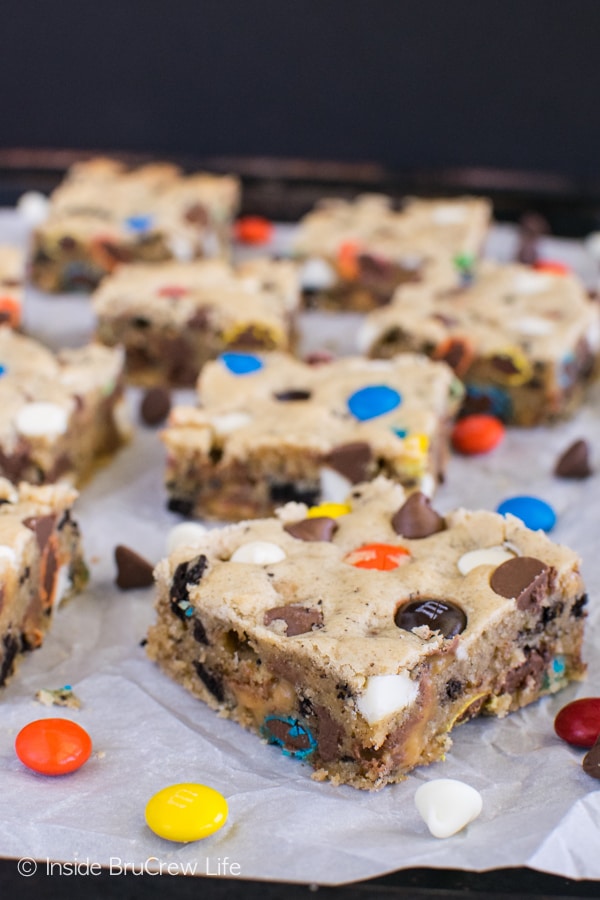 I'm pretty sure that brownie right there is the reason I have decided to like running!!!
My sweet tooth has been getting the best of me lately, so with vacation coming up in less than 3 months. I needed a plan.
I have decided on lots of cardio, some weight lifting, and eating right. The eating right part is what I struggle with the most.
I like things like Reese's Popcorn a little too much. Doggone sweet tooth gets me every.single.time.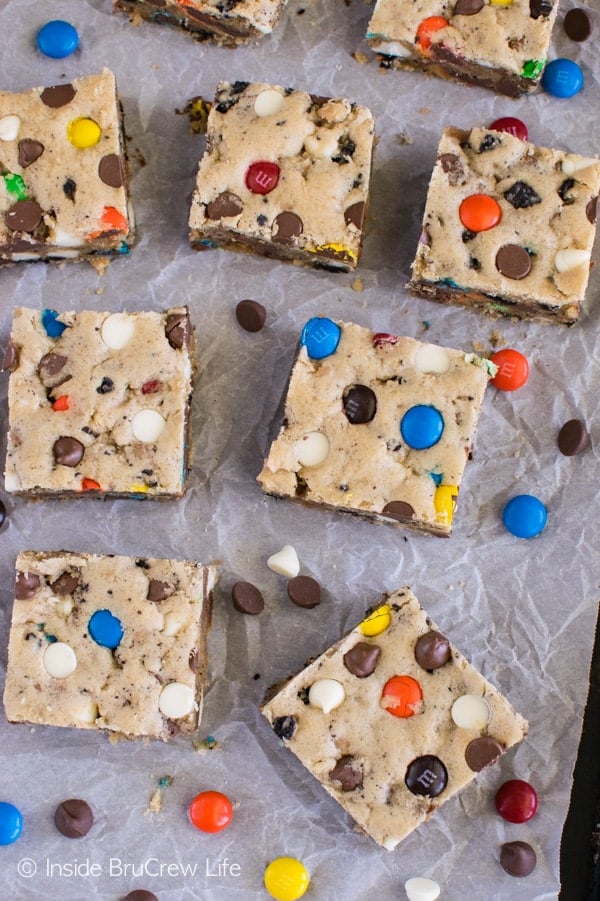 But we are remodeling our kitchen this week, so that should keep me from baking for at least a week, right?
And if I don't bake it, I can't eat it. Sounds like a good plan to me. So bye, bye brownie goodness, I will see you in while.
But lucky you…I have extra stuff that I have baked and not shared here, so be prepared to keep drooling!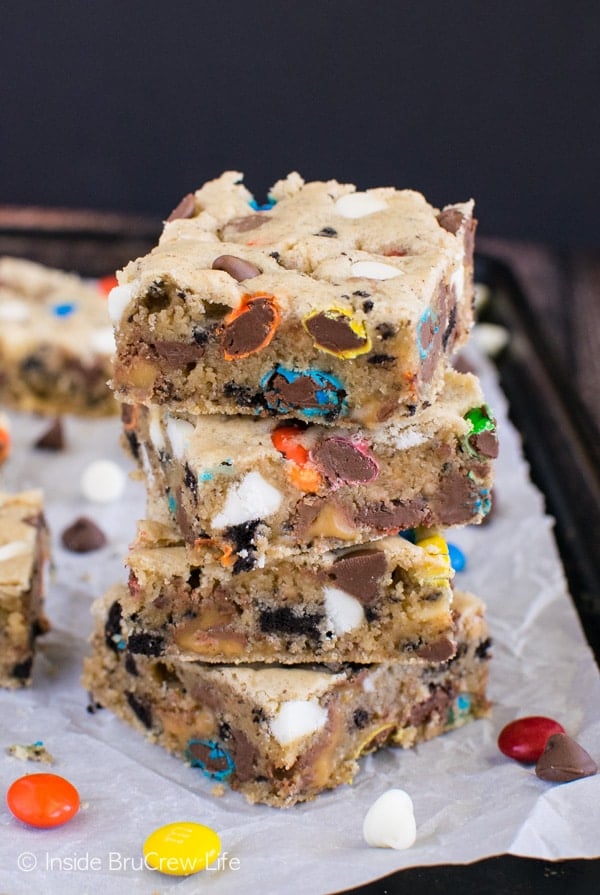 I have to know…does anyone else struggle with a sweet tooth, too???
And if so, what program/workout have you found that works? I am open for more options to try.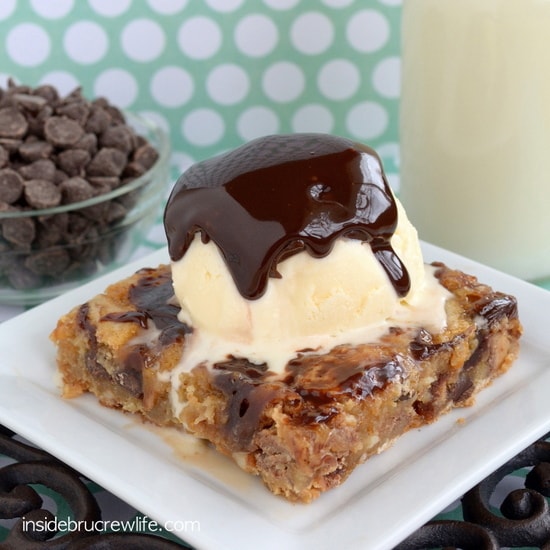 (original photo from March 2012)
Connect more with Inside BruCrew Life!
Follow us on social media, so you never miss a post.
Email Subscription | Facebook | Pinterest | Twitter | Bloglovin
I also created a fun new Facebook group, and I would love for you to join. It's a group where you can share your favorite recipes, ask questions, share photos, and see what's new with the BruCrew. If you would like to check it out, you can request to join HERE.
Be sure to follow me on Instagram and tag #brucrewlifebaking, so I can see all the Inside BruCrew Life recipes you are making.
Yield: 24 blonde brownies
Loaded Blonde Brownies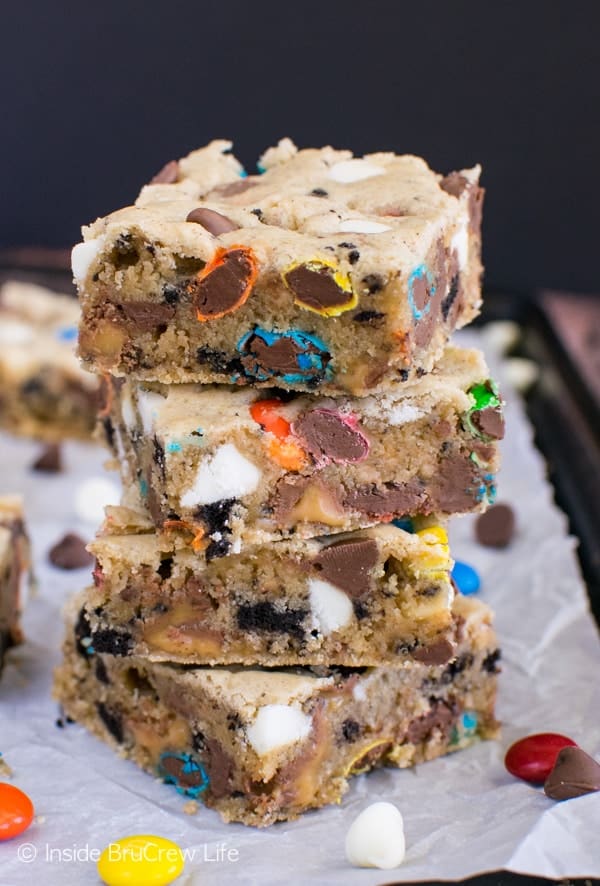 Lots of candy, cookie chunks, and chocolate chips make these Loaded Blonde Brownies such a sweet treat to make. Perfect way to use up extra bags of candy in the pantry!

Prep Time 20 minutes

Cook Time 24 minutes

Total Time 44 minutes
Ingredients
2 cups brown sugar
1/2 cup butter, softened
2 eggs
1 teaspoon vanilla extract
2 cups flour
1 teaspoon salt
2 teaspoons baking powder
1 cup Oreo cookie chunks
1/2 cup chocolate chips
1/2 cup white chocolate chips
1/2 cup toffee bits
1/2 cup M&M's candies
1/2 cup chopped caramel candy bars
Instructions
Preheat the oven to 350 degrees. Spray a 9x13 baking pan with non-stick spray.
Cream the butter and sugar until creamy and light. Add the eggs and vanilla and beat again.
Slowly add the dry ingredients while mixing on low.
Stir in the chocolate chips, toffee, M&M's, and candy bars by hand. Reserve a few of the chocolate chips and M&M's to sprinkle on top of the batter in the pan, if desired.
Spread the batter in the prepared pan. Bake for 24-25 minutes. Set on a wire rack until cooled completely. (Do not cut until cooled all the way) Cut into 24 squares.
Nutrition Information:
Yield:
24
Serving Size:
1
Amount Per Serving:Calories: 285 Total Fat: 11g Saturated Fat: 6g Trans Fat: 0g Unsaturated Fat: 4g Cholesterol: 33mg Sodium: 231mg Carbohydrates: 44g Fiber: 1g Sugar: 32g Protein: 3g