This easy Cheesecake S'mores Danish is filled with graham crackers, marshmallow cream, and chocolate cream cheese.  It's the perfect way to enjoy an indoor s'mores for breakfast.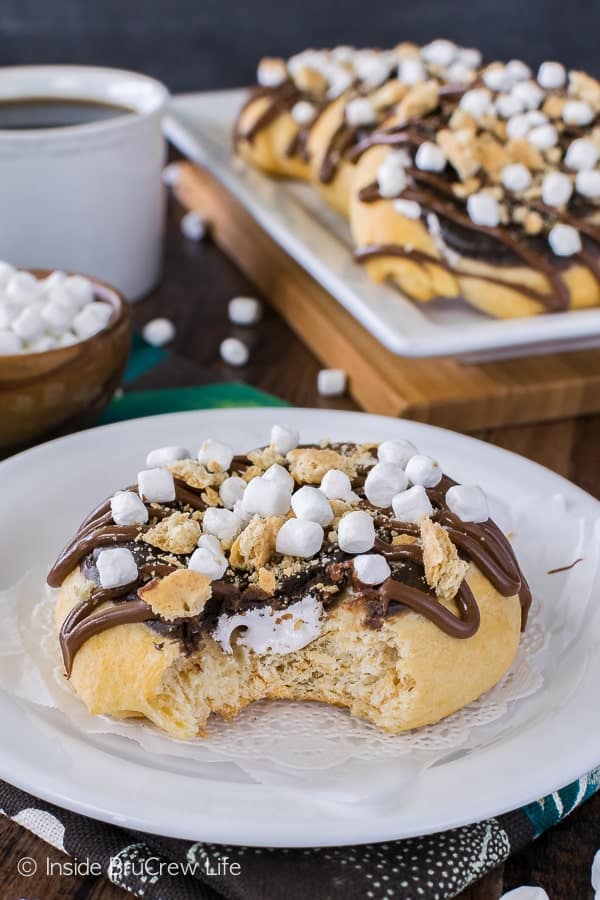 (photos updated May 2017)
CLICK HERE TO PIN THIS RECIPE FOR LATER!
The great outdoors and I have never really been one. It's part of the reason that I prefer to do my camping from a hotel. That and mosquitoes eat me alive! They must know how much I like to eat sugar!!
But I will brave the elements to enjoy a good campfire every once in a while. The thought of ooey gooey marshmallows gets me there every time! I have to admit that one of my favorite parts is roasting marshmallows and eating s'mores until I feel sick!!! 
My husband is super patient and will slowly toast his marshmallows until they are all golden brown and pretty! Now me on the other hand, I like to get it in there, burn it good, slap it on a cracker with chocolate, and eat the crunchy goo! Then repeat that 10 more times.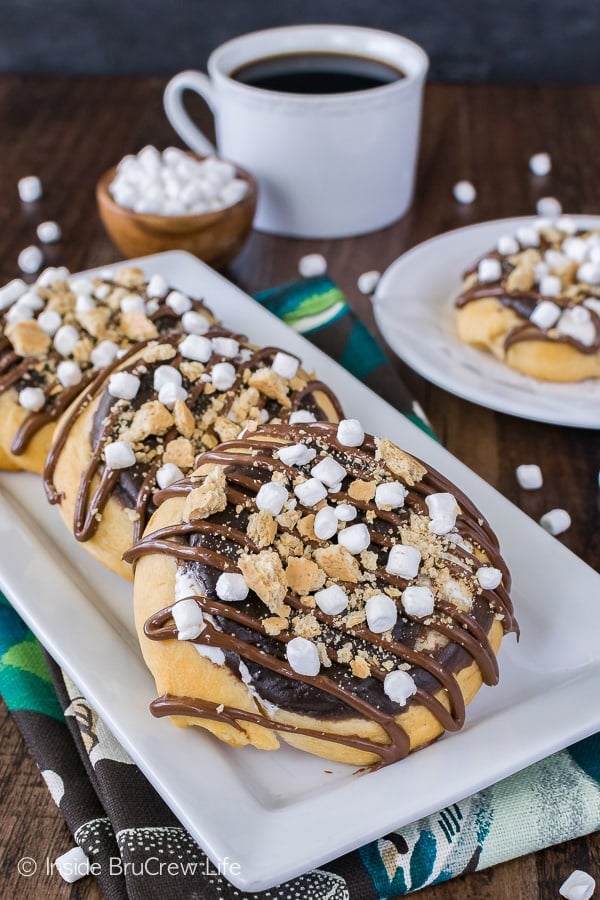 Then you have our kids. They barely hold it over the fire and then wonder why it isn't getting warm. Or they put it right into the center and poof it goes up in flames. Of course, sticks flying around with flaming balls of sugar is always a danger when kids are involved!
 
I am always on the lookout for other fun ways to enjoy the s'mores flavor without having to breathe fresh air or dodge flaming marshmallows! A batch of these No Bake S'mores Tarts does the trick every time!
The thing with s'mores is that it has been made into everything. So many yummy things have been created using the delectable combo of chocolate and marshmallows. Most things have even been done 10x's or more.
And then when I think that I have a brilliant idea that I am sure no one has ever done…Google lets me down HARD!!!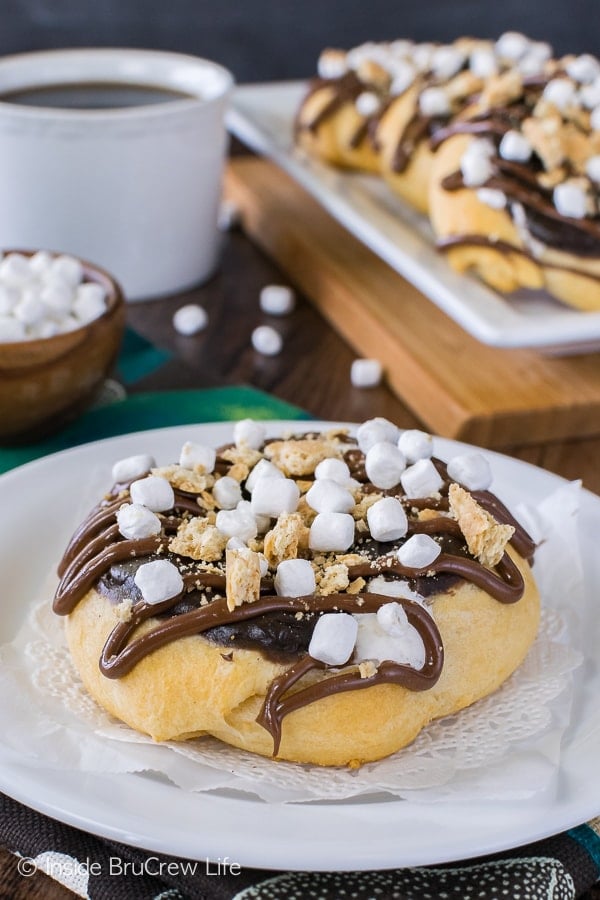 This week I thought breakfast s'mores. Of course, I looked online and that has been done before, (insert sad face) but I went with it anyway!!!
Don't you want chocolate cream cheese and marshmallow fluff all wrapped up in a graham cracker filled roll? Yes, please! I know I sure do!!!!
I just love that sweet rolls are a completely acceptable morning treat…even if they are filled to the brim with marshmallows and chocolate!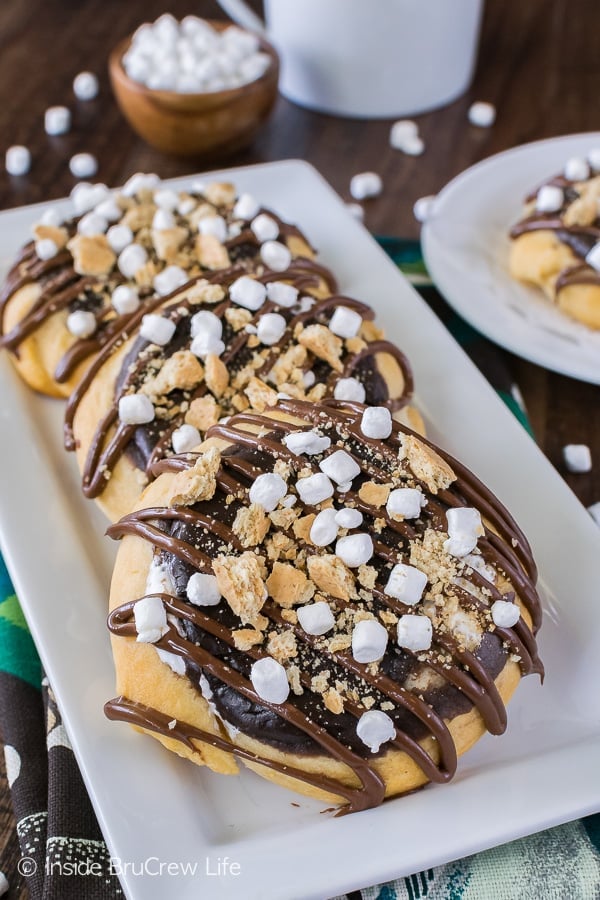 I had to run to the grocery store the other day to pick up some ingredients for this Cheesy Chicken Pasta because we can't live on sweets alone. So, I grabbed some crescent rolls and cream cheese to make these fun little rolls first.
At home I quickly got to work because I couldn't wait any longer for the gooey goodness.

Tips for make Cheesecake S'mores Danish:
Lay out the crescent rolls into 4 rectangles. Press the seams together.
Spoon on the graham cracker crumbs and press them into the dough with the back of the spoon so they stay put.
Roll the dough up like a cinnamon roll, starting from the longest side.
Roll each log up into a spiral. Flatten each one to about 3 1/2 inches with the palm of your hand.
Use your fingers to make a large indent in the middle of each roll.
Fill the indent with marshmallow fluff and top it with the chocolate cream cheese.
Bake and cool.
Drizzle with chocolate and add some extra marshmallows and graham crackers because more chocolate is always a good idea.
Who says you have to wait for breakfast???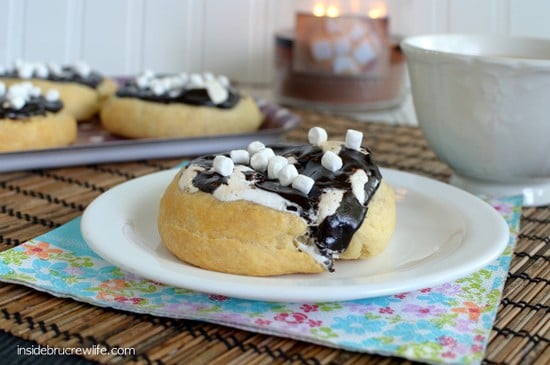 (original photos from April 2012)
If you still need more s'mores in your life, you have to check out these peanut butter cup stuffed s'mores brownies because they look ridiculously gooey and amazing!  I need them!!! Then there is this s'mores fudge. Layers of chocolate and marshmallow make me weak in the knees! And I'm totally crushing on these pretzel s'mores bites!  I love how easy and quick these are to make!
Stay up to date on all the BruCrew baking here:
FACEBOOK | PINTEREST | GOOGLE+ | TWITTER | INSTAGRAM | BLOGLOVIN
 Sign up to receive an email in your inbox for each new recipe:
EMAIL SUBSCRIPTION
Cheesecake S'mores Danish recipe: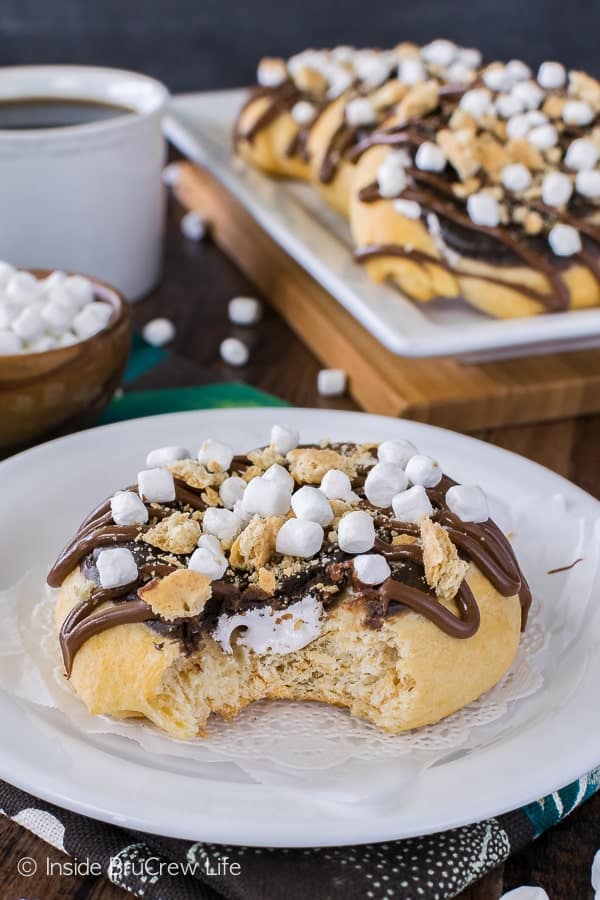 This Cheesecake S'mores Danish is filled with graham cracker crumbs and topped with marshmallow cream and chocolate cream cheese. They are the perfect indoor s'mores breakfast treat.
Ingredients
1 can refrigerated crescent rolls (8 rolls)
1/4 cup graham cracker crumbs
2 ounces cream cheese
1 Tablespoon sugar
1/2 Tablespoon dark chocolate cocoa powder
4 heaping teaspoons marshmallow cream
2 Tablespoons milk chocolate chips
1 Tablespoons graham cracker chunks
1 Tablespoons mini marshmallow bits
Instructions
Preheat the oven to 350 degrees.
Open the crescent rolls and separate the dough into 4 rectangles on a baking sheet. Press the seams together to seal.
Sprinkle the graham cracker crumbs on top. Press into the dough with the back of a spoon.
Roll up the rectangles, starting on the longest side. Pinch edges together.
Coil it around in a circle and pinch the ends together. Flatten the circle with the palm of your hand.
Use your fingers to press the center down making a cavity. Fill with 1 heaping teaspoon of marshmallow cream.
Mix together the cream cheese, sugar, and cocoa powder. Cover the marshmallow with the chocolate cream cheese.
Bake for 13-14 minutes. Cool completely.
Place the chocolate chips in a microwave safe bowl. Heat for 30 seconds. Stir until melted and creamy. Spoon into a ziplock bag and cut one corner off. Drizzle over the tops of each danish. Top with the graham cracker chunks and marshmallow bits. Let set.
https://insidebrucrewlife.com/cheesecake-smores-danish/
Copyright Inside BruCrew Life