H

appy

F

irst

D

ay of

F

all!!!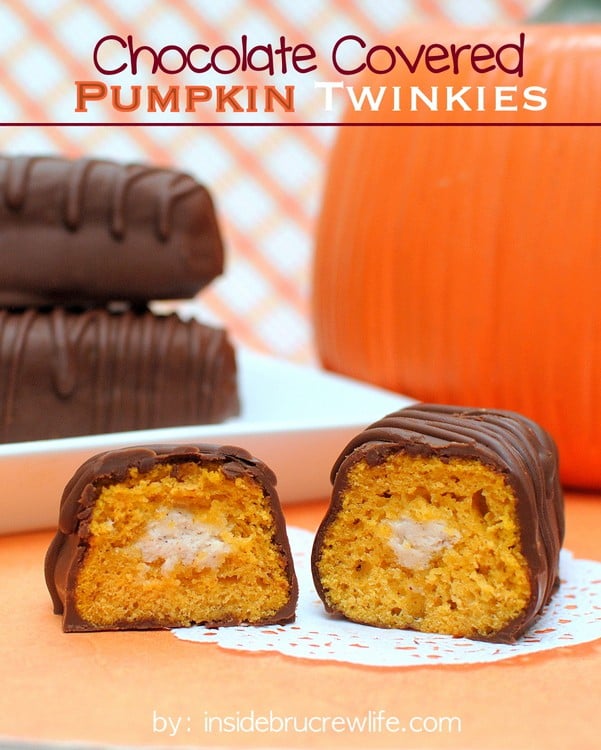 I am so excited that it is now officially Fall.
The weather has even been cooperating for the most part.
We have been enjoying some cool and rainy days.
Now I am just waiting for the leaves to start turning beautiful colors.
Throw in a bonfire and it will be just about perfect:-)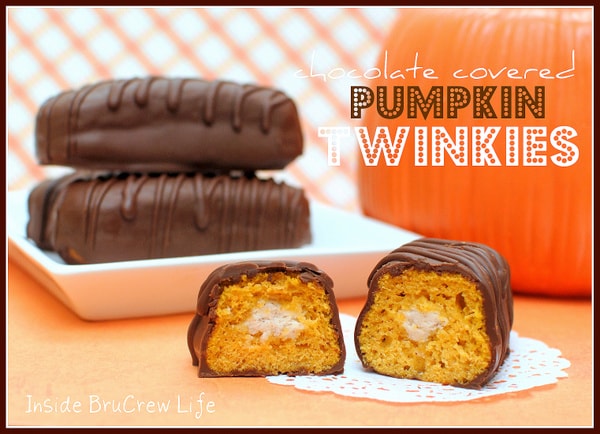 How many of you get excited to bake with pumpkin each fall?
I might be going a little overboard this year…
so far I have made
bread
,
donuts
,
whoopie pies
, and now twinkies…
and I have 1 or 2 pumpkin recipes still waiting to be made:-)Can you say pumpkin obsessed??
For some reason it is the only time of year that I actually bake with pumpkin…
so I am just making up for lost time.
I mean the last time I baked pumpkin treats was a whole year ago.
I must be pumpkin deprived;-)
Can you be obsessed and deprived at the same time? LOL!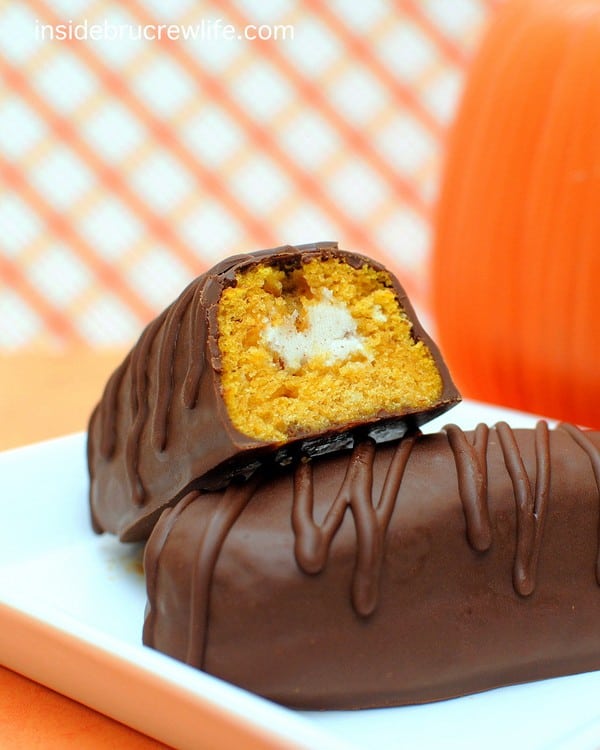 I have a twinkie pan that has been collecting dust in my cupboard,
(don't worry I washed it first:-)
so I figured why not put it to good use.
I also have multiple cans of pumpkin just waiting to be used.
So Pumpkin Twinkies it is.
Little pumpkin cakes filled with a cinnamon cream cheese frosting and dipped in chocolate
Ingredients
For the Twinkies
1 white cake mix
1 c. buttermilk
3 eggs
1/4 c. oil
1/4 c. flour
1 c. pumpkin puree
2 tsp. cinnamon
1/4 tsp. nutmeg
For the Cinnamon Marshmallow Cream Cheese Frosting
4 oz. cream cheese, softened
1 stick butter
1/2 c. marshmallow fluff
1 tsp. vanilla
1/8 tsp. salt
1 tsp. cinnamon
1/4 c. flour
4 c. powdered sugar
1 tbsp. milk
For the Topping
1 pkg. (12 oz.) Candiquik
1 tbsp. shortening
Instructions
For the Twinkies

Preheat oven to 350* Spray Twinkie pan with non stick spray and set aside. In a large bowl combine the cake mix, buttermilk, eggs, oil and flour. Mix on low speed for 1 minute. Add the pumpkin and beat on medium speed for 2 more minutes. Spoon batter into pan. Do not fill more than 1/2 full. Bake for 14 minutes. Cool in pan for 2-3 minutes, then carefully remove from pan. Finish cooling on a wire rack. When they are completely cool, use a piping tip to fill the twinkies in 3 different places with the Cinnamon Marshmallow Cream Cheese Frosting.

For the Frosting

Cream the butter, cream cheese and vanilla for 2-3 minutes. Add the fluff, salt and cinnamon and beat again. Slowly add the flour and powdered sugar until all incorporated and thick. Add the milk and beat on medium high until creamy.

For the Topping

Melt chocolate in micowave with shortening, stirring every 30 seconds until melted and smooth. Drop twinkies one at a time into the chocolate, use a spoon to cover the entire twinkie, then carefully pick it up with an angled spatula or fork. Tap the spatula gently on the side of the pan to remove the excess chocolate. Place on wax paper to set. After you have finished dipping all the twinkies, drizzle the tops with the leftover chocolate.
http://insidebrucrewlife.com/2011/09/chocolate-covered-pumpkin-twinkies/
Copyright Inside BruCrew Life
*You can buy a Twinkie bake set HERE.
**You could also just bake them as cupcakes for 20-22 minutes. Cool. Scoop out the center. Fill with frosting and then spoon some melted chocolate on top.