These Butterscotch Pumpkin Whoopie Pies are filled with a salted caramel buttercream.  They are the perfect fall treat.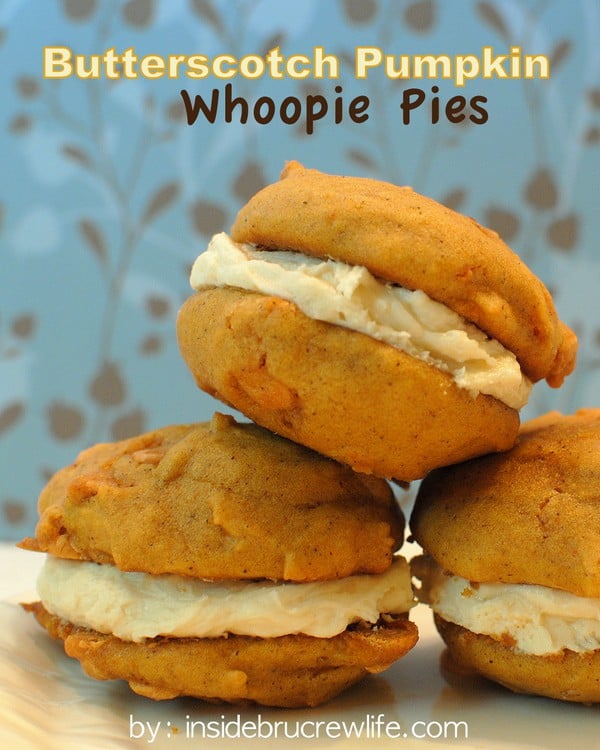 I am questioning my pumpkin sanity right about now. I know you are probably done and over the orange stuff, but I'm not and I just can't stop baking with it!
The recipe for these cookies came from a book I found at the library called Big Fat Cookies!
So many yummy cookies in there, but this one had my number! I mean pumpkin and butterscotch.
It was pointless to resist!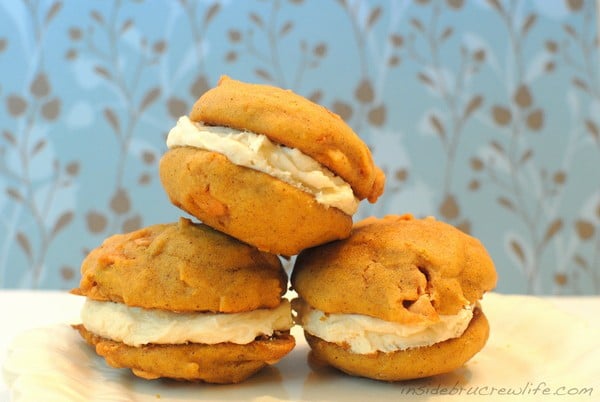 I baked these Butterscotch Pumpkin Whoopie Pies and realized that the frosting from these Salted Caramel Mocha Brownie Cups would be perfect to fill them with.
Why can't I get over the pumpkin treats?
I am thinking it is the warm spicy smell that comes from the oven while the pumpkin treats bake.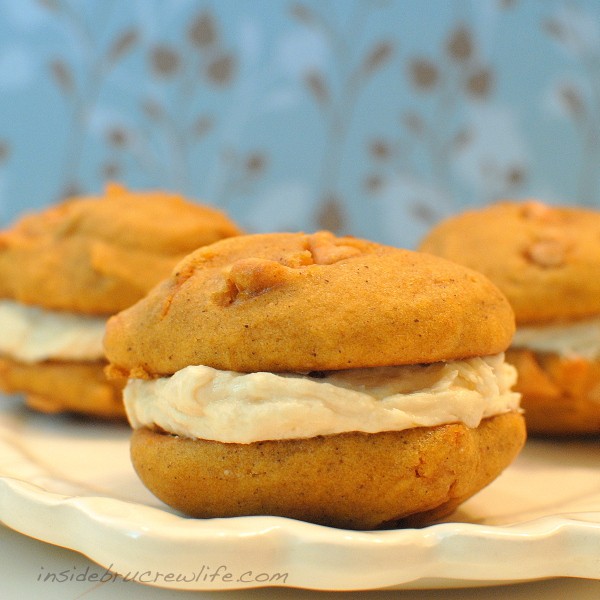 The perfect fall smell in my home makes me feel relaxed and at peace. At least until I step on a lego piece buried in the carpet as I walk to refill my coffee cup.
Yield: 36 cookies/18 whoopie pies
Butterscotch Pumpkin Whoopie Pies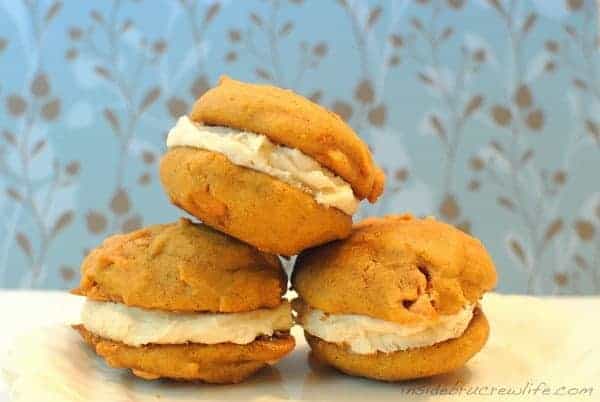 Pumpkin whoopie pies with butterscotch chips and filled with salted caramel butter cream
Ingredients
For the Whoopie Pies
2 cups flour
1 1/2 teaspoons baking powder
1 teaspoon baking soda
1/2 teaspoon salt
1 teaspoon cinnamon
1/2 teaspoon nutmeg
2 eggs
1 cup sugar
1/2 cup oil
1 cup canned pumpkin puree
1 teaspoon vanilla
1 cup butterscotch chips
For the Salted Caramel Buttercream
1/2 cup butter
1/2 teaspoon vanilla
1/4 cup caramel ice cream topping
1/2 teaspoon coarse ground sea salt
2 1/4 cups powdered sugar
1-2 teaspoons milk
Instructions
For the Whoopie Pies
Preheat the oven to 350 degrees.
Stir the first 5 ingredients together and set aside.
In a large bowl, beat the eggs and sugar until it becomes smooth and lighter in color. Mix in the oil, pumpkin, and vanilla.
On low speed slowly start adding the flour mixture to the pumpkin batter.
Stir in the butterscotch chips by hand.
Scoop spoonfuls of batter onto a baking sheet. Space the batter mounds at least 2 inches apart. Bake for about 10-12 minutes or until the tops are firm.
Cool on baking sheet for a few minutes, then remove to a wire rack to finish cooling.
Stir the sea salt into the caramel topping and set aside.
Cream the butter and vanilla for 3-4 minutes. Slowly beat in the powdered sugar. It will be very thick.
Pour in the caramel and beat again. Beat in 1-2 teaspoons of milk to thin out the frosting if you like.
Spoon frosting on half the cookies and top with the other half. Store in a sealed container.
Notes
Recipe adapted from Big Fat Cookies book.