This Apple Biscoff Crumble Pizza is an easy dessert pizza that has a crazy amount of apples, Biscoff cookie spread, and Biscoff cookies on top.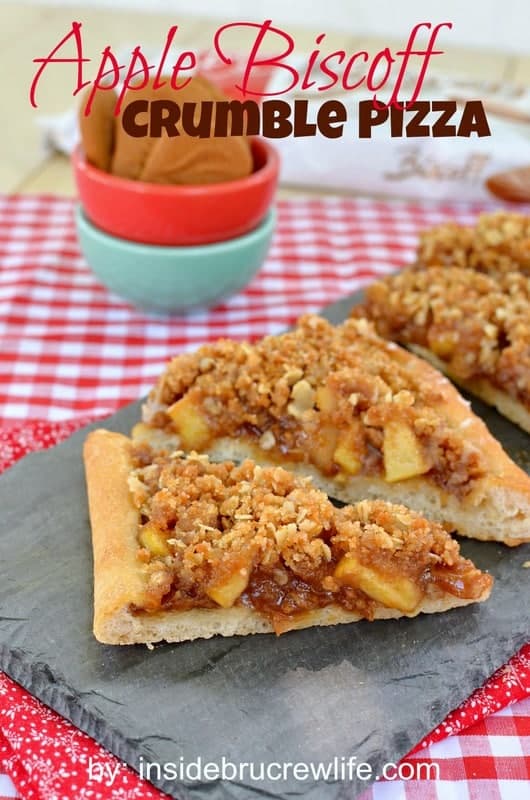 Last night I sat down with our two younger children and asked them what game they wanted to play. In my head I'm thinking Uno, Candy Land, SkipBo...some sort of board game at least. The first thing out of both of their mouths was Wii. That was so not what I was expecting. But I really should have because we live in such a digital age now. I didn't grow up playing video games like ours have. So, I was able to convince them that we needed to play a few rounds of Uno first. Something easy that mom knows how to do.
Then we moved on to the Wii. We all agreed to try out some of the Wii Resort Sports. Turns out I am a master at the sword fighting, just ok at the wake boarding, and I down right stink at basketball. Maybe I need to "practice" more often.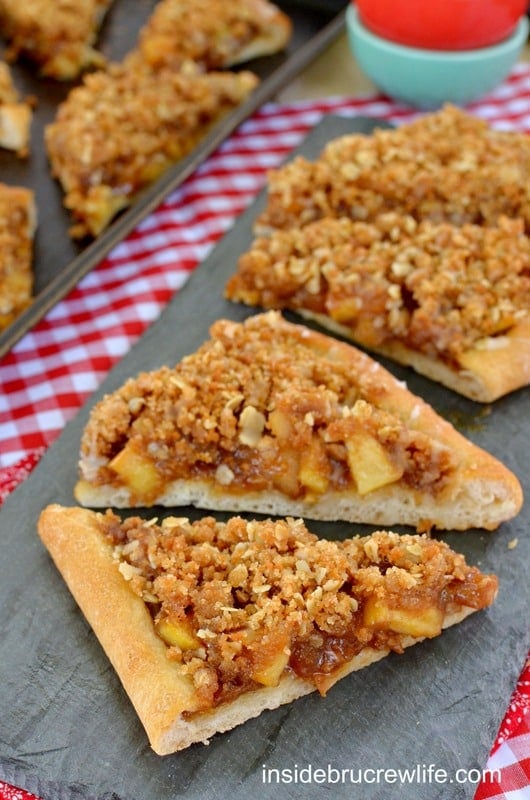 I have a dessert recipe for you today that is kind of unexpected too. Well, I guess you kind of sort of always expect dessert around here, so that's not new.
This is one heck of a dessert pizza for you. I had a bag of Crunch Pak apples that needed used up. We love those bags of sliced apples. So I decided to make an apple crumble pizza for dessert. The unexpected part of this pizza is that I added some Biscoff spread under the apples. Then to get even more crazy...I added Biscoff cookie crumbs to my crumble.
Oh baby! It's a good thing this dessert was headed out of the house. I had a slice and was seriously contemplating hiding in the closet with the rest.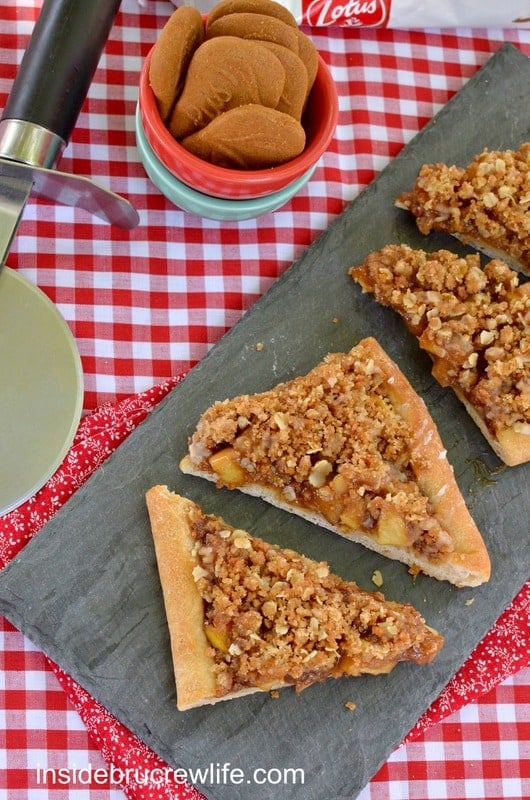 By now I think you have realized that I am a semi homemade kind of a baker. I have no shame in saying I love using mixes in my kitchen. Today is no different. Pillsbury pizza dough is my friend. I love being able to open a can of dough and roll it out and be done with that part. Now don't get me wrong, I love a good homemade crust, and my hubby actually has a great recipe for one, but...I'm one for looking for baking shortcuts whenever I get the chance.
Let's move on to the apples. You are going to saute them in butter. Yup, take the healthy good for you apples and douse them in melted butter. It's getting good in here now. Then add some sugar and cinnamon to the hot apples and let them sit.
For the topping, I started with a basic crumble topping, BUT I went one step further and crushed up some Biscoff cookies I had in my cupboard. Then after par baking the crust, I also added Biscoff spread on the crust before adding the apples and topping. It only takes another 15 minutes to bake, but I was pacing my kitchen. I couldn't wait to taste this bad boy!
Apple and Biscoff is one flavor combo that I am totally in love with. I still have more apples and Biscoff...what else should I make?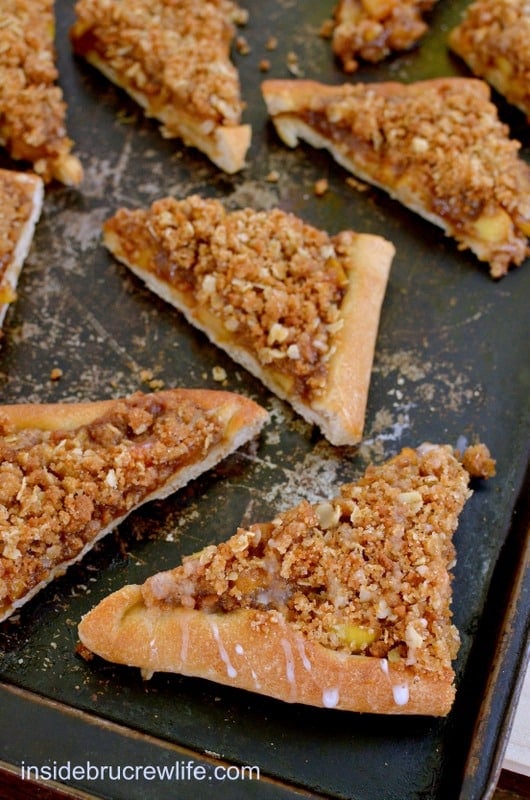 Stay up to date on all the BruCrew baking here:
FACEBOOK | PINTEREST | GOOGLE+ | TWITTER | INSTAGRAM | BLOGLOVIN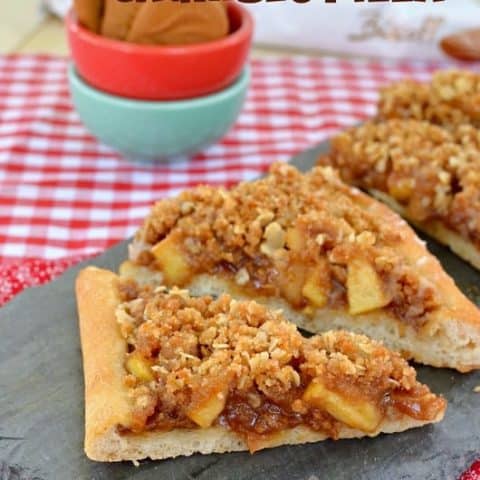 Apple Biscoff Crumble Pizza
Pizza crust topped with Biscoff spread, cooked apples, and a cookie crumble topping. This is the best dessert pizza.
Ingredients
For the Apples
3 Tablespoons butter
6 cups diced apples
½ cup brown sugar
1 teaspoon cinnamon
For the Crumble
¼ cup brown sugar
¼ cup sugar
¼ cup flour
1 cup Biscoff cookie crumbs
½ cup quick oats
¼ cup butter, softened
For the Crust
1 can refrigerated pizza crust
½ cup Biscoff Spread
For the Glaze
½ cup powdered sugar
2-3 teaspoons milk
Instructions
Preheat oven to 400 degrees.
Melt the butter in a large skillet. Add the apples and saute until soft. (about 6 minutes)
Stir in the sugar and cinnamon until melted. Set aside to cool.
Combine the topping ingredients and mix until crumbly.
Open the can of pizza dough. Unroll it and place on a baking sheet. Bake 7 minutes. Cool for at least 5 minutes.
Spread the Biscoff spread on the pizza crust. Leave a 1 inch border all around the crust.
Spoon the cooled apples on top of the spread. Sprinkle with the crumble mixture. Bake for 15 minutes. Let cool.
Mix together the powdered sugar and milk. Drizzle over the edges of the crust if desired. Cut into roughly 20 slices.
Nutrition Information:
Yield:

20
Serving Size:

1
Amount Per Serving:
Calories:

275
Total Fat:

11g
Saturated Fat:

4g
Trans Fat:

0g
Unsaturated Fat:

7g
Cholesterol:

14mg
Sodium:

210mg
Carbohydrates:

42g
Fiber:

2g
Sugar:

20g
Protein:

3g
More fun ways to enjoy Biscoff and Apples: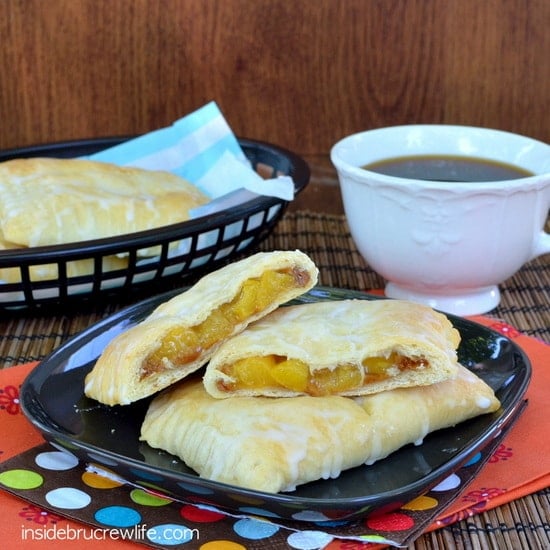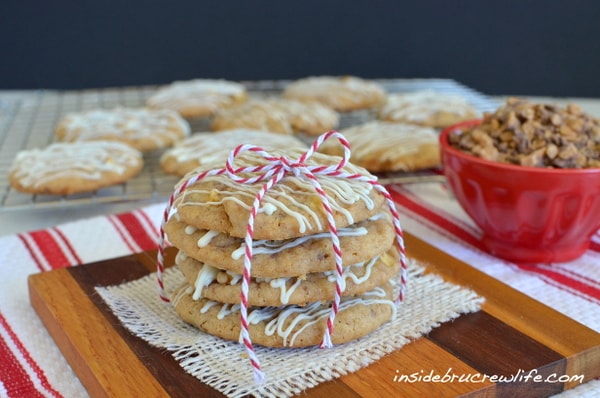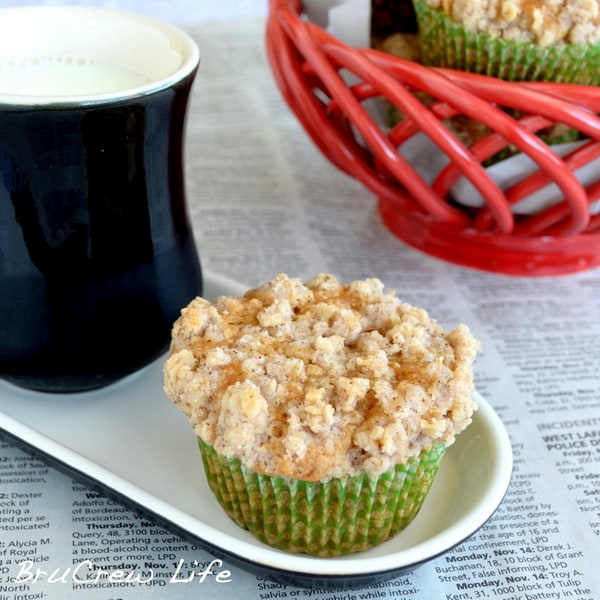 Other apple recipes from friends:
Caramel Apple Cinnamon Rolls from Sally's Baking Addiction
Apple Pie French Toast Casserole from Baked by Rachel
Apple Cake with Honey Glaze from Shugary Sweets