These sweet Toffee Apple Pie Cookies are loaded with candy bits and shredded apples. Fill your cookie jar with a batch of these soft apple cookies. If they last that long...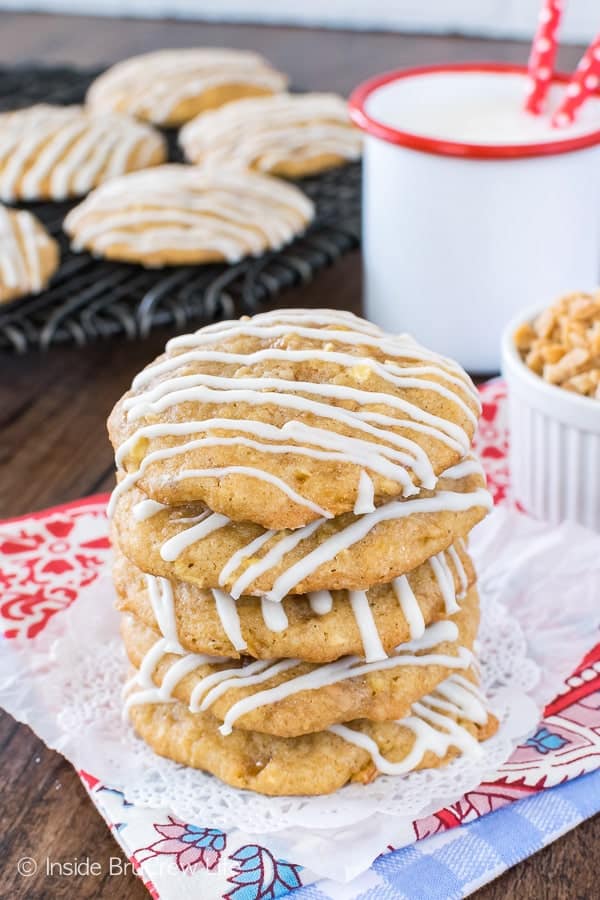 Anyone else craving something sweet today? I have some Toffee Apple Pie Cookies with your name written all over them. Come on over and we will sit and chit chat while we munch on a batch of homemade cookies.
These are the perfect fall treat to enjoy with a homemade Salted Caramel Mocha Latte. Soft bites of apple, the little taste of graham cracker, and the crunch of toffee all in one little sweet cookie will have you reaching for a second and a third apple cookie in a hurry.
And because they have fresh apples in them, I consider these a perfect breakfast food too. Don't you think they kind of look like a muffin top? Of course, thinking about muffins makes me want to make another batch of these Cinnamon Sugar Apple Donut Holes too.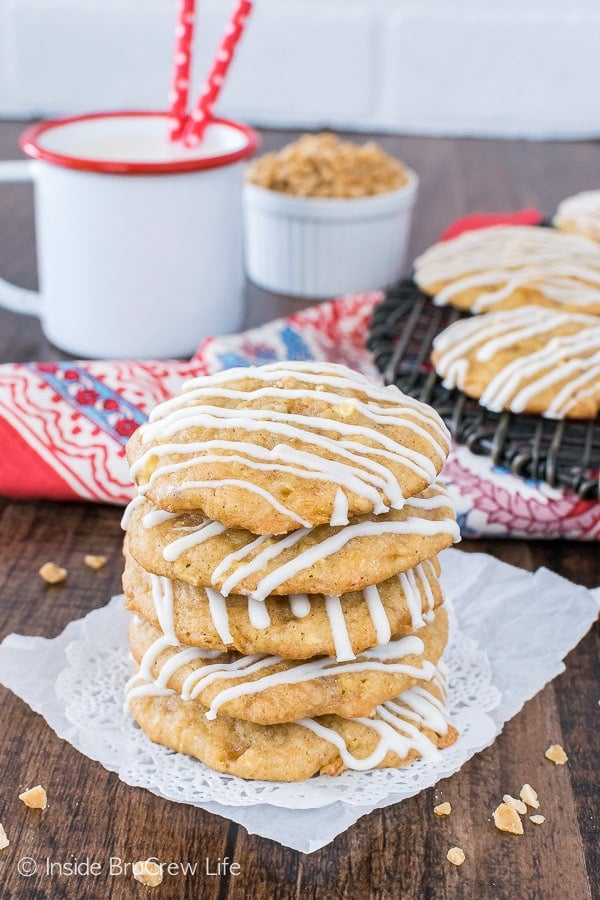 Do you want to know what I liked best about these apple cookies? Well, besides the fact that I added candy to them and white chocolate drizzles to the top.
These cookies stayed soft for almost an entire week because of the apple bits. I kept them in a very tightly sealed container, and 5 days later they tasted just as good as the day I baked them.
I have a feeling that they would have stayed soft for a week or more, but since they didn't last that long I'll never know.
Although, I'm wishing I had thrown them in the freezer right away for lunches because I couldn't seem to stop eating them. Fingers crossed that one of these days I will crave things like this Strawberry Orange Spinach Salad instead of cookies.
Thank goodness for cooler weather coming and baggy sweatshirts, so I can hide my cookie chub. Am I right?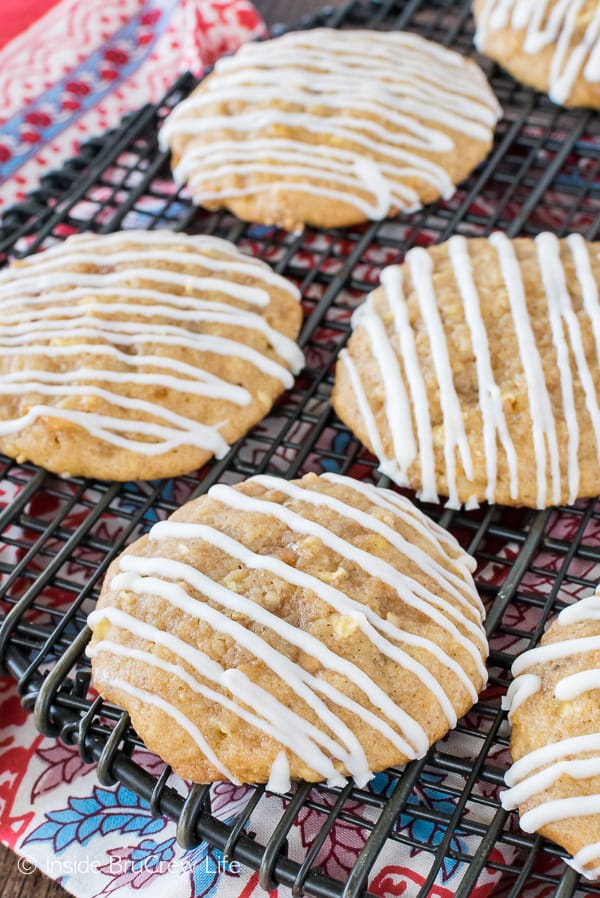 Tips for making Toffee Apple Pie Cookies:
Beat the butter and sugar until fluffy. Add the egg and vanilla and beat it again.
Stir together all the dry ingredients and slowly add them the butter mixture.
Use a food processor to shred some apple slices. Stir the shredded apples and toffee bits gently into the cookie dough. Refrigerate the dough for at least 30 minutes, so that the cookies do not spread too much when baking.
Using a cookie scoop, divide the dough into 24 dough balls. Place on a cookie sheet and bake for 12 minutes. I like to use a Silpat on my baking sheet to keep them from spreading too much.
Once the cookies are cool, drizzle the tops with some melted chocolate. You could also sprinkle some graham cracker crumbs or toffee bits on top, if you like.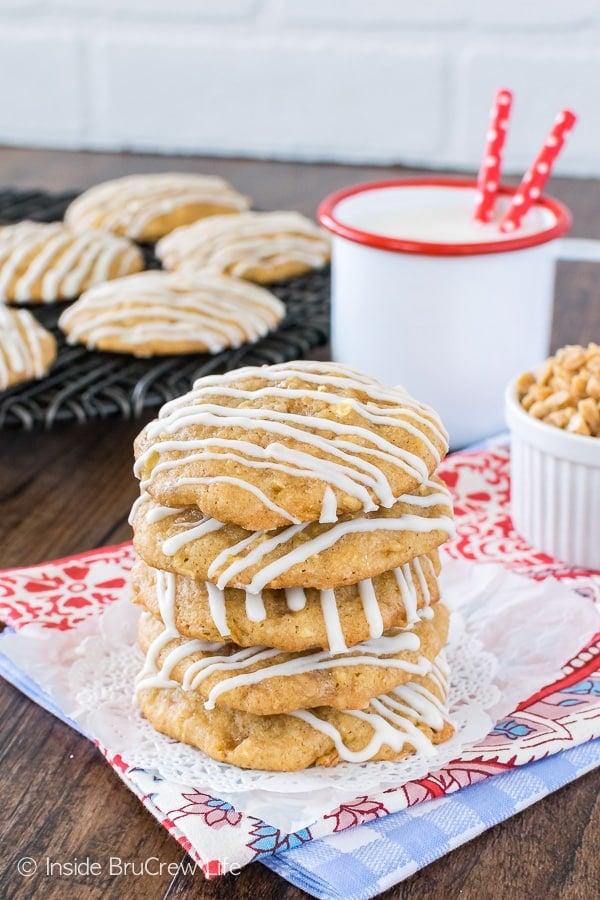 More easy apple recipes you may enjoy:
Dutch Apple Pumpkin Crisp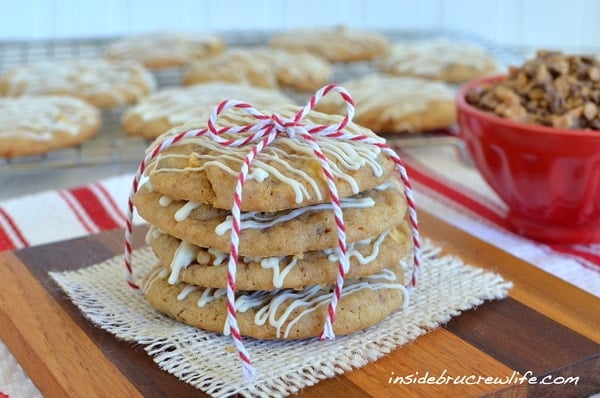 (original photo from September 2012)
*The recipe and post for these Toffee Apple Pie Cookies was originally posted on September 17, 2012. The post and pictures have been updated and republished on October 1, 2018.