These Banana Praline French Toast Muffins? They are ridiculous, in the best kind of way.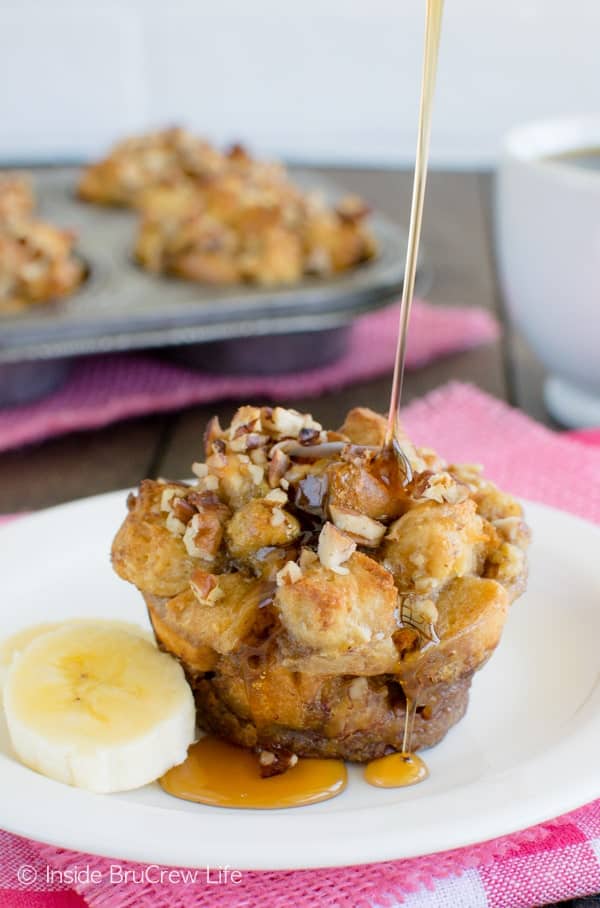 PIN IT NOW TO SAVE THE RECIPE FOR LATER!
I sure hope you aren't tired of seeing banana related breakfasts and desserts because this isn't the last recipe I have to share with you. I should seriously consider changing my blog name to Bonkers for Bananas because I can't stop buying the yellow fruit and using it in recipes.
Kind of has a fun ring to it, ya know? Although years of being the BruCrew would be too hard to give up, so the name stays the same.
Just don't be alarmed when I post a billion and one banana recipes. It could happen. It is a good thing that bananas are one of the cheaper fruits out there. I have a few ripe ones on the counter again, and a bag of frozen bananas just waiting for smoothies or more blueberry banana frozen yogurt. At least bananas never go to waste in our house.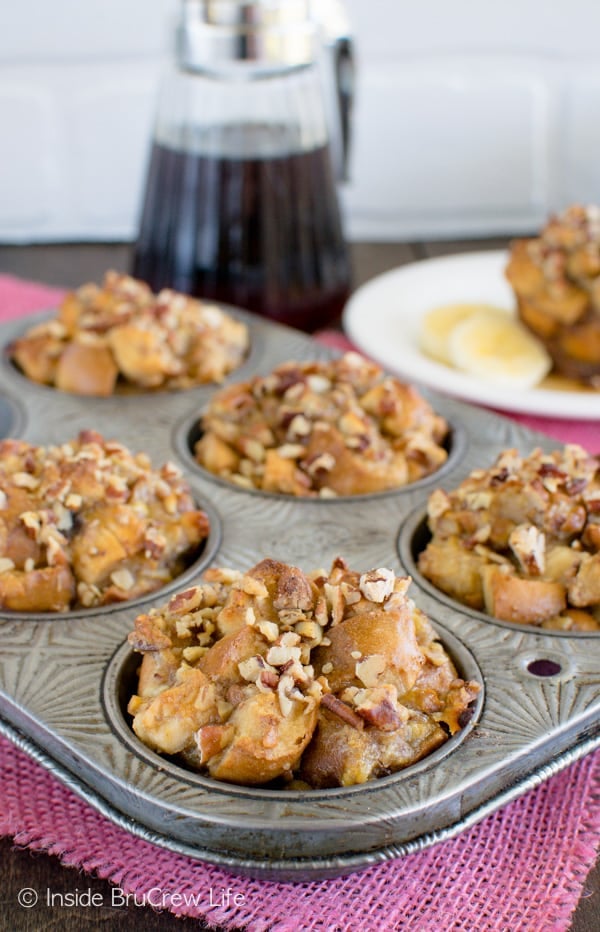 I wish I could say the same for the crisper drawer in the refrigerator full of veggies and other fruits. That drawer is pretty much a black hole where veggies go to die. I really should stop putting fruit and veggies in there because I tend to forget about them way too quickly.
I think I get inspired to make banana treats all the time because the bananas are visible on the counter. Maybe I should leave the peppers and carrots out on the top shelf of the fridge, so each time I reach in there I see veggies first.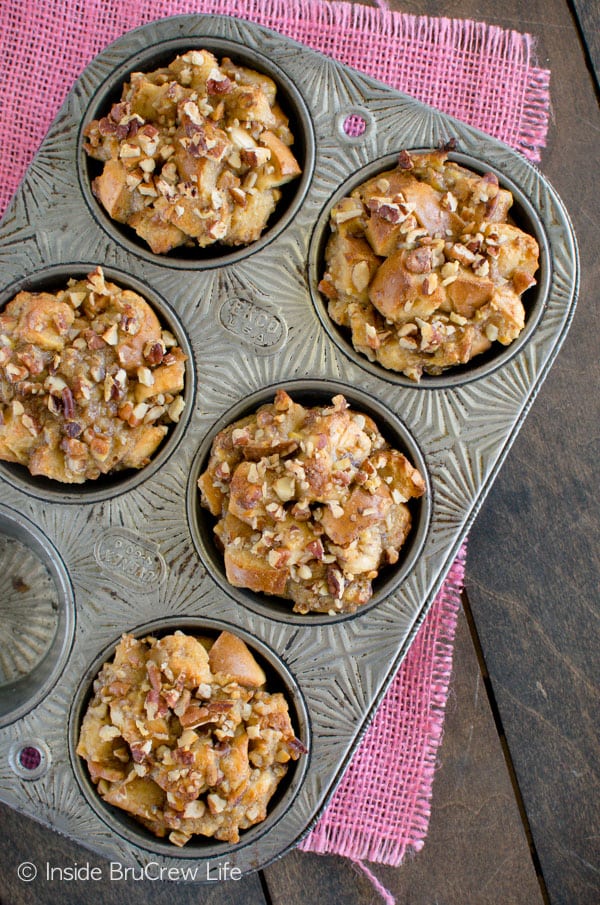 Who am I kidding? I would probably just make another loaf of carrot coconut bread, instead of keeping the veggies healthy.
These easy banana praline French toast muffins were one of the banana treats that I made the other day. We had some leftover bagels, so I toasted the bagels before soaking them in a banana egg mixture for a little while.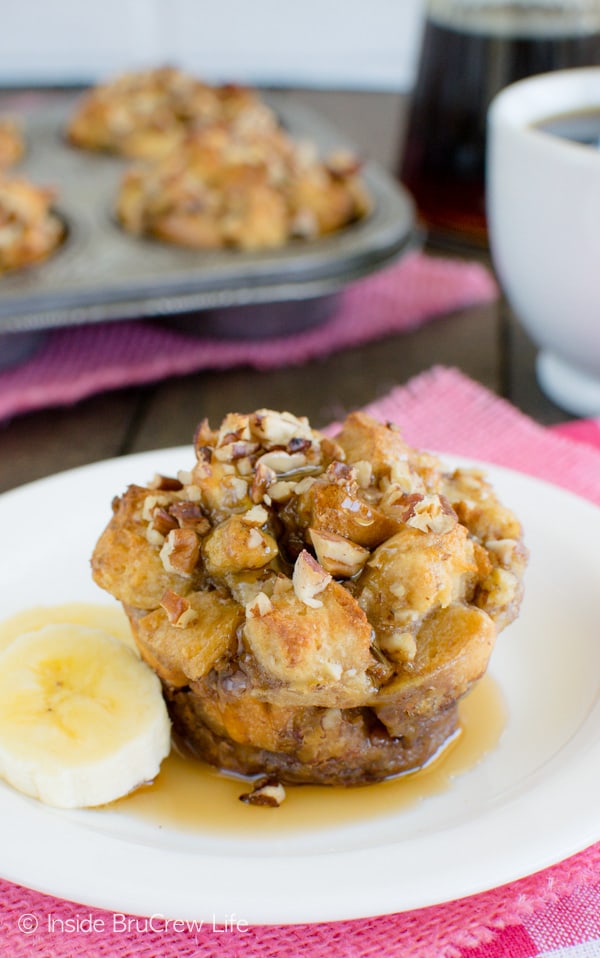 That mixture got divided between the muffin cups and topped with more pecans before baking them. A drizzle of maple syrup adds the finishing touch to these delicious breakfast treats.
Since Mother's Day is this weekend, I suggest adding bananas and bagels to your shopping list. Your mom would love a few of these muffins as a special breakfast on her day!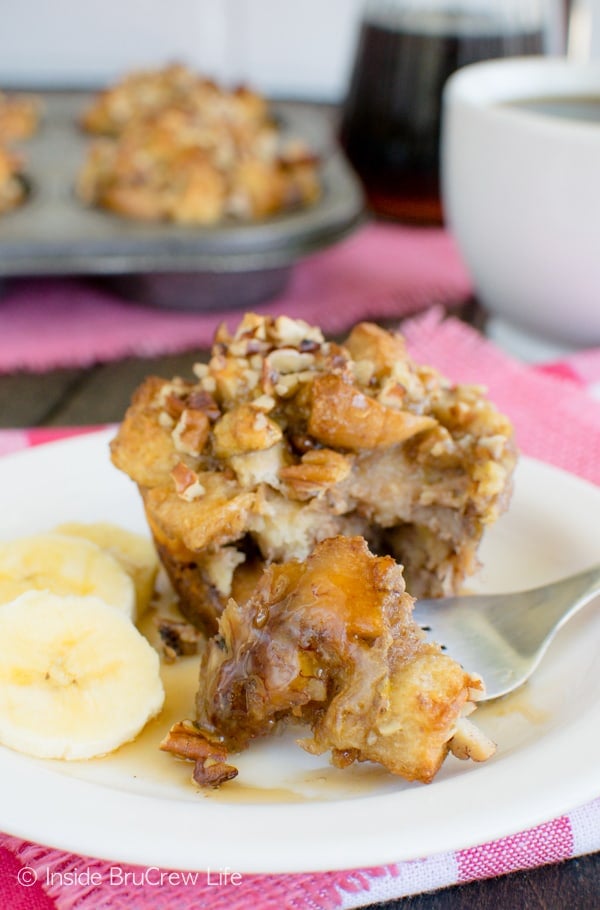 I am one of the breakfast contributors at Food Fanatic, so make sure you head over there to print this banana praline French toast muffin recipe.