This easy Blueberry Banana Frozen Yogurt is a delicious and healthy treat to enjoy on a hot summer day. Frozen fruit and yogurt blended together creates an amazing summer dessert.
My husband and I have been concentrating on eating right and exercising five days a week this past month. We have been using our garage gym to work out together in the morning.
Does that mean we cut out dessert? Not at all. If you have been around here for very long, you know that I am a huge fan of baking. And by baking, I really mean eating sweets.
I actually think my sweet tooth has gotten bigger over the years. This is not a good thing since summer is here, and it is time to wear shorts and swimsuits in public.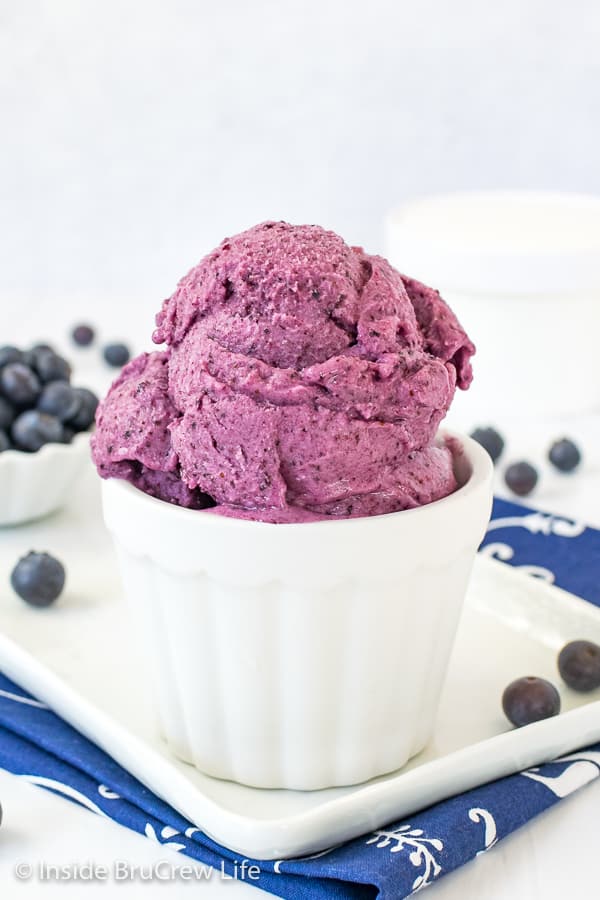 There are a few times of year when I get that extreme urge to eat better. The first urge to make sure I'm eating the right foods happens in January, right after the holidays. After eating cookies and fudge for an entire month, it's necessary to get back on track at the beginning of the year.
The next time I really start to ramp it up in the eating and exercise department is May and June when it is too hot to hide under leggings and sweatshirts any more.
My sweet tooth still wants to enjoy a treat from time to time, so I like to keep containers of frozen yogurt in our freezer. A spoonful here and there is all I need to satisfy the sweet cravings I get.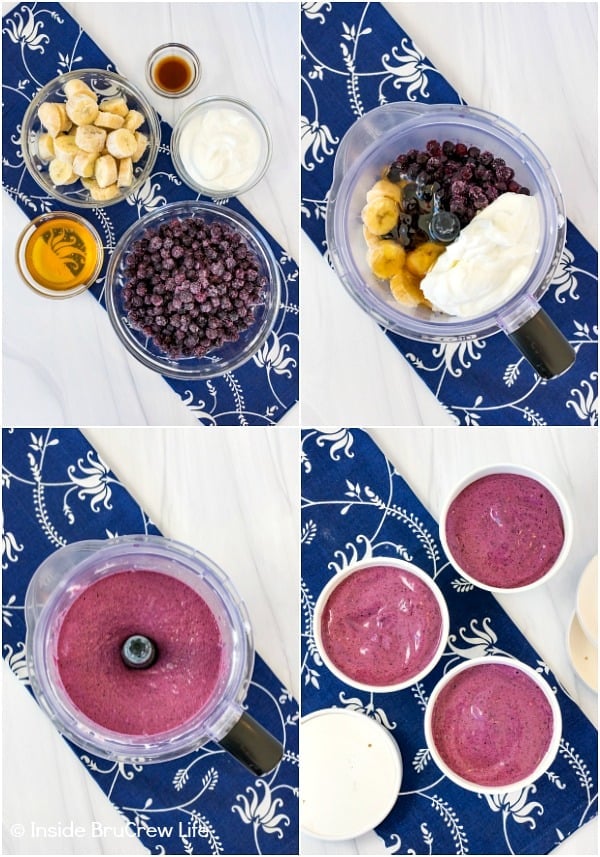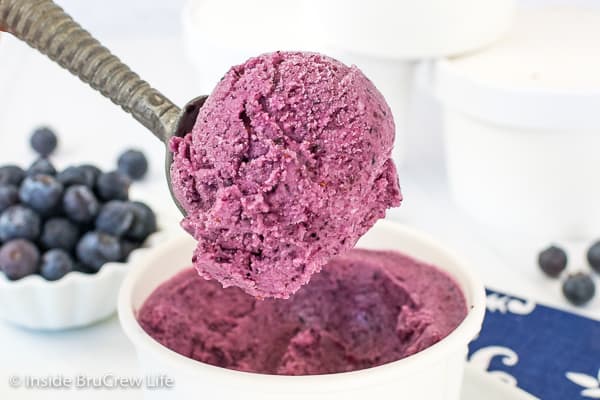 Making frozen yogurt is very easy to do. We buy bananas all the time, and keep a bag of them in the freezer to make a Triple Berry Orange Smoothie in the mornings.
But did you know that frozen bananas (or any fruit for that matter) are also a great base for healthy ice cream or frozen yogurt? Our daughter loves making this Peanut Butter Banana Ice Cream for her late night snack each night.
How to make Blueberry Banana Frozen Yogurt:
Add frozen blueberries, frozen banana slices, honey, Greek yogurt, and vanilla in a food processor or high powered blender.
Pulse in small increments. Open and use a spatula to move the mixture down the sides. Continue doing this until smooth and creamy.
Spoon the mixture into three small freezer containers or one large container and freeze for 3-4 hours.
This creamy blueberry frozen yogurt has become my new favorite snack to enjoy each night. Since hot summer days are here, I want to keep our freezer stocked with more containers of this frozen yogurt.
I love having healthy desserts that I can enjoy without having to add extra workout routines to my life. My shorts are going to be so happy this summer!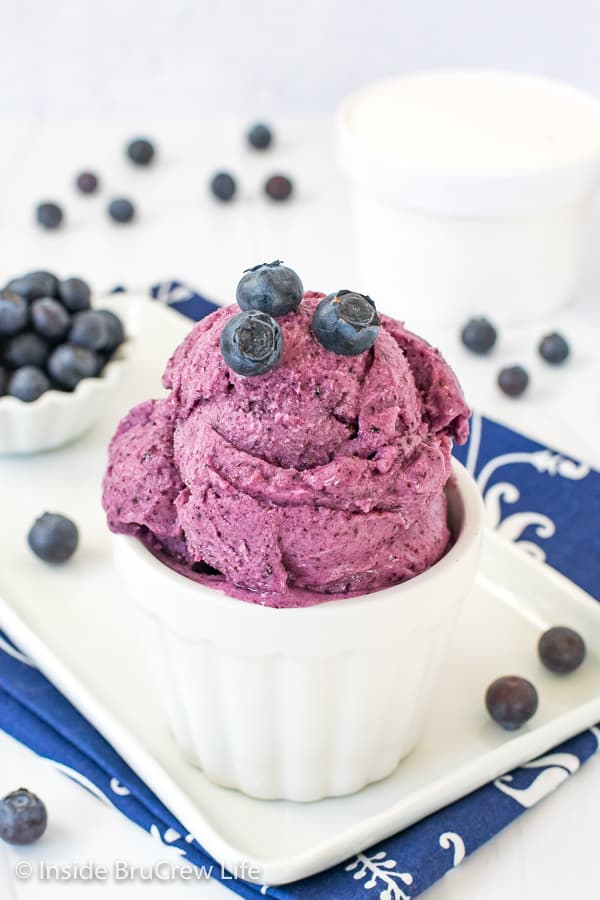 Other healthy recipes you may like: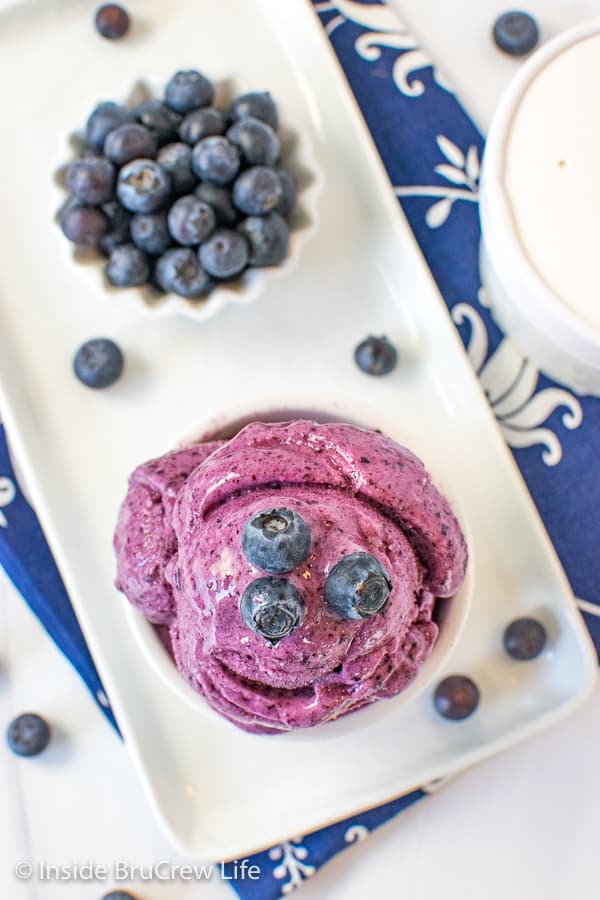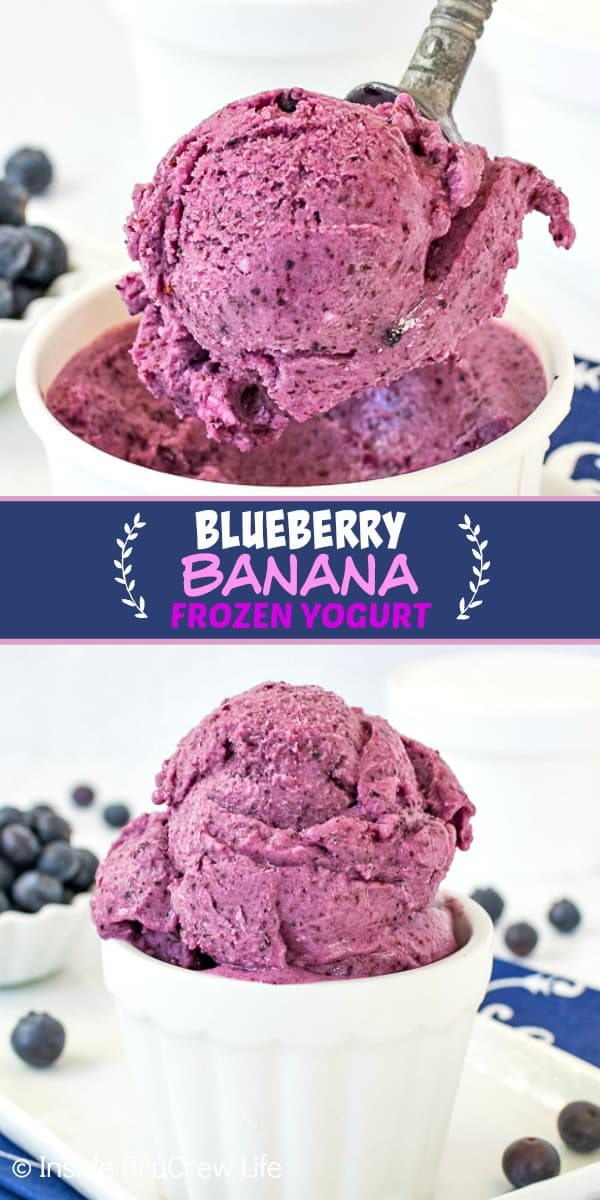 *The post for Blueberry Banana Frozen Yogurt was first published April 28, 2016. The post and photos have been updated and republished June 19, 2020.