A loaf of sweet bread is a great way to start the morning in our house. This sweet Carrot Coconut Bread is loaded with veggies making it acceptable to eat "carrot cake" for breakfast.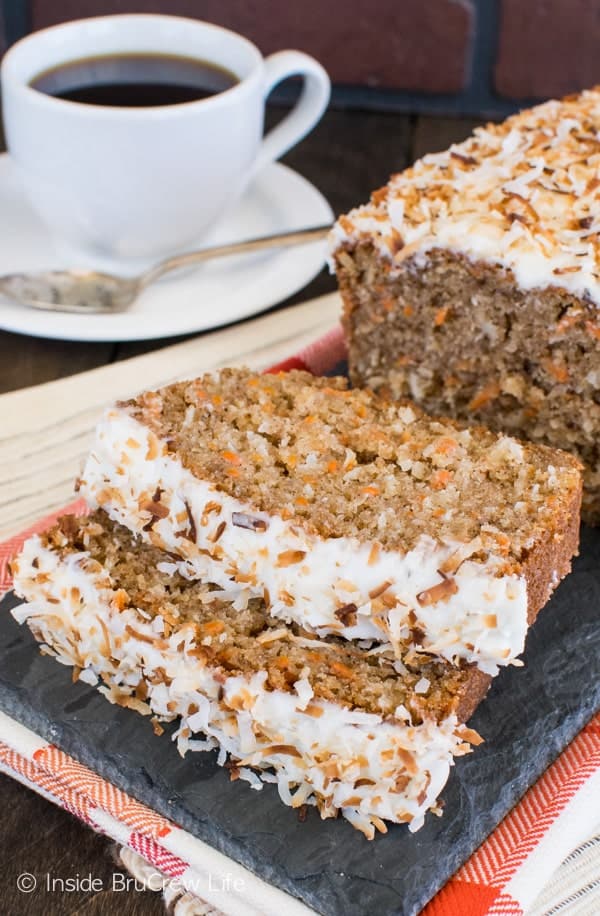 CLICK HERE TO PIN THIS RECIPE FOR LATER!
This Loaded Carrot Cake is one of my all time favorite desserts. I just don't make it very often. Actually, it is usually the one dessert that I order when we go out to eat.
I think the reason I do not make it very often is because I would eat it ALL tiny sliver by sliver. And that's never good when you are trying to be good and to eat healthy.
So what did I do instead? I made a loaf of carrot bread with lots of carrots and coconut added in. I feel better eating this sweet bread for breakfast because it's technically a healthy carrot bread because of all the orange veggies in it. Right? Wink, wink!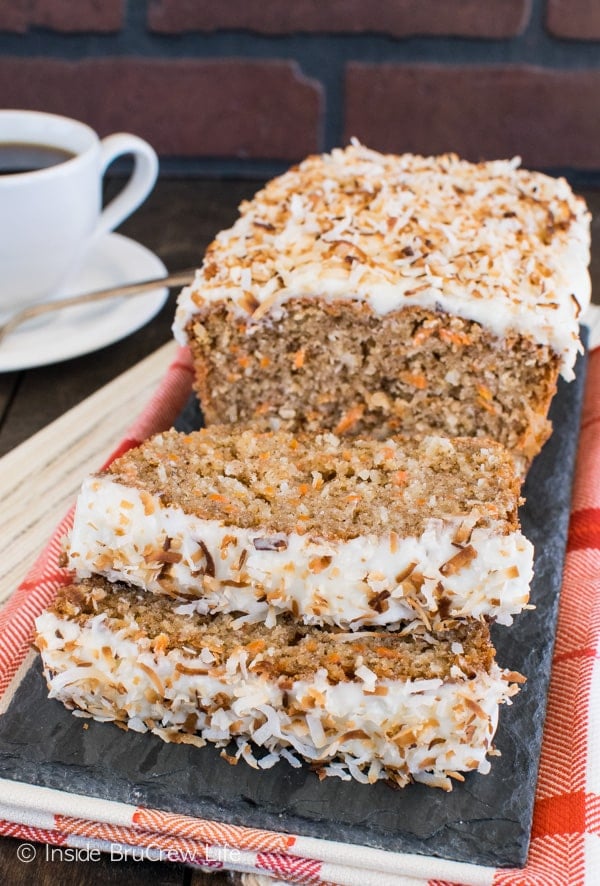 Of course, I added a layer of cream cheese frosting to the top of the carrot bread, so I guess some people (like my hubby) would call it a cake.
But since I made it in a loaf pan, I'm sticking with calling this bread AND eating it for breakfast. It's the little things that make me happy.
Also, if anyone was wondering this Carrot Coconut Bread recipe also works great in different pans. I made this Carrot Bundt Cake with the same recipe, only that time I added nuts and raisins to the batter.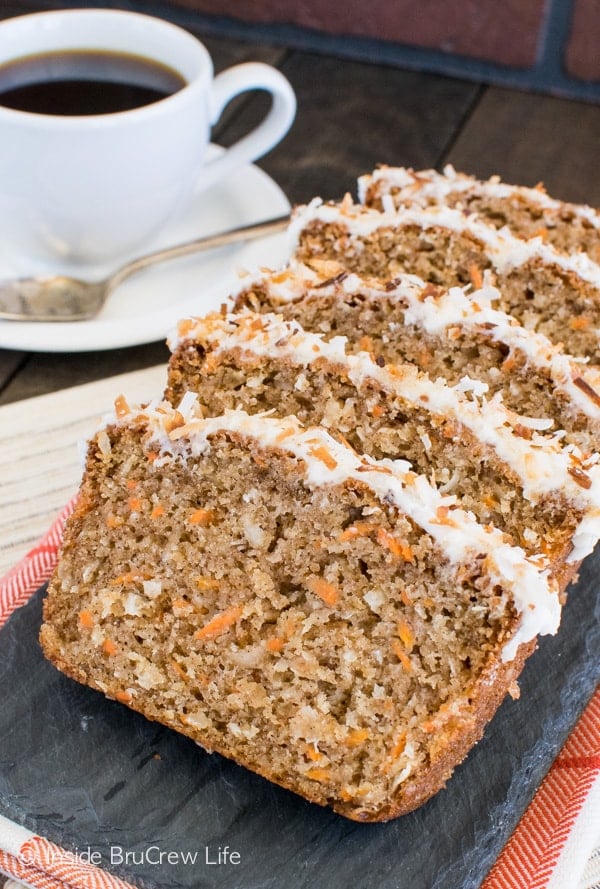 Of course, with all the coconut inside and outside, no one else in my house is going to touch this Carrot Coconut Bread. That could be a good or bad thing. I'll let you know when I finish it all off.
I actually made this sweet bread a few years ago and had forgotten how delicious it was. I also had forgotten how bad my photography skills were back then.
Seriously? What was I thinking when I threw chocolate chips on top of this breakfast loaf? Toasted coconut is a much better addition to this easy breakfast loaf.
Years of making recipes sure gives you a different perspective and eye for food!!! It was time to refresh these pictures. Plus, I had an extreme desire to have "bread" for breakfast this week.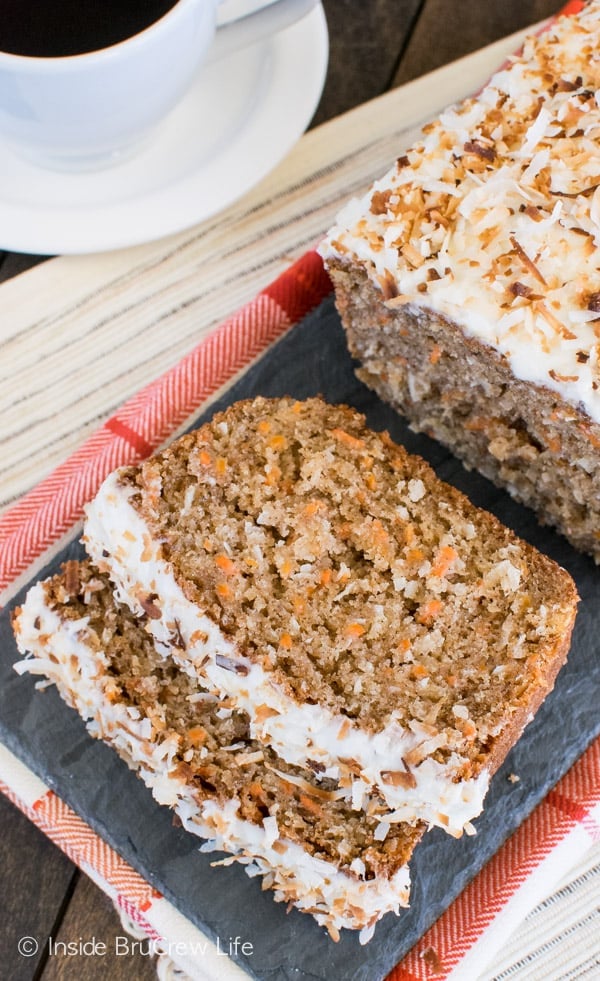 How to make Carrot Coconut Bread:
Preheat your oven and spray your loaf pan with nonstick spray to keep the bread from sticking later.
Mix together the oil and sugars until they look like wet sand. Add the eggs, extract, and sour cream and beat it until it is creamy.
Stir in the flour, spices, and baking soda and powder gently.
Add the coconut and shredded carrots to the batter. Make sure you do not use the pre-shredded carrots because they do not provide enough moisture for baked goods.
Spoon into the loaf pan and bake. Let cool in the pan for about 15 minutes before flipping it out onto a wire rack to cool completely. Make sure to flip the bread back over while it cools so it doesn't split or break apart.
Spread cream cheese frosting on top of the cooled carrot bread and top with toasted coconut.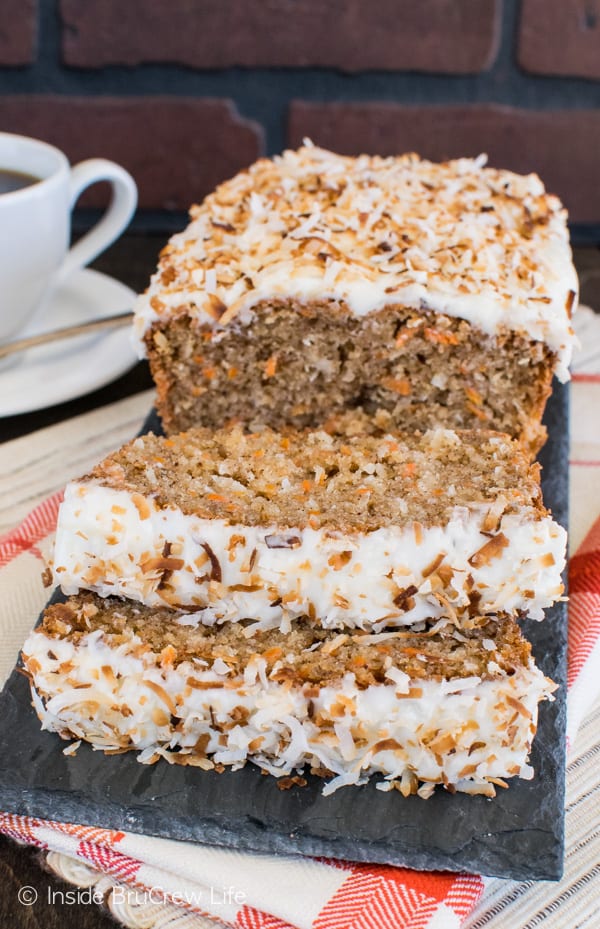 More sweet bread recipes that you might like:
This Almond Joy Banana Bread is loaded with lots of chocolate, almonds, and coconut. Such a fun way to use up those ripe bananas on the counter.
This Pineapple Zucchini Bread has a delicious tropical twist. It is another great way to use up all those green veggies from the garden that have started to take over!
Cranberry Orange Bread is sweet, gorgeous, and perfect for giving! Made with lots of orange zest, melted butter, and fresh cranberries.
A slice of warm Sour Cream Banana Bread and a hot cup of coffee is a great way to start out any morning.
Frosted Orange Poppy Seed Bread is a delectable twist on the classic. Perfect for summer brunches!
Connect with Inside BruCrew Life! Be sure to follow us on our social media, so you never miss a post.
FACEBOOK | PINTEREST | TWITTER | INSTAGRAM | BLOGLOVIN | EMAIL SUBSCRIPTION
I also created a fun new Facebook group, and I would love for you to join. It's a group where you can share your favorite recipes, ask questions, share photos, and see what's new with the BruCrew. If you would like to check it out, you can request to join HERE.
Carrot Coconut Bread
Yield:
1 loaf of bread/10 slices
Total Time:
1 hour
30 minutes
This sweet carrot coconut bread is a great way to start the day off with veggies. The creamy glaze and toasted coconut on top makes it feel like eating cake for breakfast.
Ingredients
For the Bread
1/2 cup oil
1/2 cup brown sugar
1/4 cup sugar
2 eggs
1 teaspoon coconut extract
1/2 cup sour cream
1 1/4 cups shredded carrots
1 cup sweetened coconut
1 teaspoon cinnamon
1/2 teaspoon nutmeg
1/4 teaspoon cloves
1/2 teaspoon salt
1 teaspoon baking powder
1/2 teaspoon baking soda
1 1/4 cups flour
For the Glaze
2 ounces cream cheese, softened
1/4 teaspoon rum extract
1/4 teaspoon salt
1 cup powdered sugar
1 Tablespoon milk
1/4 cup toasted coconut
Instructions
Preheat oven to 350 degrees. Spray an 8 1/2 x 5 loaf pan with nonstick spray.
Beat the oil and sugars until it looks like wet sand.
Add the eggs, extract, and sour cream and beat again until creamy. Stir in the carrots and coconut gently.
Stir together the cinnamon, nutmeg, cloves, salt, baking powder, baking soda, and flour. Slowly add it to the wet ingredients until mixed in.
Spoon into pan. Bake for 60 minutes, or until a toothpick comes out with a few crumbs on it. If it starts to get dark on top, you can cover the bread with foil the last 10 minutes of baking.
Remove from the oven and cool in the pan for 15 minutes before flipping out on a plate to cool completely.
Stir together the cream cheese, extract, and salt with a fork. Slowly mix in the powdered sugar and milk until creamy.
Spread on top of the cooled bread. Top with toasted coconut right away. Let set. Store covered in the refrigerator.
Notes
*You can also bake this recipe in three small mini loaf pans. Bake at 350 degrees for 40-45 minutes or until a toothpick comes out with a few crumbs on it.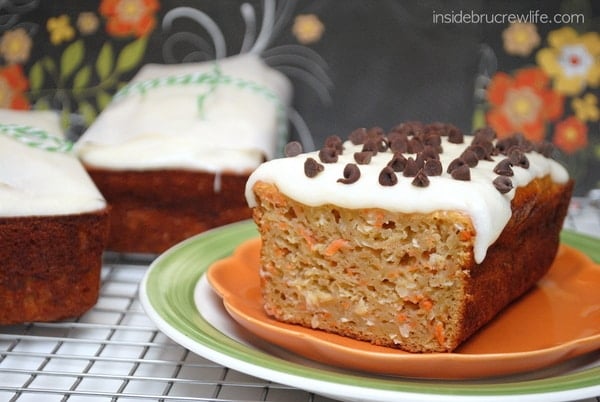 (original photo from November 2011)
*The post for Carrot Coconut Bread was first published on November 28, 2011. The photos and recipe has been updated and republished on April 18, 2019.