This BBQ Pork Pineapple Pizza is a delicious way to add a twist to an old favorite recipe. Change up your regular pizza toppings for this sweet and spicy combo!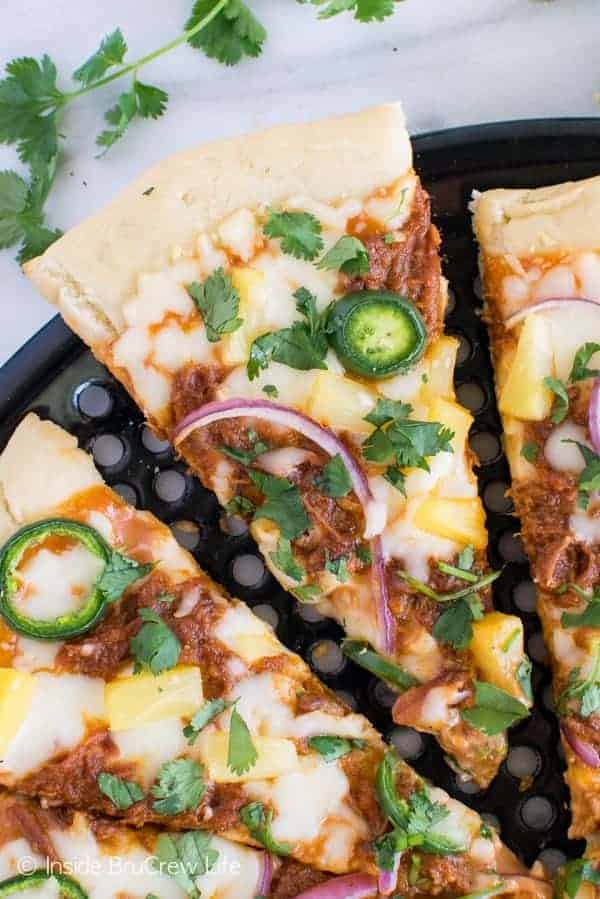 PIN IT NOW TO SAVE THE RECIPE FOR LATER!
Today marks the last day of school for our kiddos. Not that they have been counting down for the last month or so. Bring on the summer fun in the sun! Do you have picnics and activities planned out for the next few months?
With the start of summer vacation comes all things BBQ. We love firing up our grill to make bbq chicken, burgers, dogs, and bacon ranch grilled jalapeños for dinner just about every week. My husband loves his charcoal grill and has been perfecting his smoking techniques on our appetizers. Now it is time for us to start planning some dinner parties with friends.
Last week I gave him a new task. Grill a pizza. He was a little skeptical at first because as the head pizza maker in our house, he prefers his crust and cheese toasted to perfection in the oven. But I wanted to give our family favorite dinner a new twist.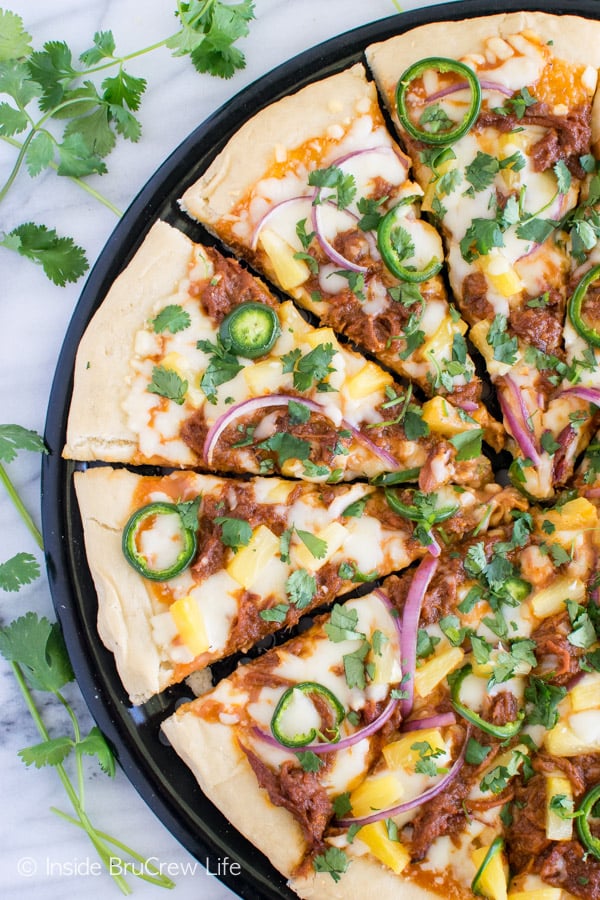 I recently had the opportunity to try Farm Rich Smokehouse™ Pulled Pork BBQ. I love finding products that are easy to prepare and taste great too. You can find this frozen meat in the freezer section at Walmart.
This bbq pork is made with real ingredients and is ready to go in minutes, if you use the microwave to warm it up. Less time in the kitchen with the oven heating up the house is a definite plus when hot weather is here.
While my husband par-baked the homemade pizza dough on the grill, I chopped our pizza toppings. Gotta love a meal that we can split up the chores and have it ready quicker. That means more time sitting outside enjoying the sunny weather and watching our kids be crazy on the trampoline.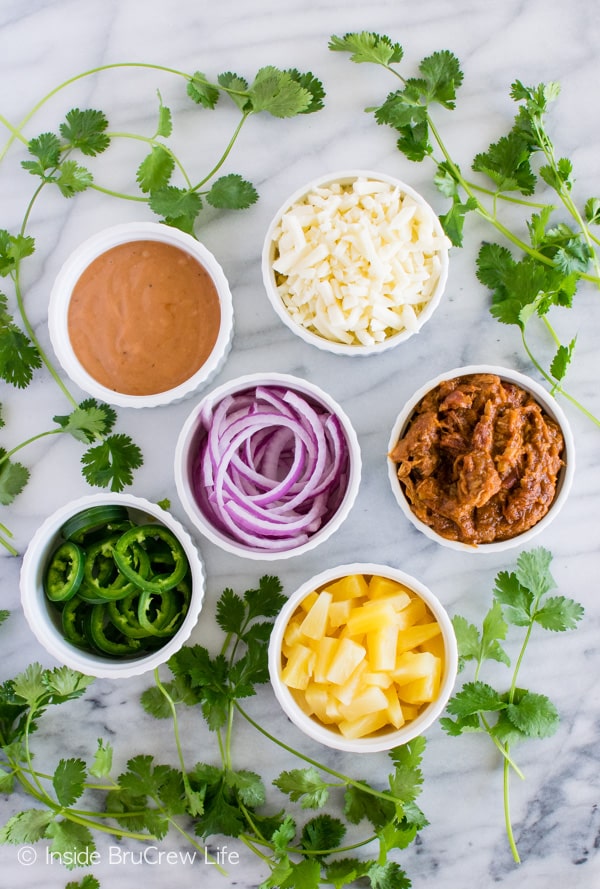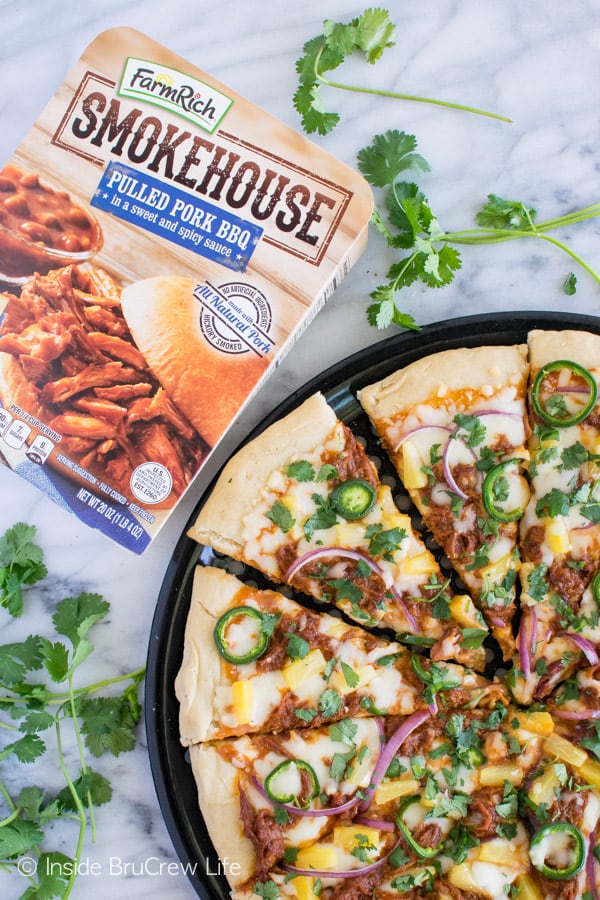 Normally pizza night around is here consists of pepperoni, cheese, and buffalo chicken. Those really are the most requested toppings.
But I love to get creative with dinners sometimes, and that bbq pork got me thinking. Why not add it to the pizza along with some pineapple and jalapeños for a sweet and spicy flair? You can thank my husband for the jalapeño addition. I was just going to use regular green peppers...which is totally an option if you are against spicy food! The sweet and spicy combo paired so well with the meat, that these are definitely my new favorite pizza toppings!
Those flavors didn't really jive with our normal pizza sauce though, so I mixed up some bbq sauce and ranch to go under the cheese and toppings. Seriously, delish!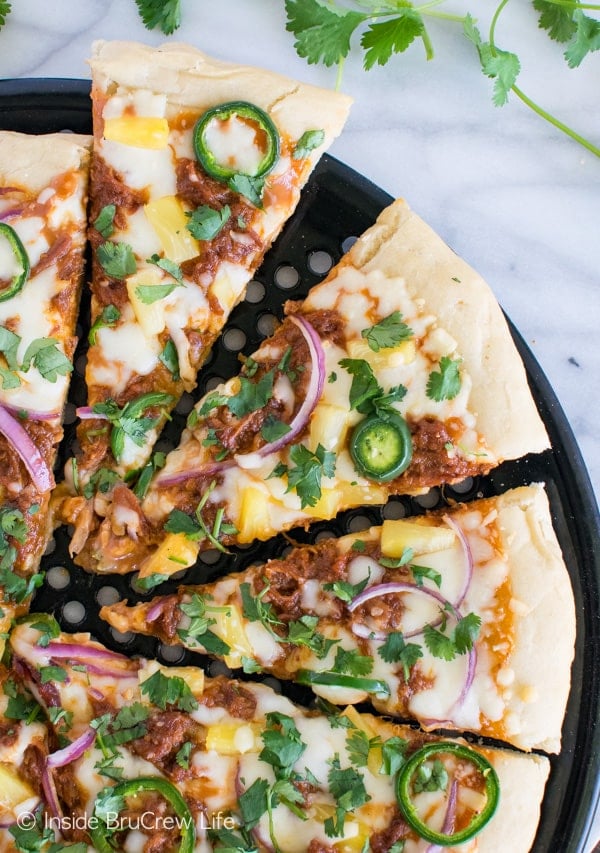 If you want to flip the crust while it is cooking, it will give it some nice grill lines. We just chose to let it bake low and slow this time.
Also, if you are using a charcoal grill, move the charcoal to the outside of the grill before putting your crust on, so it does not burn on the bottom. Ain't nobody got time for black and crispy crusts!
Add the sauce and cheese, then sprinkle on the meat and toppings before putting it back on the grill again to get all melty and gooey. The difference in grilled pizza over oven baked pizza is that the top of your pizza really does not get as brown and crispy when done on the grill.
I absolutely loved the texture in this grilled bbq pork pineapple pizza. The bottom of the dough was crispy while the top was soft and fluffy. Bring on the grilled pizza all summer long for a smoking success at dinner every time!!.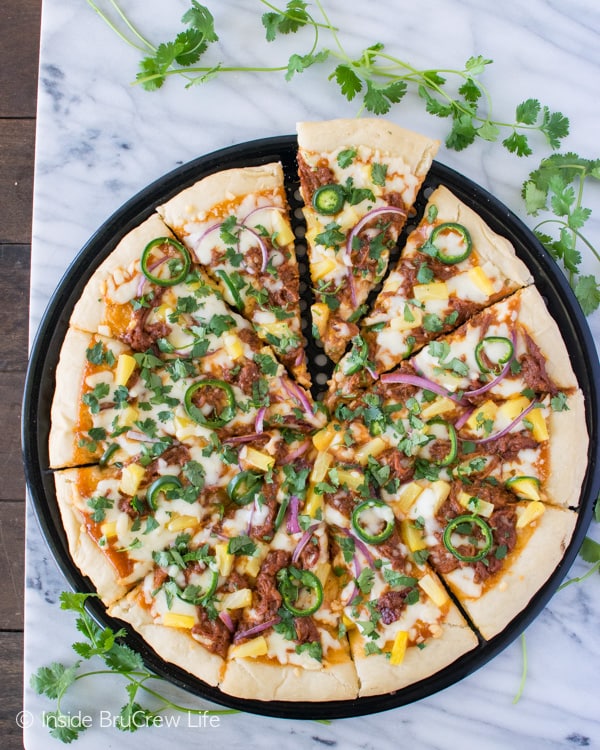 *This post and recipe was sponsored by Farm Rich. All opinions expressed are 100% my own. Thank you for letting us share products and brands that we use and love.