Fill your cookie jar with a batch of these chewy Biscoff S'mores Pudding Cookies. The soft, puffy cookies are great for lunch boxes or snacking on any time!!!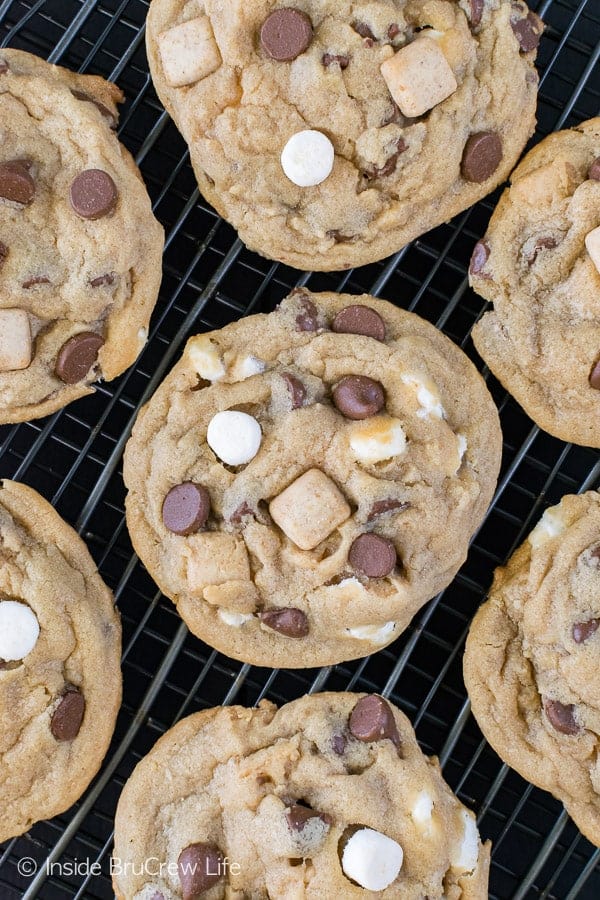 CLICK HERE TO PIN THIS RECIPE FOR LATER!
We are counting down to the start of school here. Our kids only have 4 more days of summer vacation until that first day of classes begin. The high school that our daughter is attending this year starts at 7:30 am. She says she needs to make the most of sleeping in for the next few days because she is not ready to be up that early. Her school last year didn't start until 9 am. That's going to be an adjust for her (and us) because she is not a morning person. At all!
Who am I kidding? I'm not much of a morning person either. Although this past summer I really tried to get up by 7 am, so that I could get my quiet time, work out, and odds and ends work stuff done before the kids got up. The past few weeks though we have been up late trying to unpack all the boxes and figure out where things can go, so I have definitely been sleeping in a bit more. Time to get back on schedule with work and baking. I miss baking crazy things like this chocolate s'mores pudding cake.
But hey, there are only 4 more days to enjoy all the summer things, right? Sleeping in happens to be one of those things, so maybe I'll just enjoy a few more late mornings after all. All things s'mores is another thing that says summer to me. Since we were so busy with moving stuff this summer, we haven't enjoyed as many s'mores treats in the backyard.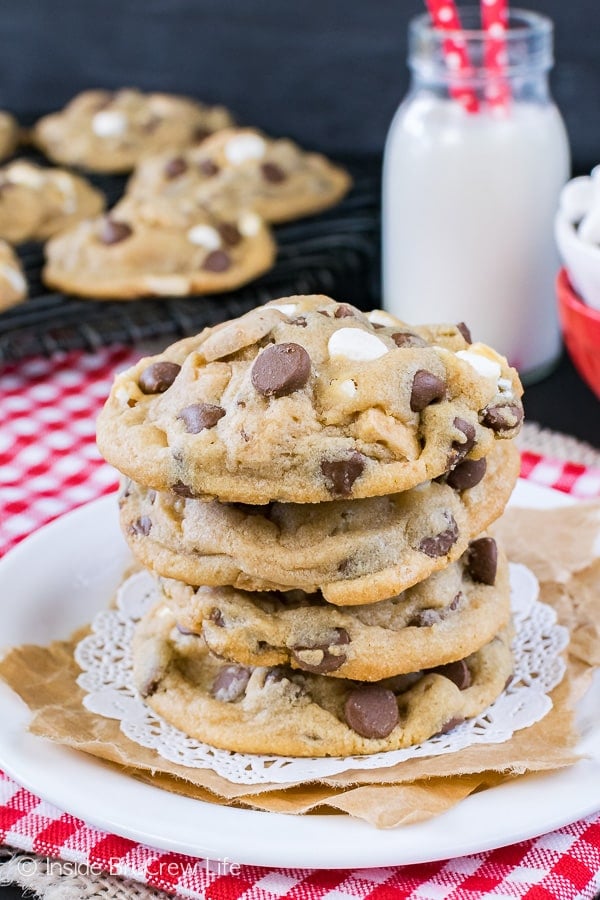 Time to fix that little snack dilemma. A few weeks ago I was out grocery shopping, and I came across this new chocolate chips mix from Hershey's.
Of course, being the good dessert blogger that I am, I had to buy a few bags. One to snack on, and a few to bake with. I'm not being paid to endorse these chips...I'm just a huge fan!!!
One word of warning though. If you open a bag to snack on, that bag just might disappear. It's so easy to keep munching on handful after handful. Ok, so maybe that's just a problem that I have...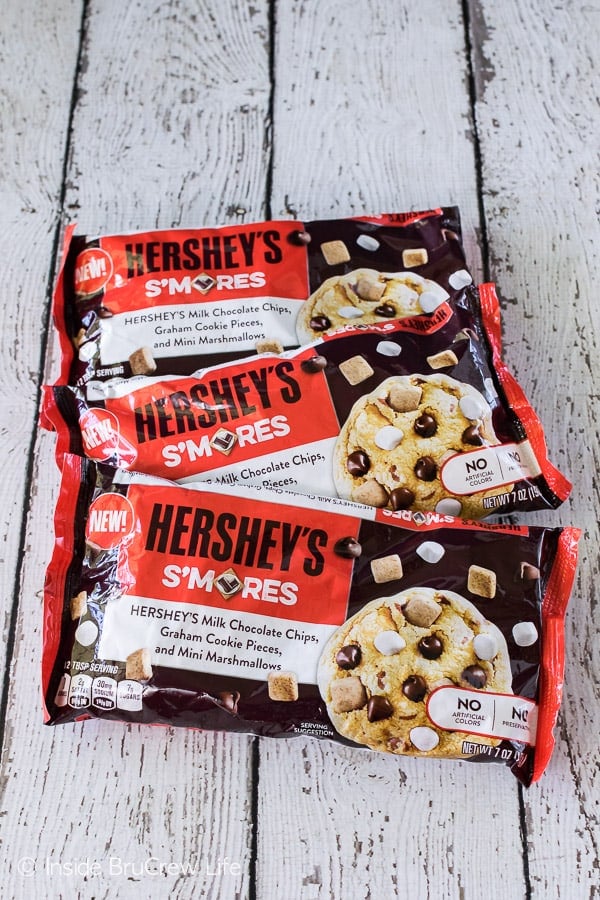 One of our favorite cookies to make are these Reese's peanut butter pudding cookies. They seriously never last very long when we make them because they are sooooo good!
The only problem with those cookies is that anyone with a peanut butter allergy cannot enjoy the soft puffy cookie goodness. Until today! I switched out the peanut butter for cookie butter. Then to change it up a little more, I used that s'mores chip mix.
HOLY COW!
You guys! These cookies were amazing. The cookie butter and the little graham pieces mixed with chocolate and marshmallow bits was the perfect match!
Trust me! Your cookie jar (and your stomach) needs these cookies ASAP! Although, your shorts and jeans might not want you to indulge because I promise you will eat more than one cookie at a time.
Maybe you should make these Biscoff s'mores pudding cookies for a friend instead. Sharing is caring after all. Spread the calorie love with all your favorite people. That's one of the ways I keep my slim and trim figure.
I figure if I fatten everyone else up, I'm going to look skinny, right? LOL! I'm totally kidding. Or am I...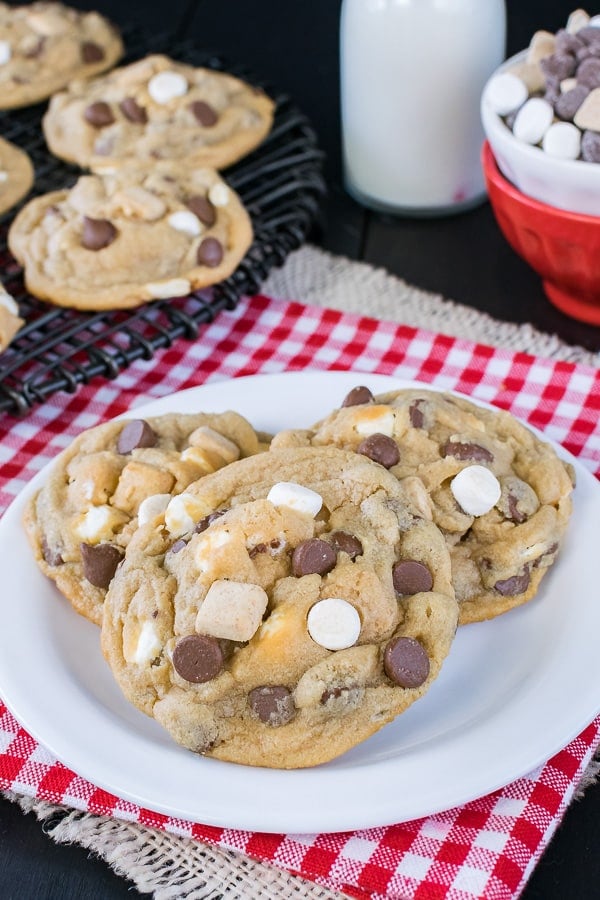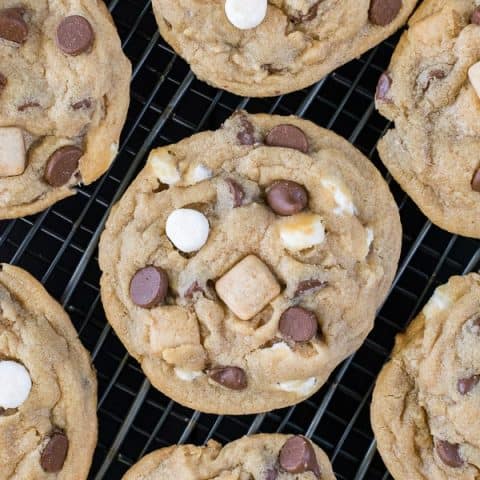 Biscoff S'mores Pudding Cookies
Fill your cookie jar with a batch of these Biscoff S'mores Pudding Cookies. The soft, puffy cookies are great for lunch boxes or snacking on any time!!!
Ingredients
¾ cup butter, softened
½ cup Biscoff spread
½ cup sugar
½ cup brown sugar
2 eggs
1 teaspoon vanilla extract
2 ¼ cups flour
1 teaspoon baking soda
½ teaspoon salt
1 - 3.4 ounce instant white chocolate pudding mix
2 - 7 ounce bags Hershey's s'mores mix, divided
Instructions
Preheat the oven to 350 degrees.
Beat the butter and sugars until creamy. Add the Biscoff, eggs, and vanilla and beat again.
Stir together the flour, baking soda, salt, and pudding mix. Slowly beat that into the butter mixture until a soft dough forms.
Set aside ½ cup of the s'mores mix. Stir the remaining s'mores mix into the dough gently.
Use a large cookie scoop to make 30-32 dough balls. Press the reserved s'mores mix into the tops of each one. Refrigerate the dough balls for 20-30 minutes.
Bake the cookies for 10 minutes. Remove from the oven and let cool on the hot pan for 2-3 minutes before removing and placing on a wire rack. Let cool completely. Store in a tightly sealed container.
Recommended Products
As an Amazon Associate and member of other affiliate programs, I earn from qualifying purchases.
Nutrition Information:
Yield:

30
Serving Size:

1
Amount Per Serving:
Calories:

219
Total Fat:

11g
Saturated Fat:

6g
Trans Fat:

0g
Unsaturated Fat:

4g
Cholesterol:

28mg
Sodium:

200mg
Carbohydrates:

27g
Fiber:

1g
Sugar:

17g
Protein:

3g
More fun cookies from some of my friends to fill your cookie jar with: