Looking for another pudding cookie recipe? These Butterscotch Pudding Cookies will satisfy any sweet and salty cravings you might have today!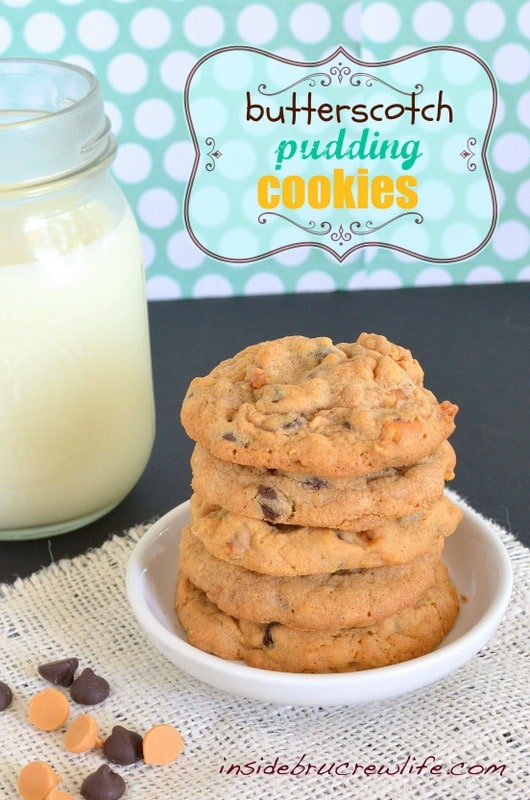 Today I am sitting in the airport after attending the Build Your Blog conference in Salt Lake City. My brain is swirling with all the things I learned and the lack of sleep. But what a fun (and quick) weekend!
I got to meet so many bloggers that I have been "stalking" over the years, and they are just as sweet in person as they are on their blogs. I also got to meet so many people that read my blog....you girls totally filled my bucket this weekend! I heart all of you for making me feel like a rock star! I can't wait to meet back up with all of you in June at BlogHer.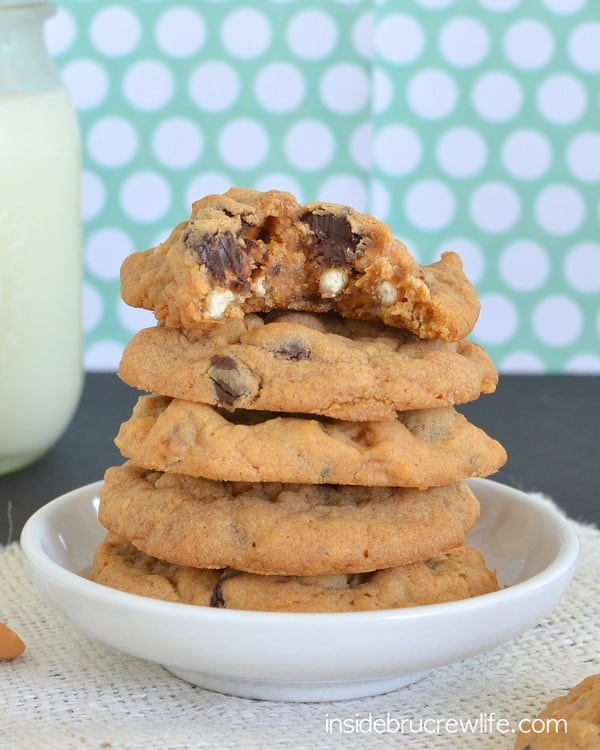 Maybe some cookies when I get home will help me think through everything I learned this weekend. Lately every time I make cookies I get the urge to throw pudding into the batter. These Peanut Butter Pudding Cookies started this crazy attraction to pudding cookies. Last fall I made these Butterscotch Pudding Cookies and shared them on I Heart Naptime...can you believe that I never shared them here???
I have 3 hours of layover time today, so I thought I would share this pudding cookie recipe for your kitchen. If you are a sweet and salty fan, these cookies are for you. Soft, chewy butterscotch pudding cookies filled with butterscotch and chocolate chips and crunchy bits of salty pretzels. Are you tracking with me here?
The pudding mix in the batter keeps the cookies soft, even days later. (Although let's be honest...cookies never last long in a house with 3 kids.) When I bought the butterscotch pudding, I knew I wanted something else to pair with it since butterscotch can be overly sweet. I grabbed a bag of pretzels thinking that the salt from those would balance out the sweetness. It was the perfect mix of sweet and salty in every bite.
Maybe it's a good thing my kids are cookie monsters...less pudding cookies for me to chow down on.
Here are a few other pudding cookies that we like to munch on:
Coconut S'mores Pudding Sandwiches
Peppermint Mocha Pudding Cookies
M&M Peanut Butter Pudding Cookies
Make sure you don't miss any of the crazy baking
by following the BruCrew here:
FACEBOOK | PINTEREST | GOOGLE+ | TWITTER | INSTAGRAM