Enjoy the rich flavor of cookie butter in this delicious Biscoff Cheesecake. With a smooth and creamy texture, every slice will melt in your mouth. Plus, the crust is made from crushed Biscoff cookies, so it adds the perfect crunch to each bite.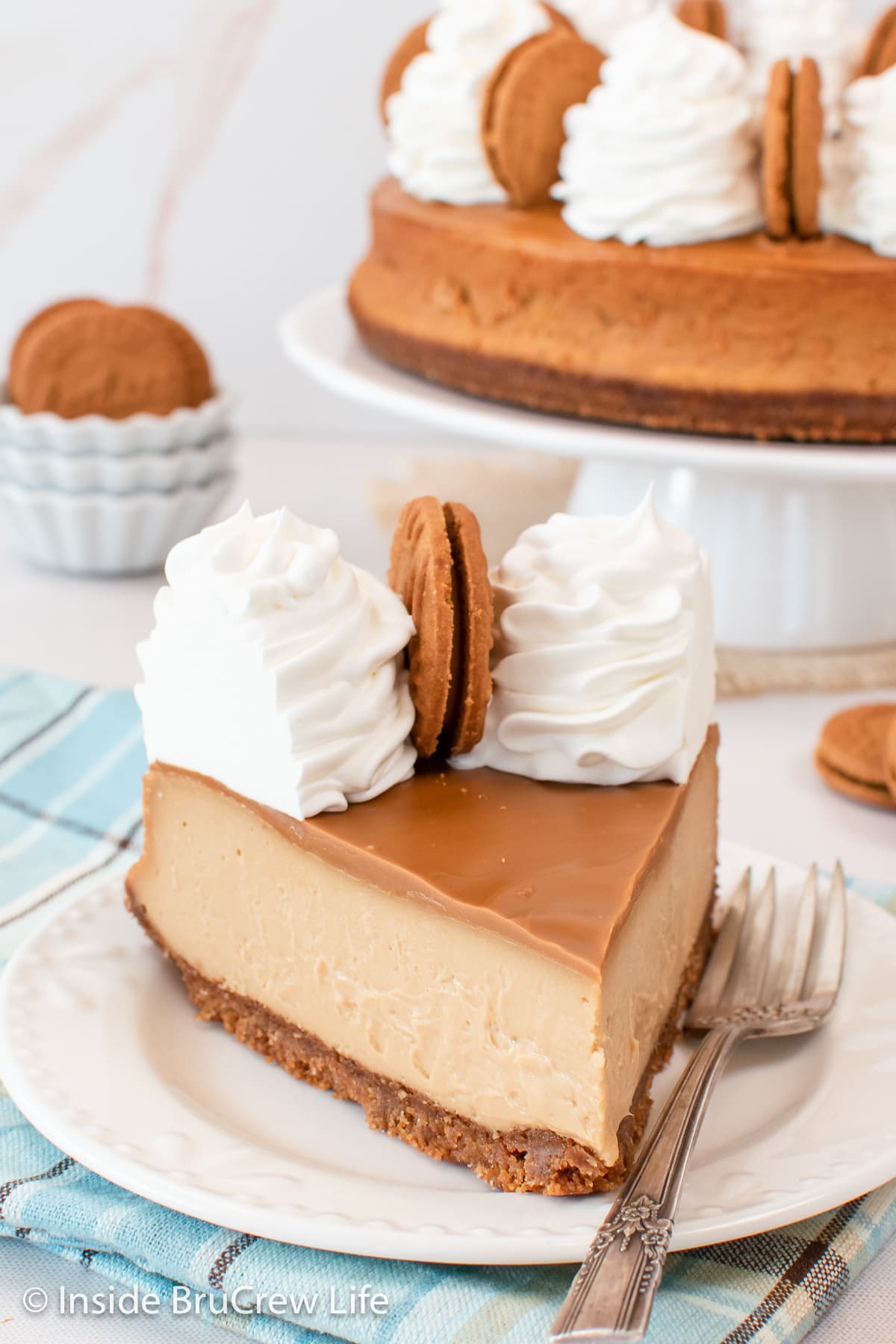 Jump to:
Have you had Biscoff before? Most of the time we just eat it by the spoonfuls. Although, every once in a while I use it to bake cookie butter bars or Biscoff pudding cookies. Trust me, both treats will disappear in a hurry.
This time I decided to make cheesecake with the spread. This delicious dessert combines creamy Biscoff with cream cheese and a cookie crust. Topped with melted cookie butter and whipped cream swirls, it's the ultimate cookie butter dessert!
Why Make A Lotus Biscoff Cheesecake
Biscoff cheesecake is a dessert that's perfect for any occasion. Whether you're hosting a dinner party, celebrating a special occasion, or just craving something sweet, this dessert will impress everyone.
Full of cookie butter flavor. There is Biscoff in every single layer of this cheesecake giving it the most amazing flavor. The flavor of cinnamon and caramel really shines in this recipe.
Smooth and creamy texture. The filling is super creamy and light but still dense and rich like cheesecake.
Crunchy Biscoff cookie crust. A whole package of cookies creates a sweet crunchy crust that goes so well with the smooth cheesecake.
No water bath required! When you bake the cheesecake, place the pan on the oven rack directly ABOVE the steaming pan of hot water. This way you don't have to worry about water getting into your pan and ruining your masterpiece.
With its unique flavor and creamy texture, it's no wonder that people love this cookie butter cheesecake so much!
Looking for more cheesecake? Check out our 37 favorite cheesecake recipes all in one place.
What is Biscoff?
Biscoff cookies, also known as Speculoos cookies, are a spiced cookie that was first made in Belgium. They have a distinct flavor that's often described as a mix of gingerbread and caramel. The cookies have become increasingly popular in recent years and are now available in most grocery stores.
Biscoff spread has a texture that is similar to peanut butter or Nutella. It is made from ground Biscoff cookies, so the spread is rich and buttery and has a spicy cinnamon flavor.
Key Ingredients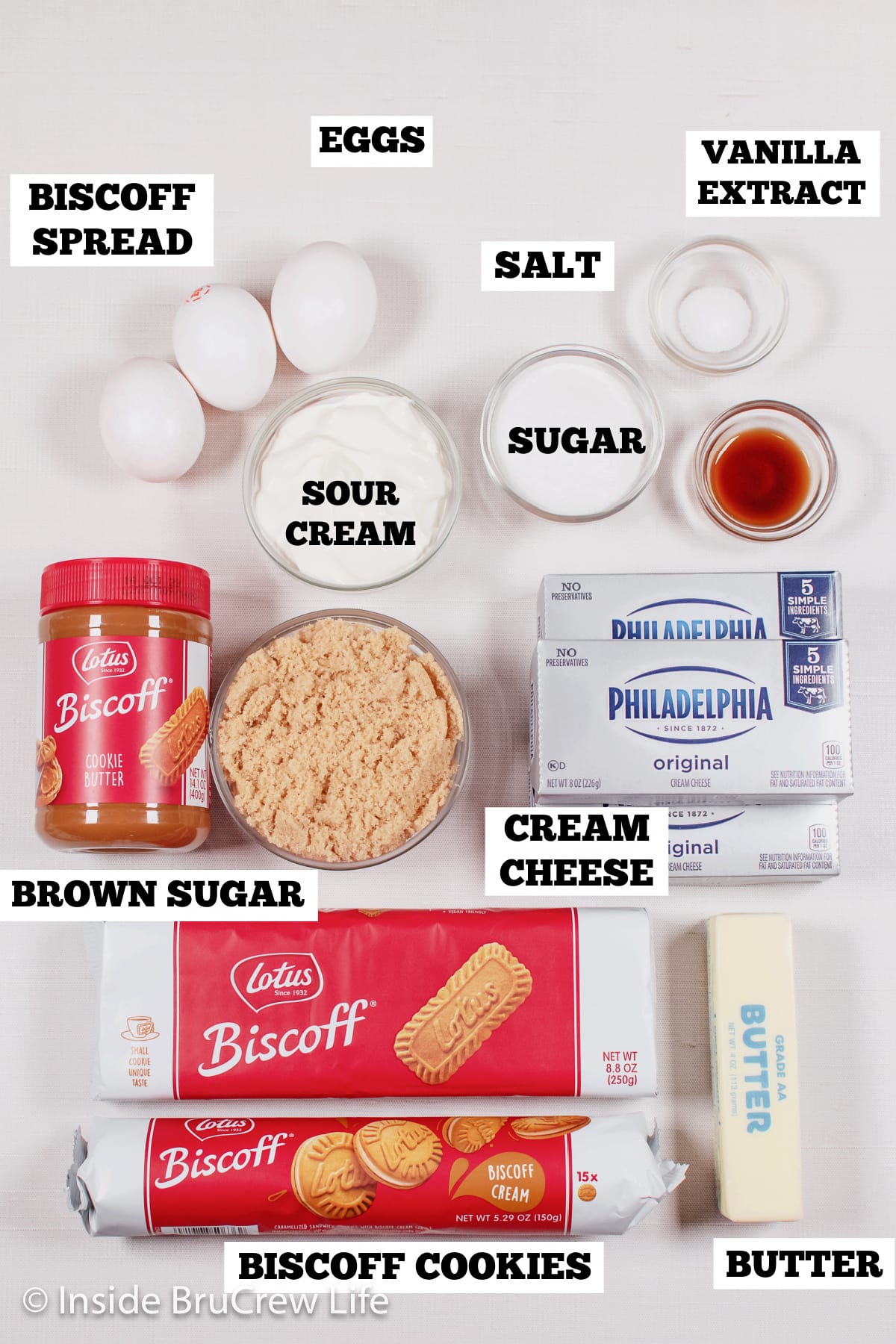 Despite its impressive look, this Biscoff cheesecake recipe is actually quite easy to make. With a few simple ingredients and a little bit of time, you can create a dessert that will impress everyone who tries it.
Biscoff Cookie Crust - Crushed up Biscoff cookies, granulated sugar, and melted butter make a cookie crust similar to a graham cracker crust.
Cream Cheese - Make sure you use full-fat blocks of cream cheese, so the filling sets up properly.
Brown Sugar - I like to use brown sugar in this filling because it deepens the color and also adds a richer flavor.
Sour Cream - Helps to soften the cream cheese and to add some moisture to the filling.
Biscoff Spread - An entire jar of Biscoff is a must to make this cheesecake. You will use it in the filling and on the topping.
Eggs - Make sure you use large eggs that are at room temperature. If you forget to get them out, place them in a bowl of hot water for about 5 minutes.
How to Make a Biscoff Cheesecake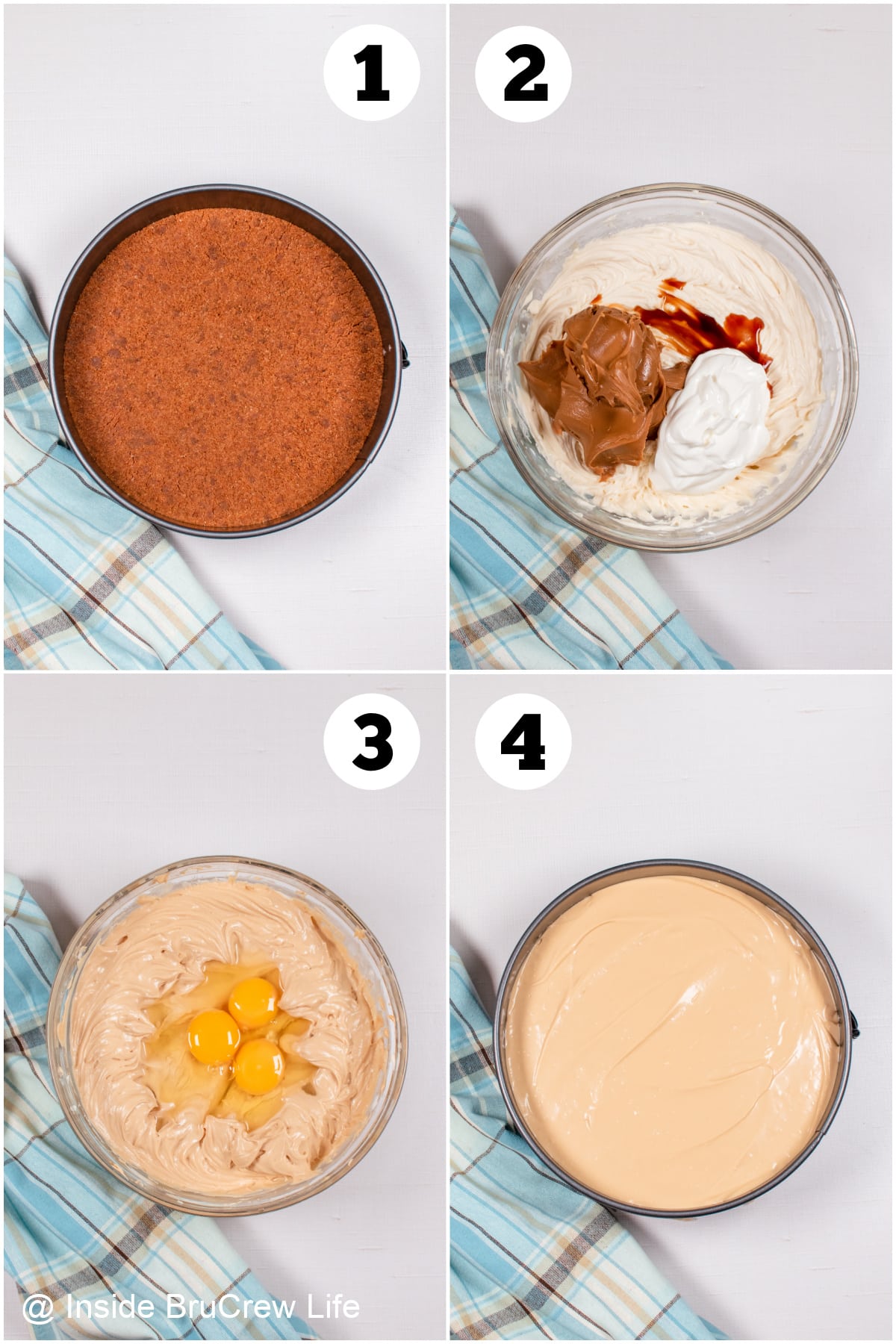 Make this cookie butter cheesecake in just a few easy steps. Start by making the crust, add the cheesecake filling, and bake. Once it's chilled, decorate the top. It sounds like a lot of steps, but I promise they are easy!
Make the cookie crust. Crush the cookies in a food chopper, then combine with sugar and melted butter. Press the mixture firmly in the bottom of a 9-inch springform pan.
Prepare the filling. Beat the cream cheese and sugar in a large bowl until creamy, then add the other ingredients. Mix until smooth.
Add the eggs. Beat the eggs in gently. Do not over mix because this can add air which will cause a cheesecake to crack.
Bake and chill. Pour the filling on top of the prepared crust and bake until set on the sides and slightly jiggly in the center. Remove the cheesecake and cool on a wire rack for an hour, then refrigerate.
BruCrew Tip: Decorate the top of the chilled cheesecake with melted cookie butter, homemade whipped topping, and cream filled Biscoff cookies.
Storage Recommendations
In the Refrigerator - Cover the cheesecake pan tightly with tin foil or plastic wrap and place in the refrigerator. It will keep for 4-5 days, if properly covered.
In the Freezer - Wrap the entire cheesecake or slices of cheesecake in plastic wrap, then in a layer of foil. Place in a freezer safe bag or container and freeze for 2-3 months.
To Thaw - Place in the refrigerator at least one day ahead of time, so it has time to thaw.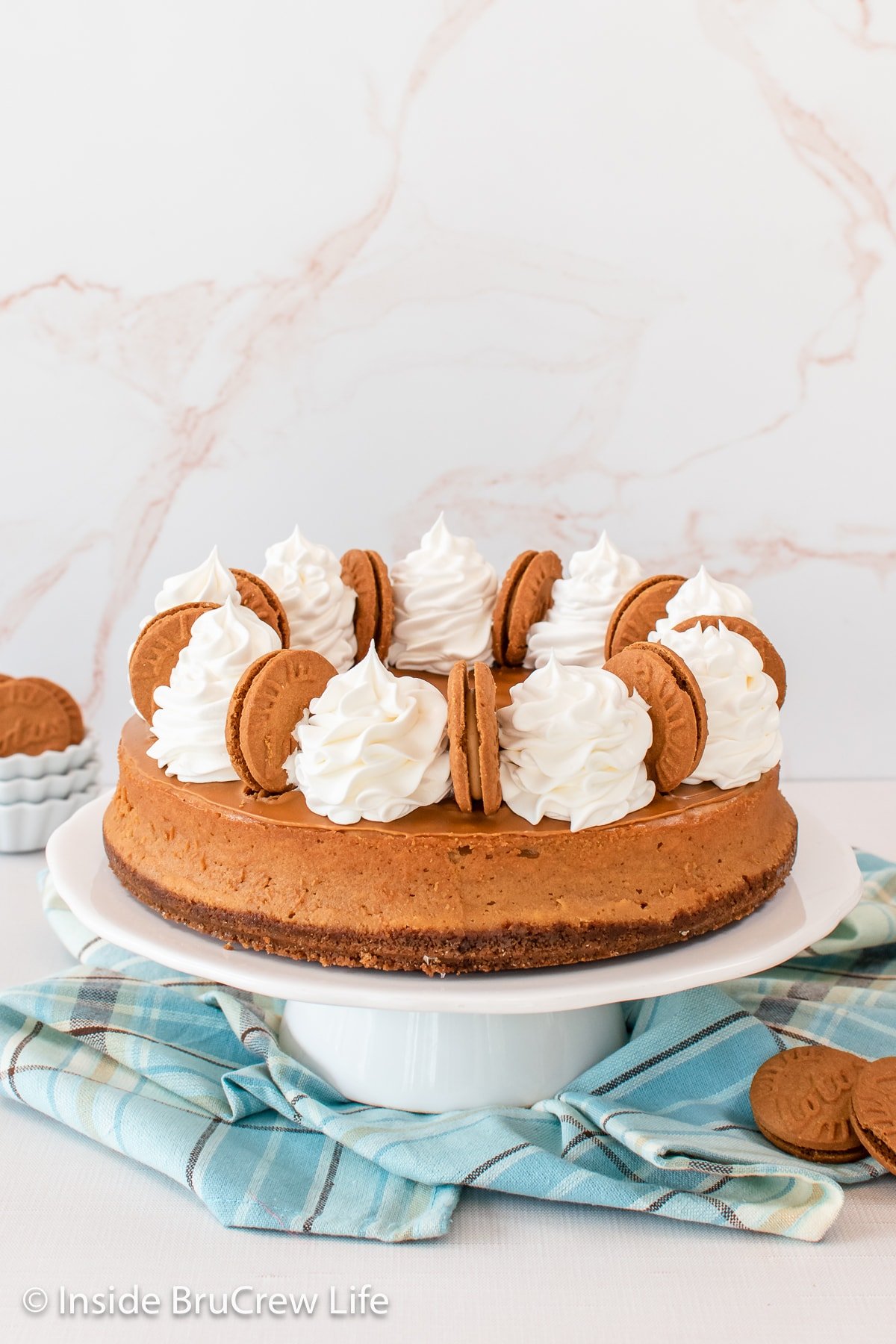 Tips and Tricks
Use room temperature ingredients. Set the cream cheese and eggs out ahead of time. Room temperature cream cheese is easier to beat into a creamy consistency.
Do not over mix the batter! Too much mixing can add air to the batter which will cause the cheesecake to crack while baking.
Can't find Biscoff? Use any other brand of cookie butter or speculoos cookies in this recipe.
Use a steam bath. Place a sheet pan on the bottom rack of the oven, and fill it halfway with water. This is much easier than a water bath. Plus, you don't have to worry about water seeping in and ruining the cheesecake.
Chill before serving. Refrigerate the baked cheesecake for at least 6 hours before removing the side of the pan and decorating.
Make clean cuts. Run your knife under hot water, dry with a towel, and slice. Rinse and repeat this each slice.
FAQs
What does Biscoff taste like?
Biscoff cookies and Biscoff spread have a sweet buttery caramel flavor with hints of cinnamon goodness.
What can I use if I can't find Biscoff?
You can use any other brand of cookie butter or speculoos cookies in place of the Biscoff.
How do you know when cheesecake is done?
The center of the cheesecake should jiggle as a whole (think of Jello) when you gently shake the pan. The edges should be set and the center two inches should still look soft. It will continue to cook and firm up as it cools.
Why did my cheesecake crack?
There are three main reasons that a cheesecake cracks.
1. Over mixing ingredients adds too much air into the batter. The air bubbles crack as they rise to the surface during baking.
2. Over baking the cheesecake will result in cracks in the top.
3. Leaving the sides of the cheesecake attached to the pan while cooling. Cheesecake shrinks as it cools, so make sure you run a knife around the edges right away.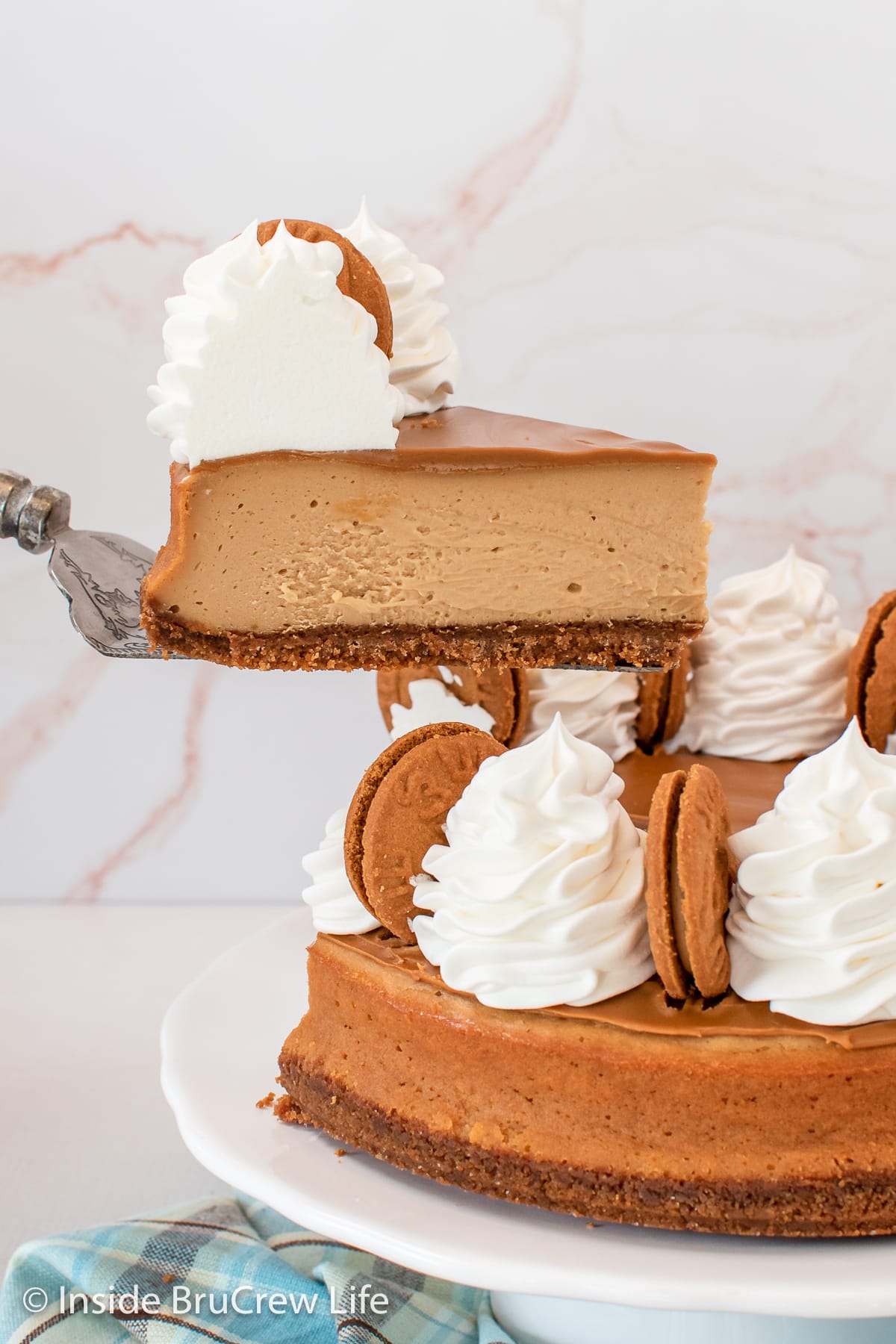 Do you love a recipe you tried from Inside BruCrew Life?
Please leave a 5-star ⭐️ rating and a review in the comments section below.
*This post was first published July 2013. It was updated and republished April 2023.
**We participate in the Amazon Services LLC Program, an affiliate program designed to provide a means for us to earn fees by linking to Amazon.com .