Fill your cookie jar with a batch of these Reese's Peanut Butter Pudding Cookies today! Soft and chewy cookies are always a good idea.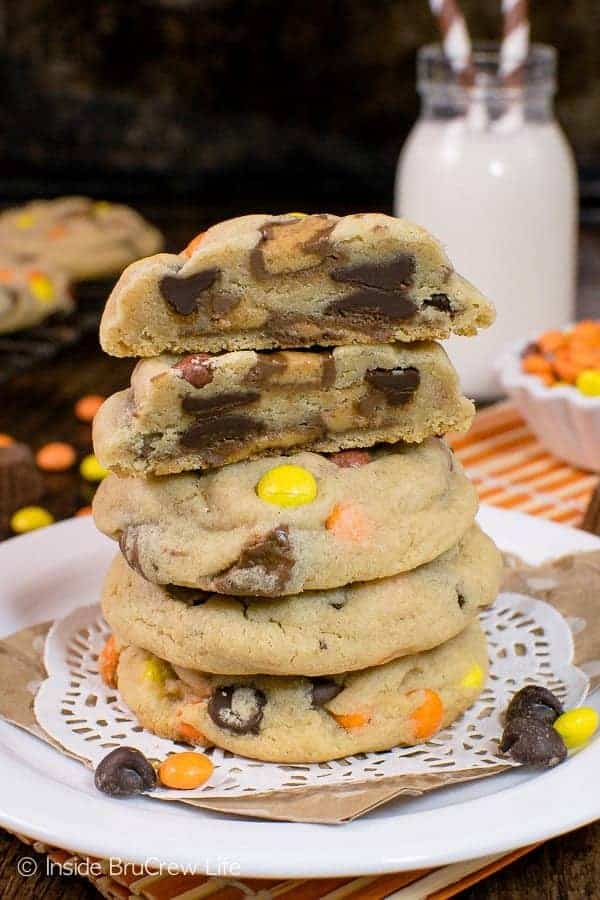 I love baking a batch of cookies at the beginning of the week to keep on hand for lunches and snacks. With three hungry kids in the house, they usually only last a few days.
They take them to school in their lunch boxes, and I see them munching on them after school with a big glass of milk. It's a good thing these cookies have lots of peanut butter in them.
At least the kids are getting some protein along with the sugar, right? Yes, I just called cookies a source of protein.  I know how wrong that is. It's how my sweet tooth justifies all the sugary sweets I like to bake.
There was an extra bag of peanut butter cups in our pantry this week, so I decided to add them to these Peanut Butter Pudding Cookies.  It is such an easy cookie to change up based on what candy you have on hand.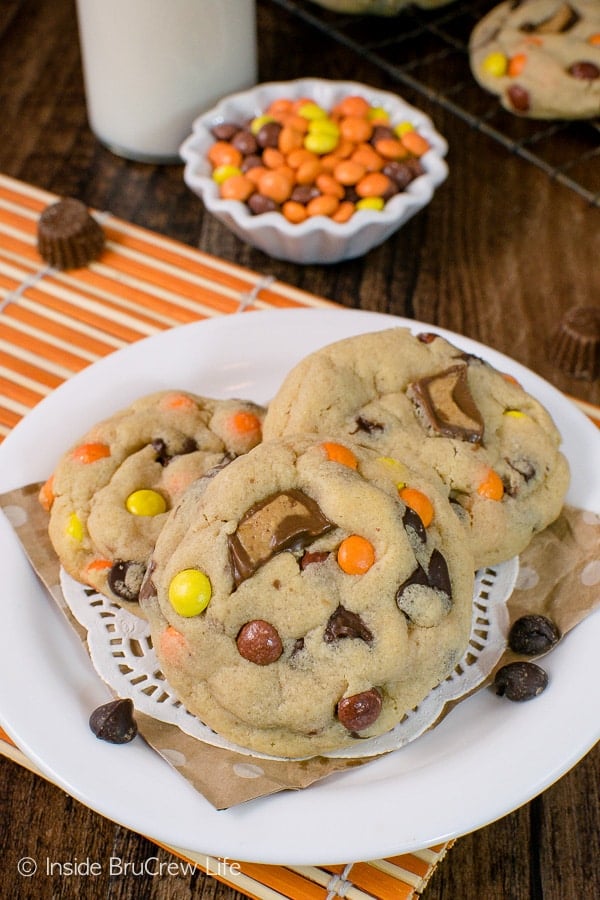 Adding a pudding mix to the cookie dough creates a soft fluffy cookie.  I love using that mix because these cookies stay soft for days.  Trust me. This is the best pudding cookie recipe out there!!!
On a very rare occasion there have been one or two cookies left in the jar a week later, and they are still soft and chewy.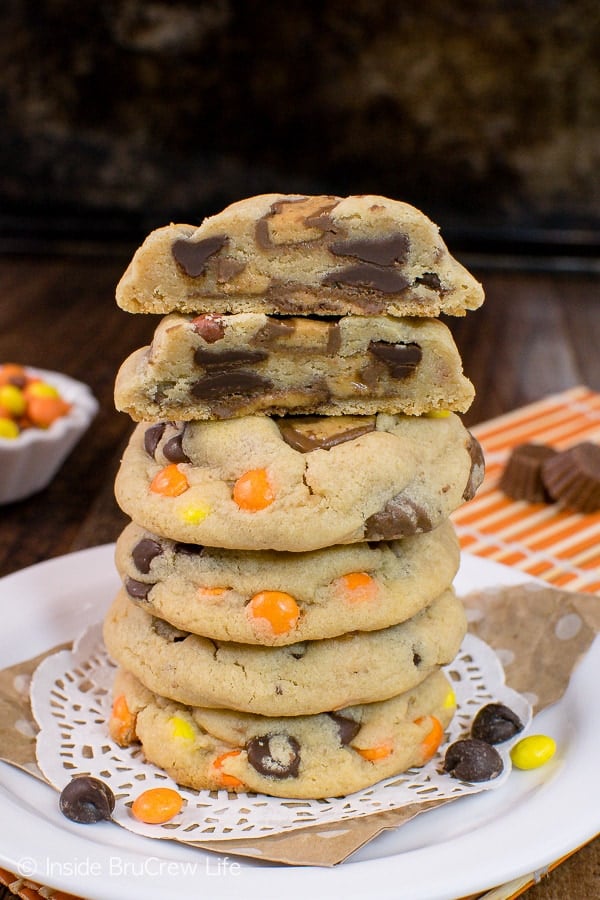 Chocolate chip cookies made with a pudding mix are my favorite kind of cookie. The pudding mix makes the cookies soft, puffy, and delicious!
Chewy, puffy cookies are definitely my favorite kind of cookie.  It's one of the things my hubby and I differ on.  He prefers flat, thin, crispy cookies.
I admit every once in a while, I don't mind a crispy cookie. As long as I have milk to dunk these Caramel Coconut Cookies in, I'm all good.
See what I did there?  Took a crispy cookie and still made it soft.  I can't help it, I like soft cookies better.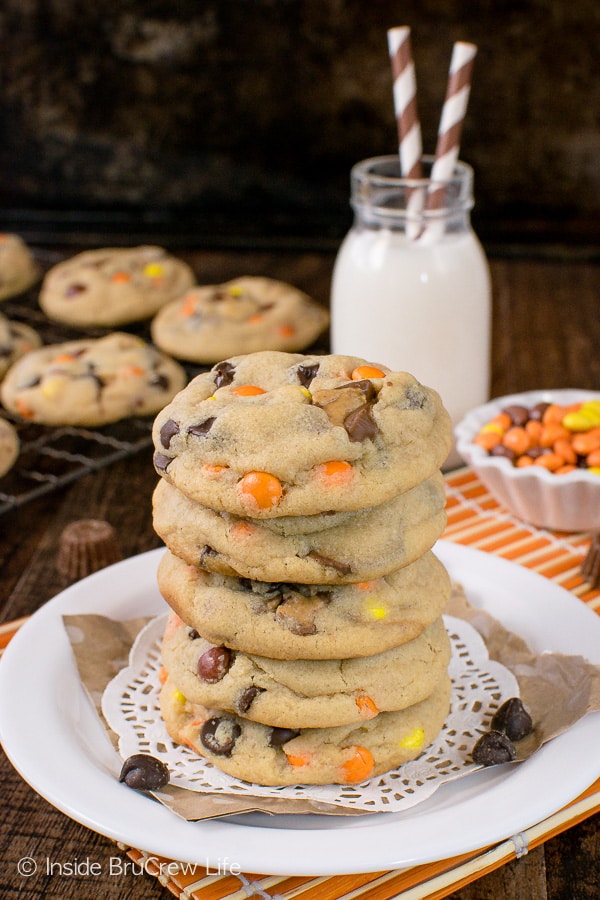 Tips for making Reese's Peanut Butter Pudding Cookies:
Add a box of dry pudding mix to the cookie dough. It makes the cookies so soft and chewy. You really can use any flavor of pudding, just know that a chocolate pudding mix will change your dough color.
Stir most of the candy mix in's into the dough gently. Press a few extra candies on the top of the dough balls so they bake up extra pretty.
Another thing I love about pudding cookies is that you do not have to refrigerate your dough.  As soon as you mix together your ingredients, it is ready to be scooped and baked.
You can use a spoon and your hands to roll the dough into even balls, but I prefer to use a cookie scoop.
This little kitchen gadget saves you time because you do not spend extra time trying to make sure each one is the same size.  The tool does all the work for you.
Less time measuring means you can get to the warm Reese's Peanut Butter Pudding Cookies faster.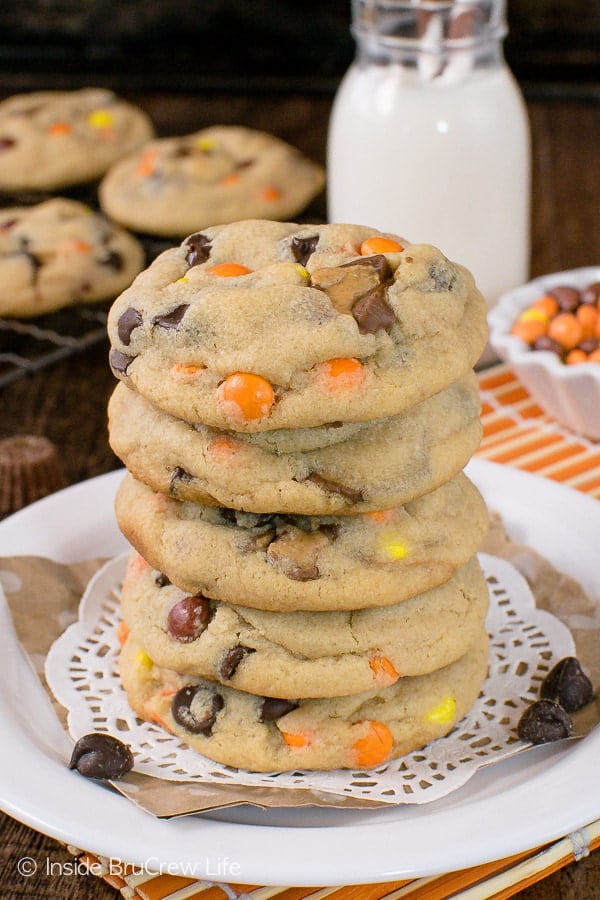 More cookie recipes you may enjoy:
Connect with Inside BruCrew Life! Follow us on social media, so you never miss a post.
Email Subscription | Facebook | Pinterest | Twitter | Instagram | Bloglovin
I also created a fun new Facebook group, and I would love for you to join. It's a group where you can share your favorite recipes, ask questions, share photos, and see what's new with the BruCrew. If you would like to check it out, you can request to join HERE.
Reese's Peanut Butter Pudding Cookies recipe and video:
Yield: 36 cookies
Reese's Peanut Butter Pudding Cookies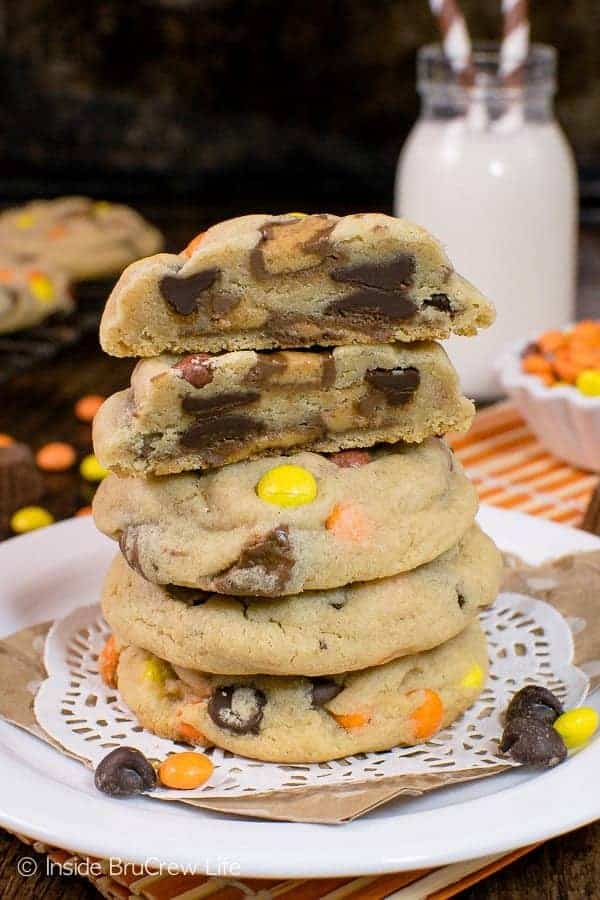 These Reese's Peanut Butter Pudding Cookies are loaded with candy. The pudding mix keeps the cookies soft and chewy for days.
Ingredients
3/4 cup butter, softened
1/2 cup creamy peanut butter
1/2 cup sugar
1/2 cup brown sugar
2 eggs
1 Tablespoon honey
1 teaspoon vanilla
2 1/4 cups flour
1 teaspoon baking soda
1/2 teaspoon salt
1 - 3.4 box instant vanilla pudding
1 cup chocolate chips
1 1/4 cups halved Reese's mini peanut butter cups, divided
1 cup mini Reese's Pieces, divided
Instructions
Preheat oven to 350 degrees.
Beat the butter until creamy. Add the peanut butter and sugars and beat again.
Add the eggs, honey, and vanilla and beat until mixed in.
Stir together the flour, baking soda, salt, and pudding mix. Slowly add to the butter mixture until everything is mixed in.
Stir in the chocolate chips, 1 cup peanut butter cups, and 3/4 cup Reese's Pieces gently.
Use a 2 Tablespoon cookie scoop to make 36 dough balls. Press the remaining candy into the tops of the dough balls.
Place the dough balls on a baking sheet and bake for 10 minutes. Let rest on the hot cookie sheet for 2 minutes, then gently move to a piece of parchment paper.
Let the cookies cool completely before storing in a tightly sealed container.
Recommended Products
As an Amazon Associate and member of other affiliate programs, I earn from qualifying purchases.

*The recipe for these Reese's Peanut Butter Pudding Cookies was originally posted August 12, 2012. The pictures and post have been updated and republished August 30, 2018.
**This post contains an affiliate link. We may receive a small percentage from sales made through these free referral links. As always, these do not cost you any extra. Thank you for letting us share products we use and love this way.