Looking for an easy dinner idea? This BLT Chicken Alfredo French Bread Pizza is loaded with goodness and is kid approved.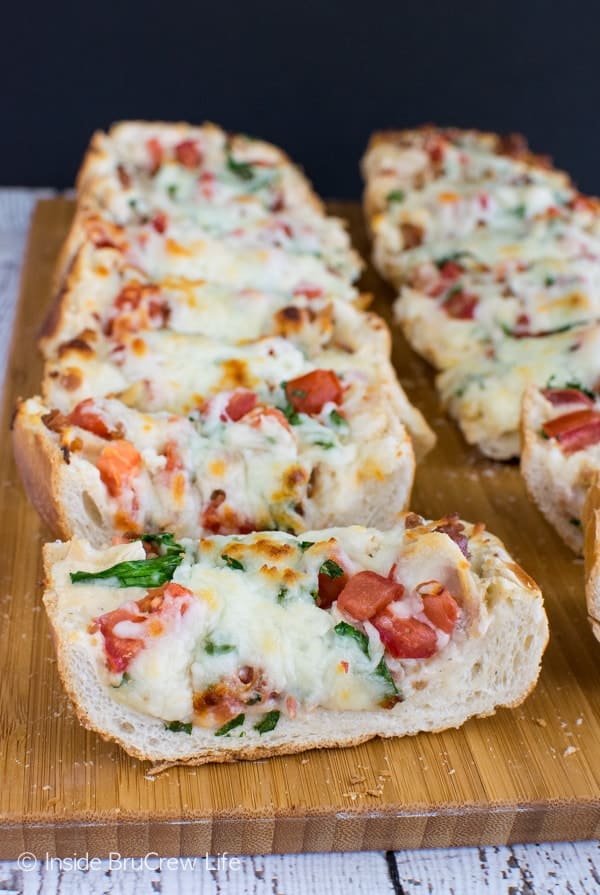 CLICK HERE TO PIN IT FOR LATER!
One of the things we are enjoying about our move to Texas are the amazing skies we see. Sunrises and sunsets are absolutely incredible. Well, I imagine the sunrises are as incredible as the sunsets…I'm never awake early enough to see those.
Another thing we are enjoying are the crazy storms that pop up out of nowhere. The other day was hot and sunny all day until about 5:45 pm. Then the wind began to blow and these dark clouds swirled in the sky. On one side of the sky it was blue and clear and the other side had tall dark clouds. In front of all that was the longest, lowest rainbow I have ever seen.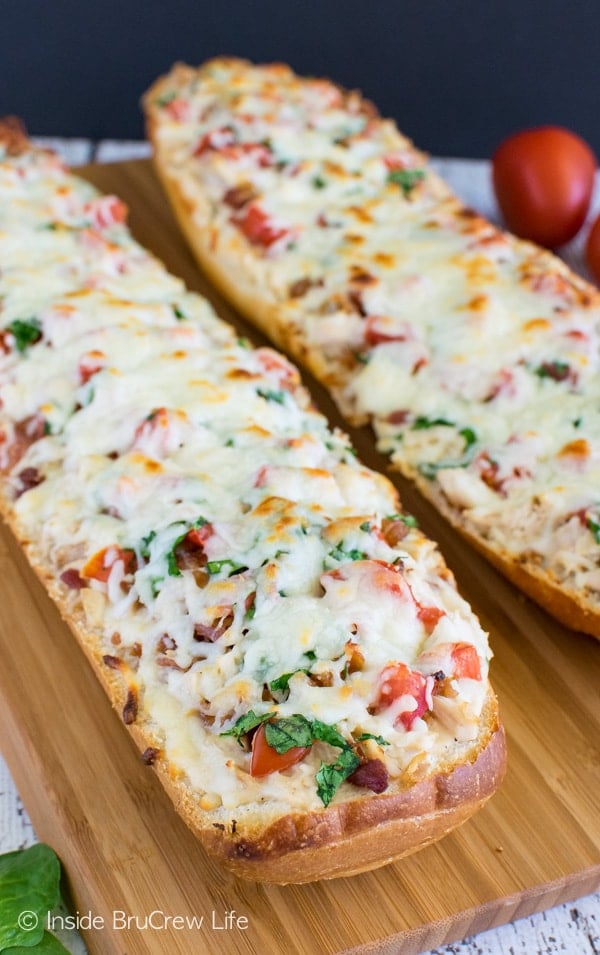 As we stood there admiring the sky from the Target doorway, we also noticed carts whipping around the parking lot hitting cars. Seriously people, there are cart corrals for keeping those things under control.
Yes, that is one of our biggest pet peeves. You should hear our conversations when we see people just leave them anywhere they want. Ok, so maybe those conversations should not be shared…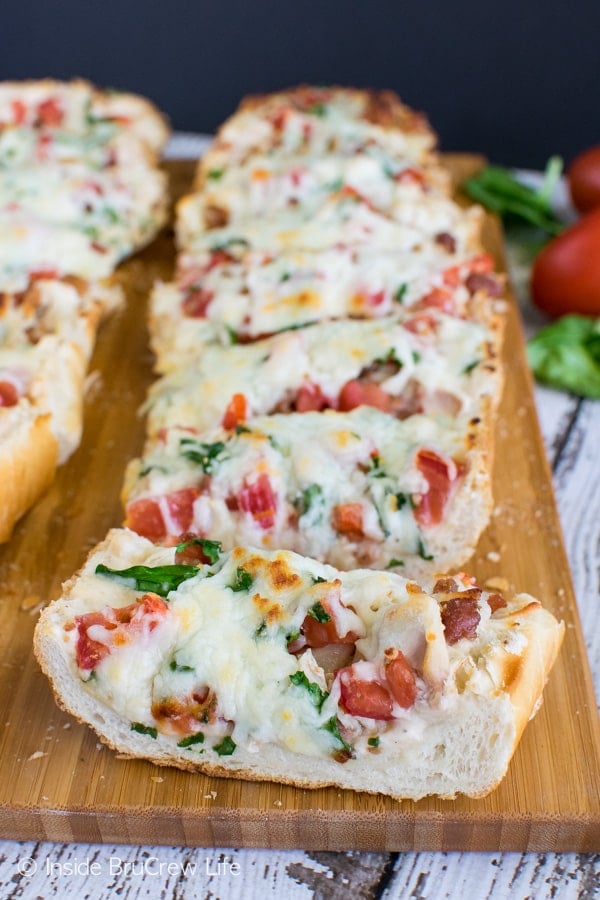 Let's just move onto to talking about dinner! We do pizza night quite often at our house. Sometimes that pizza is carryout and sometimes it is homemade pizza dough with our favorite toppings. But then there are those times when I want homemade pizza without the work.
Did you know that you could use a loaf of French bread as your pizza base when you want pizza in a hurry? Yup, it works like a charm. Just slice it in half long ways and top it with your favorite meats, veggies, and cheese. It is seriously ready to go in the oven in about 5 minutes.
Since this BLT Chicken Braid always disappears in a hurry, I knew those same toppings would work for a quick and easy pizza too. Luckily, we had just bought a rotisserie chicken a few days ago, and I had some leftovers to use up. Those ready to go chickens from Sam's always help me have dinner ready a lot faster!
Sure I could roast my own, but I prefer to pay $5 for an already hot and ready one. Anyone else with me on that?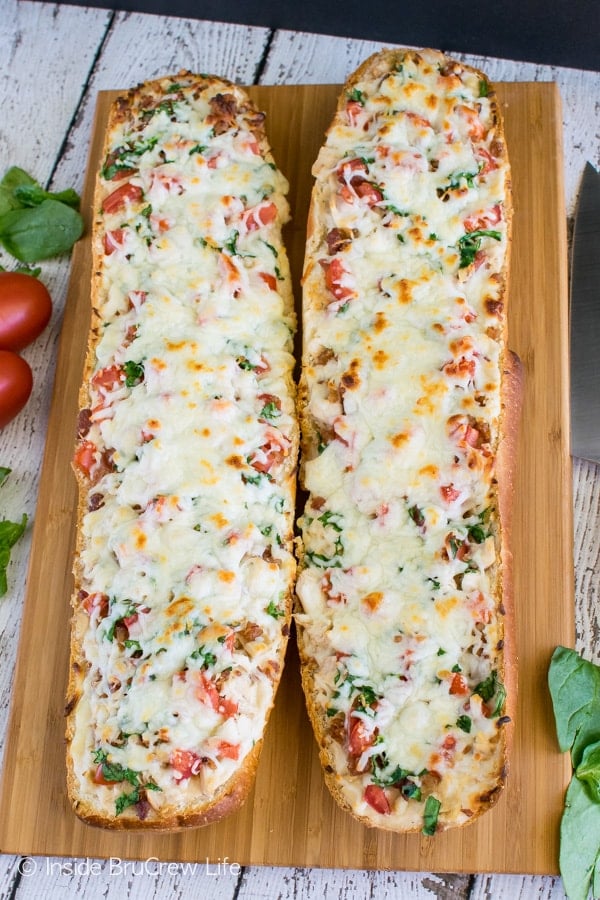 As soon as this meal came out of the oven, our kids were hovering around waiting to snag some pieces of this BLT Chicken Alfredo French Bread Pizza.
Usually I take a little longer staging photos and making the food look yummy, but when you have 3 hungry teenagers staring hangrily at you, you get the memo and hurry!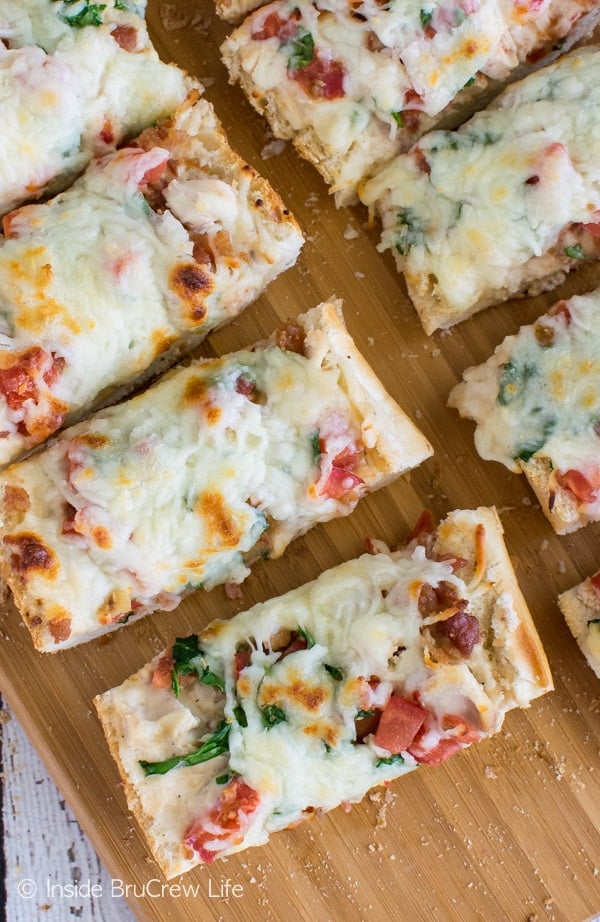 More delicious BLT recipes to enjoy:

SaveSave
SaveSaveSaveSave