Filling biscuits with your favorite chicken dip makes these Buffalo Chicken Calzones a hit at any dinner or game day party.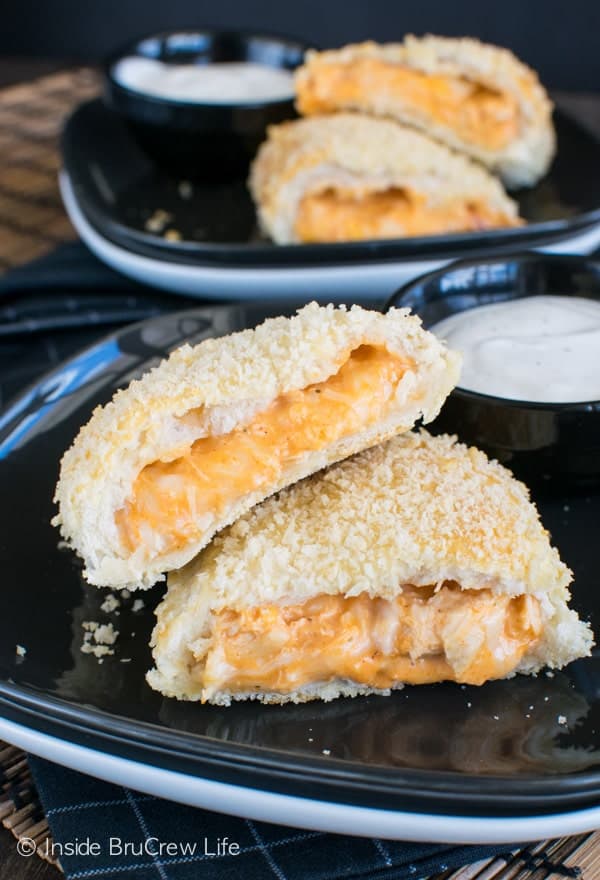 Yes, you are on the right site. I thought you might be confused because I don't usually share savory recipes back to back. You caught me on a good week because I have been actually making food.
Actually, this past month I have made more dinners than I probably have made in the past 3 years. Wait...that sounded bad. Honest, I do cook for my family! Cereal, boxed mac & cheese, a frozen pizzas all count, right?
I'm kidding. Ok, maybe not all the way. I am the baker in the family, and my hubby is the resident chef. Oh, I can cook, but I would much rather be baking a pan of Homemade Chocolate Chip Brownies or M&M Blonde Brownies. I'm cool with those being dinner. Again I'm totally kidding...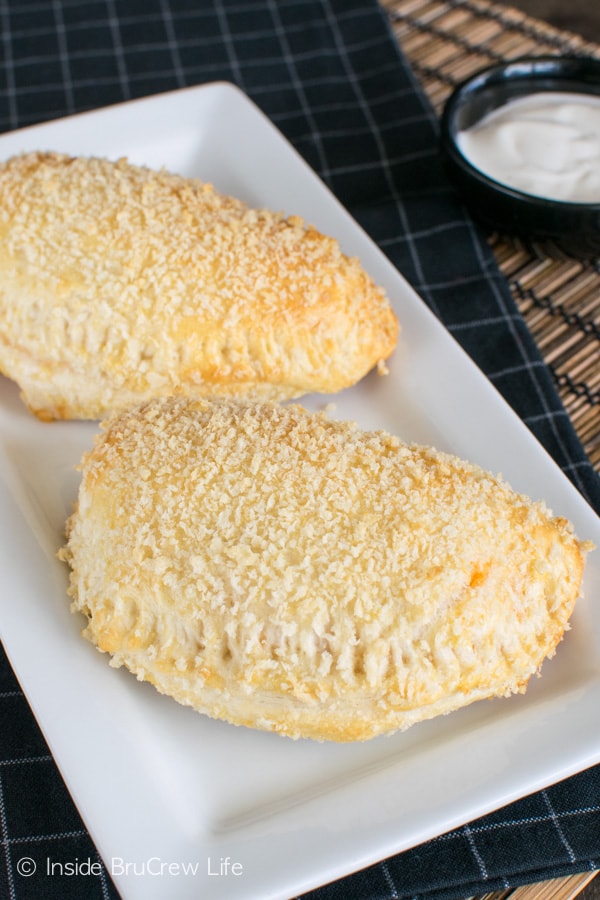 Since we moved a month ago, my husband gets home a little later from work. The three little humans that live with us want food as soon as they walk in the door from school, so I can't ask them to wait even longer for my hubby to make dinner. A little snack buys me about an hour of cooking time before they are back in the kitchen looking for more food.
So, this month I put on my dinner game face and have made quite a few dinners. Most of these recipes have been called slam dunks, scores, home runs...ok, maybe touchdown is a better term to use since Super Bowl is in a few days. And yes, for the record, there have been a few fumbles in the kitchen too.
I may or may not have a few recipes that need some tweaking and fine tuning before they can be shared! LOL!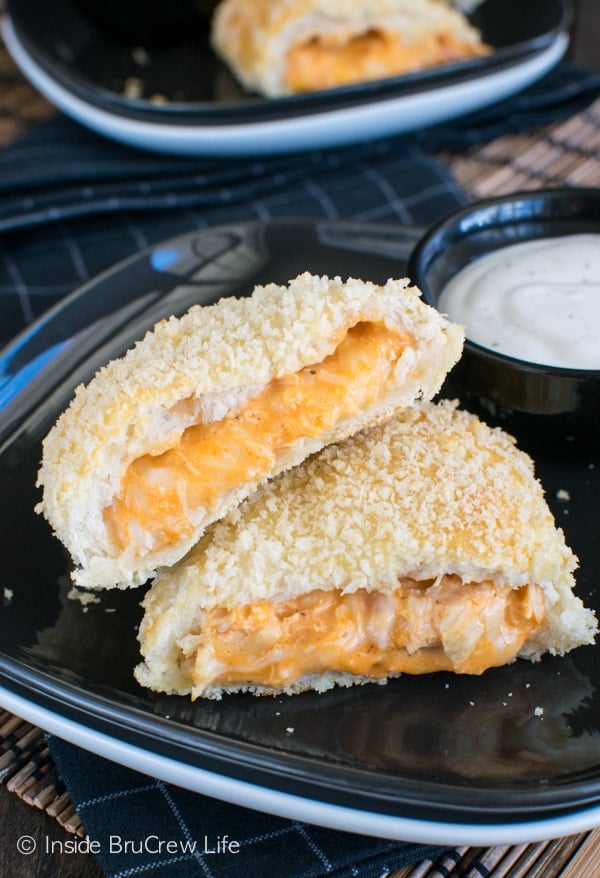 Are you all ready for game day eating? Because the food is really the only reason I can sit that long watching men run around chasing a little brown ball.
Last week I made Chicken Alfredo Calzones, and now I'm hooked on putting everything and anything inside a biscuit.
Since buffalo chicken dip is one of our all-time favorite appetizer, I decided to put a version of the dip inside a biscuit and call them buffalo chicken calzones.
Add a bowl of Cheesy Chicken Soup, and dinner is served. I do suggest doubling the recipe if you are serving it for those game day parties. 8 calzones won't feed the hungry masses! Just sayin'!
Love that buffalo flavor? You need to check out these Buffalo Chicken Meatballs. Such a fun appetizer! I also can't wait to make these Buffalo Baked Tacos and these Buffalo Blue Cheese Deviled Eggs soon.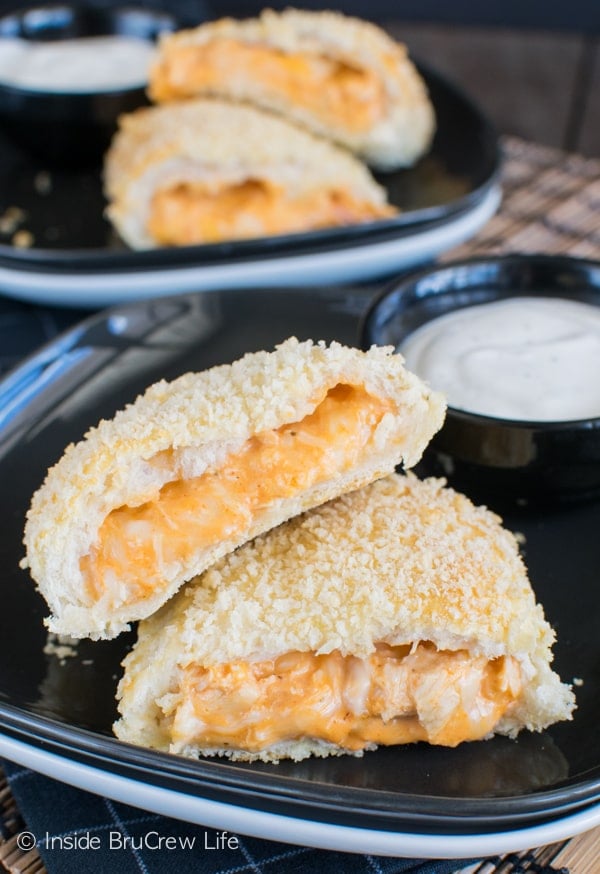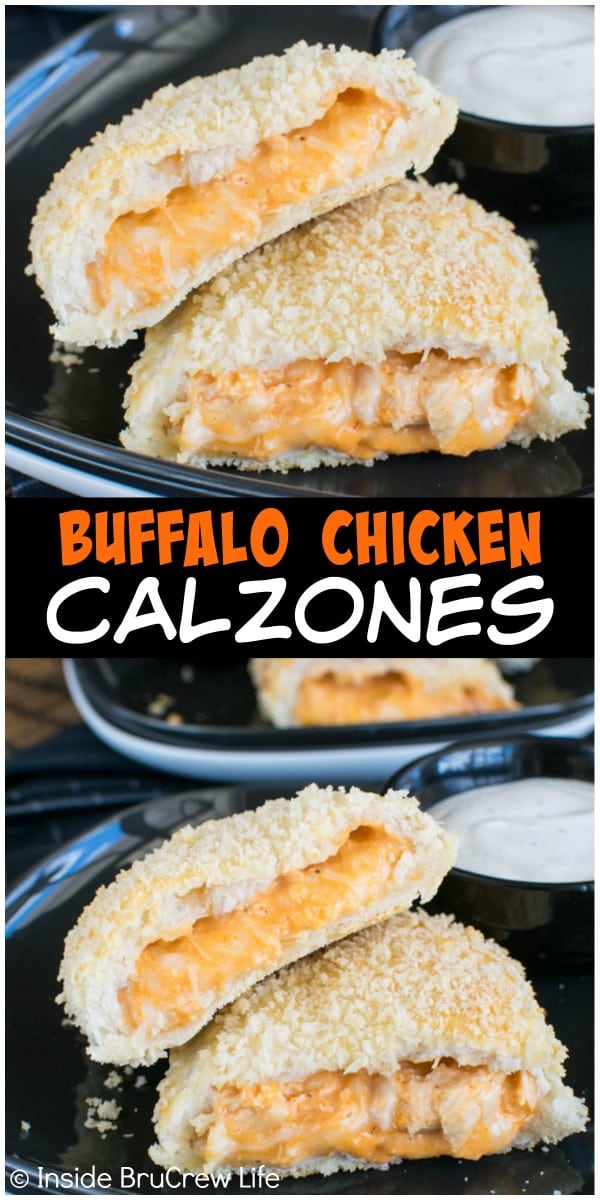 More easy recipes that we love for game day parties: