A creamy cheese filling makes these Sausage Alfredo Stuffed Shells a delicious and easy pasta dinner that can be on the table in 30 minutes.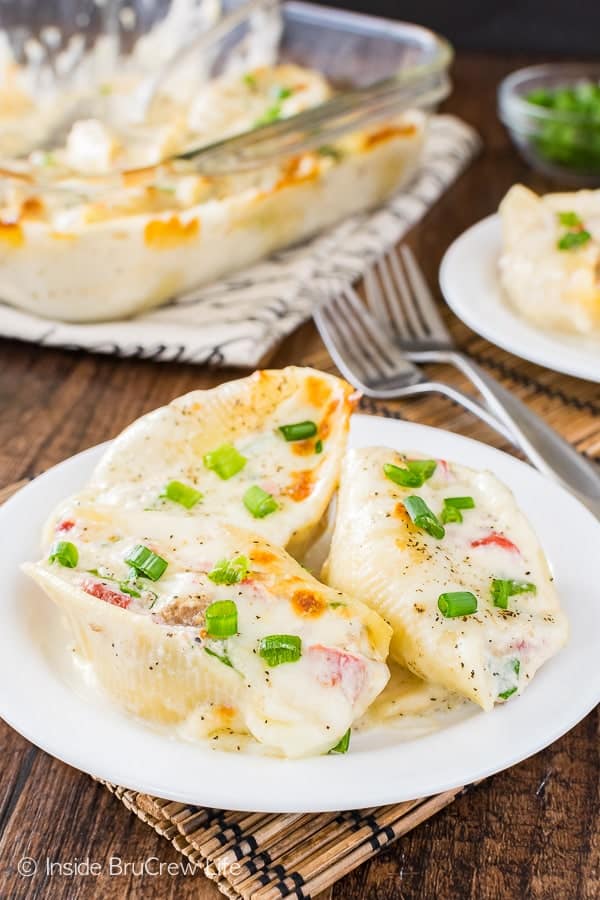 CLICK HERE TO SAVE THIS RECIPE FOR LATER!
I have officially become a slacker in my workouts. It wasn't something I was necessarily trying to do…it just happened. Mostly because I stopped waking up super early to workout with my husband. There is something about working out with someone else to keep you motivated to move faster.
At least I haven't stopped working out. I'm still in our garage gym at some point in the day sweating it out…slowly. One of these days I'll kick it up again. I hope. Summer is coming quickly which means shorts and swimsuits have taken over all the stores.
Of course, if I keep making and eating cheesy pasta dinners, I will never want to wear those summer clothes again. Jeans and sweatshirts are acceptable all year long, right? I mean that's what air conditioning is for. LOL!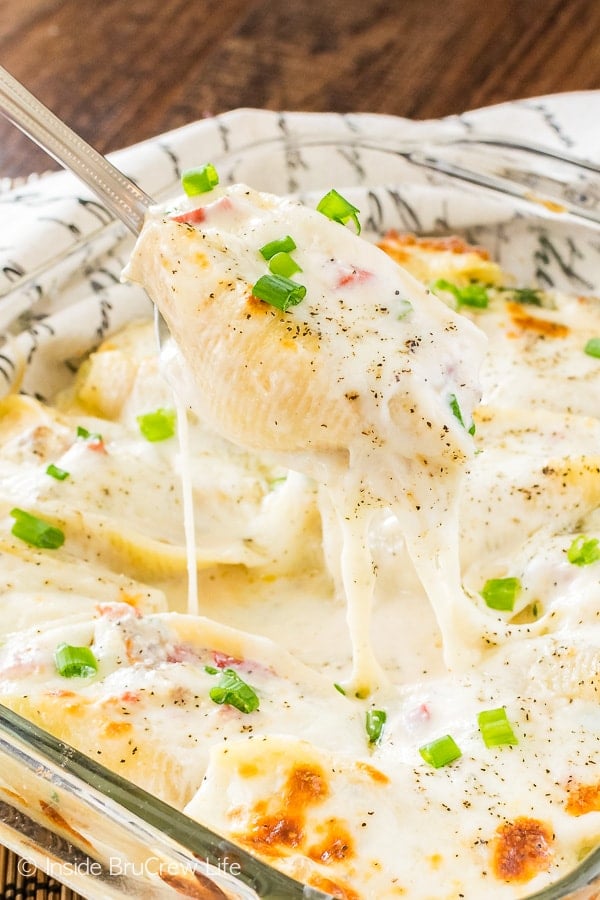 Want to know something else I'm slacking on? Dinner planning and making. Last week I made 2 dinners, and this week so far I haven't planned anything.
Technically, I made one the other day because there were veggies in the fridge that were starting to look questionable. My solution was to chop them all up and make a batch of this Italian veggie salad. Since the kids ate it for dinner I'm counting it even though it was a spur of the moment decision.
Last week I realized that we had a box of pasta shells under the cupboard. I'm really not sure when I bought those or what I actually bought them for.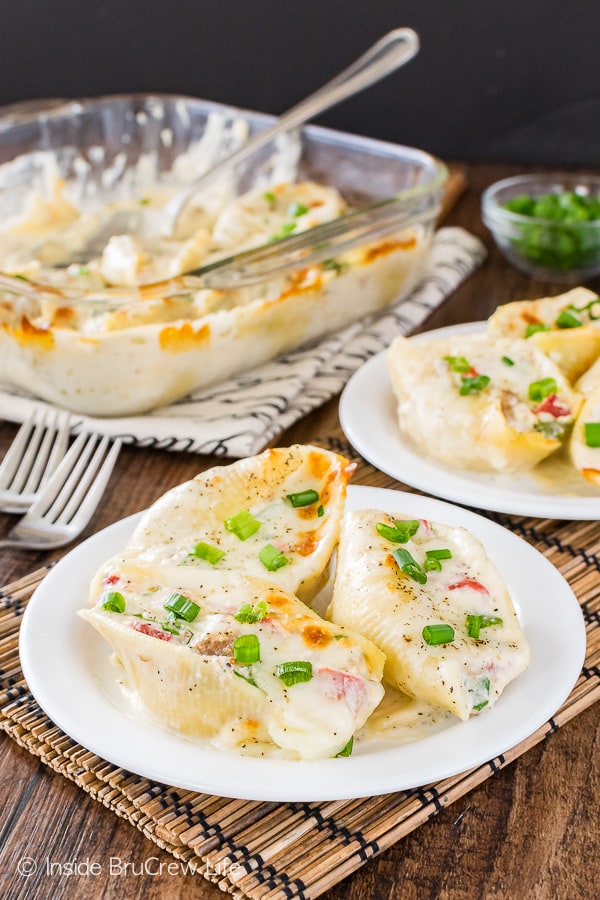 There were a few bags of leftover sausage in the freezer from when I made this meat lover's pizza skillet ravioli. So, I pulled those out and dug through the fridge and cupboards to see what I could do with them.
I found a jar of Alfredo, some roasted red peppers, and a partial bag of mozzarella cheese. All I had to do was make a quick run to the store for some ricotta cheese. I could have used cream cheese because I always have that in my fridge for making cheesecake, but I love ricotta and sausage together so much better.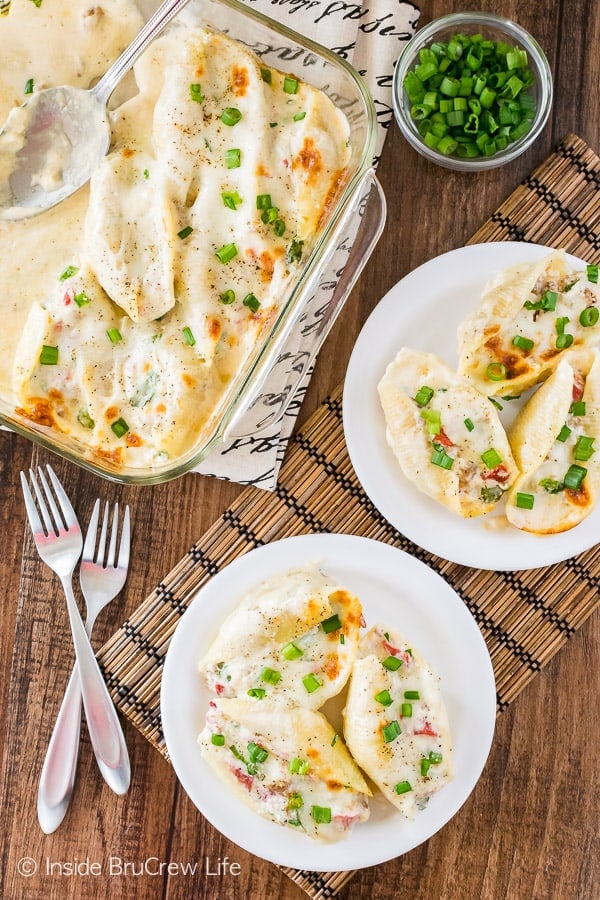 These sausage Alfredo stuffed shells really can be on your table in about 30 minutes. Here are some tips to help keep you moving.
Preheat the oven so that it is hot when you have everything put together.
Get out all your ingredients while the water is heating up.
Chop the veggies and stir together the filling while the shells are cooking.
Only cook the shells for 10 minutes. I know the box says longer, but you do not want to over cook them. They will cook longer in the oven.
Run the shells under cold water so they are easier to hold while you fill them. I like to place them on a wire rack so they do not stick together in the pot.
Spoon a little bit of Alfredo in the bottom of the pan so the shells do not stick.
Cover the tops of the shells with the rest of the sauce and the cheese.
Set the table while the pasta cooks. Or take a nap. Either one is fine by me.
Add a little bit of green onion to give the tops of the white shells a little color and serve them immediately!
If you love pasta as much as I do, you need to check out this Pizza Pasta Bake. I know my kids will love that one for sure. I also love the sound of this Chicken Parmesan Pasta Skillet and this One Pot Southwestern Alfredo Pasta. Now to just go buy all the ingredients and start making a dinner plan. I got this.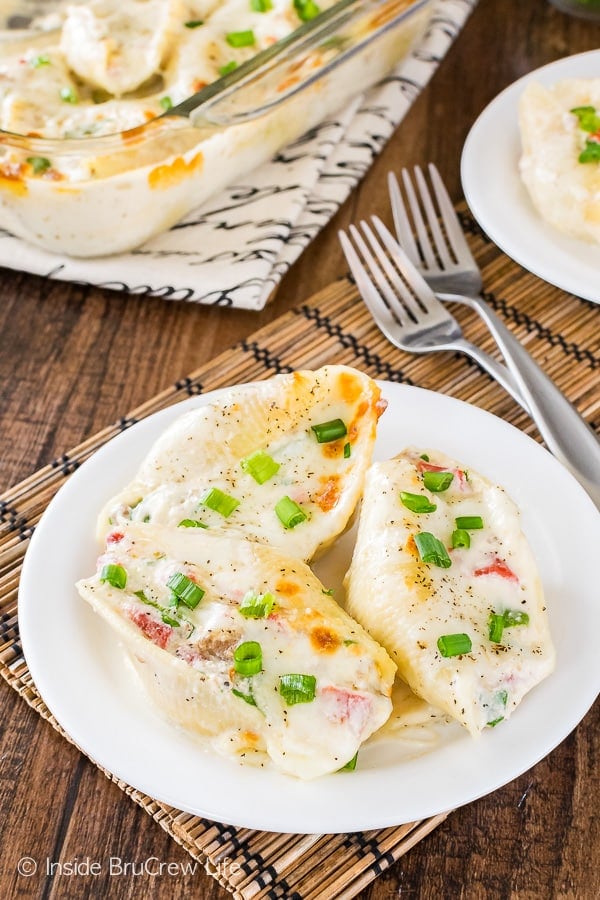 Stay up to date on all the BruCrew baking here:
FACEBOOK | PINTEREST | TWITTER | INSTAGRAM | BLOGLOVIN
Sign up to receive an email in your inbox for each new recipe:
EMAIL SUBSCRIPTION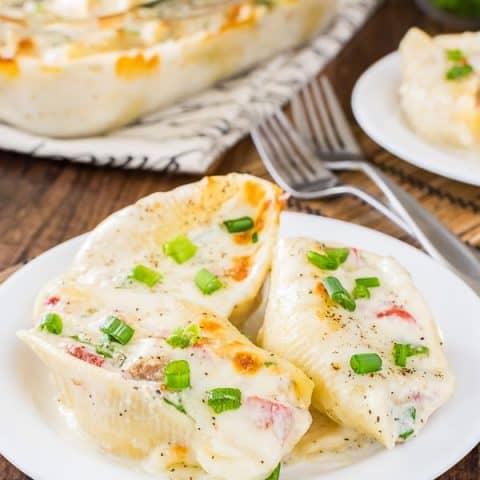 Sausage Alfredo Stuffed Shells
A creamy cheese filling makes these Sausage Alfredo Stuffed Shells a delicious and easy dinner choice that can be on the table in 30 minutes.
Ingredients
24 jumbo pasta shells
1 Tablespoon minced garlic
1 - 15 ounce container ricotta cheese
1/2 cup chopped fresh spinach
2 cups cooked Italian sausage
1 cup diced roasted red peppers
1 - 15 ounce jar Alfredo sauce
2 1/2 cups shredded mozzarella cheese
salt and pepper, to taste
1 diced green onion
Instructions
Preheat the oven to 375 degrees. Spray a 9x13 pan with baking spray.
Cook the pasta shells in boiling water for 10 minutes. Drain and rinse in cold water. Place the shells on a wire rack.
While the shells are cooking, mix together the garlic, ricotta, spinach, sausage, and red pepper. Fill the shells with the mixture after they have been rinsed.
Spread 1/2 cup of the Alfredo sauce in the bottom of the prepared pan. Place the shells in the pan and cover with the remaining sauce. Sprinkle the shredded cheese on top.
Cover the pan with foil and bake for 20 minutes. Remove the foil and broil for 2 minutes, if desired. Serve immediately with green onion.
Nutrition Information:
Yield:

8
Serving Size:

3
Amount Per Serving:
Calories:

1112
Total Fat:

52g
Saturated Fat:

27g
Trans Fat:

1g
Unsaturated Fat:

24g
Cholesterol:

136mg
Sodium:

1267mg
Carbohydrates:

110g
Fiber:

6g
Sugar:

5g
Protein:

48g