These Blueberry Coconut Granola Bites are easy to make and taste delicious. Little granola bites are a healthier way to enjoy a treat when you are craving something sweet.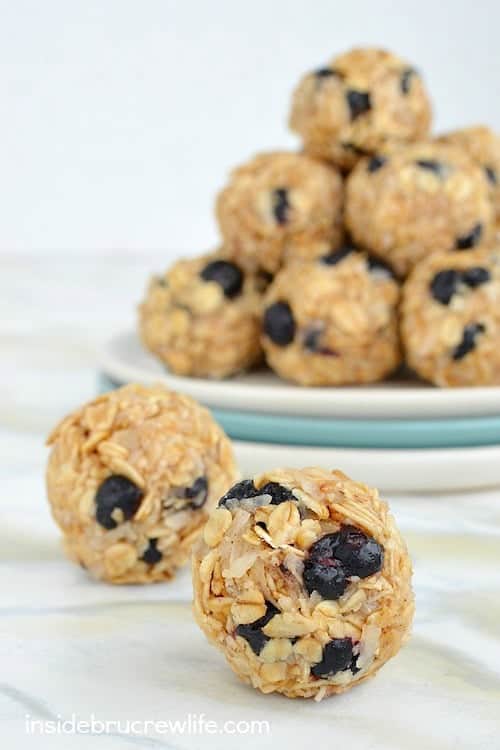 A few weeks ago we headed out on week long cruise with our kiddos. Getting away some where warm was just what we wanted when the temps at home were only in the teens or lower.
Of course weeks before vacation, I was trying to watch what I was eating and doing some sort of exercise each day. I made up for that by eating everything and anything I wanted on the cruise.
Hey, it's a floating buffet...why not enjoy it, right?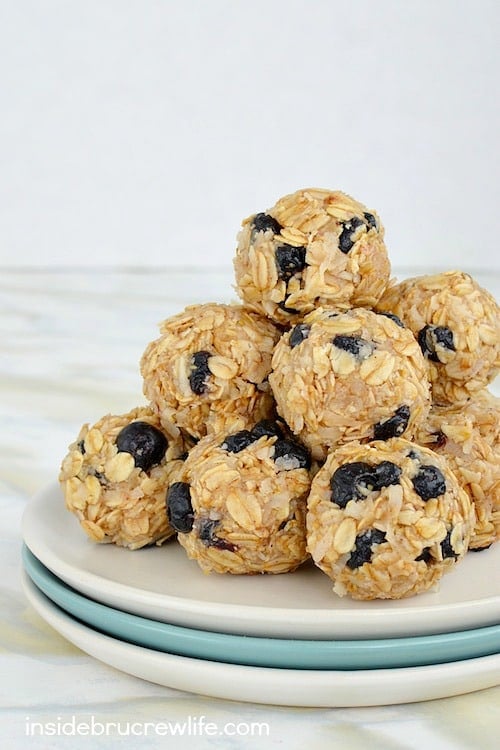 Of course, after a week of indulging, the scale was not my friend. I have hidden it in the back of the bathroom closet until further notice!!!
And I have been hitting the gym for some cross fit work outs with my cute hubby. Although, I learned a few valuable lessons this week while trying to keep up with the boys.
1. Don't rush the workout just to keep up with the boys.
2. Jump higher than the box when you do box jumps.
3. Hitting your shin in the middle of a box jump hurts like you wouldn't believe.
4. Sit down if you ever hit your shin that hard. The trainer at the gym said that there are nerves and blood vessels that run along your shin bone, and a hit to that bone can cause you to pass out. I'm glad he was there to make sure I sat down immediately.
5. Get up and keep going. Don't let a sore shin stop you from finishing! #yougotthis
I wish I had made another batch of these yummy bites to munch on while I propped my leg up when we got home. I was planning on making another batch this week, but I just haven't done it yet. I'm blaming it on the sore shin. Yes, it's my excuse for everything right now.
Ever since I made these Skinny Peanut Butter Granola Bites, I have been hooked on these simple, easy treats.
How to make Blueberry Coconut Granola Bites:
Melt coconut oil and honey together in a pan over low heat.
Stir in the oats, coconut, and dried blueberries while it is still hot.
Press the mixture into am 8x8 pan firmly and let it cool.
Cut into 16 squares and roll into balls. Or just eat them as squares. It's your call.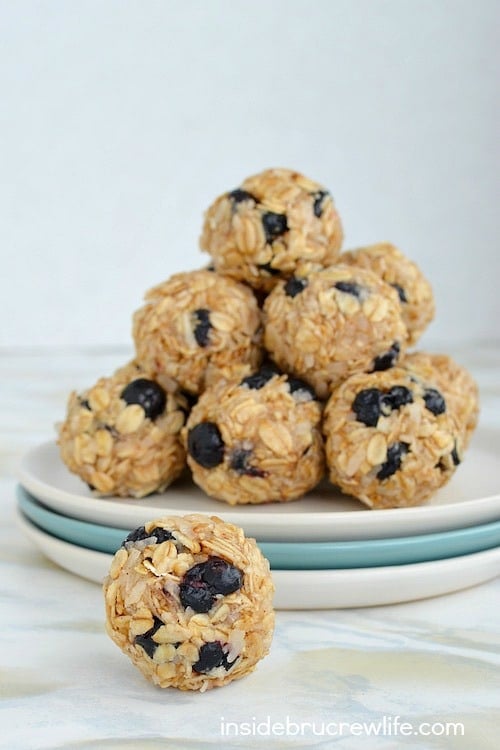 Stay up to date on all the BruCrew baking here:
FACEBOOK | PINTEREST | TWITTER | INSTAGRAM | BLOGLOVIN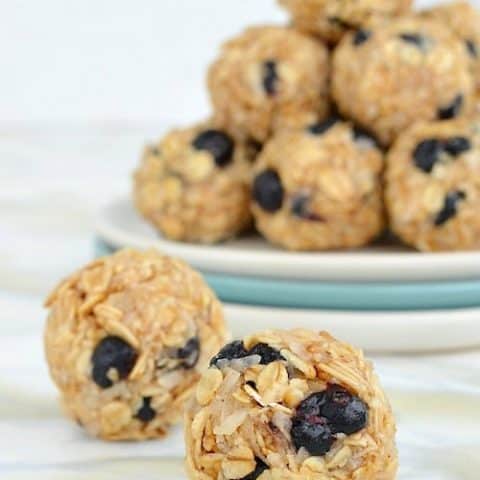 Blueberry Coconut Granola Bites
These easy and healthy Blueberry Coconut Granola Bites have a fun taste and texture. They are a great treat for when you are eating healthier.
Ingredients
¼ cup coconut oil
5 Tablespoons honey
1 cup shredded coconut
1 ¾ cups rolled oats
½ teaspoon cinnamon
½ cup dried blueberries
Instructions
Line an 8x8 pan with foil.
Melt the coconut oil and honey together in a small sauce pan or in the microwave.
Pour over the oats, coconut, blueberries, and cinnamon in a large bowl. Stir until everything is covered.
Press the mixture firmly into the prepared dish. Cool completely.
Cut into 16 squares. Press and roll the squares into balls. Store in a sealed container on the counter.
Notes
*You may need to refrigerate the pan of granola to chill it more if you are having problems keeping the granola in a ball form.
Nutrition Information:
Yield:

16
Serving Size:

1
Amount Per Serving:
Calories:

111
Total Fat:

5g
Saturated Fat:

4g
Trans Fat:

0g
Unsaturated Fat:

1g
Cholesterol:

0mg
Sodium:

16mg
Carbohydrates:

15g
Fiber:

2g
Sugar:

8g
Protein:

1g
Nutrition facts are an estimate and are not guaranteed to be accurate. If you need special diet advice, please see a registered dietician.