These Peanut Butter Granola Bites are a healthy little snack to munch on when you are trying to what you are eating.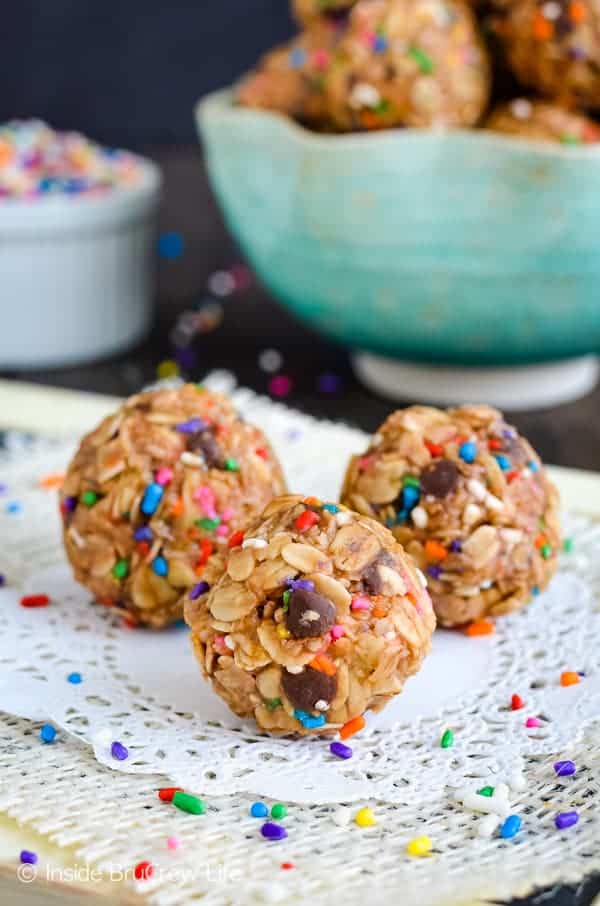 After an entire month of enjoying holiday food and not working out very much at all, I am ready to jump back on the healthy eating and exercise bandwagon full force.
But don't worry. I have a few other recipes that I will have to jump off the wagon, so I can share them with you soon! It's all about that moderation, right?
Do you set resolutions or goals at the beginning of each new year? My goal is to continue working out in our garage doing some BeachBody workouts and eating lean and green dinners. Eating right and working out isn't about losing weight. I honestly feel better mentally and physically when I fuel my body this way.
But..I'm also planning to also enjoy a few bites of each new dessert that I create because I love me some sugar. I do need to work on my will power though.
When I have Homemade Chocolate Chip Brownies and Reese's Peanut Butter Pudding Cookies in our kitchen, my sweet tooth becomes so much stronger than my will power.
I'm always looking for an easy snack idea, so I made these sweet little granola balls to pacify my sweet tooth. These little oatmeal energy bites did not last very long in our house. My entire family loved them and helped me gobble them up in a hurry.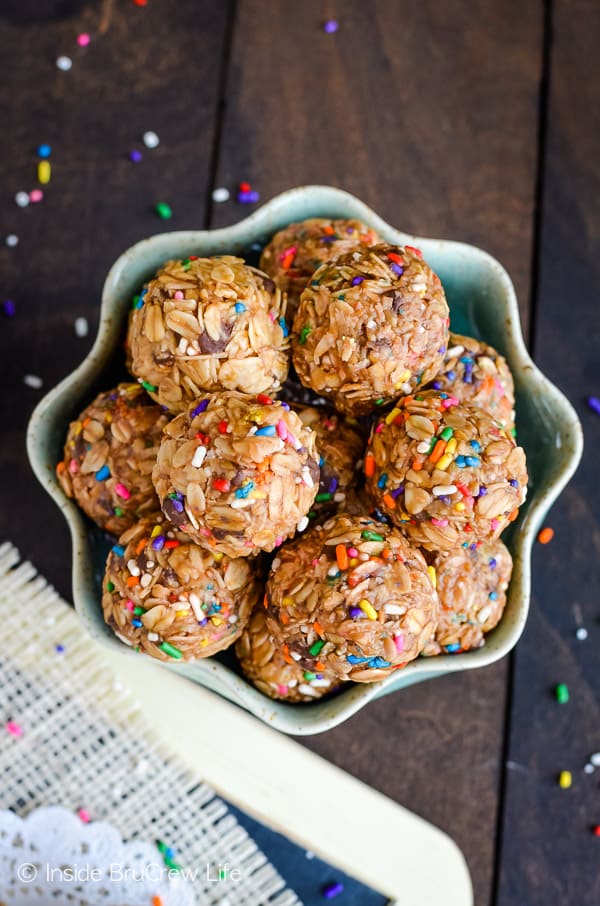 I took the recipe for these No Bake M&M Granola Bars and removed the sugar and then added some peanut butter and a little bit of raw honey. There is no need for any sugar when you use honey to sweeten these healthy no bake granola bites.
Basically the old recipe looks nothing like the new, and these are way softer. I'm a fan of soft chewy granola snacks.
Now I realize the name of this recipe is kind of a farce because something with honey and chocolate chips cannot really be considered a skinny treat. But hey, these are better for you than a candy bar or a chocolate laden cookie, right?

What are skinny granola bites?
They are a no bake mixture of whole grain oats, honey, and peanut butter. That's it. A great little snack that is full of protein and keeps you full until your next meal.
Now I did add some mini chocolate chips to these healthy granola balls because this is me we are talking about. Chocolate is an anti-oxidant right? Totally still healthy-ish in my books.
Oh, and the sprinkles. Just because we are eating healthy doesn't mean we have to cut out sprinkles. They add a little bit of fun and flair without adding too many extra calories. Feel free to leave them out if you have an issue with cutesy sprinkle goodies.
My hubby told me I could make these no bake energy bites again, but he prefers the non-sprinkle version. Boring if you ask me, but whatevs.
I'm just excited to have a "sweet" treat that he is asking for seconds on. Score another point for the baking blog!
Now excuse me while I go polish off the last two skinny bites waiting for me in the kitchen. Wish me luck that I can resist the M&M Blonde Brownies that are also sitting beside them!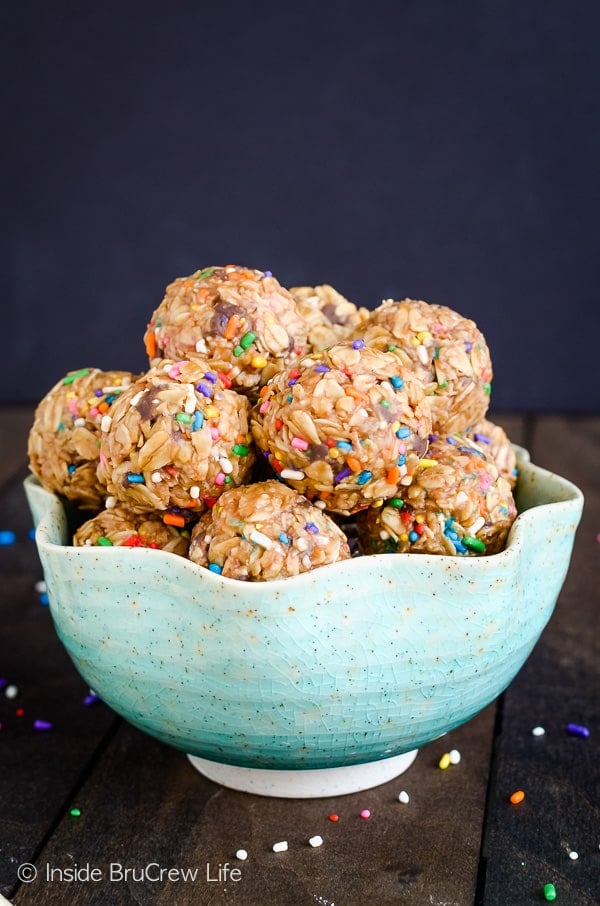 How to make Skinny Peanut Butter Granola Bites:
Stir together the coconut oil, honey, and peanut butter in a small sauce pan over low heat until melted and smooth. Stir in the vanilla extract.
Place the oats in a large bowl and pour the warm peanut butter mixture over them. Stir until all the oats are coated. Let the oat mixture cool for about 30-45 minutes.
Stir in the mini chocolate chips and sprinkles. Spoon a Tablespoon of the mixture into your hands and press into a ball. Squeeze it together very tightly until if forms a ball. You may need to move it from one hand to another to get it to form a proper ball.
Place on a piece of parchment and let them dry. Store in a sealed container on the counter or in the refrigerator.
What if I can't get the bites to stay in a ball?
You can also press the entire mixture firmly into a foil or parchment lined 8x8 square pan and let it cool completely. Cut it into 16 squares and press each square into a ball.
Do I have to use peanut butter?
Feel free to sub any other nut butter in these skinny granola bites.
Can I add anything else to these granola bites?
Yes. You can add nuts, chia seeds, or dried fruits instead of the chocolate chips and sprinkles.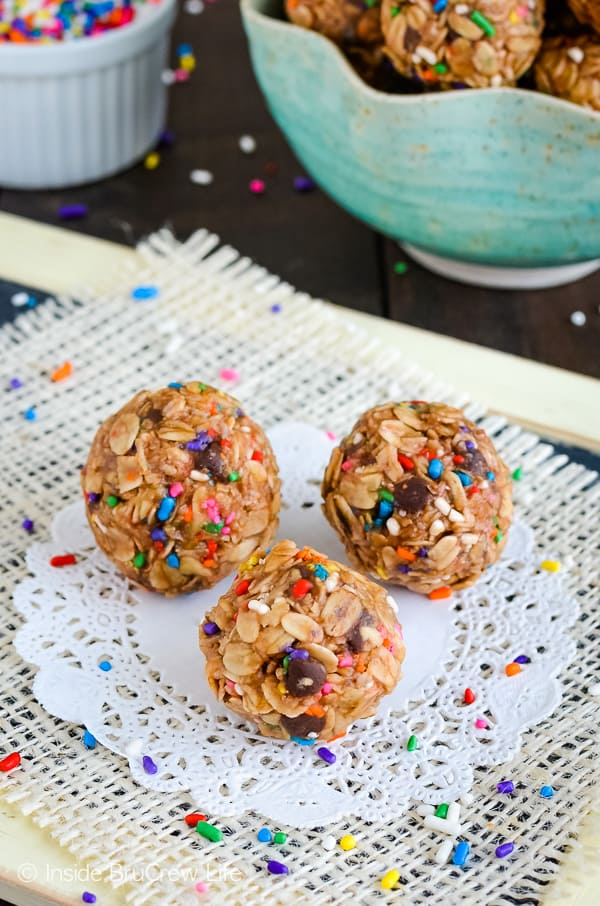 More healthy no bake recipes: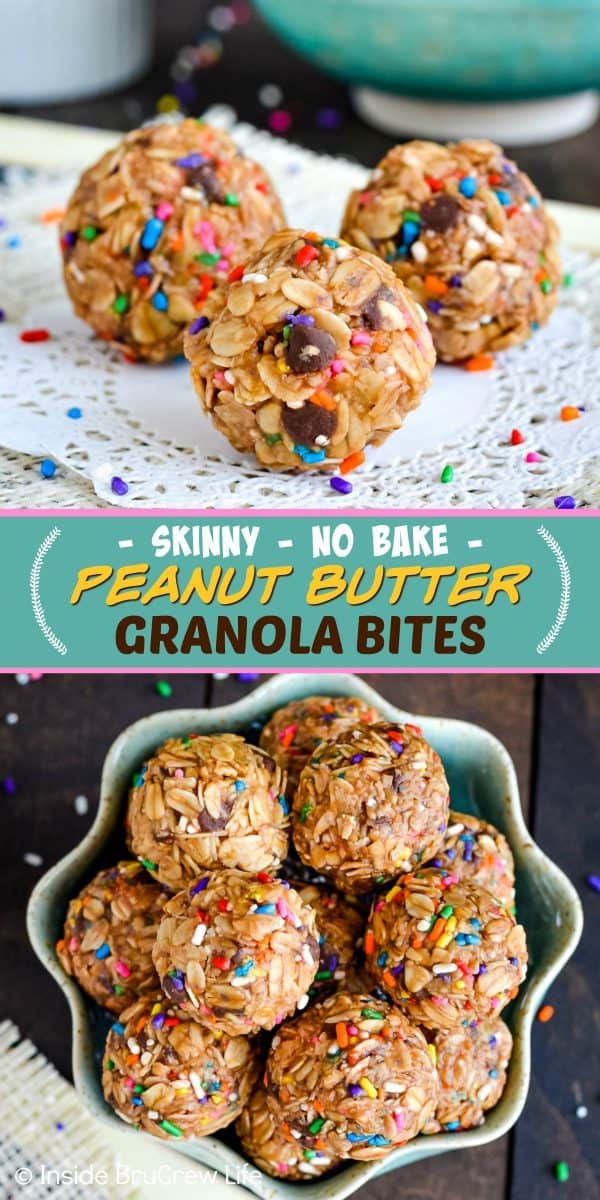 *This post for Skinny Peanut Butter Granola Bites was originally published on January 9, 2014. The post and pictures have been updated and republished on January 2, 2019.