These easy three ingredient Blueberry Pineapple Slushies are a delicious way to cool off on a hot summer day. Frozen berries and sorbet come together quickly in the blender with Sprite or sparkling water to create a fast and refreshing drink.
*This post is sponsored by Wish Farms in conjunction with a social media campaign through Sunday Supper LLC. All opinions are my own.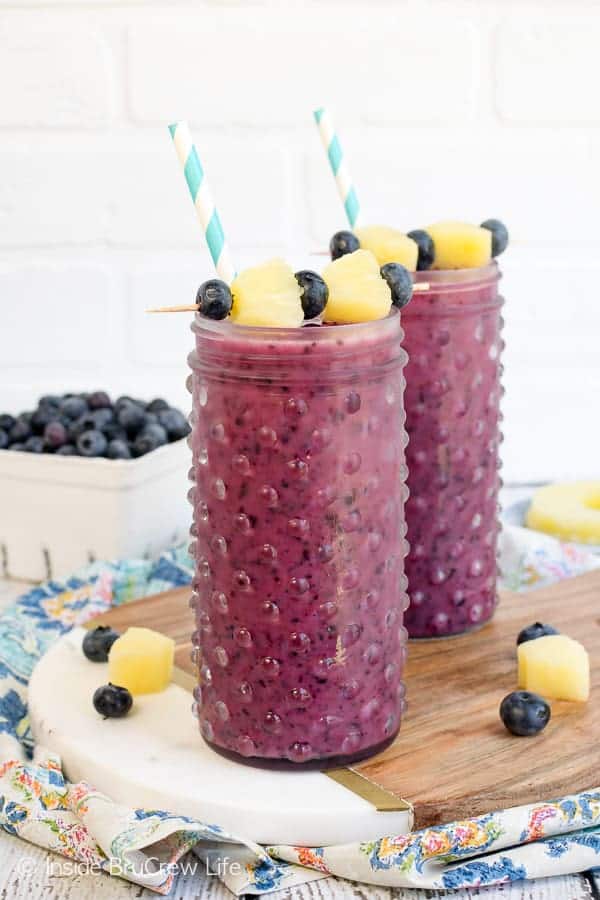 Summer has officially hit. Ok, ok, so it's not actually officially here because the kids are still in school. But they have made it to single digits in their countdown, so it's almost here.
The weather feels like summer though. This past week it has been hot and humid. I like hot. It's the humid that I'm not a big fan of. Working out in our garage gym isn't as much fun or productive when the humidity is high. I'm kind of nervous for the next few month.
Although, as long as I keep frozen fruit in my freezer, I can whip up these quick and easy fruit slushies in our blender every single day for a refreshing snack. Knowing a frozen treat is just minutes away will keep me motivated to finish doing those squats and burpees. At least I hope so...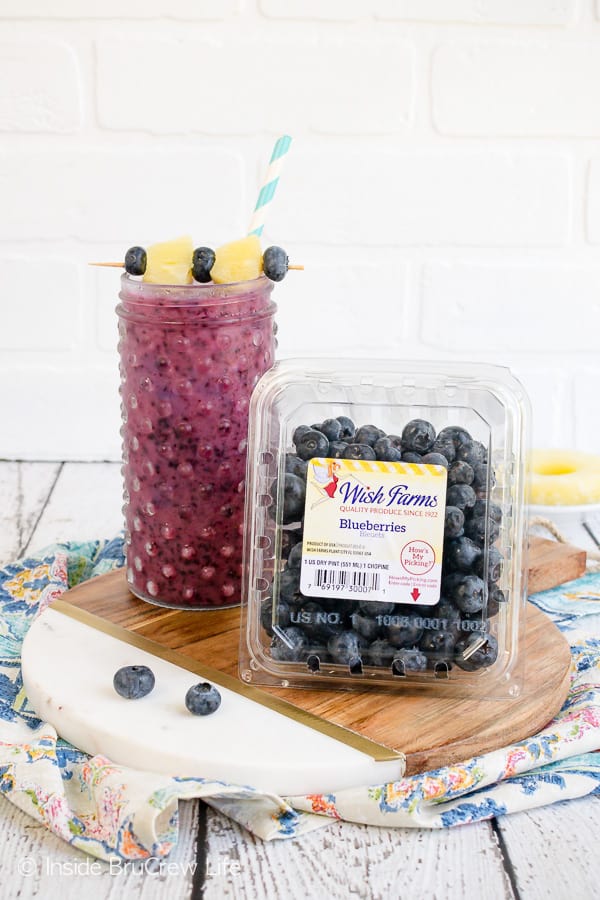 These Blueberry Pineapple Slushies are so easy to whip up in your blender. They are made with real fruit and are the perfect ice cold drink when it's hot outside. Or for all those afternoons when mom just needs some time to chill and relax.
Last month I had the opportunity to visit Wish Farms' Misty Organics Blueberry Farm with Sunday Supper. This brand new state of the art organic blueberry farm is found right here in Florida.
I was able to tour a small section of this 20 acre farm with a group of bloggers and to learn about the 7 varieties of blueberries that are grown in pots under high tunnels. It was so interesting to hear about the science behind growing blueberries. I love hearing that sustainability is a huge factor for all farmers. They want the land to continue being usable for future generations.
The tunnels on this farm provide heat during the cooler months, so that the farm can continue producing fruit for consumers. They also use black weed cover and black pots to help attract more sunshine for the plants as well.
I also learned that the waxy clouding coating on blueberries is a natural protective coating known as bloom. This is natures's way of protecting the berries from pests and bacteria. Once you wash the berries, the bloom will disappear and the blueberries will appear darker.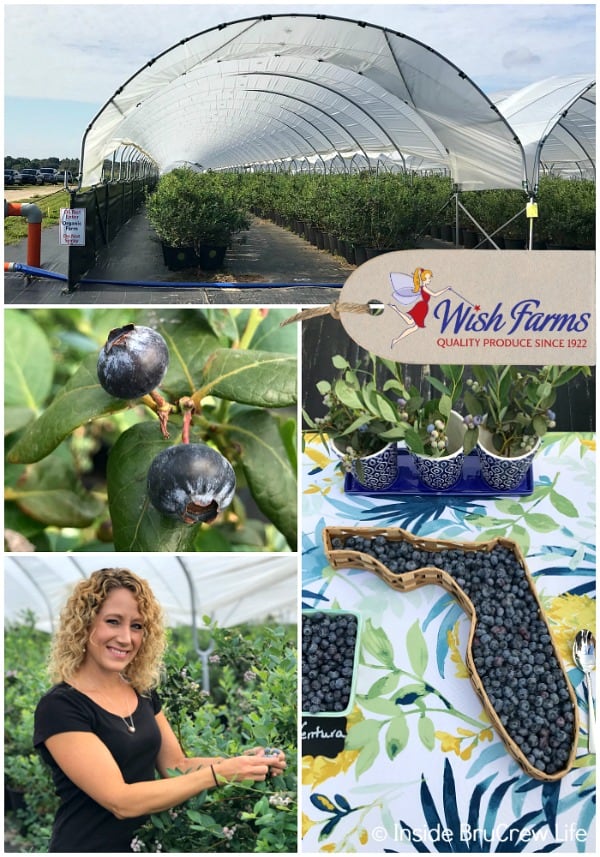 After we visited the farm, we headed over to the Wish Farms processing facility where we followed the blueberries along the packing line. Half of the process is done by machine and the other half is finished by the team of workers. The blueberries go through a machine that weeds out the bad berries, and then the workers go through and make sure there are no other bad blueberries or leaves.
From there they head to a machine that drops them into the clamshell by weight. A machine also closes the lid and prints a code on each box. Consumers are able to input that code and find out exactly where their blueberries were grown and packed. It was an amazing process to watch the blueberries go from the farm to the clamshell.
Did you know that Wish Farms' southeast blueberries are in season now? Florida blueberry season is over, but Georgia and North Carolina are providing fresh blueberries to the south and all over the US.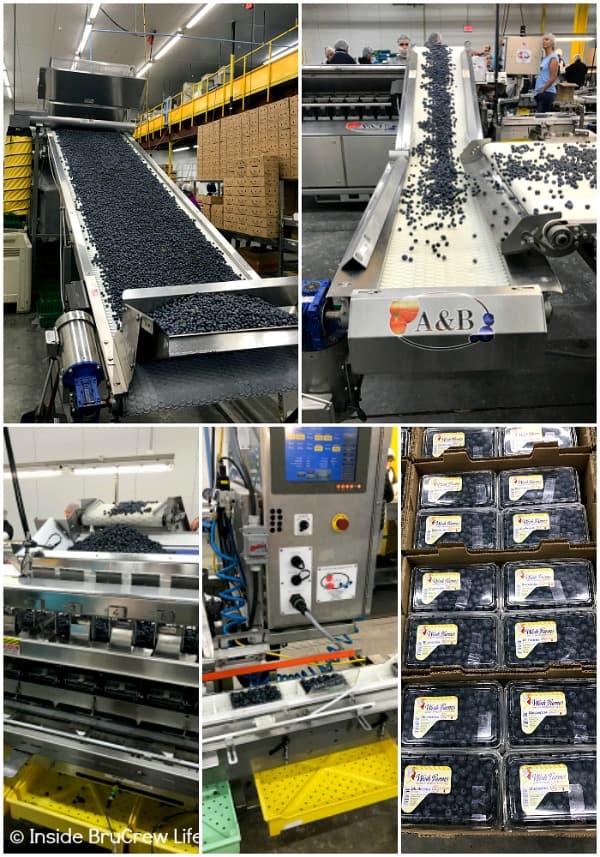 I was excited to go home with a few boxes of blueberries to make something delicious with. Our kids absolutely love blueberries, so we make these Orange Blueberry Muffins and these Blueberry Coconut Scones for breakfast and easy after school snacks quite often.
Most of the time fresh fruit does not last very long in our house because our kids devour it as fast as I can buy it. Not that I'm complaining. I love that they enjoy eating fruit that much.
If I know that I want to use blueberries for a dessert or breakfast treat, I will buy more fruit and freeze the extra ones for baking.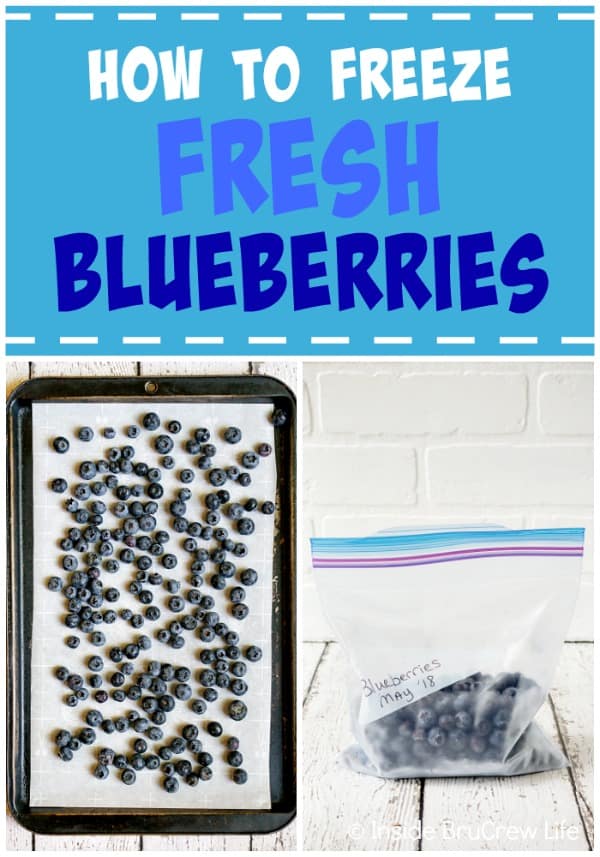 How to Freeze Fresh Blueberries:
Wash the blueberries under cool water. Pat dry and place on a paper towel lined tray to dry completely.
Spread the berries out on a rimmed tray lined with parchment paper so they can freeze quickly and evenly. Remove any stems or shriveled berries as you spread them out.
Place the tray on a shelf in the freezer and freeze for up to 2 hours. Transfer the frozen blueberries to a freezer bag that has been labeled with the date. Frozen blueberries are best when used within 6 months, but they will keep for as long as a year.
Frozen blueberries can be used in smoothies, homemade fruit slushies, and oatmeal. You can also use them in muffins and sweet breads.
To thaw frozen blueberries, you can place them in room temperature water for about 5 minutes. Drain, dry, and use in your recipes.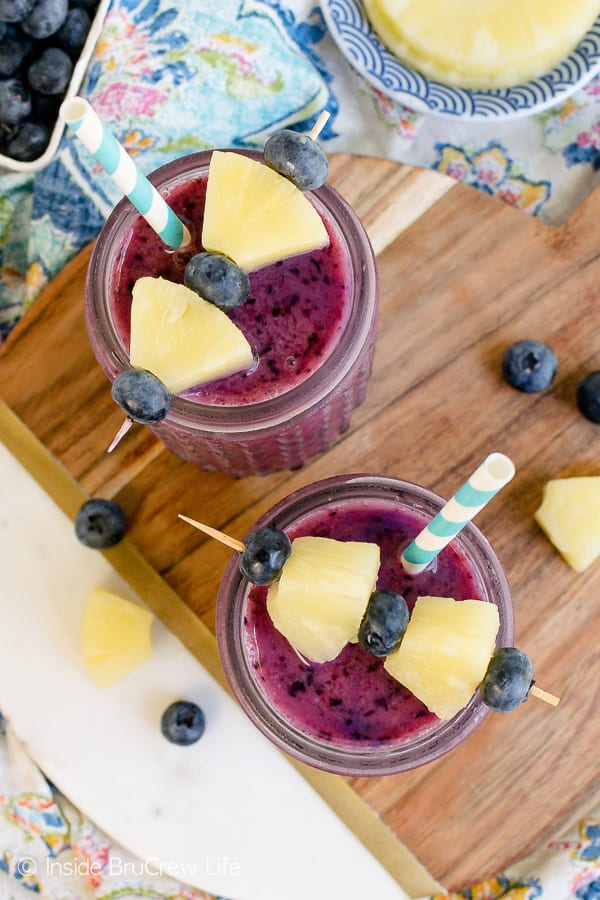 My fruit slushie addiction started a few years ago when I made these Strawberry Limeade Slushies. Our kids downed that sweet drink in no time at all.
Since then I have been experimenting with different flavor combos like these Raspberry Orange Slushies. It was time to add a blueberry slushie to the list. This time I decided to use frozen fruit and Sprite to create an easy homemade slushie recipe.
How to make Blueberry Pineapple Slushies:
These fruit slushies are easy because they are a simple ratio of frozen fruit, frozen sorbet, and liquid.
Pour the frozen blueberries in the bottom of the blender. Spoon the sorbet or ice cream on top.
Pour half the Sprite into the blender and pulse until thick and creamy. Slowly add more liquid until it is the texture and consistency you like. If you want to eat it with a spoon, use less liquid. In order to drink it through a straw, use more liquid. (You can also use sparkling water, if you prefer.)
Serve the slushies immediately with a straw and fruit skewer.
If you have leftover slushies, freeze it in a container until completely frozen. Use a fork to scrape the frozen slushie into a icy granita dessert.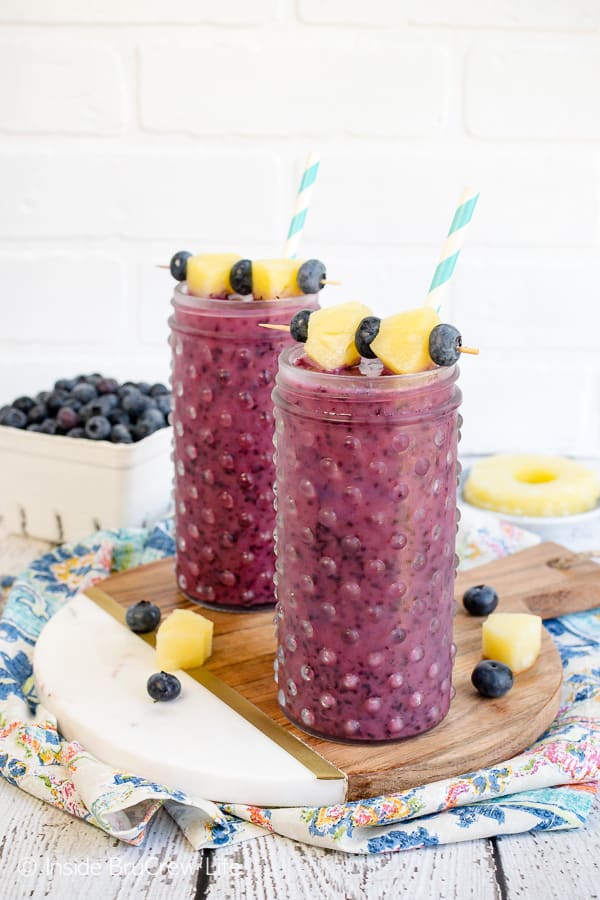 Blueberry Pineapple Slushies Recipe: