Fresh berries and a sweet coconut glaze make these bakery style Blueberry Coconut Scones a delicious breakfast choice. Easy breakfast pastries are always a great way to start the day.
Add a mug of this Coconut Nutella Latte and your morning will get even better.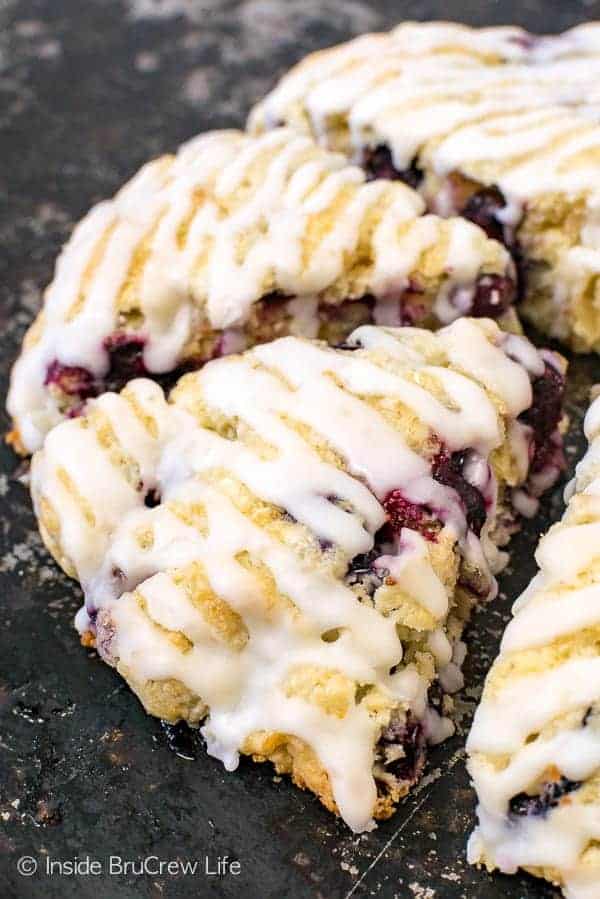 Recently my husband asked me to bake scones because it had been a while since we made them. Now I am ALL about getting in the kitchen, so I was thrilled for another reason to bake something delicious.
The dilemma that I faced was that part of his scone request was that I could not use any candy bars or cookies in them.
Say what? I prefer to add all the candy and sprinkles to everything because it's so fun and delicious. And he knows this, so he had to make sure his request had limitations on it.
Well, I guess that means I should put all thoughts of these Loaded Butterfinger Banana Muffins, this Chocolate Cookies and Cream Banana Bread, or these Java Twix Oatmeal Bars out of my head because he said no candy or cookies are allowed.
He also said those things should never be allowed in breakfast options, but obviously I don't listen to that kind of nonsense. LOL!
I mean if pancakes and syrup, donuts with frosting, and a cream cheese danish are considered breakfast, why not candy and cookies? Because they are the same thing if you ask me.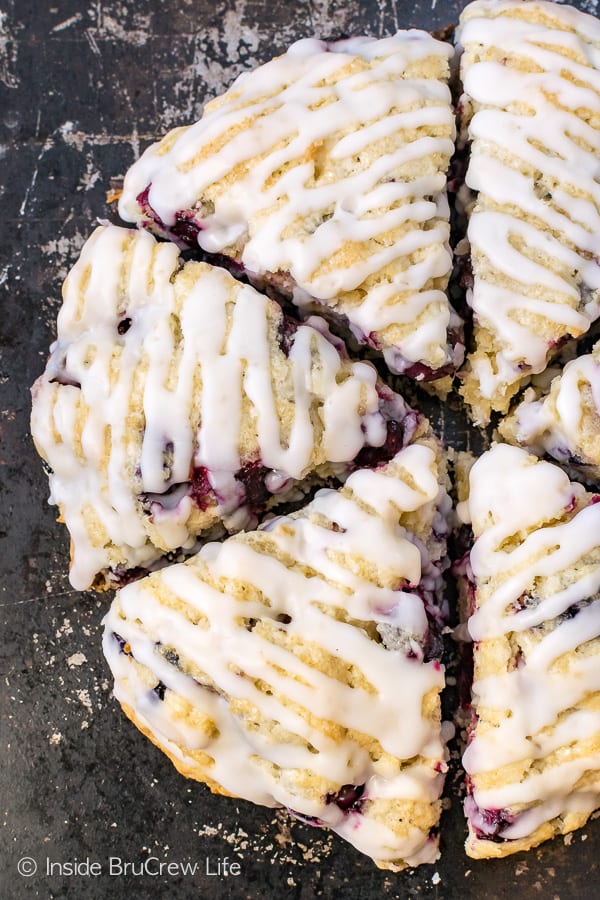 Usually when I bake, there is almost always some sort of chocolate involved. That's just how I roll.
So coming up with an easy scone recipe that didn't involve any chocolate or peanut butter was a little challenging.But I'm always up for a challenge in the kitchen, so I headed to the pantry to see what I could find.
I found a bag of shredded coconut, and I knew that I had just bought some fresh blueberries for the berry monsters in our house.
Right away I knew that that combo needed to happen again because these little Blueberry Coconut Granola Bites are one of my favorite healthy snacks.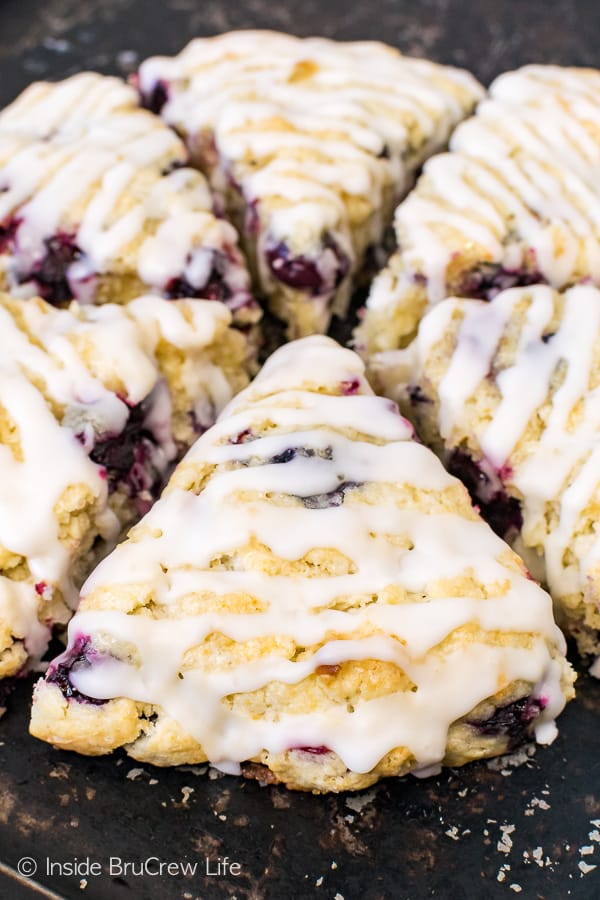 I don't know about you, but I always thought homemade scones were extremely hard to make. I think it is just because the word scone sounds extra fancy.
Just say "I'm having a cup of tea and scones this afternoon" out loud. Sounds uppity doesn't it?
And I had a few bad experiences with scones in the past that kind of hindered me from wanting to make them.
You know the experience I'm talking about, right? Dry and kind of tasteless. That's not exactly how I want to use my calories for the day.
How to make perfect scones:
Preheat your oven so that when you are ready to slide the pan of scones in the oven, it is ready.
Whisk all your dry ingredients in a bowl. Add the cold butter and cut it in with a pastry blender or fork. It is very important to use cold butter. Another easy trick is to grate frozen butter into the flour mixture and stir it all together.
Place the bowl and ingredients in the refrigerator while you prep the rest of your ingredients. This is just another way to keep your butter cold. Warm butter melts faster and creates a greasier texture in these baked goods.
Add any fruit or extra ingredients to your flour mixture and stir gently. Create a "hole" in the center of the flour and pour in all the wet ingredients. Use a fork to gently pull the dough together.
Place the dough on a baking sheet and press into a circle quickly. I like to bake mine in one big circle and then cut them after they have baked most of the way, but you can also cut the dough now and gently separate the triangles. This will create a crunchy exterior all around while the inside stays soft.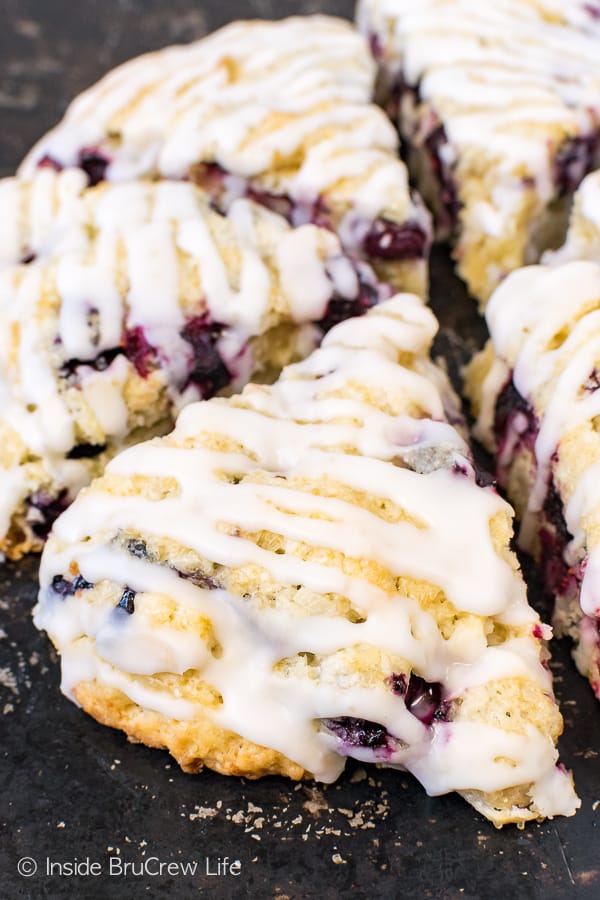 Making Blueberry Coconut Scones:
If you make your scones the right way, they are light, flakey, and melt in your mouth.
Heavy cream and fresh berries give these Blueberry Coconut Scones a light texture with pops of juice.
The coconut glaze drizzled on top adds a slight tropical flavor that is out of this world. It's a flavor combination you just have to experience.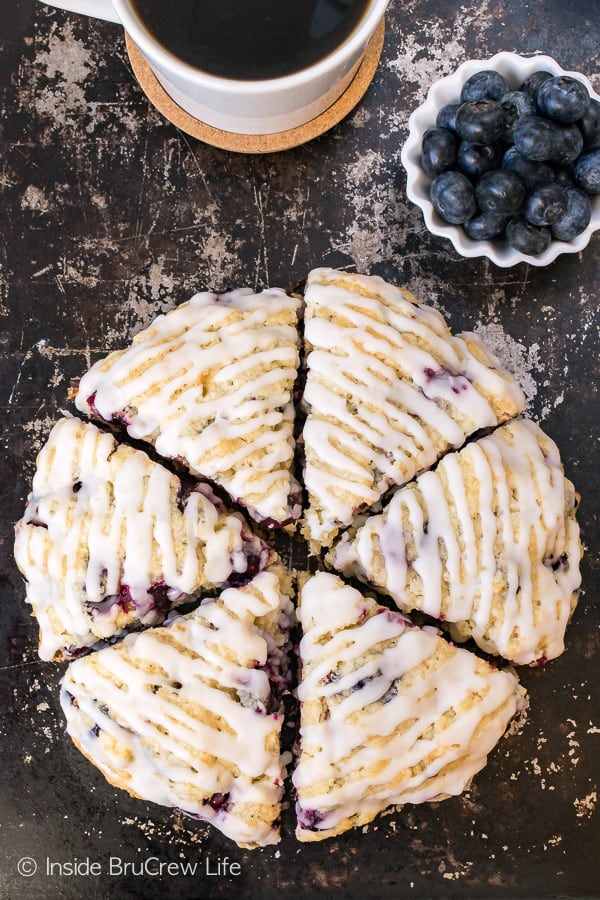 These easy bakery style Blueberry Coconut Scones are a delicious treat to enjoy with your morning coffee.
If you are wondering, they are equally as delicious if you enjoy them in the afternoon or late at night though too.
Head over to the blueberry fields and pick lots of blueberries this summer because these soft fluffy scones need to happen over and over again.
How to make the best blueberry scones:
Leave the shredded coconut out of the dough.
Use vanilla extract instead.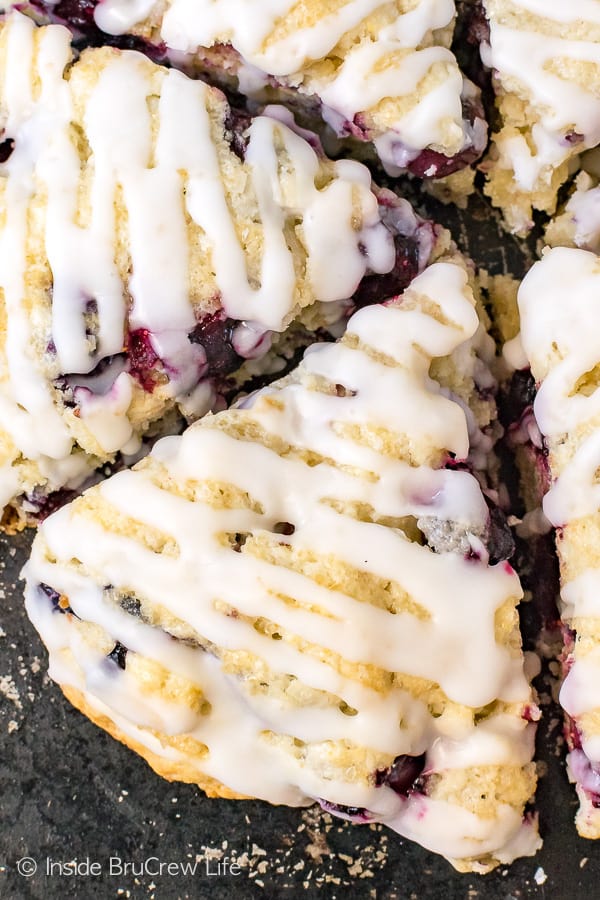 Other easy breakfast recipes you may enjoy: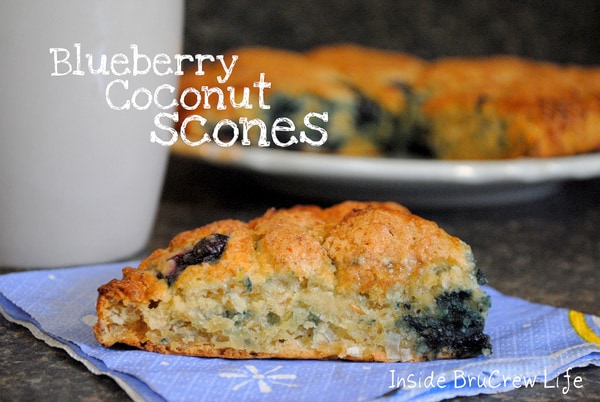 (original photo from January 2012)
*The post and recipe for Blueberry Coconut Scones was originally published on January 18, 2012. The photos were updated April 2018, and the post was republished on July 31, 2019.