You only need three ingredients to make these Broccoli Cheese Egg Muffins. They are an easy and healthy way to start out the day. Grab a few for breakfast or even as a quick snack in the middle of the day.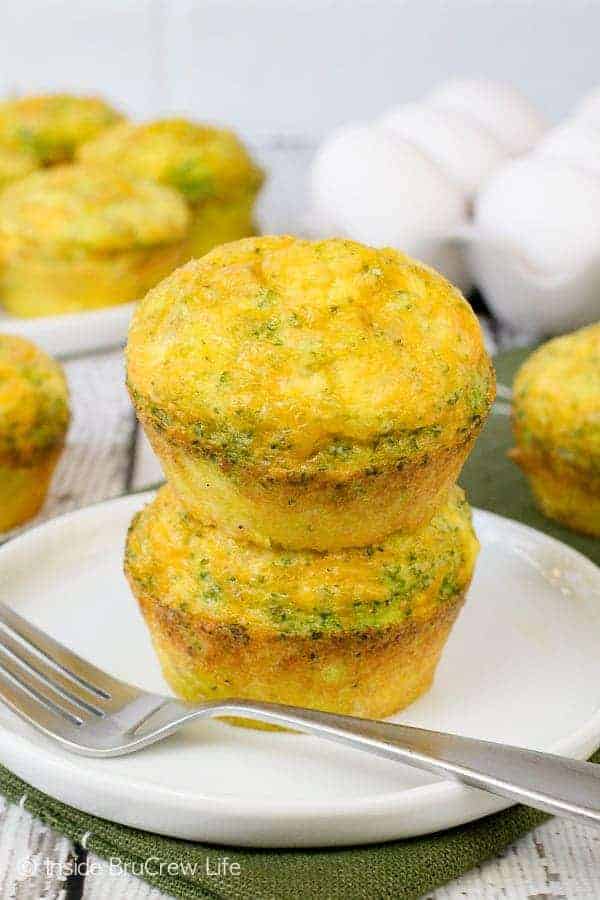 This month we have had quite a few people visiting us, so we have gone out to eat more times than normal. It's been fun catching up with everyone, but I am the worst about ordering healthy food at fun new restaurants. When it's just once in a while, that really isn't a problem because I can right back on track with healthy eating.
But last week we had dinner out at least five different times. I totally planned on having a salad each time. That is until I looked at the menu. Then the pancakes, burgers, nachos, and tacos all sounded so much better. My jeans let me know that they were not very happy with me after all that glorious food.
I guess I need to really work on my self-control issues when it comes to eating out. Most places have delicious healthy options. I just need to stay strong. Most of the time anyway. I'm all for splurging on calories once in a while.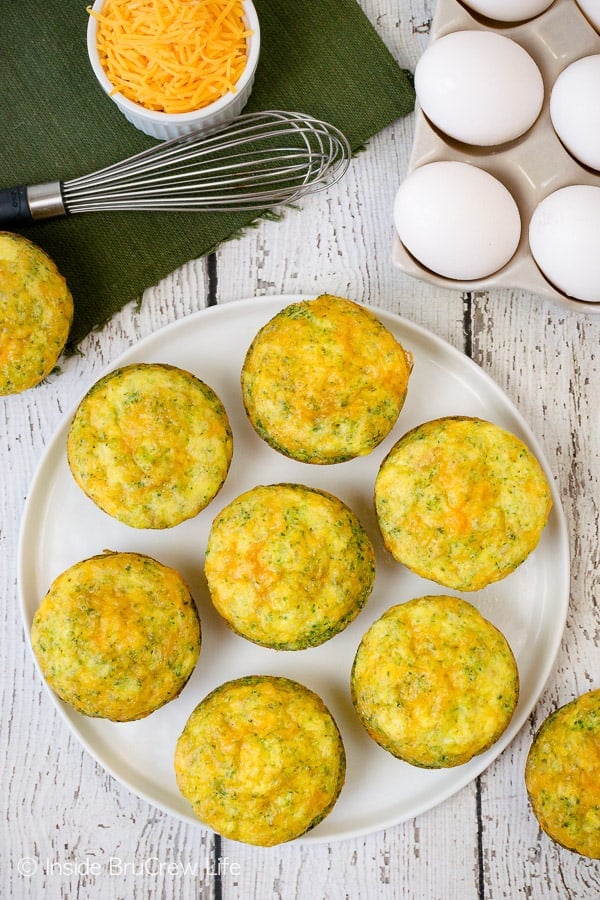 Over the weekend, we stopped at the grocery store to pick up some food for the week. It always makes us proud when our kids ask for healthy food.
Well, at least our daughter asked for eggs and veggies. Our youngest is super active and tiny, so he can get away with hot pockets and ramen. Although, I must admit he does love this spinach chicken caprese salad from time to time.
Our daughter leaves for school early in the morning, so she wanted me to make some broccoli cheese egg muffins for breakfast. I'm all for food that I can make the day before and can stash in the fridge for easy grab and go options.
Since these taco egg muffin cups are always a big hit whenever I make them, I decided to make another version.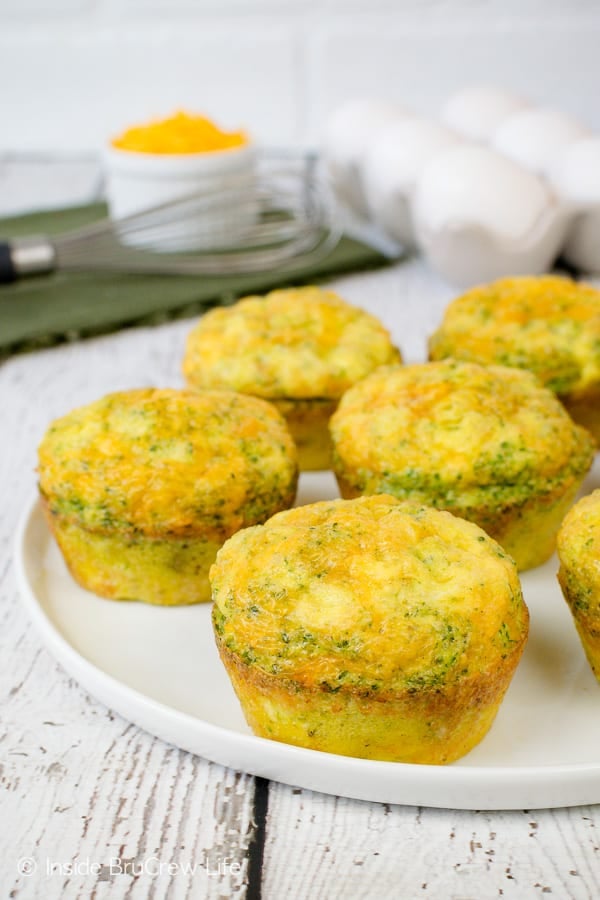 These broccoli cheese egg muffins are easy to make with just a few ingredients.
Let's get started. Whisk the eggs really well and chop the broccoli really fine. I like to pop my broccoli florets into a food processor and pulse it for a few seconds. Easy peasy.
Stir the eggs, broccoli, and some cheese together and pour into a greased muffin tin.
See I told you these were easy.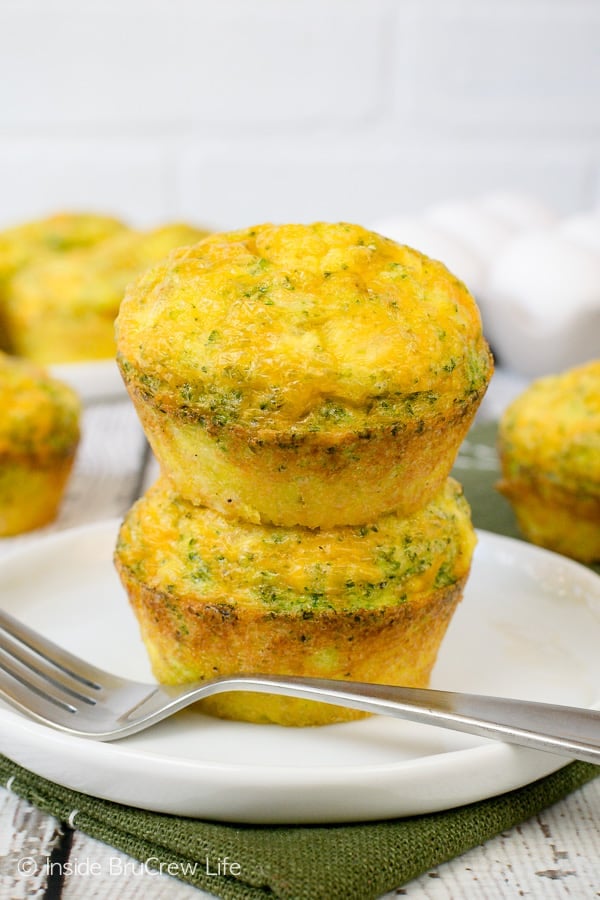 These Broccoli Cheese Egg Muffins keep in the refrigerator or freezer.
If you are going to eat the entire batch of egg muffins within a few days, you can store them in a tightly sealed container. Place one or two on a plate and reheat them in the microwave for 15-20 seconds when you are ready to eat some.
You can also wrap each egg muffin individually and freeze them for up to 3 months. Heat the frozen eggs for about 30 seconds.
Add some salsa or hot sauce if you like your eggs spicy. You can also cut them in half and eat them on warm on an English muffin or bagel.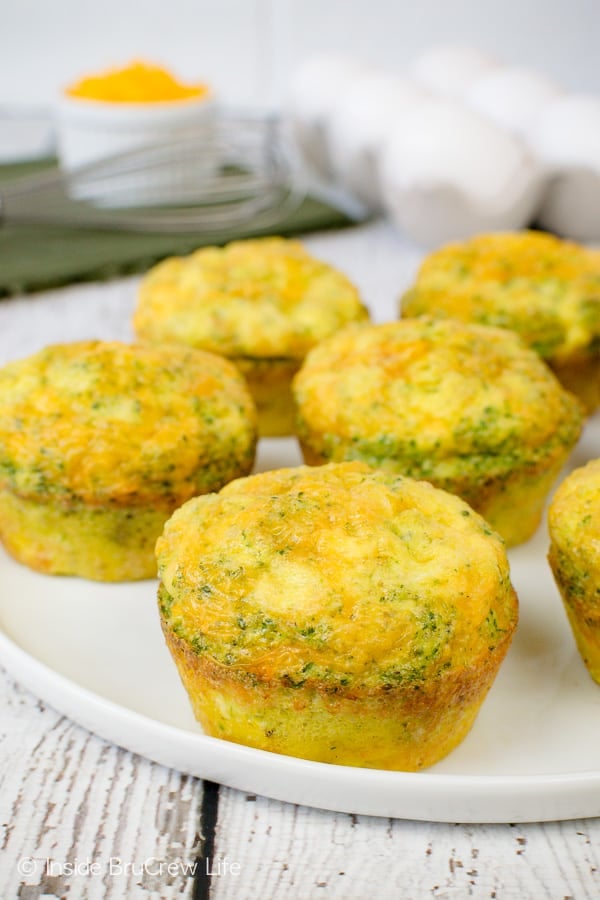 More easy recipes to make for grab and go breakfast: