Looking for a way to use up all those bowls of candy from the past weekend?  We used some of ours to make Butterfinger Blonde Brownies.  Blonde brownies, candy, and chocolate will make these yummy bars disappear in a hurry.
*Make sure you sign up for the BruCrew email to receive these recipes in your inbox each morning.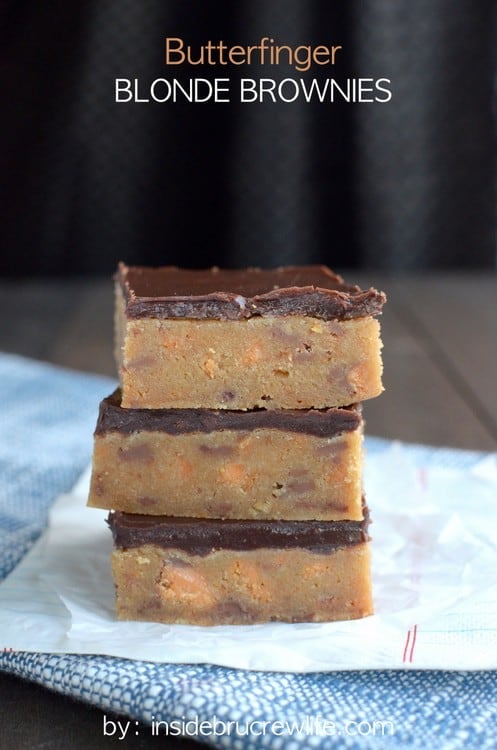 Are you still recovering from the sugar rush of the past week?
Our kids made out with a huge bag of candy, and they put a pretty good dent in it over the weekend.  I take no responsibility for the sugar comas that might have happened because I was traveling.
I guess devouring your candy at lightening speed is one way to get rid of it.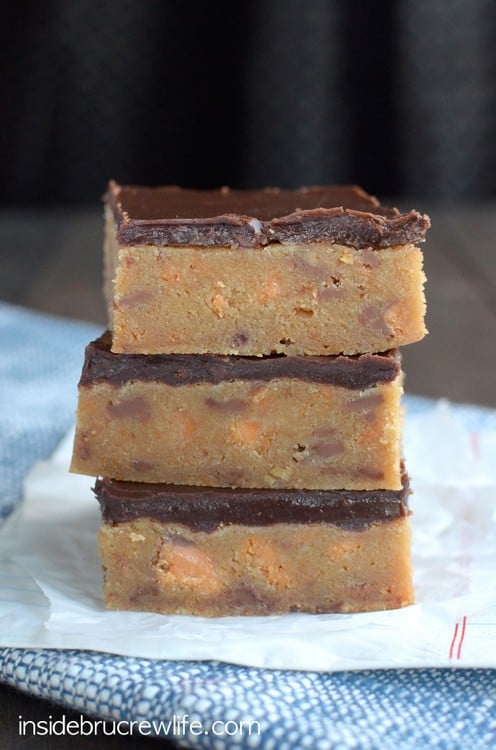 I did snag an extra bag of Butterfinger Bars to pass out, but then these blonde brownies happened.  They were seriously the best things ever.  I am pleading the fifth when it comes to saying how many I snacked on.  Let's just say it wasn't one 😉
I used my basic blonde brownie recipe.  It's the same one I used when I made these M&M Blonde Brownies.  (You should make those too…just sayin.)  Then I added the entire bag of crushed Butterfinger candy bars.  Yup, you read that right.  An entire bag!!!  Woah!
And then because it just wasn't crazy enough already…I added a chocolate frosting glaze.  Oh, my!  Talk about yum to the oh.  My chubby little fingers couldn't stay out of the pan of these.  But I wasn't going to say how many I ate, so forget you read that.
Just go find the leftover bags of candy, dig out all the Butterfinger bars, and go make your own pan.  I'm telling you, it's so worth it.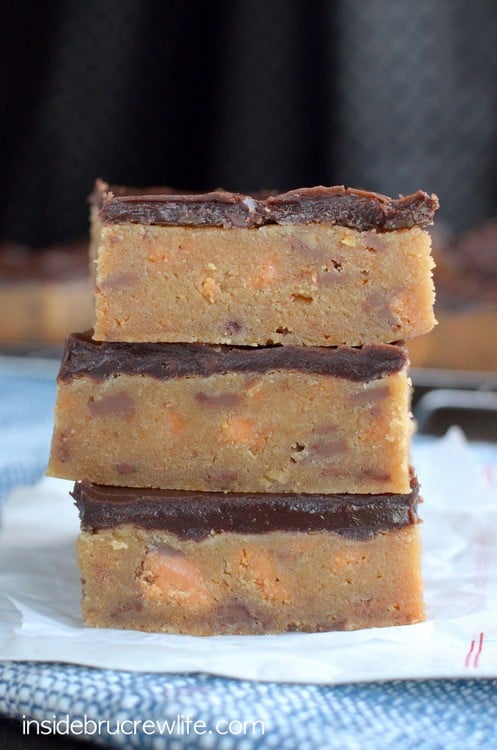 Stay up to date on all the BruCrew baking here:
FACEBOOK | PINTEREST | GOOGLE+ | TWITTER | INSTAGRAM | BLOGLOVIN
Sign up to receive an email in your inbox for each new recipe:
EMAIL SUBSCRIPTION
Peanut butter and Butterfinger candy bars take these blonde brownies to a new level. The chocolate glaze on top will have you drooling as you bite into bar after bar.
Ingredients
1/2 cup butter, softened
2 cups brown sugar
2 eggs
1/2 cup creamy peanut butter
1 teaspoon vanilla
1 teaspoon salt
2 teaspoons baking powder
2 cups flour
2 cups crushed Butterfinger candy bars (11.5 oz bag fun size)
1/2 cup heavy whipping cream
1 1/4 cups chocolate chips
Instructions
Beat the butter, brown sugar, and peanut butter until creamy. Add the eggs, vanilla, and salt and beat again.
Stir together the baking powder and flour and slowly add to the butter mixture until incorporated. Add the crushed Butterfinger bars and stir by hand gently.
Spread the batter into a greased 9x13 baking dish. Bake at 350 degrees for 22-23 minutes. Do not over bake. Remove and let cool completely.
Pour the whipping cream in a small saucepan and bring to a boil. Remove from the heat and stir in the chocolate chips until melted and creamy. Spread over the top of the cooled blonde brownies. Let set before cutting into bars. Store in a sealed container on the counter. Makes 24 blonde brownies.
https://insidebrucrewlife.com/butterfinger-blonde-brownies/
Copyright Inside BruCrew Life
 More fun ways to use up all that leftover candy in your house: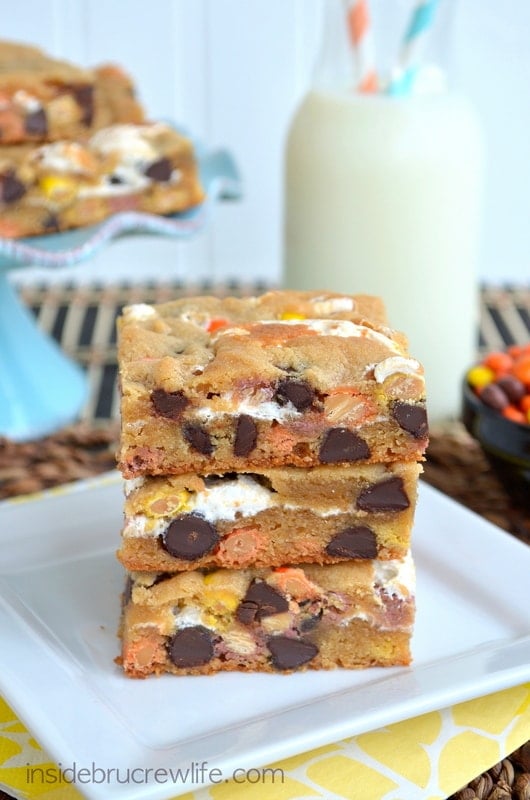 Marshmallow Reese's Blonde Brownies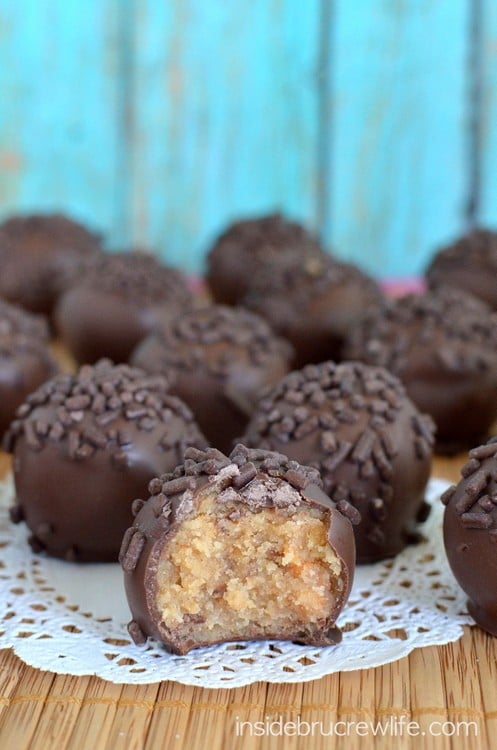 Butterfinger Cookie Dough Truffles