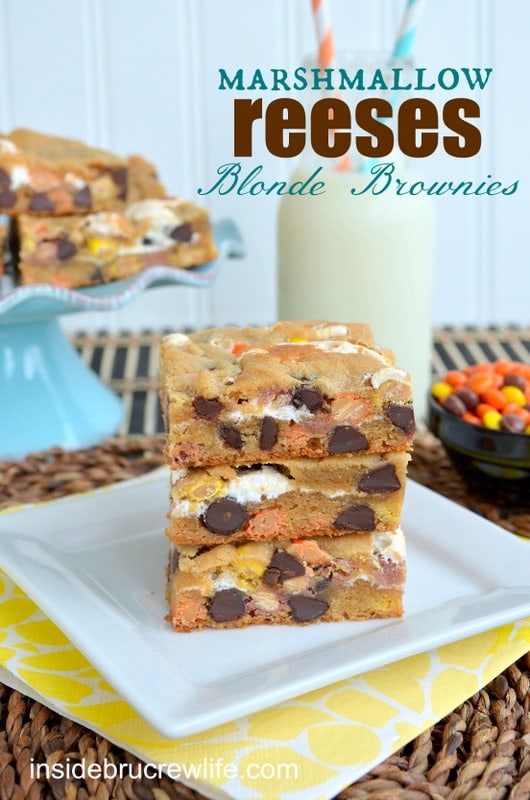 Did you really think I would be making healthy food for you at the start of the New Year?
I realize everyone is busy making these wonderful resolutions like more working out and less eating sugar.  I have made some of those very same goals.  So why would I tempt you with this delicious peanut butter bar filled with Reese's Pieces and marshmallow fluff?  Because I'm mean and evil and if I can't stick to my diet, I might as well tempt you off yours.  
Oh wait?  That wasn't  the answer you were looking for?  Sorry…ok, I'm really not.  Eat a bar…it will be ok.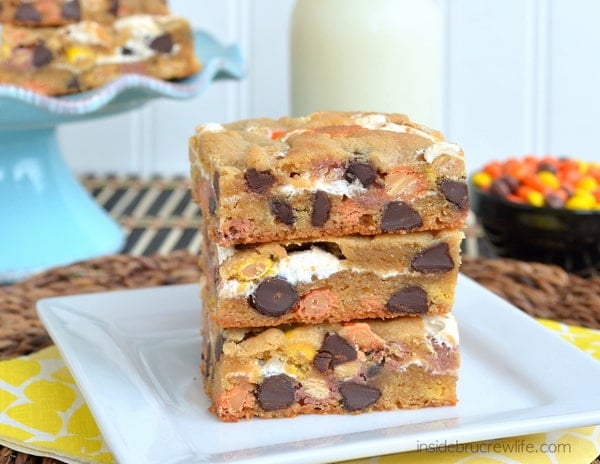 I made these bars this past summer for our family get together at the beach, and they were gone in like 5 minutes flat after I cut into them.  I wish I had videoed everyone standing around just waiting for that first cut.  It was madness getting a square!!!  There was no way I was going to photograph it then.  But this past month I made dinner and dessert for a family in our church that just had a new baby.  It was the perfect opportunity to make these bars again.
That's my diet tip for you…only bake treats when you know you can give them away the same day.
You will love how soft and chewy these peanut butter bars are.    If you want them to keep that soft texture, make sure you do NOT over bake the bars.  No one likes a dried out peanut butter bar.  Each bite of these glorious bars also has a pocket of marshmallow cream.  Peanut butter and marshmallow is definitely one of THE best combos in my eyes.  And Reese's Pieces are one my top 5 candies!!!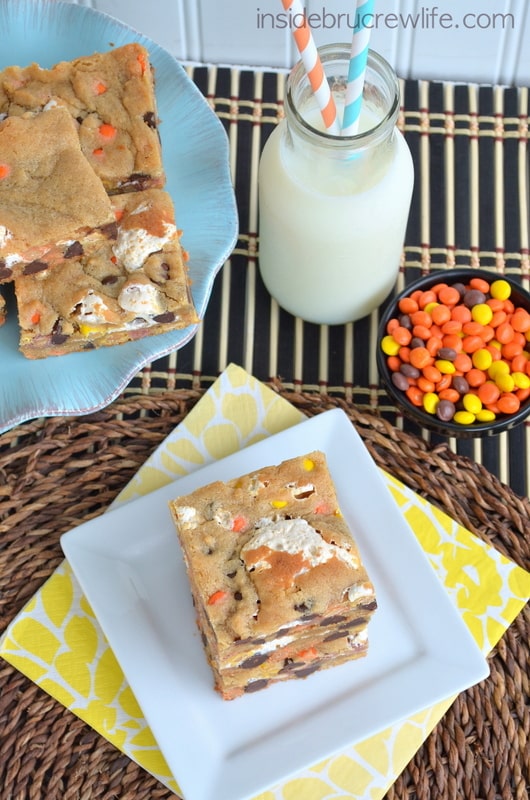 These bars are seriously so easy to mix up.  You can have them in your oven in about 15 minutes.  And they only take about 25 minutes to bake up, so you will have time to  A. Vacuum or  B. Catch up on a show.  I wish I could say I always chose A, but that would be stretching it.
Maybe you could run the vacuum while the bars are cooling because you will need something to distract you from diving right into the bars with a spoon!  There is nothing wrong with that…if you like burning the taste buds off your tongue.  I have done that way too many times and it's not fun, so I would recommend some wait time.  Honestly these bars are even better the next day, but waiting that long would definitely be considered torture.  Patience is not something I am good at, so give yourself 15-20 minutes and then DIVE into the pan.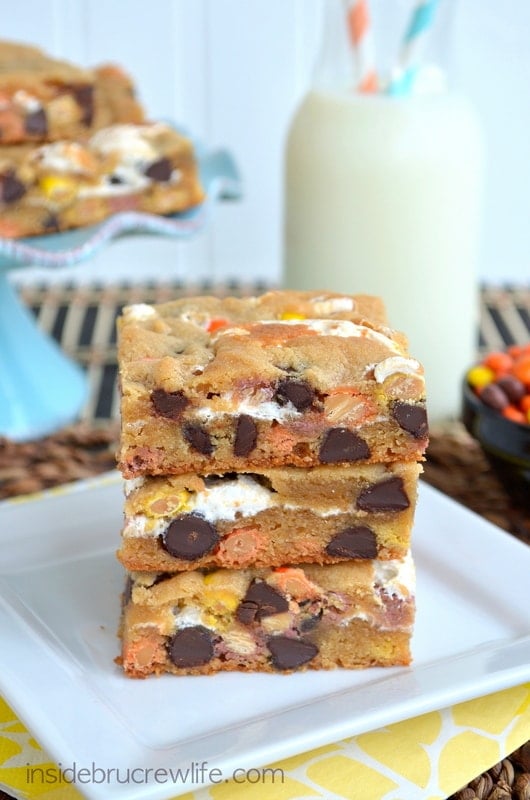 Diet?  What diet???
Yield: 24 bars
Marshmallow Reese's Blonde Brownies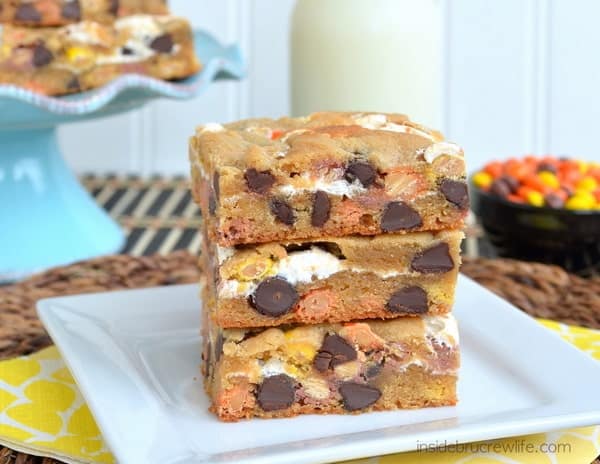 These easy Marshmallow Reese's Blonde Brownies are filled with peanut butter candies and marshmallow cream.
Ingredients
1/2 cup butter
1 cup brown sugar
1/2 cup peanut butter
2 eggs
1 teaspoon vanilla
2 teaspoons baking powder
1/2 teaspoon salt
1 1/2 cup flour
1 cup chocolate chips
1 cup Reese's pieces
1 cup marshmallow cream
Instructions
Preheat oven to 350 degrees. Spray a 9x13 pan with nonstick spray.
In a large mixing bowl, beat the butter, sugar, and peanut butter until creamy. Add the eggs and vanilla and beat again.
Stir together the baking powder, salt, and flour. Slowly add to the butter mixture until just mixed in.
Stir in the chocolate chips and Reese's pieces by hand. Spread half the batter in the prepared pan. Drop the marshmallow cream on top. Gently spread across the top.
Drop the rest of the cookie dough on top of the fluff and carefully spread out the dough. You may need to use a damp finger or hand to do this. Bake for 25-28 minutes.
Let cool before cutting into bars. Store in a closed container for up to 5 days.
Nutrition Information:
Yield:
24
Serving Size:
1
Amount Per Serving:
Calories:

216
Total Fat:

11g
Saturated Fat:

6g
Trans Fat:

0g
Unsaturated Fat:

4g
Cholesterol:

26mg
Sodium:

168mg
Carbohydrates:

27g
Fiber:

1g
Sugar:

18g
Protein:

4g
Here are a few other fun recipes using Reeses and marshmallow…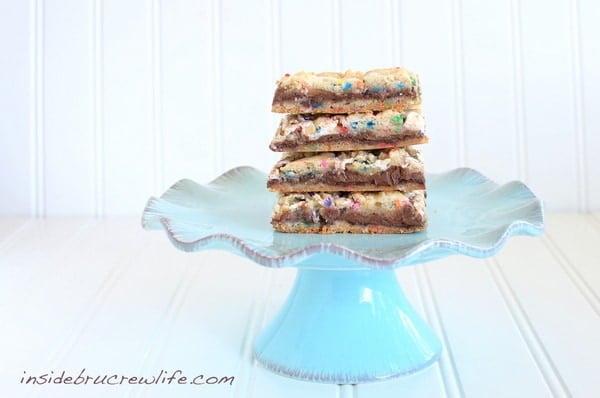 Shared with: Housewives Round Up, What's In Your Kitchen, Show & Share, Whatcha Whipped Up, Whimsy, Treasures, Adorned Above, Creative Time Out, Taste and Tell, Chic & Crafty, Happy Hour, Pin It, Creative Thursday, I'm Lovin It, Free For All, Creative Weekend, Super Sweets, Weekend Wrap Up, Seasonal Inspiration, Scrumptious Sunday, Talent Show,