Trust me and make a pan of these Marshmallow Reese's Blonde Brownies for dessert right away. The gooey marshmallow pockets and Reese's Pieces will make every single bar disappear in a hurry.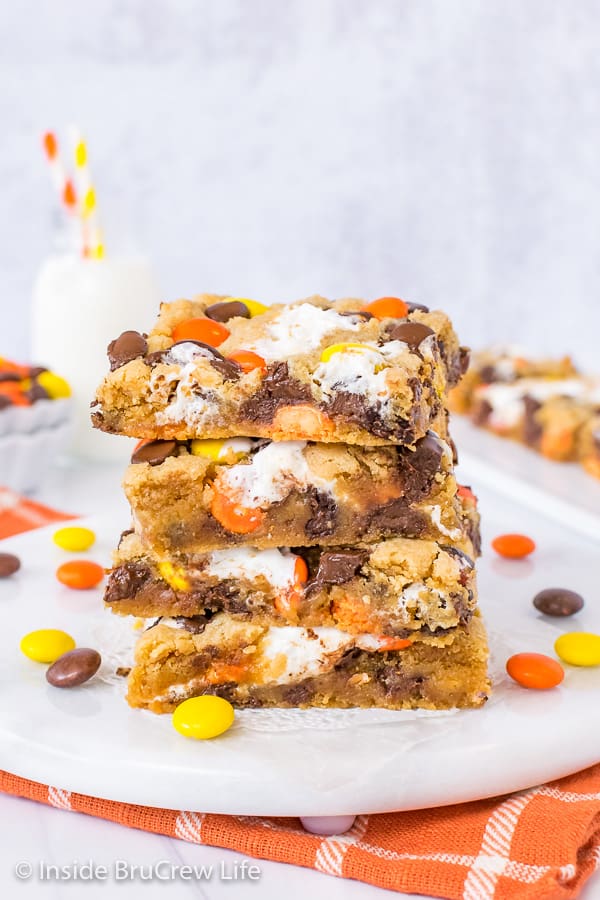 The first time I made these Reese's peanut butter blondies was years ago for a family get together. As soon as they cooled and I cut them, the pan was empty in 5 minutes flat.
I wish I had videoed everyone hovering around just waiting for that first cut. It was madness trying to get a square!!! There was no way I was able to photograph them then.
Everyone raved about these bars and wanted the recipe, so I couldn't wait to share it here too. I knew this recipe would be a winner because of how much you guys love these Reese's Peanut Butter Pudding Cookies.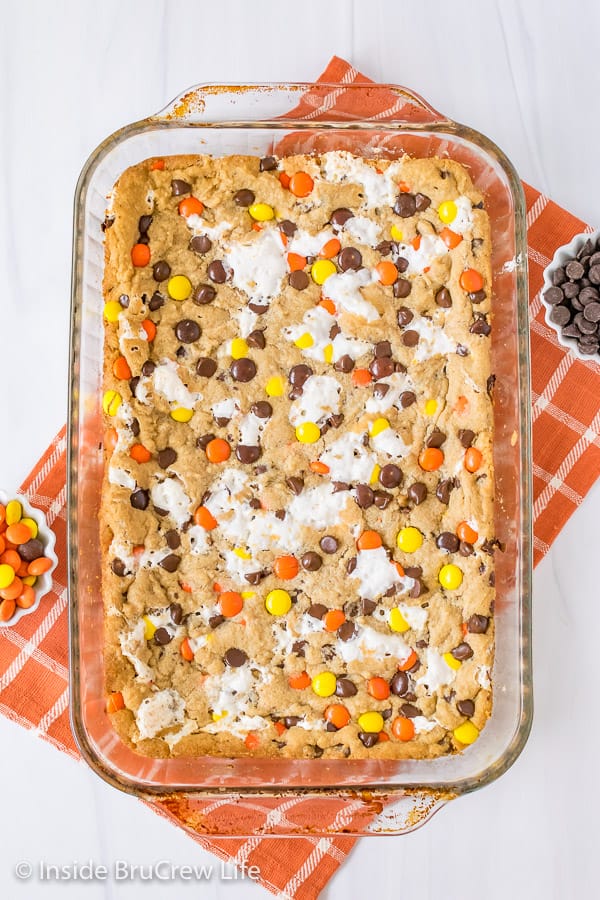 Baking with Reese's peanut butter cups and Reese's Pieces may be my favorite thing to do. You just can't go wrong with adding either one. I mean just look at these Reese's Rocky Road Brownies and these Ultimate Reese's Cheesecake Brownies!
Each bite of these peanut butter blonde brownies has a pocket of marshmallow cream. Add in some Reese's Pieces and chocolate chips and it becomes one of the best blonde brownies ever!!!
You are going to love how soft and chewy these peanut butter bars are. If you want them to keep that soft texture, make sure you DO NOT over bake the bars. They will still taste good, but the edges will be dried out and crumbly.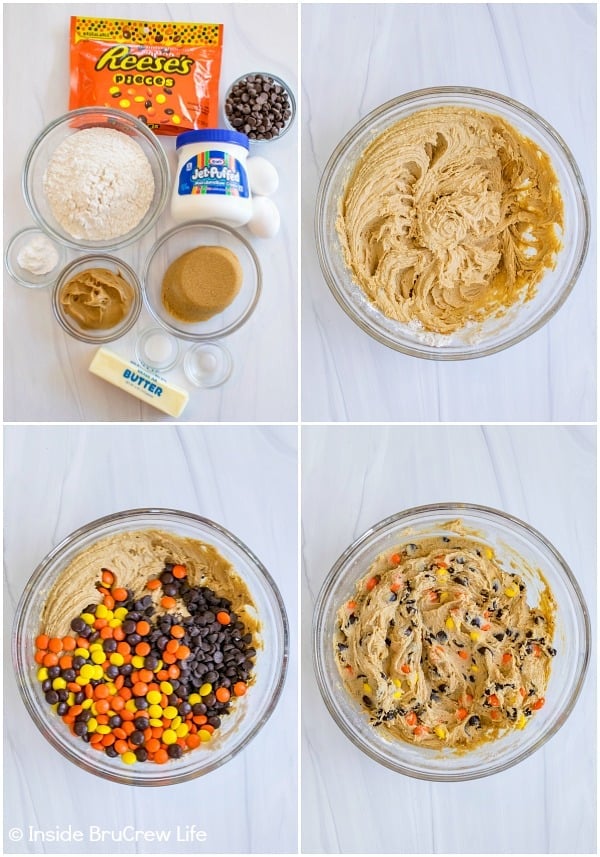 These peanut butter blondies are seriously so easy to mix up. Once you mix together the batter and spread it in a pan, they take less than 30 minutes to bake.
How to make Marshmallow Reese's Blonde Brownies:
Beat together the butter, peanut butter, and sugar until creamy. Add the eggs and vanilla and beat again. (full recipe at bottom)
Add the dry ingredients and mix until combined. Stir in chocolate chips and Reese's Pieces.
Spread half the batter in a greased pan. Drop spoonfuls of marshmallow fluff on top and spread out gently.
Drop spoonfuls of the rest of the batter on top and then spread out with a spatula.
Sprinkle more chocolate chips and candies on top. Bake and cool.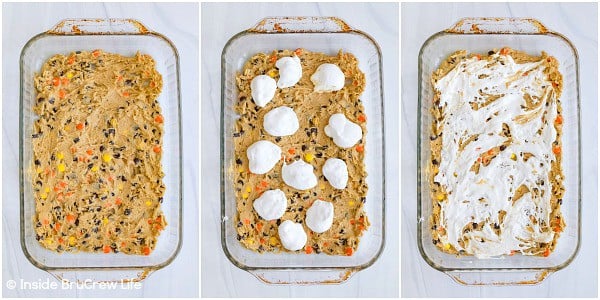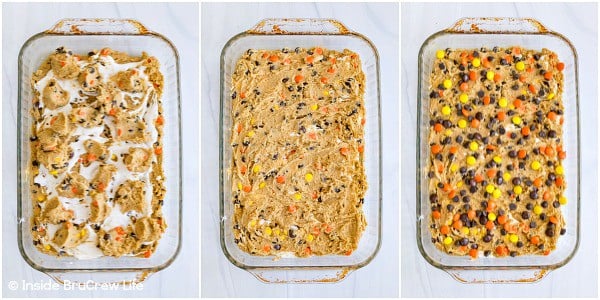 My biggest suggestion when you make blonde brownies is not too over bake them. Let me say that again...do not over bake these bars!!!
The dough will look wobbly and undone when you take it out of the oven. Just trust me, and do not keep them in the oven longer than 30 minutes. Once they cool, they will set up and you will be able to cut them into big or small bars.
We like them a little bit under baked, so I usually bake ours about 25 or 26 minutes.
PRO TIP: If you are making these blonde brownies (or any other ones) for a bake sale, you will want to bake them for the full 30 minutes, so they are not as gooey and can be cut into pretty bars.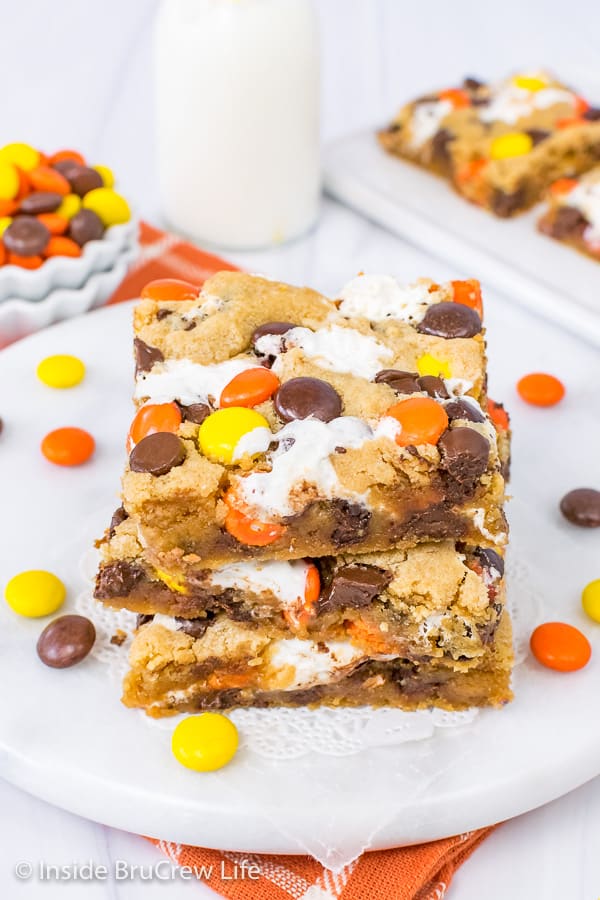 Other Reese's desserts you may like: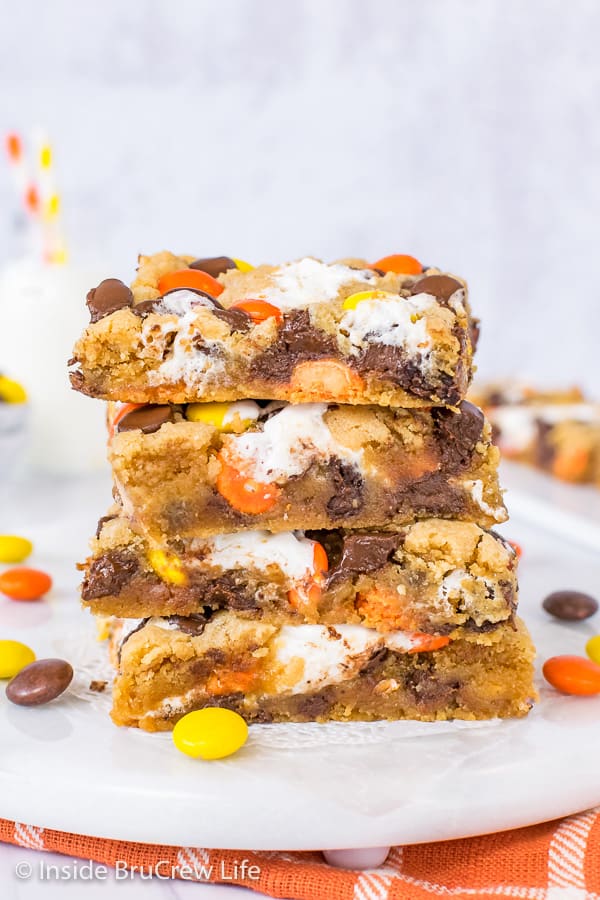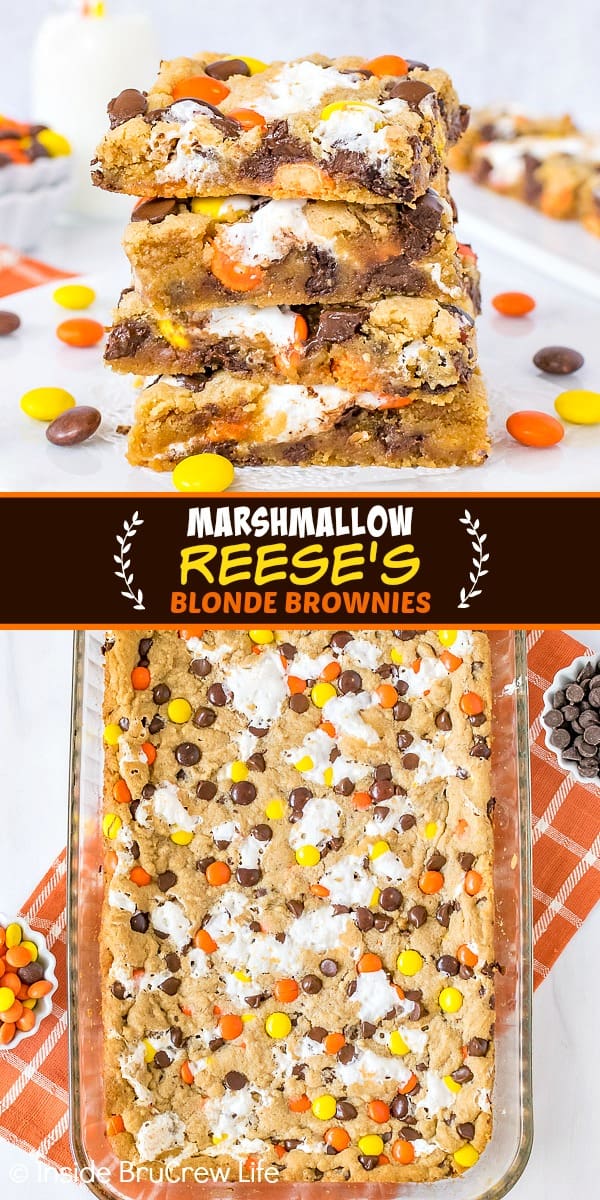 *The post for Marshmallow Reese's Blonde Brownies was first published on January 2, 2013. The post and photos were updated and republished on May 30, 2020.