Layers of creamy peanut butter and pudding make this Peanut Butter Brownie Dessert a winning combo for parties and picnics.
*I am partnering with the Texas Peanut Producers Board to bring you this delicious peanut inspired recipe.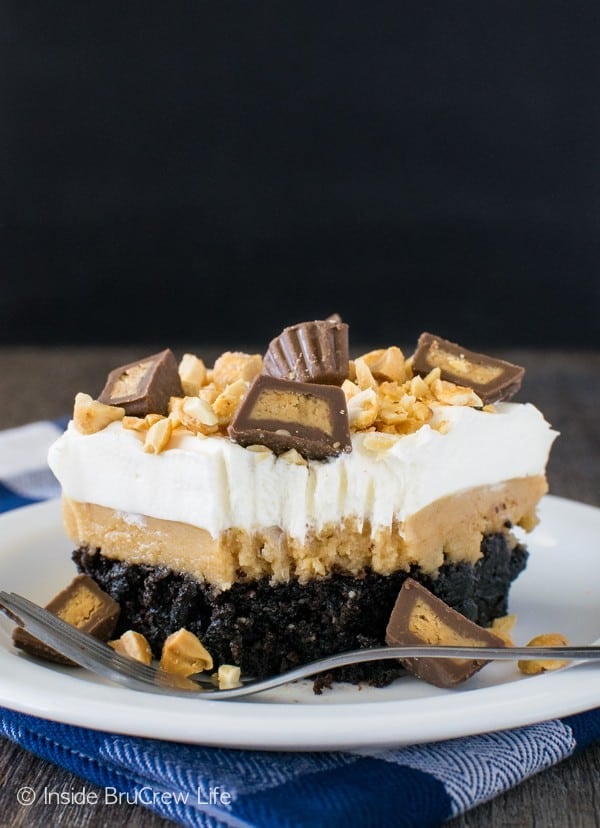 We have been in Texas for about 8 months now, and we are starting to feel adjusted and more at home. Since I do not know very much about our town and what it has to offer, I was excited when the Texas Peanut Producer Board reached out to me regarding a peanut tour held in my very own town of Lubbock.
Nine bloggers from all over the state of Texas came together to learn more about peanut farming and how peanuts go from farm to table. Did you know that Texas is the 4th largest peanut producing state? I had no idea that many peanuts were grown in this state!
We started out the first night with a tour of a local farm museum and a dinner from a chuck wagon. That was seriously some good Texas eats right there.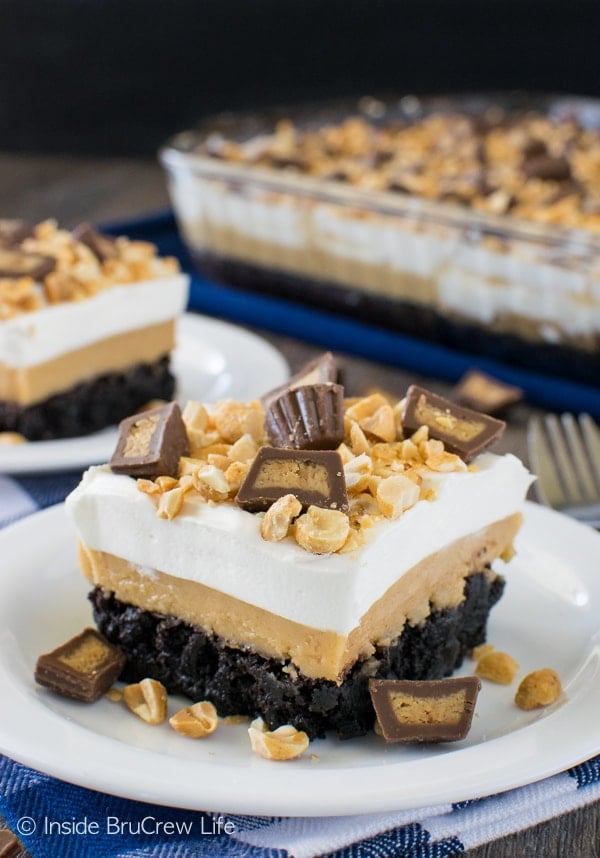 The next morning we got up and headed to Brownfield to visit with Monty and Kathy Henson and their peanut farm. There we learned how peanuts are grown and harvested. It was so fun to watch Monty dig up a peanut plant, flip it over, and see the growing peanuts on the roots.
Each fall they run a combine over the field that digs up the plants and flips them over, and then they leave the plants this way for a few days to dry in the hot sun. After they are dry enough, they run another combine over the field that sorts the plants and peanuts and takes them to the plant.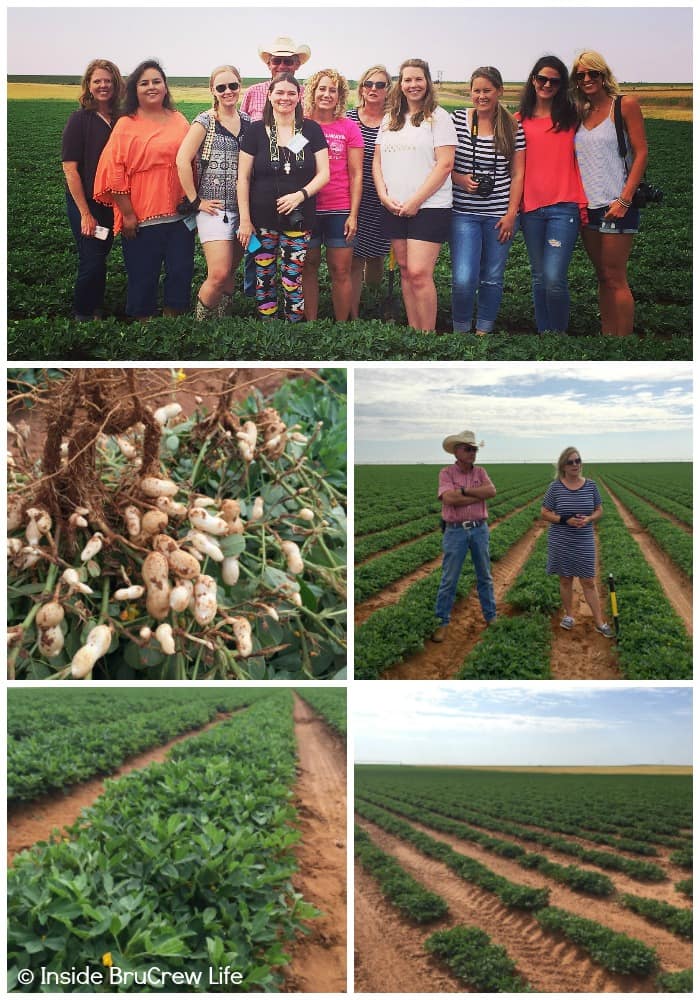 We headed to Birdsong Peanuts to see what happens once the peanuts arrive there. Birdsong is a large shelling company that provides peanuts to many of the large candy bar companies. We were able to see the machines in action as they cleaned, sorted, and shelled the peanuts.
Later that day we also visited a vineyard and winery. I had no idea that this area of Texas was known for their wines as well. The soil and climate is great for growing the same grapes they grow in Italy and France.
That night we enjoyed a peanut-inspired dinner from North Catering. It was so fun and delicious to see all the creative ways the chef incorporated peanuts into every dish! I left the restaurant stuffed full of peanut goodness!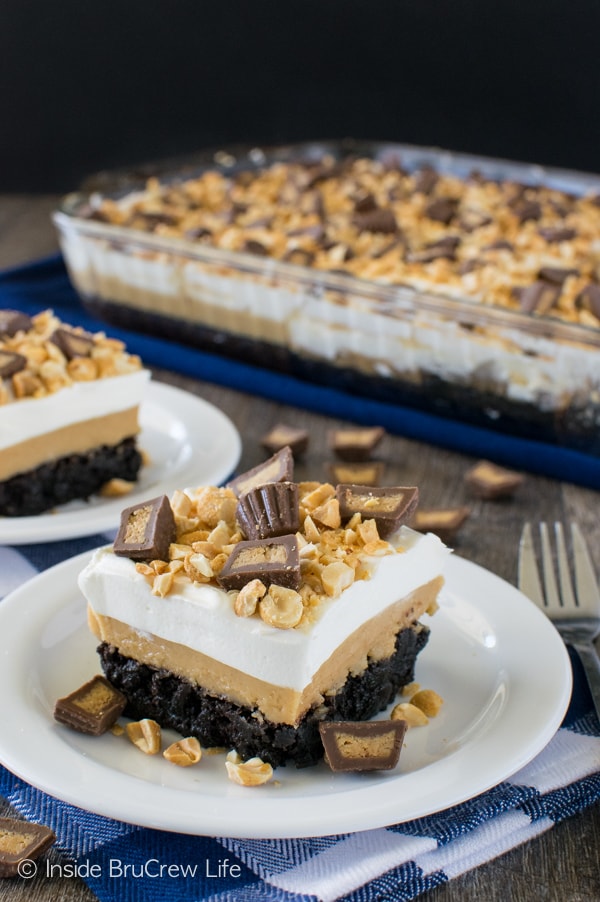 I always enjoy going on these food tours because I learn more about where the food that I eat comes from. It gives me an even bigger appreciation to meet the farmers that are responsible for providing the food that is in my local farmer's markets or grocery stores. They put so much hard work into each and every crop to be able to provide for their families and our families.
Of course, after learning all about peanuts, I couldn't wait to incorporate some peanuts and peanut butter into a decadent brownie dessert. Peanut butter is the leading use of peanuts in the US. I know that we go through quite a few jars a month just in our house with all the baking that I do. These Peanut Butter Bars and Peanut Butter Balls happen quite often in our kitchen!
Years ago I used to make a version of this layered brownie dessert for every church event that we had. When I was thinking about what peanut-inspired dessert I wanted to share, these peanut butter brownies kept coming to my mind. I can't believe I have never shared it here before now.
How to make a Peanut Butter Brownie Dessert:
Bake a pan of your favorite brownies. You can use a box mix or bake a double batch of these Homemade Chocolate Chip Brownies (minus the chocolate chips).
Beat cream cheese, peanut butter, and powdered sugar until creamy. Add some Cool Whip and beat again until light and fluffy. Spread on top of the cooled brownies.
Whisk together a box of instant white chocolate pudding and milk. Let it set up and fold in more Cool Whip. You can also use instant vanilla pudding if you can't find the white chocolate. Spread the pudding mixture on top of the peanut butter layer.
Refrigerate the peanut butter brownie dream until it is completely set up.
Serve squares with chopped peanuts and cup up mini peanut butter cups.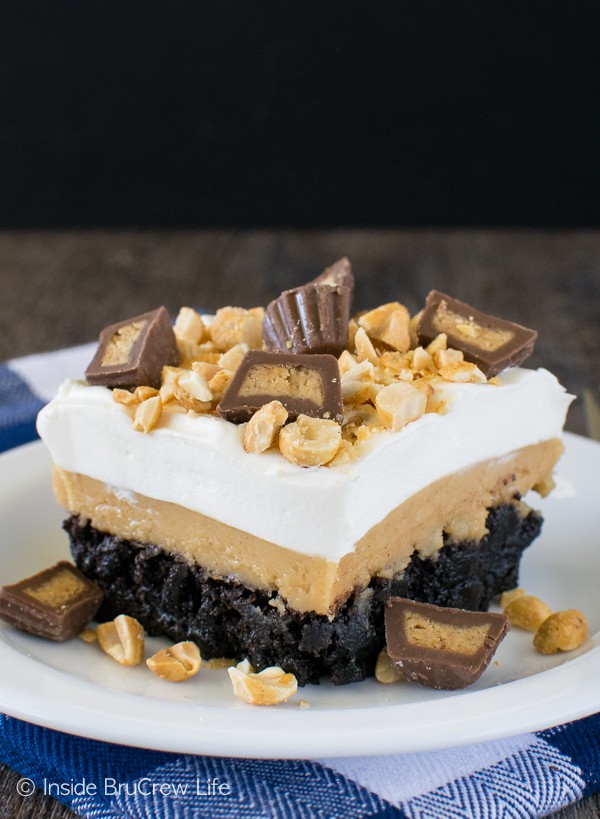 More easy peanut butter dessert recipes you may like:

*This recipe and trip were sponsored by the Texas Peanut Producers Board . All opinions expressed are 100% my own. Thank you for letting me share products and brands we use and love. See my disclosure policy for more information.*