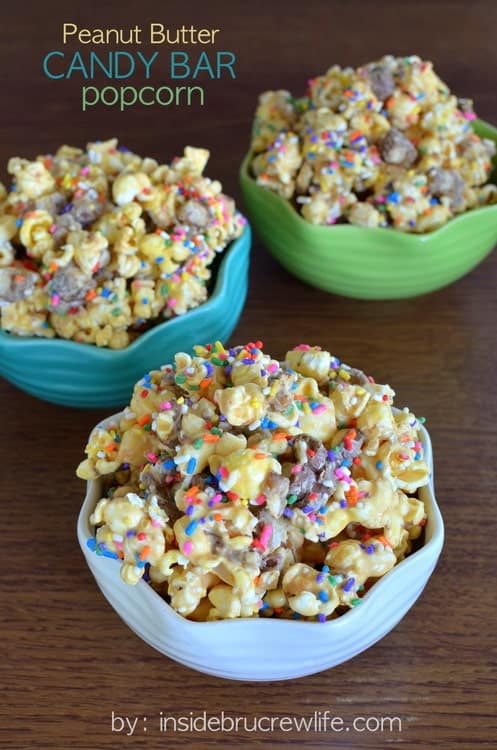 This time of year starts to get a little busy. With shopping, decorating the house, making and sending cards, going to programs, and spending time with family, I am not sure how I will get all my baking and treats finished. And this girl, needs her sugar treats. Well, I guess I don't need them, but I sure am much happier when I have them.
And when I am running around like a crazy woman trying to finish all my holiday projects, at least I can be full of sugar and happy.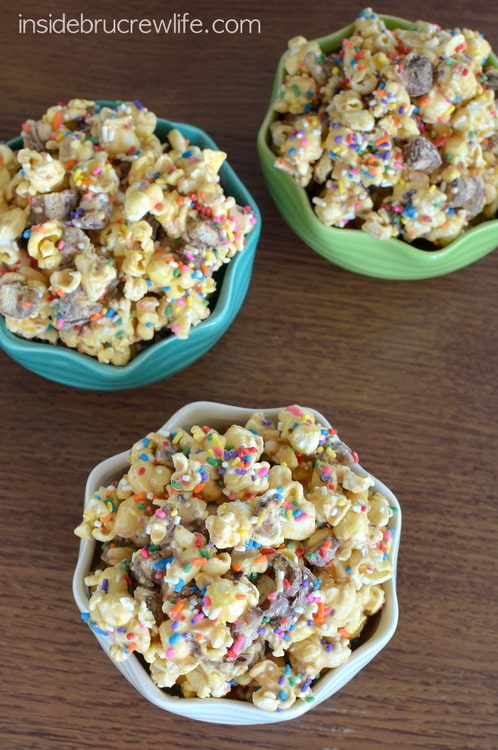 One treat that makes me happy to make each year for friends and family is chocolate covered popcorn. It is an easy treat that takes about 30 minutes. You can add just about any thing to it for a new version every time. My favorite thing to do is chop up candy bars and mix it in with the chocolate covered popcorn. This time I decided to add some peanut butter to my white melting chocolate. Hello, Peanut Butter Candy Bar Popcorn goodness!
Peanut butter, candy bars, and sprinkles makes this a popcorn you will not want to stop munching on. I suggest bagging it up right away. One bite and you will have second thoughts on giving it away as a gift.
Finishing up my gift list and making more popcorn are both on my "to do" list for this week. I'm thinking another peanut butter version needs to happen. It will be a good reward for finishing all that shopping.