Sometimes you want a plain brownie, and sometimes you want an over the top crazy decadent brownie. These Caramel Milky Way Brownies definitely fall into the decadent and delicious category. But you can use the brownie base for those days when you just want the fudge brownie alone.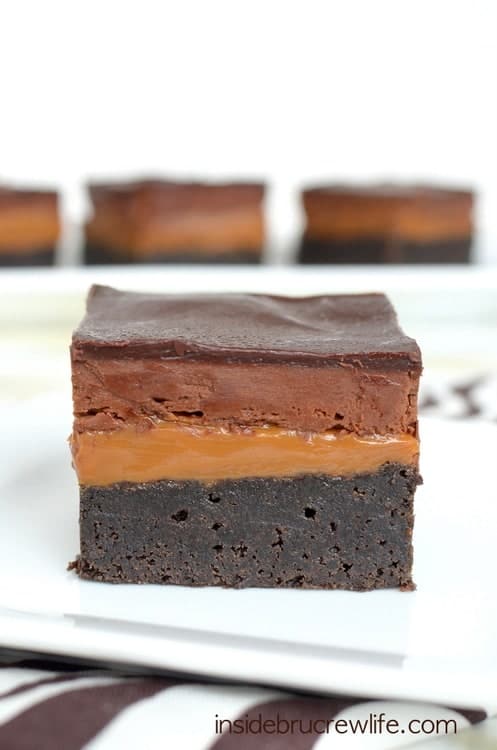 A few weeks ago I made a pan of brownies before going to bed. It's totally normal for me to be putting a pan of brownies or muffins into the oven at 10 pm at night. The night owl in me bakes best then.
The pan was still too hot to cover before I went to bed, so I just left it on the stove to cool overnight. I knew that my kids have the food routine down by now, so I didn't worry that anyone would dig into them without asking. Sure enough they didn't touch the pan.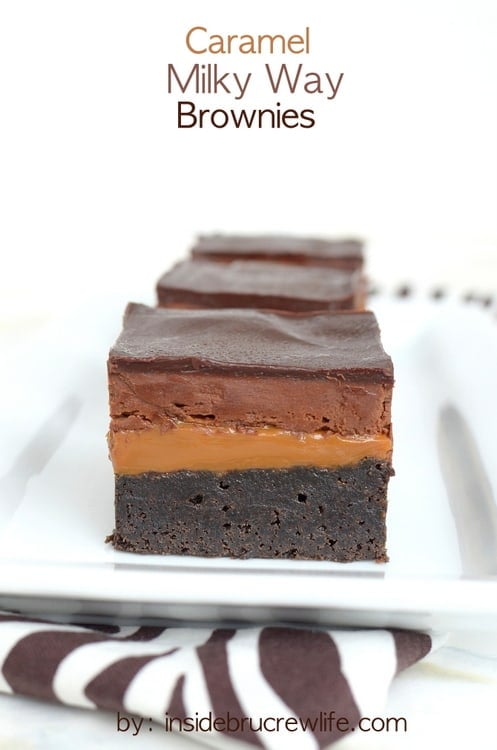 That day I went through my baking cupboard and pulled out some Dulce de Leche and chocolate chips to finish the brownies off. By the time I picked up the kids from school, the photos were finished and the brownies were now fair game. On the way home from school, my youngest told me with big, blue eyes and a cute smile. "Mom, I saw those plain brownies you made."
You have to realize he is this crazy, alien child of mine that only wants plain brownies all the time. So, I had to break the news to him that I had indeed "ruined" the brownies while he was at school with my crazy ideas. He just shook his head and said he was going to take the toppings off his!
I really recommend leaving all the toppings ON these brownies. Of course, I recommend a glass of milk with them too. Rich and decadent are definitely adjectives that would go very well with these brownies. The Dulce de Leche adds a soft caramel layer under the chocolate nougat topping. And of course, more chocolate is added to the top for a layered brownie that looks incredible.
The chocolate nougat topping is really quite easy. Melt down some chocolate chips with a little bit of shortening to keep it thinned out. Pour it into a mixing bowl and beat it for 1 minute. Add the Cool Whip and beat it again until it is chocolatey and creamy. That's it. Chocolate nougat perfection.
Make sure you chill the brownies before cutting them. And use a very hot knife to cut through the brownies. Run the knife under hot water and dry it off in between cuts. The hot knife will cut through easier if you go slowly. Also, it keeps the filling from squeezing out all over the place. I cut these brownies into 16 squares, but you could even cut them down smaller since they are so rich.
Decadent, dreamy brownies are definitely the way to go. Unless you are an alien as well...then you might want to stop after the brownies. But seriously, who would do that?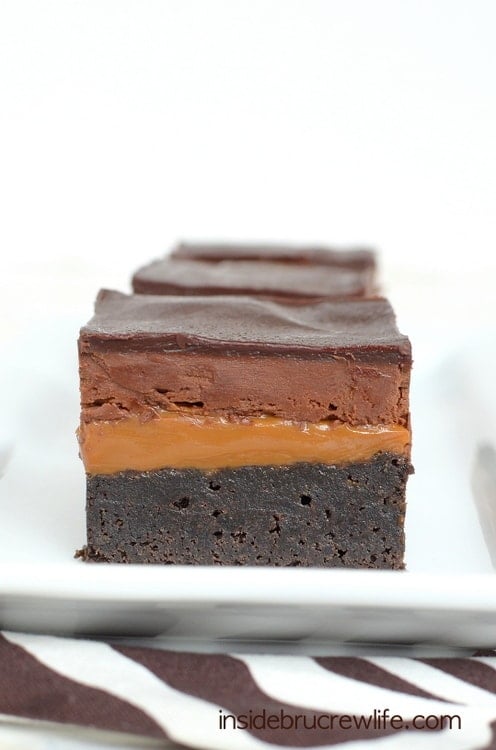 Stay up to date on all the BruCrew baking here:
FACEBOOK | PINTEREST | GOOGLE+ | TWITTER | INSTAGRAM | BLOGLOVIN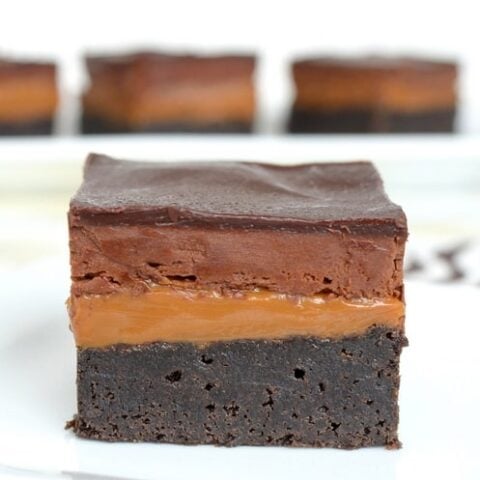 Caramel Milky Way Brownies Recipe
Homemade brownies with a caramel and chocolate nougat layer will impress everyone at dinner. Make sure to have a cup of milk or coffee ready, as these are rich and decadent.
Ingredients
For the Brownies
½ cup unsalted butter
¼ cup dark cocoa powder
2 large eggs
1 cup granulated sugar
1 teaspoon vanilla extract
½ teaspoon salt
¾ cup all purpose flour
¼ teaspoon baking powder
For the Topping
1 - 13.4 ounce can Dulce de Leche
1 ½ cups chocolate chips, divided
1 teaspoon shortening
1 cup Cool Whip
¼ cup heavy whipping cream
Instructions
Preheat oven to 350 degrees. Spray an 8x8 pan with nonstick baking spray.
Melt the butter in a small sauce pan. Whisk in cocoa powder. Set aside.
Beat the eggs. Add the sugar and vanilla and beat again.
Add ¼ cup of the butter & chocolate to the egg mixture and stir quickly. Add the rest of the chocolate and stir again.
Sift together the salt, flour, and baking powder. Slowly stir into the chocolate mixture.
Pour into prepared pan. Bake for 25-28 minutes. Do not over bake. Let cool completely.
Spread the can of Dulce de Leche over the cooled brownies. Set aside.
Place 1 cup of chocolate chips and shortening in a saucepan. Melt over low-medium heat until melted and creamy.
Beat with a mixer for 1 minute. Spoon in the Cool Whip and beat again until no white is showing.
Spread gently over the caramel layer. Place in the refrigerator.
Heat the whipping cream and remaining chocolate chips in a microwave safe bowl for 30 seconds. Stir until creamy.
Spread out over the top of the chocolate layer. Refrigerate until set. Store in a sealed container in the refrigerator.
Nutrition Information:
Yield:

16
Serving Size:

1
Amount Per Serving:
Calories:

319
Total Fat:

16g
Saturated Fat:

10g
Trans Fat:

0g
Unsaturated Fat:

5g
Cholesterol:

50mg
Sodium:

118mg
Carbohydrates:

43g
Fiber:

1g
Sugar:

34g
Protein:

4g
Nutrition facts are an estimate and are not guaranteed to be accurate. If you need special diet advice, please see a registered dietician.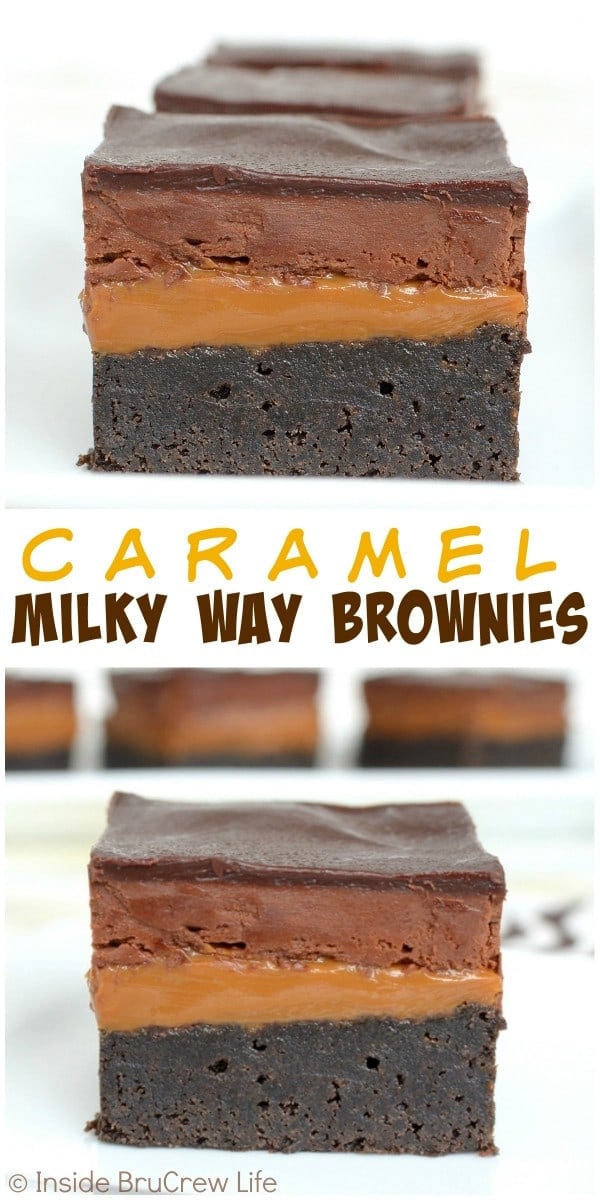 Still craving brownies? Try one (or all) of these delicious brownies!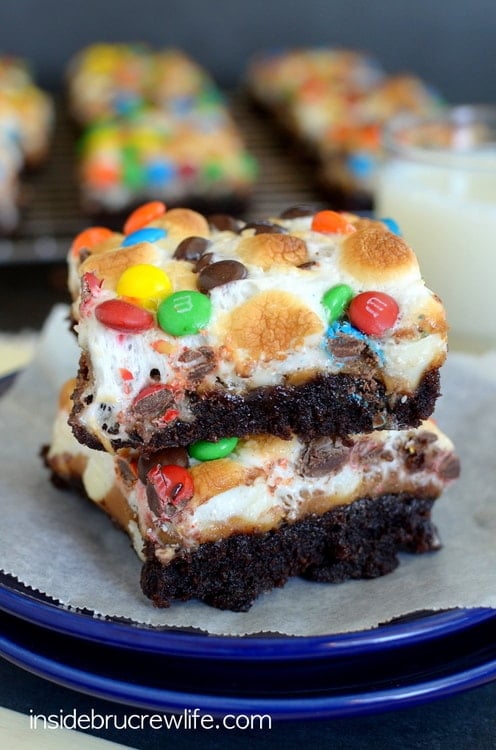 Caramel Marshmallow M&M Brownies