Brownies topped with three layers of goodness. These Caramel Marshmallow M&M Brownies will definitely satisfy every sugar craving you have. They are a great way to use up leftover candy too!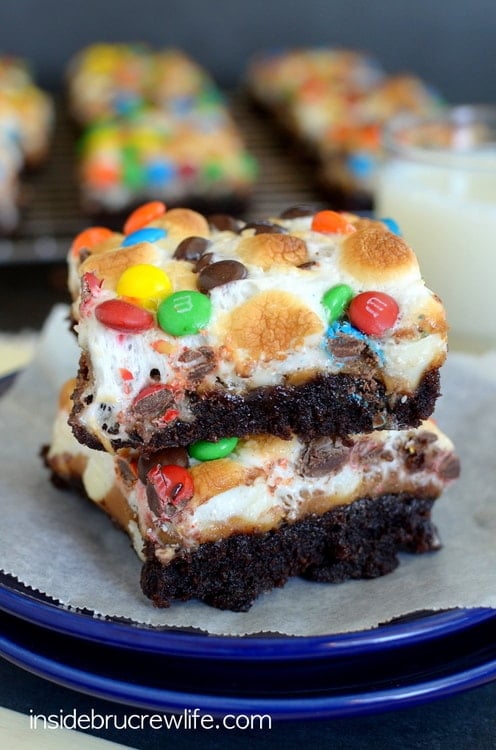 CLICK HERE TO PIN THIS RECIPE FOR LATER!
Yesterday my daughter and I made a trip to Walmart to pick up some more…wait for it…baking supplies! I'm sure that doesn't surprise you at all since you know me and my crazy baking habits. I had a craving for some more of these marshmallow Reese's brownies and needed more candy.
We stopped at Goodwill first and wandered there for about 30 minutes. It was one of those stops where not much jumped out at us to buy.We did find a really nice winter coat for her that looks absolutely brand new. Can't beat $4!!! And I did find a couple white bowls and a nice mini cutting board. You can never have too many mini cutting boards as a food photographer.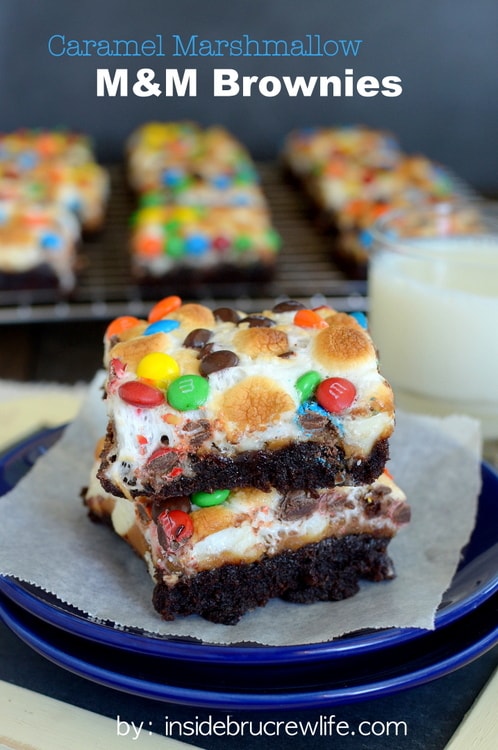 We finally made it to Walmart and filled our cart with the goods. You know…things like Reese's candies, cream cheese, crescent rolls, and mint chips. Just the basics.
My daughter wanted to look at the clothes, so we wandered over to the girls section where she pointed out some things that she liked. She has quite the Christmas list going on already. I saw the cutest cheetah print puffy vest with a black shirt underneath. My girl loves all things cheetah, and I thought for sure she was going to flip out over it!
She kind of shrugged when I showed it to her and said yes, it was cute! So I pressed a little bit harder and asked if it was something she wanted now or maybe later. She shrugged again and said maybe for Christmas.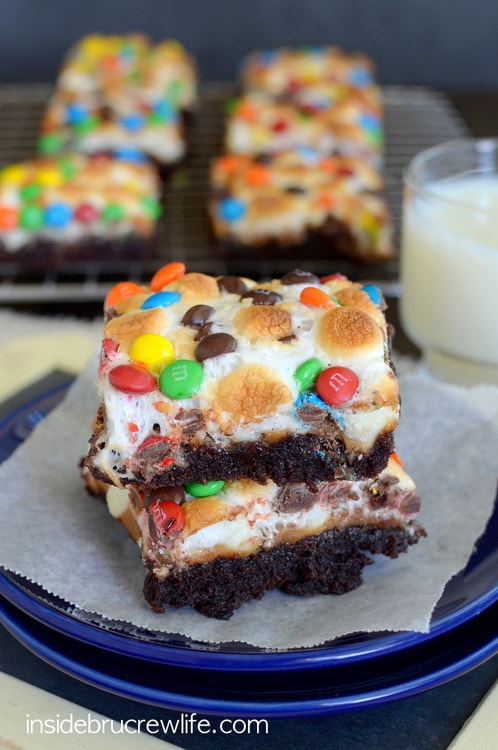 Now this vest was super cute with hot pink trim and it was the only one in her size, so I was standing there really thinking about buying it then and there. My daughter walked back over to me and finally said no to buying it.
Her response when I asked why…"Mom, I was just being nice when I said I liked it. I didn't want to hurt your feelings."
Apparently 38 year old moms and 12 year old daughters have very different taste in what is cute! So, no cute cheetah vest came home with us. I still can't believe that little stinker!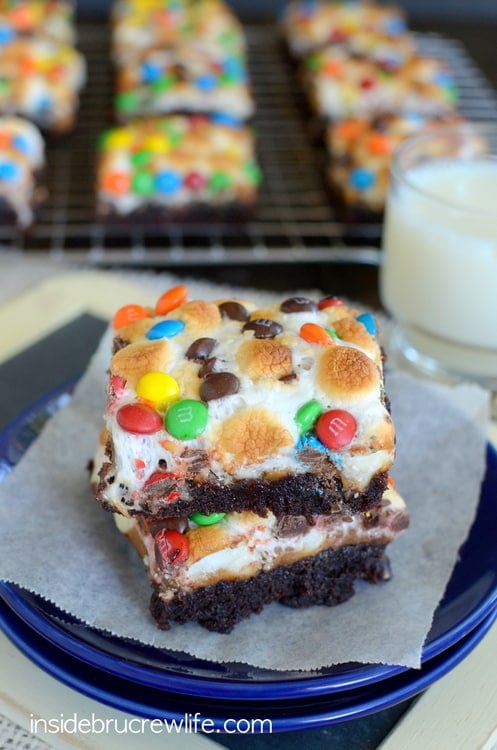 I think I am going to remember that answer when she asks where all her candy has disappeared too after Halloween.
Dear daughter, I do remember seeing those M&M's that you had in your bucket, but I have NO idea what might have happened to them. (Wink, wink!) Have you asked your brothers? Oh, they said they didn't touch them either. Well, I didn't want to hurt your feelings and tell you that I stole all of them for another batch of brownies!!
These brownies are so insanely delicious! They are perfect for cleaning out your cupboards…or for using up some of that Halloween candy you are sure to have laying around after this week. These start with a box brownie mix, but you could definitely make a double batch of these homemade chocolate chip brownies if that is how you roll!
As soon as your brownies come out of the oven, you are going to spread a layer of caramel goodness and then top it with mini marshmallows. Then it goes back into the oven to get toasty!
Make sure you watch the marshmallows! They go from white to brown so quickly. I turned away for just a few seconds and almost burned the whole top of these caramel marshmallow M&M brownies.
Press mini M&M's into the toasted marshmallows, and then it is time to exercise that patience! You could cut into them now, but it is going to be an ooey gooey mess! It's better to let them cool. Go dust or catch up on that TV drama that you missed last week.
Think of all the possibilities with these brownies. Halloween buckets here I come!!!!
Still craving some more delicious brownies? You have to check out these Thin Mint Marshmallow Brownies. That gooey cookie topping is out of this world. I am also craving a pan of these Caffeinated Coffee Brownies. Chocolate and coffee is so good together. These Whiskey Glazed Brownies are another chocolate treat that I need to try. That frosting sounds amazing!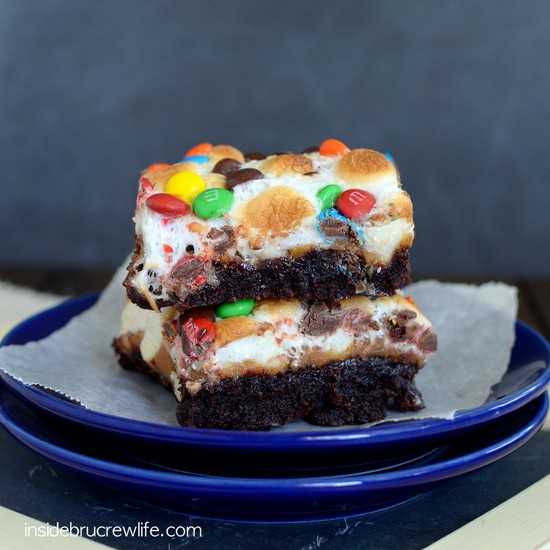 Stay up to date on all the BruCrew baking here:
FACEBOOK | PINTEREST | GOOGLE+ | TWITTER | INSTAGRAM | BLOGLOVIN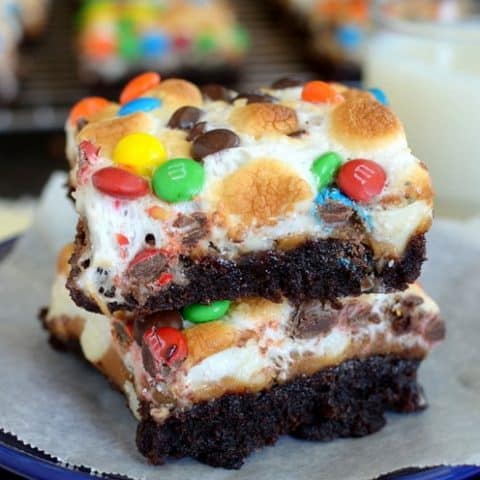 Caramel Marshmallow M&M Brownies
Three layers of gooey goodness make these Caramel Marshmallow M&M Brownies a hit with everyone who tries them! They are the perfect dessert to share at any party!!!
Ingredients
1 - 9x13 box brownie mix + ingredients
1 cup caramel baking bits
1 Tablespoon milk
2 1/2 cups miniature marshmallows
1/2 cup miniature M&M's
Instructions
Preheat the oven to 350 degrees. Spray a 9x13 pan with nonstick spray.
Make the brownie mix using the box directions. Bake for the time listed on the back
Place the caramel bits and milk in a microwave safe bowl. Heat for 30 seconds. Stir. Heat another 20-30 seconds. Stir until creamy.
Remove the brownies from the oven when they still have 4 minutes left to bake. Spread the melted caramel over the top gently and quickly.
Sprinkle the marshmallows on top. Place back in the oven and bake for 3 minutes.
Turn on the broiler and broil for 1-2 more minutes. Be sure to keep a close eye on the marshmallows because they brown quickly.
Remove the brownies from the oven and sprinkle with the mini M&M's. Gently press the candies into the toasted marshmallows with your fingers to get them to stick.
Let the brownies cool completely. Use a wet knife to cut into 24 squares. Keep in a sealed container on the counter.
Notes
*Use a wet knife to cut these brownies. The marshmallows will not stick to the wet knife.
Recommended Products
As an Amazon Associate and member of other affiliate programs, I earn from qualifying purchases.
Nutrition Information:
Yield:

24
Serving Size:

1
Amount Per Serving:
Calories:

72
Total Fat:

1g
Saturated Fat:

1g
Trans Fat:

0g
Unsaturated Fat:

0g
Cholesterol:

1mg
Sodium:

57mg
Carbohydrates:

16g
Fiber:

0g
Sugar:

14g
Protein:

1g