Sometimes you want an over the top dessert, and sometimes you want an easy to make dessert. These Caramel Pecan Brownie Pie Bites look over the top, but because they start with packaged items they are very easy to put together.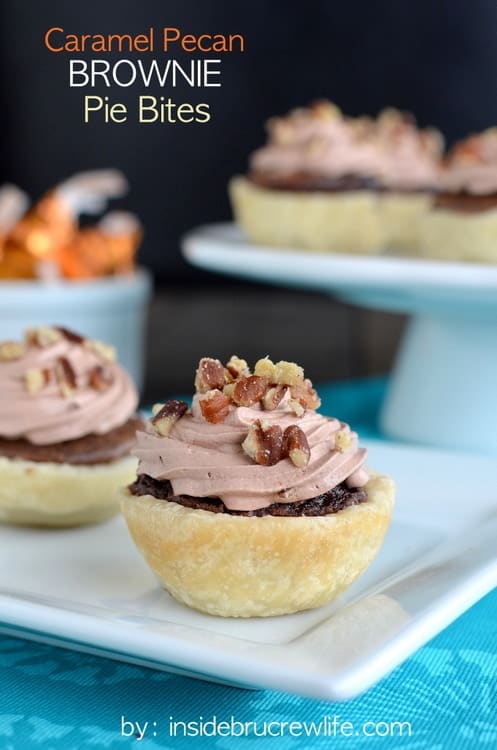 There are times I like to bake crazy over the top desserts.
Ok, ok, that really is most days. I am a crazed baker, and I know it. That is the first step to recovery, right? But seriously if you knew the amount of crazy baking ideas that go on in my head, you would think I was coo coo! I'm pretty sure if you have been reading my blog for very long, you already know that though.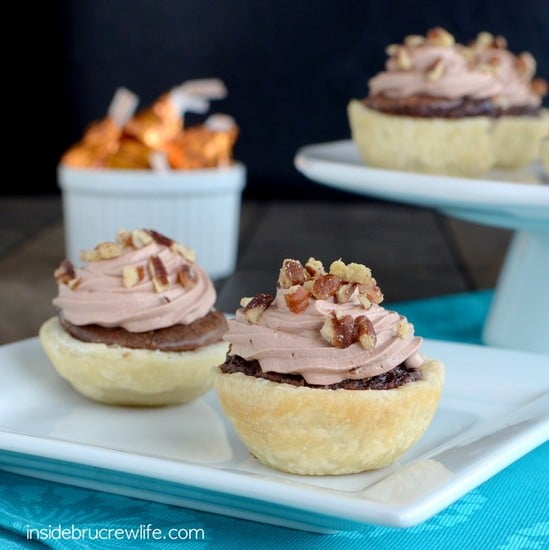 There is one thing I am really crazy about making. Brownie Pies.
Have you noticed the brownie pie trend here on the blog? I keep making different brownie cheesecake pies.
But today's pies are a little different. They are bite sized. So cute...and sooooo delicious! The hidden caramel center is such a fun surprise.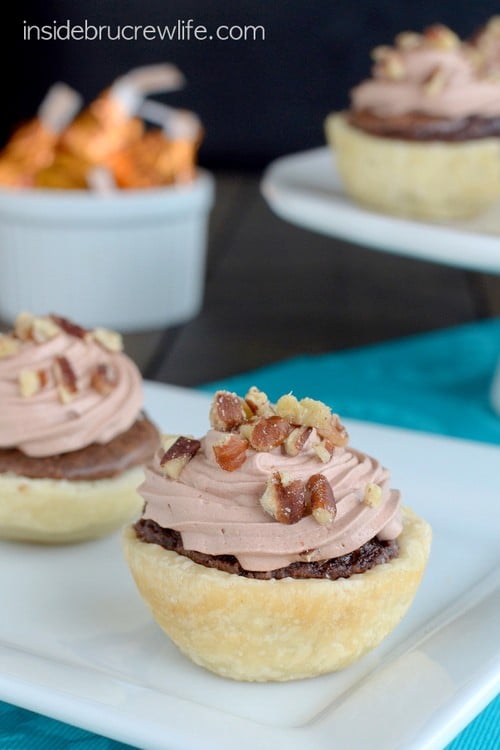 The best thing about these mini pies is that they start with 5 ingredients. That's right. You are only 5 ingredients away from having mini pies in your life too. You could cut that down to 3 ingredients if you opted out of the hidden caramel kiss and pecan chips. But seriously...those are the best part of these mini pies. DO NOT opt out of the goodness!
Now if you want to go the homemade route, these will turn out just as good. But I was going for fast and easy the day I made these. One box of refrigerated pie crusts, one box brownie mix, and one container of Cool Whip Frosting gets these brownie pie bites done that much faster.
Can we talk about that chocolate Cool Whip Frosting for just one minute? I am in love with it. It tastes like a Frosty...even more so if you eat it frozen. Yes, I did eat mine by the spoonfuls. Someone had to finish off the rest of that container. Might as well be me 🙂
One other thing...if you want to skip the pie crust, that is an option too. I actually made half of mine with pie crust and half without. The verdict at the party I took them to was pie crust all the way. But if you are cutting time, make them without. They still taste amazing.
Now excuse me...I have a list of crazy baking ideas to make today. And maybe some Cool Whip to finish off!!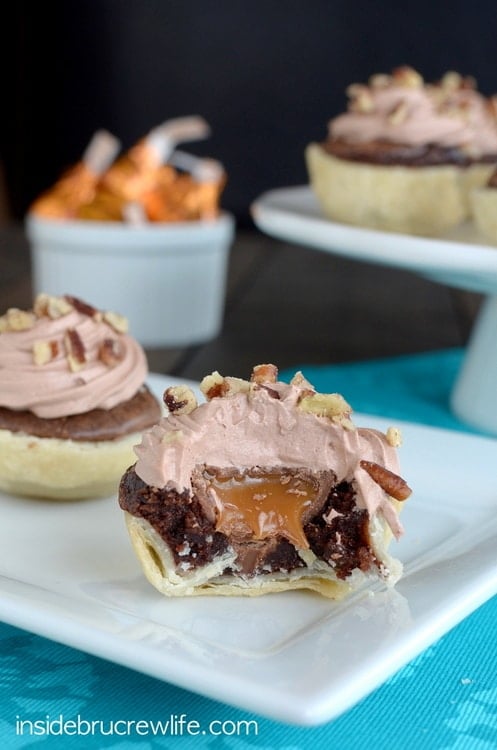 Stay up to date on all the BruCrew baking here:
FACEBOOK | PINTEREST | GOOGLE+ | TWITTER | INSTAGRAM | BLOGLOVIN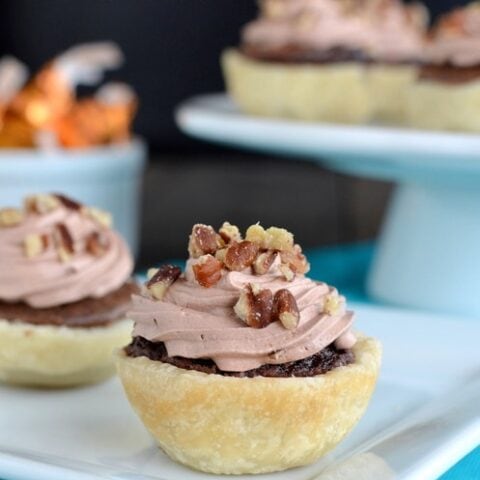 Caramel Pecan Brownie Pie Bites
Yield:
48 mini brownie pies
These little brownie bites have layers of flavor. Caramel, pecans, and chocolate come together for a delicious little treat.
Ingredients
2 refrigerated pie crusts
1 box brownie mix (for a 9x13 pan)
48 caramel Hershey kisses
1 container chocolate Cool Whip Frosting (10.6 oz.)
½ cup pecan chips
Instructions
Preheat oven to 350°.
Unroll the pie crusts according to the package directions. Use a 2 ½ inch round cookie cutter to cut out 48 circles. You will have to re roll the pie dough on a floured surface to get this many. Press into mini muffin tins. Set aside.
Prepare the brownie mix according to the package directions for fudgey brownies. Spoon 1 teaspoon brownie batter into each pie crust.
Bake for 14-15 minutes. Remove from the oven and cool for 2 minutes in the pan. Gently remove the brownie bites to wax paper lined counters. Press an unwrapped Hershey kiss into the brownie, point down. Let cool.
Top each brownie bite with the Cool Whip Frosting and pecan chips. Makes 48 mini brownie pies. Keep refrigerated in a sealed container.
Notes
*You can also make these without the pie crusts. Spray your mini baking pans with non stick spray and bake the bites for 11-12 minutes.
Nutrition Information:
Yield:

48
Serving Size:

1
Amount Per Serving:
Calories:

143
Total Fat:

3g
Saturated Fat:

1g
Trans Fat:

0g
Unsaturated Fat:

2g
Cholesterol:

0mg
Sodium:

177mg
Carbohydrates:

29g
Fiber:

0g
Sugar:

25g
Protein:

1g
Nutrition facts are an estimate and are not guaranteed to be accurate. If you need special diet advice, please see a registered dietician.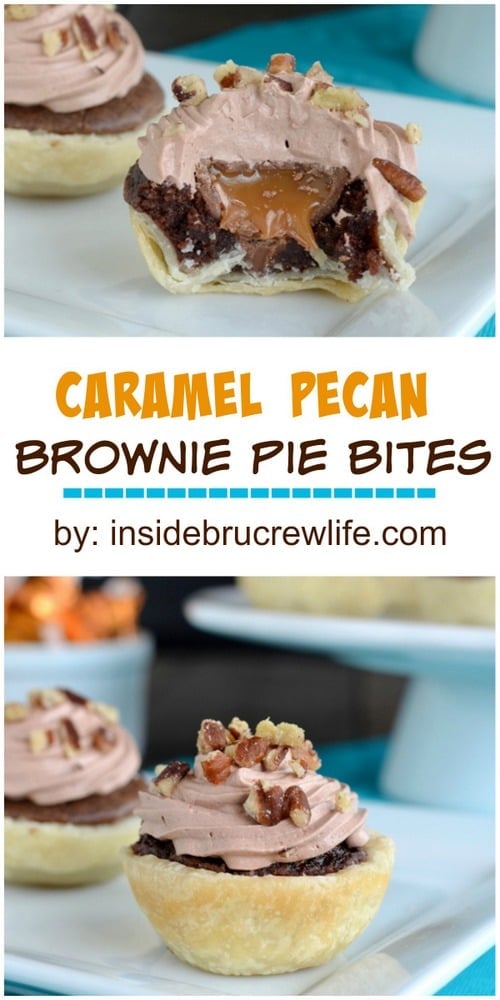 More fun ways to use brownie mixes to create delicious treats: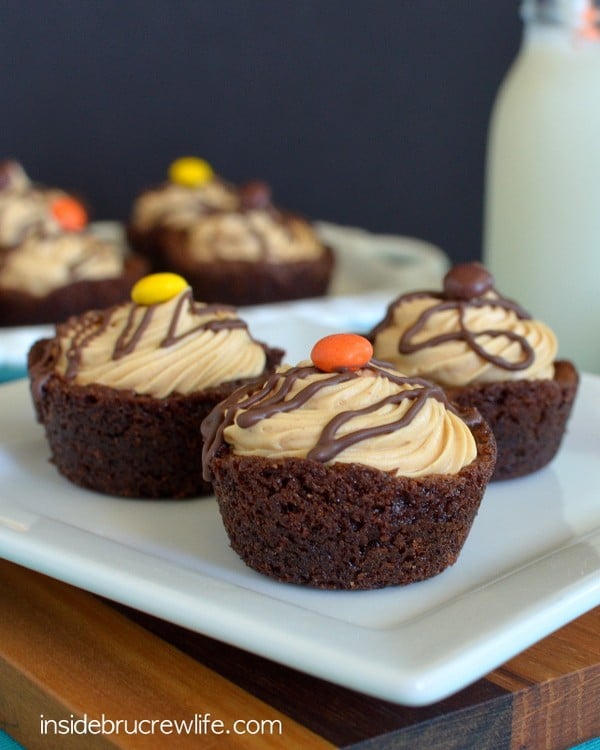 Peanut Butter Marshmallow Brownie Bites