Hiding candy bars inside chocolate covered brownies is a great idea. These Salted Caramel Brownie Bites are a great treat to share with friends and family. Fill a jar with the bites and tie with ribbon to make a fun Valentine's Day treat.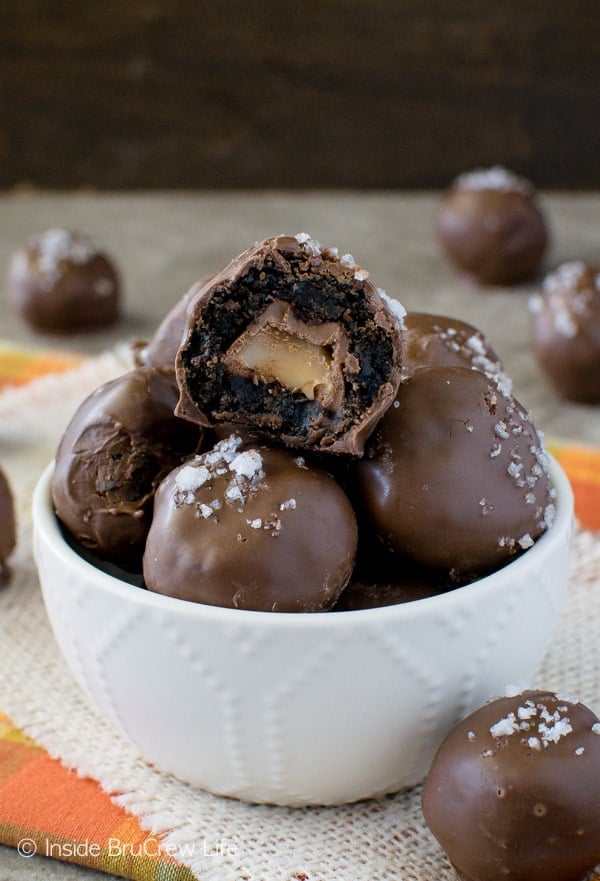 Dessert is the best part of any meal, am I right? Ok, so maybe that's just my sweet tooth talking. But seriously, I could eat brownies for dinner every night and be a happy camper. Well, until my pants stopped fitting, and then I might have to rethink that life decision.
Ok, ok, so my hubby might have some major words with me if all I served every night was a pan of Homemade Chocolate Chip Brownies. We should probably keep the brownies for a special treat and only for after dinner because that makes more sense.
Ever since I made these Pumpkin Spice Brownie Bites a while ago, I have been thinking non-stop about what else I could put inside another brownie square. I just might end up going a little overboard on the brownie bites, just saying.
Promise me you won't get tired of these fun truffles any time soon!!!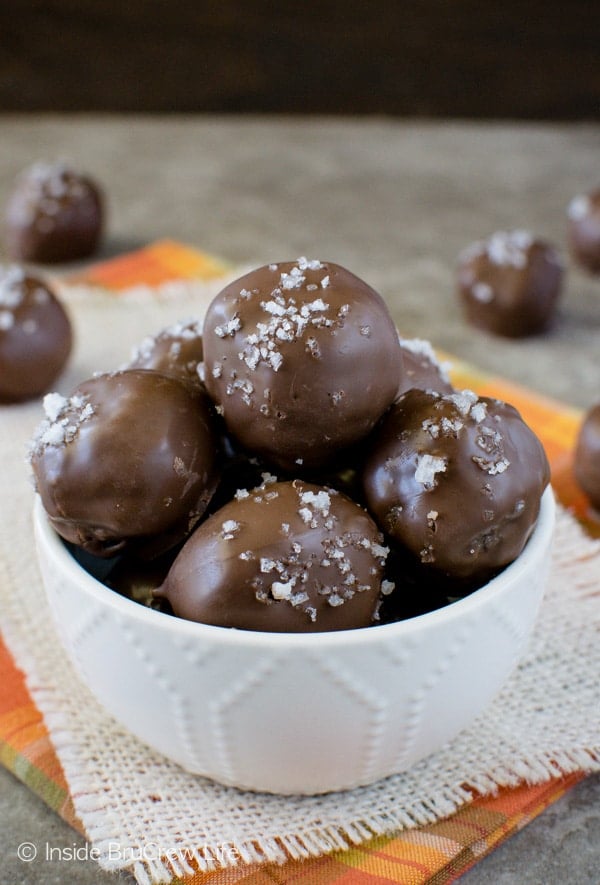 Let's get started with my new favorite candy treat because I have a feeling you will love these Salted Caramel Brownie Bites too!!!
What is it about salted caramel that just gets me every single time? I absolutely love these chewy brownie bites because of the sweet and salty goodness. Seriously! These are the best brownie bites around!!!
There were smiles all around when everyone took a bite and found the candy hiding in the center of all that chocolate!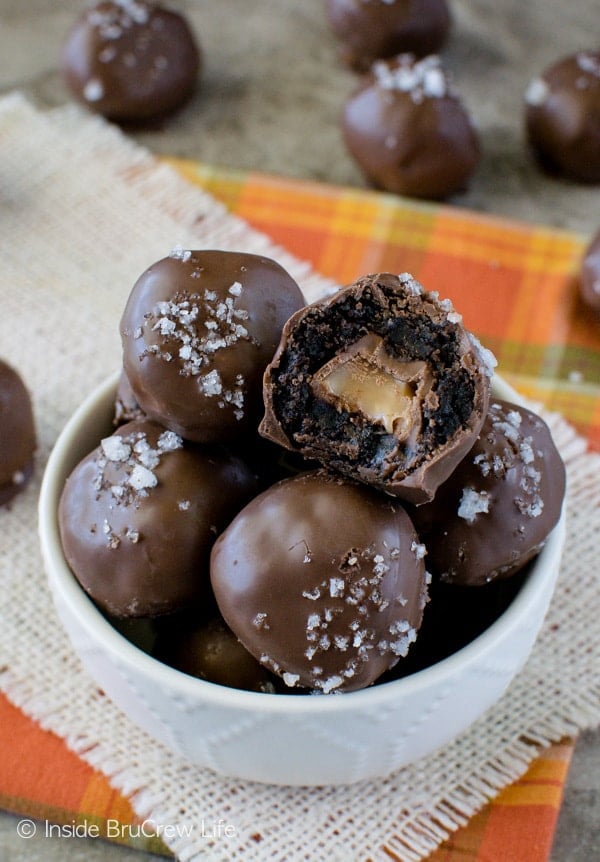 Now my kids weren't as crazy about tasting the salt on top of the brownie bites as I was. In fact, our oldest asked me, "Why does it taste like you dipped them in the ocean?" What a silly boy!!!
Hee hee! I am just refining their dessert palates! I guess if they don't like them, I will have to eat them all. Someone has to get rid of them, right?
Now that I know their true feelings on sweet and salty desserts, I don't think I will share any of these Salted Caramel Mocha Truffles with them either. Win, win for me!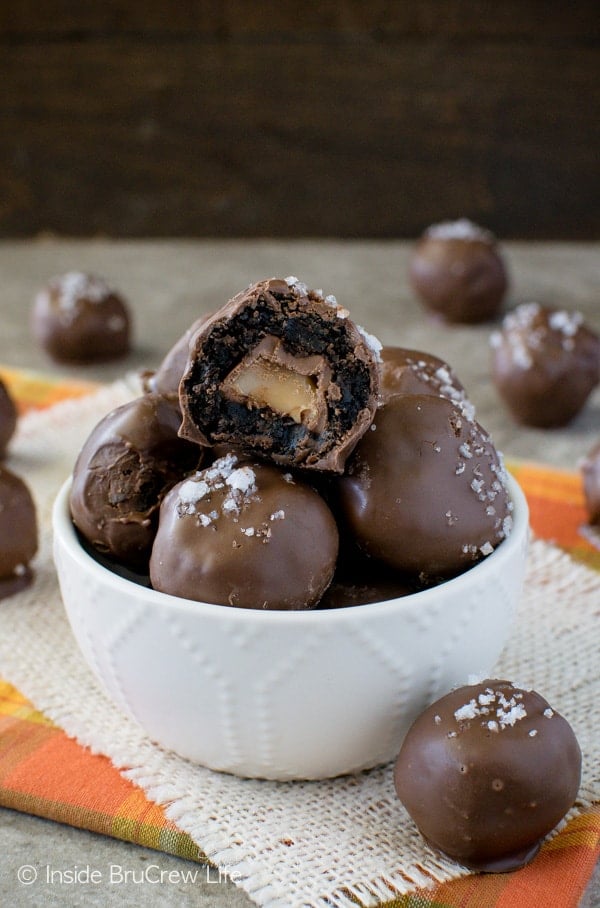 How to make Salted Caramel Brownie Bites:
Bake your favorite brownie mix in a 9x13 pan. Feel free to make a homemade brownie if you prefer. Let the brownie cool completely.
Cut the crispy edges off the brownies, then cut the rest into 35 small squares. Press each square flat and place an unwrapped Rolo candy in the center.
Wrap the brownie around the candy and roll it into a ball. Place the brownie bites on a wax paper lined tray and refrigerate for an hour so the truffle is easier to dip.
Melt a bag of chocolate candy melts according to the package directions.
Place a chilled brownie bite into the chocolate and cover it completely. Use a fork to lift the brownie out of the chocolate.
Tap the edge of the bowl with the fork because you want to gently remove the excess chocolate.
CLICK HERE TO PIN THIS RECIPE FOR LATER!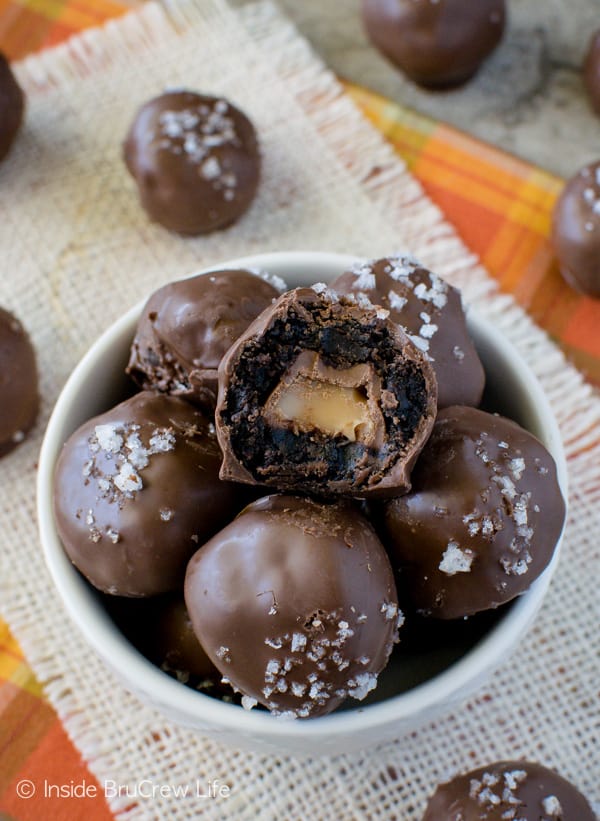 Other homemade candy recipes you may enjoy: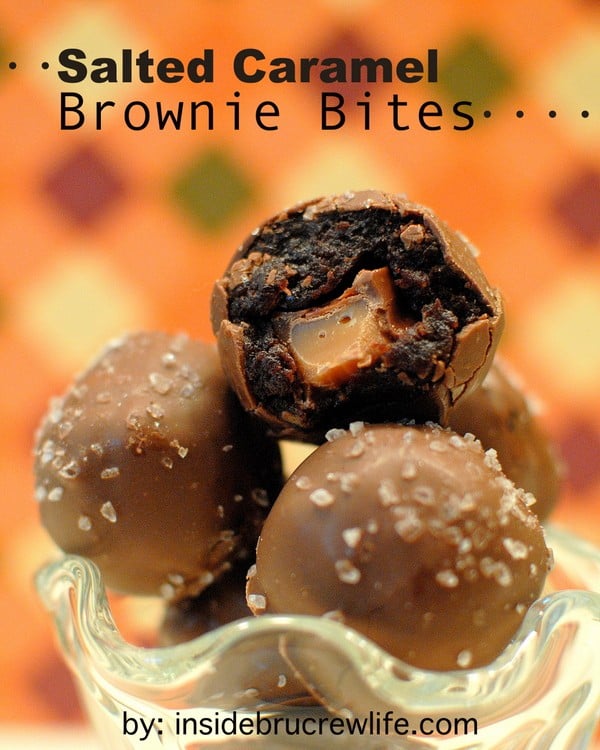 (original photo from November 2010)
*The post and recipe for these Salted Caramel Brownie Bites was originally published on November 9, 2010. The photos and post have been updated and republished on January 16, 2019.