Turning your favorite pizza toppings into a delicious and cheesy pasta bake is a delicious dinner option. This Cheesy Hawaiian Barbecue Pasta Bake disappeared quickly when it was put on our dinner table.
*Make sure you subscribe to the BruCrew Life email, so you never miss a recipe.*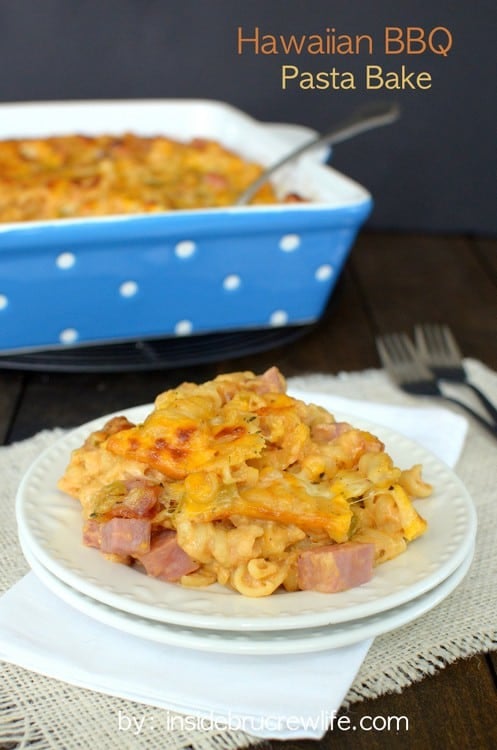 Are you ready for this?
I turned another one of my favorite pizza toppings into a delicious pasta bake. I know, you are just as surprised as me. Ha!
This pasta obsession of mine hasn't gone away yet, even in the heat of summer. Of course most days we are grilling out or eating salads. But then a random day will come, and I just have to have pasta covered in lots of cheesy goodness.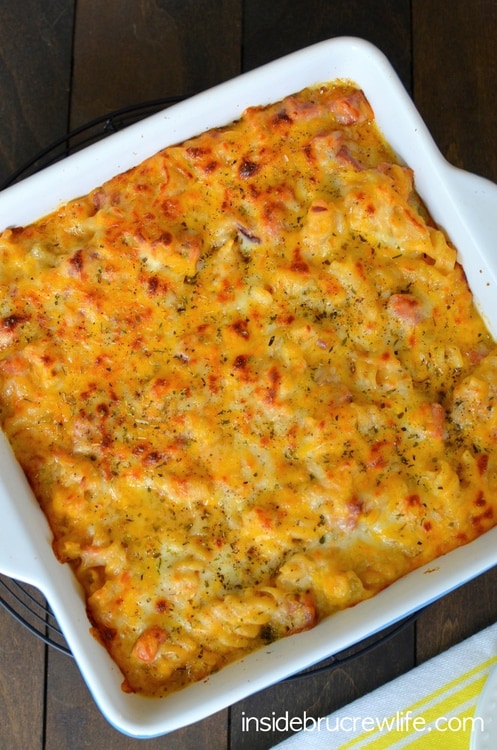 Last week when the pasta craving came over me, I decided to come up with another pizza inspired pasta bake. Now this is one that you will have to trust me on!
Hawaiian pizza is one of my favorites, but for some reason we just do not order it that often. A few weeks ago we had some friends over that love ham and pineapple pizza too, so we all enjoyed a large Hawaiian BBQ pizza for dinner. It was the first time I had one with barbecue sauce on it, and I have to say I was loving it.
So now I have a pasta craving that needs satisfied and a pizza flavor still fresh in my head. Why not combine the two and see what happens?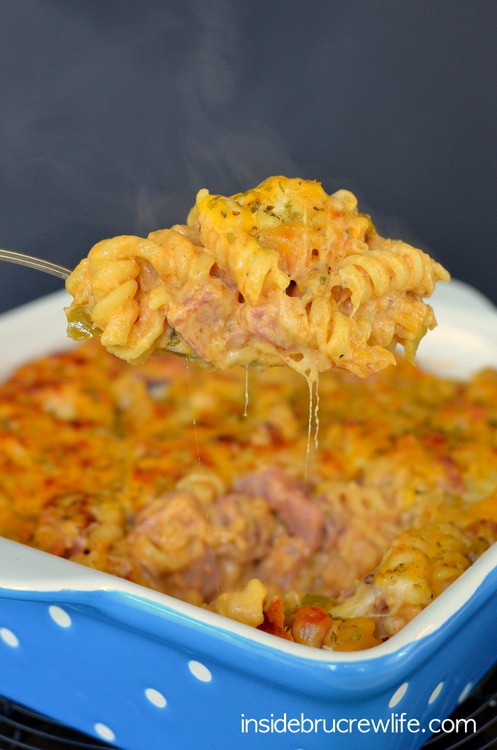 Cheesy goodness that is out of this world! That's what happens.
My kids devoured this pan of pasta! Usually I will get some sort of "bad" feedback from at least one picky child, but not this time. Everyone loved the dinner and went back for more.
Woo hoo! Dinner success is mine!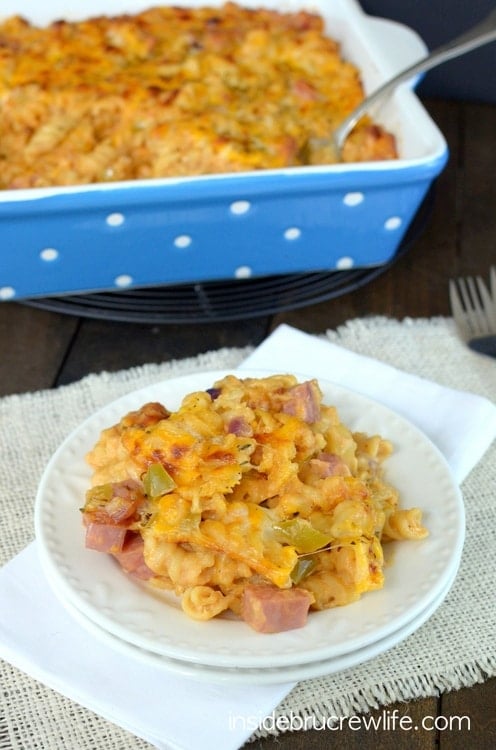 When you are making a pasta dinner and you want it on the table faster, make sure to prep some ingredients before hand. You can chop the veggies and ham the night before and have them in containers in the refrigerator. Or you can chop them while the pasta is boiling. There are not that many in this dish, so you can easily have everything prepped while you wait for the noodles to cook.
Another time saving tip is to buy bags of frozen already chopped veggies. I have a few of those in my freezer for nights when I am in a hurry. You can buy packages of cubed ham in the deli section of the store too. See? I just saved you 10 minutes of chopping time. You are welcome 🙂
There is no need to dirty a thousand pans while making dinner. Make sure you reuse pans as you are cooking. This dinner needs two pans. Three if you count the baking dish at the end.
After the noodles are done cooking, drain them and put them right back in the same pan. Drizzle the noodles with a little bit of oil to keep them from sticking. Saute the veggies and ham in a large skillet. When these are finished cooking, spoon them right on top of the pasta. Now reuse the dirty skillet to melt the cheese in. All of these ingredients will be in one dish sometime, so it is ok to reuse the pan. But if you absolutely love washing dishes, go for it and get a clean pan out.
After the cheese is all melted, stir it into the pasta. You can go ahead and eat it now if you are in a hurry. BUT...if you have time to wait another 20 minutes, bake it with more cheese on top.
There is always time for extra cheese here!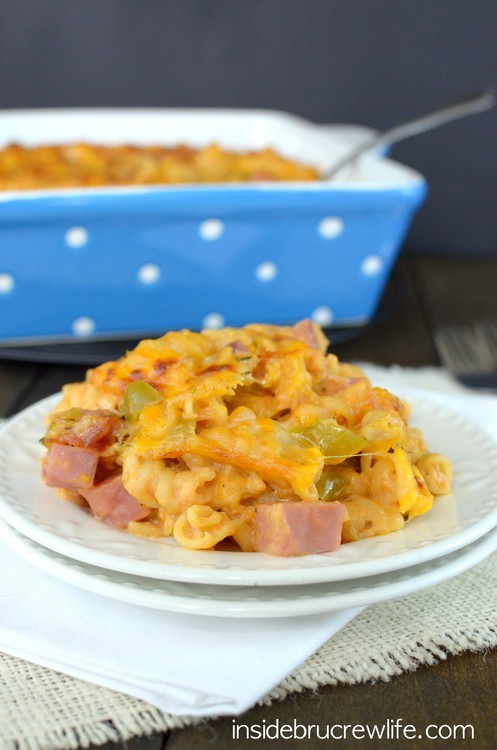 Stay up to date on all the BruCrew baking here:
FACEBOOK | PINTEREST | GOOGLE+ | TWITTER | INSTAGRAM | BLOGLOVIN
Sign up to receive an email in your inbox for each new recipe:
EMAIL SUBSCRIPTION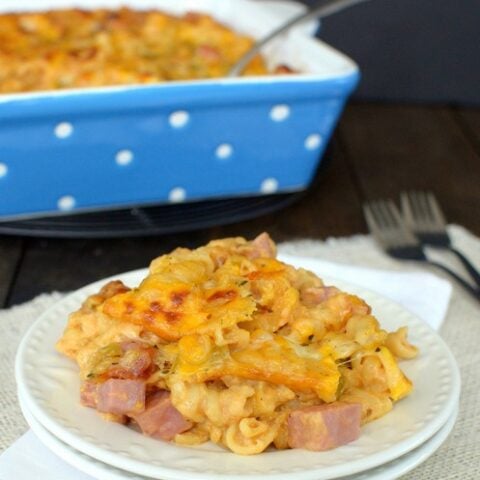 Cheesy Hawaiian Barbecue Pasta Bake
Ham, pineapple, and barbecue sauce add a delicious pizza twist to this cheesy pasta bake. My kids went nuts for this dish.
Ingredients
8 ounces pasta noodles
1 tablespoon + 1 teaspoon olive oil
¼ cup chopped onion
½ cup chopped green pepper
1 teaspoon minced garlic
2 cups cubed ham
1 cup crushed pineapple, drained (20 oz. can)
1 - 12 ounce can evaporated milk
½ cup barbecue sauce
2 ½ cups shredded mozzarella cheese
½ cup shredded cheddar cheese
salt and pepper to taste
½ teaspoon oregano
Instructions
Preheat oven to 350 degrees.
Cook the pasta al dente according to the package directions. Drain and put back in pan. Stir in 1 teaspoon oil and cover. Set aside.
In a large skillet saute the onion and pepper in 1 Tablespoon oil for 2 minutes. Add the garlic, ham, and pineapple and cook for another 1-2 minutes. Spoon the ham mixture into the pasta and cover again.
Pour the milk and barbecue sauce into the skillet. Bring to a boil and then turn the heat down to simmer. Add 2 cups mozzarella cheese and stir until melted and creamy. Pour over the pasta and ham. Stir together. Season to taste with the salt and pepper.
Spoon the mixture into a greased 8x8 pan and top with the remaining cheeses. Sprinkle with oregano. Bake for 20 minutes. Then broil for 2-3 minutes to brown the top.
Serve immediately. Serves 6.
Nutrition Information:
Yield:

6
Serving Size:

1
Amount Per Serving:
Calories:

434
Total Fat:

19g
Saturated Fat:

9g
Trans Fat:

0g
Unsaturated Fat:

7g
Cholesterol:

79mg
Sodium:

1102mg
Carbohydrates:

40g
Fiber:

2g
Sugar:

22g
Protein:

28g
Nutrition facts are an estimate and are not guaranteed to be accurate. If you need special diet advice, please see a registered dietician.
More delicious dinner ideas with the barbecue twist added in: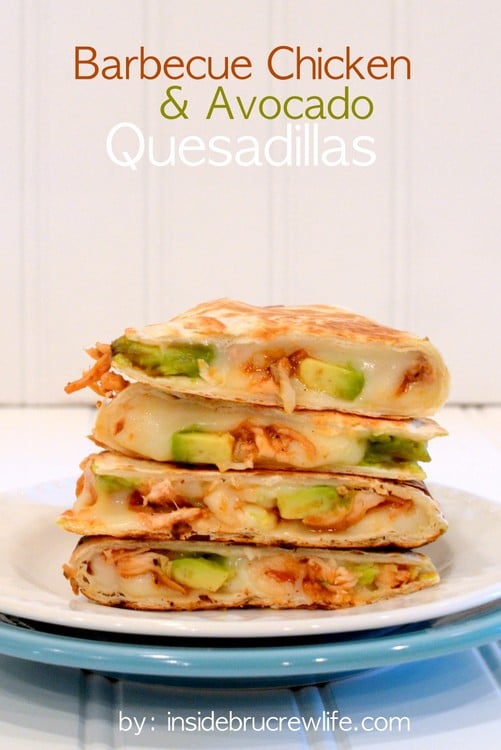 Barbecue Chicken & Avocado Quesadillas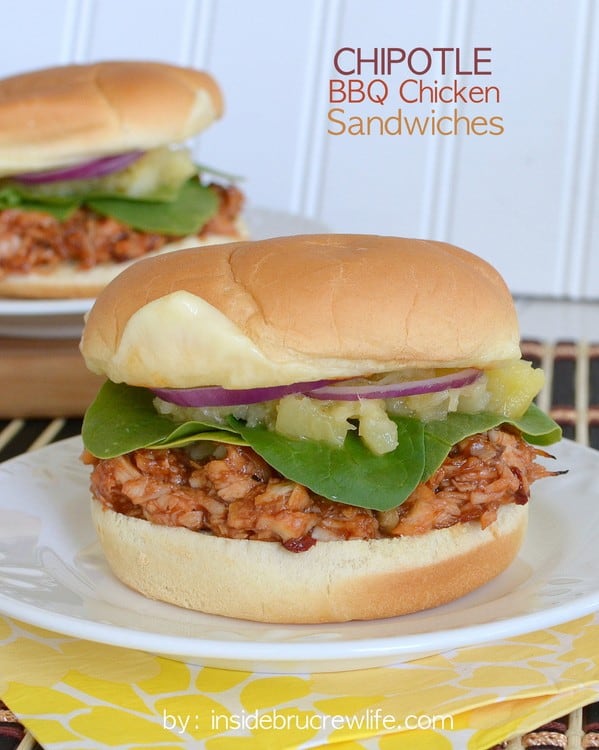 Chipotle BBQ Chicken Sandwiches