The fresh veggies and fruit in this Raspberry Chipotle Turkey Pita gives you a gourmet lunch in just minutes. It is a delicious and easy option for spring or summer meals.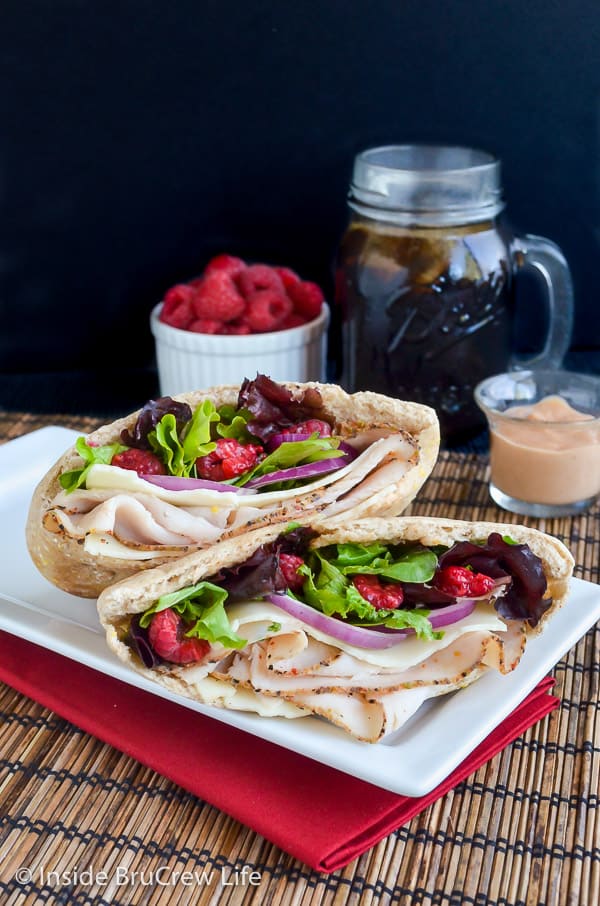 Some days I work right through lunch because of deadlines or because there is nothing good to eat in my refrigerator. Ok, ok. That's a total blatant lie. We always have fresh veggies for salads or frozen fruit for smoothies in our fridge.
Can I be honest? I would much rather be eating cookies, Homemade Chocolate Chip Brownies, or cake instead of healthy salads. But...that mindset is catching up to me because my shorts and swimsuits from last summer are definitely tighter right now.
It's time to shut down that sweet tooth and develop a love for healthy food again. Right after I finish off the last few Congo Bars on the counter. LOL!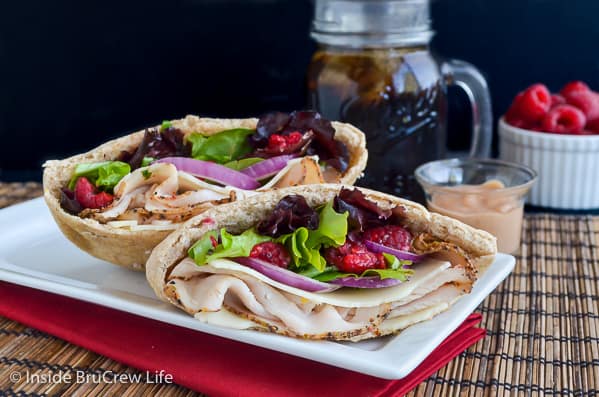 Along with all the veggies and fruit in the fridge, we usually have deli meat and cheese. My favorite is a four pepper turkey that we usually get at Sam's Club.
One of our favorite things to make for lunch are these Turkey Club Waffle Sandwiches. Yes, they are as awesome as they sound.
But as easy as that sandwich is to make, I still resist pulling out the waffle iron to create the fun grilled cheese and turkey sandwich. Call me lazy!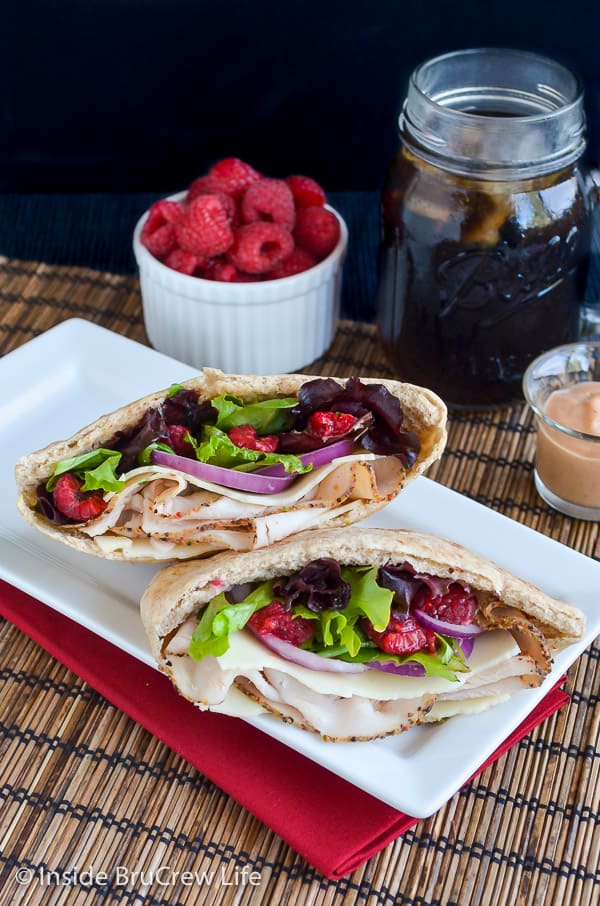 Give me a fun pocket bread though, and I can easily toss in a few ingredients in minutes for a healthy and filling lunch. Plus, pocket thins make me feel like I'm cutting carbs, and I'm all for that, especially when I'm adding my special sauce to the bread.
Mayonnaise and barbecue sauce mixed together is my new favorite thing to put on turkey pita sandwiches. The raspberry chipotle barbecue sauce gives it a sweet and spicy kick that I love, but you could totally use regular barbecue sauce.
Spring mix, red onions, and raspberries really makes this sandwich go from boring to gourmet in seconds.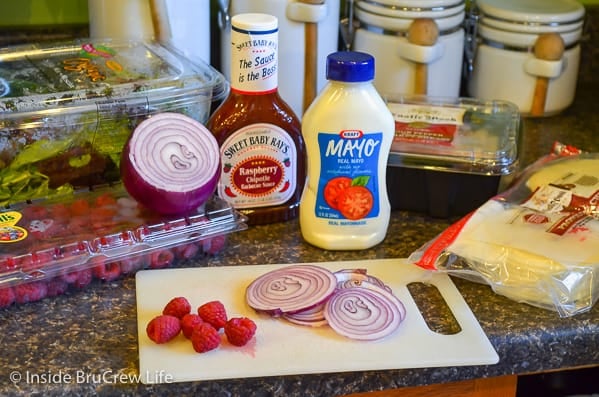 How to make a Raspberry Chipotle Turkey Pita:
Mix together mayonnaise and barbecue sauce in a bowl. Refrigerate in a container until needed.
Chop red onions into thins slices.
Spread a little bit of sauce inside each pocket thin.
Add turkey slices, cheese, spring mix, onions, and fresh raspberries.
Now that I know how quickly I can put together a gourmet turkey sandwich in minutes, there is no excuse for me to work through lunch again.
More easy lunch recipes: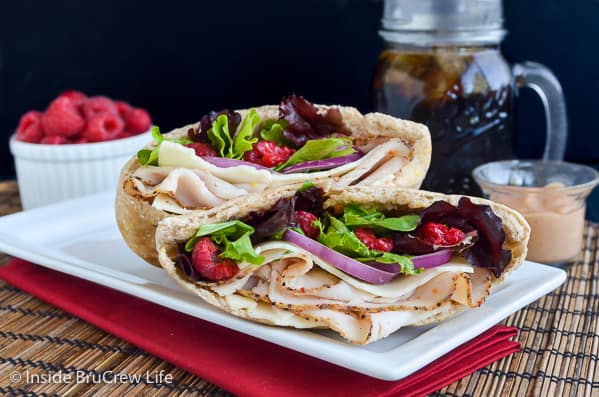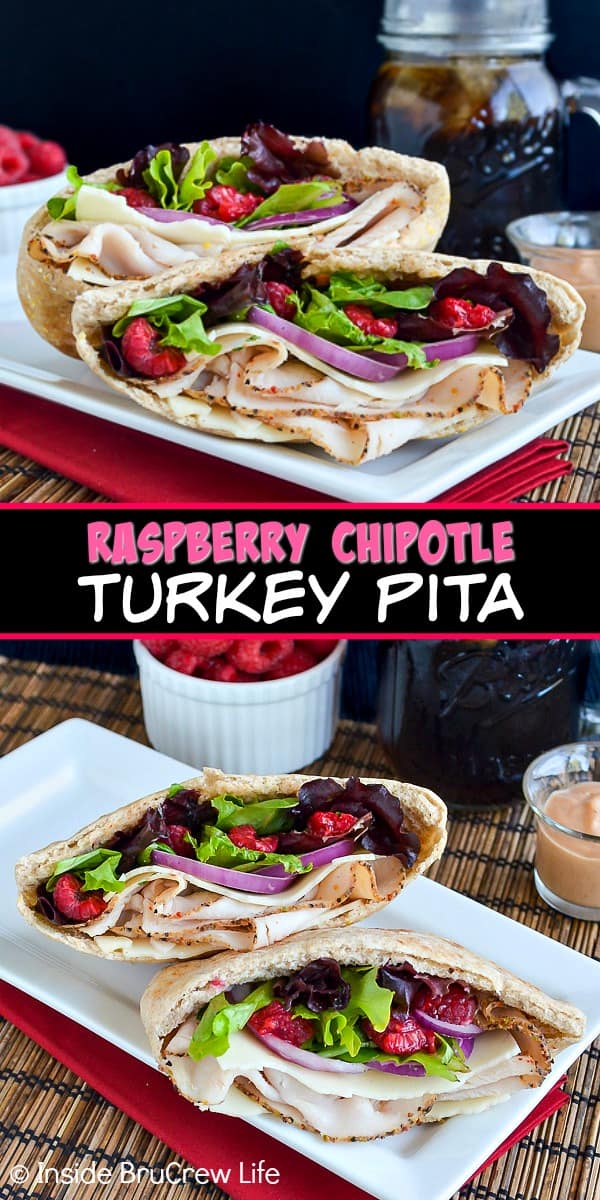 *The post for this Raspberry Chipotle Turkey Pita was first published on December 14, 2012. The photos and post were updated and republished on April 19, 2020.