This Cheesy Italian Pasta is loaded with meat, tomatoes, and cheese. It is an easy pasta dinner to enjoy on busy nights.
*Thank you so much to Best Food Facts for putting together this trip to Chicago, IL to learn more about the food we eat. This trip was sponsored and paid by Best Food Facts, along with this post. This year I am partnering with them as a blogger for their Taste program.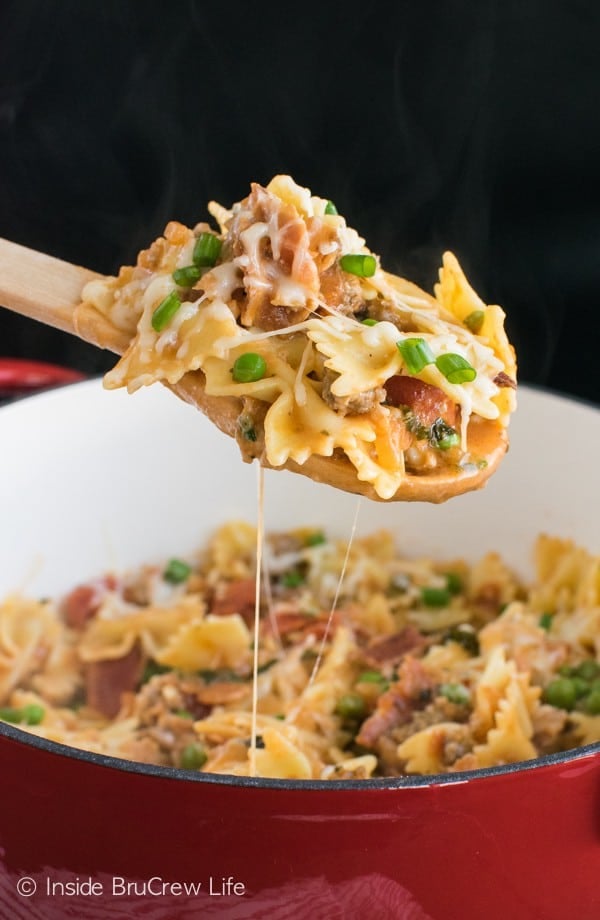 Do you ever stop and wonder where your food came from or how it got to the grocery store? I grew up in the country, so I am just a little familiar with farming and farm life. Our family had a few horses, and we would bale our own hay each summer. Picking up and stacking hay bales is the extent of my farm experience though.
I know that our food comes from farms and that farmers live on the farm 24/7, but I didn't fully understand it until I had a chance to chat with a few farmer's wives this past year.
Last month I had the opportunity to head to Chicago, IL and reunite with the bloggers and farmers that are part of the Taste 15 blogger program through Best Food Facts. We started with an amazing dinner at The Girl and The Goat where we caught up with each other.
The next day we headed to Spirit Farms where we learned about farming corn. We were able to watch a large tractor trailer loaded with corn dump the entire contents in minutes, climb to the top of the tower to look out over the fields, and then we head out into the fields to see the corn being harvested.
There is so much that goes into living the farm life. Farmers spend long hours doing things that benefit the farm.
I had the privilege to chat with Lauren from PaintTheTownAG about living on a farm and what a normal Saturday looks like for her family. She is a city girl turned farm wife living in the Shenandoah Valley of Virginia with her family of boys. She is such a sweetheart and an encouragement. I'm so glad I had the chance to meet and get to know her these past few months.
Q: What is the first thing you do after breakfast on the farm?
A: "The first check of the morning is devoted to the chickens, so we hop in a truck to head to the chicken houses. These "houses" are approximately 50 feet by 500 feet, and are climate controlled, computer regulated environments. But don't take the human out of the picture! Farmer is crucial for interacting with the chickens at least 3 times a day to ensure chicken comfort, health, and well-being. The computers regulate the feed, keep track of how much water the chickens are drinking, and even turn the A/C on and off (among many, many other things!). Once we check each house - which involves making at least 8 passes through each house, checking the computers, and fixing any problems - then we move on to the next house and begin the process all over again. Depending on the age of the chickens, temperatures outside, and how many helpers, this process can take a good chunk of the morning!"
Q: That sounds like quite the morning in the chicken houses. After the chickens are done, what other chores do you need to attend to?
A: "After making sure the chickens are doing well, we move on to the beef cattle. Since fall is here - and with it cooler mornings and the occasional frost - we keep close tabs on the pastures and their food supply (aka: the grass). Currently our herd of mama cows have each just weaned a 6 month old calf, and are roughly 5 months pregnant with a new calf. The herd is bred to calve around the first of March (Farmer gets REALLY busy during that time!). Like human mamas, nutrition is key during pregnancy, so Farmer makes sure that the ladies have plenty to eat. If we need to, we will supplement their pasture grass with hay that we made this summer, or a recipe mix of hay, corn silage, and rye grass. We spend the remainder of our Saturday morning checking the various groups of cattle, checking them for the same things we checked the chickens for - comfort, health, and well-being. For the most part, beef cattle like to do their thing and mostly ignore humans - but there is an occasional one that loves a good back scratch!"

Q: I'm tired just thinking about all those chickens and cows. I'm sure the day doesn't end there though. What other things could keep you busy during the day?
A: "After lunch could bring a variety of things, from repairing equipment in the shop, to visiting the local livestock sale, repairing fence, to running errands. There are always items on the "to-do" list around the farm, and the work really never seems to stop. The chickens are checked again around the noon hour, and then again late afternoon.
Q: What does dinner time look like in your house?
A: "In the blink of an eye Saturday seems to have faded away, and dinner is around the corner. Late Saturday afternoon usually finds me in the kitchen, working up a hearty meal for the family. I love to create, and meals are no exception. Homemade bread could be one of my love languages (I don't think Farmer would disagree!)"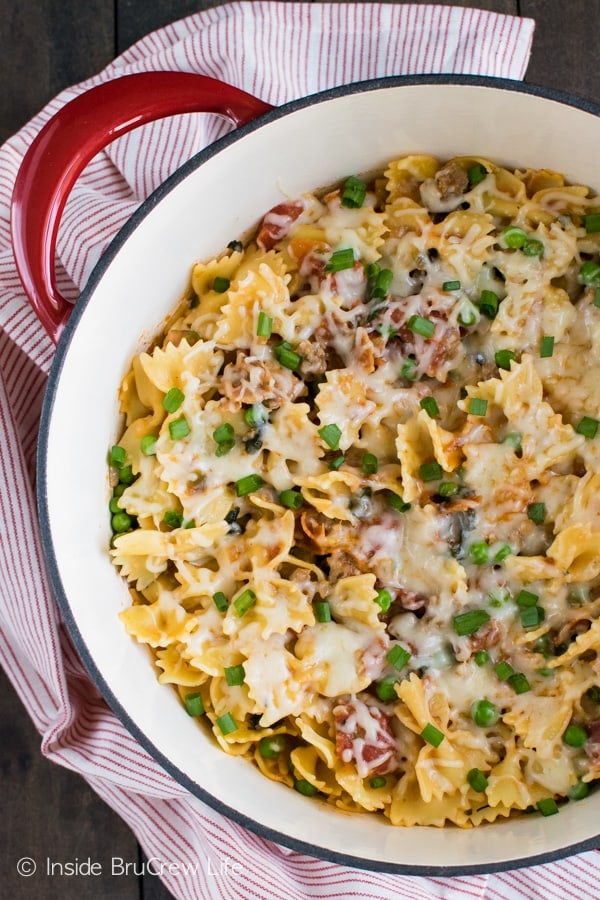 "Farmer and I try our hardest to make evening meals around the table a priority for our family, and most of the time it works. It may be late or leftovers, but the family takes time to come together! After dinner Farmer usually runs back out around the farm to make a final round, while I help the boys finish homework, read books, or simply relax and snuggle on the couch."
I don't know about you, but I had no idea how busy farmers were every day of every week. The animals have to be fed and taken care of every single day of the year. That's a lot of time and dedication!
I am so thankful for the men and women who are called to raise chicken and cows to sell to markets that provide our country with food.
While I was chatting with Lauren we talked about food. She loves being in the kitchen creating dinners for her boys. Since I would rather make things like homemade chocolate chip brownies or peanut butter pudding cookies, I asked her if she would send me one of their favorite meals that I could share with my family and my readers.
She sent me an easy Italian pasta from her mom that she makes all the time for her family. I had fun making it and giving their family meal a little BruCrew twist. This cheesy pasta got two thumbs from our family!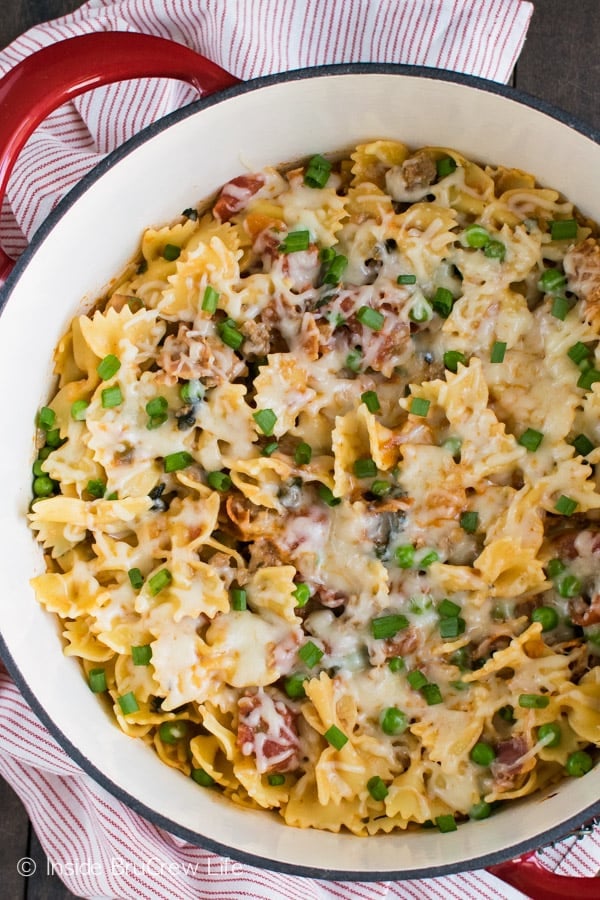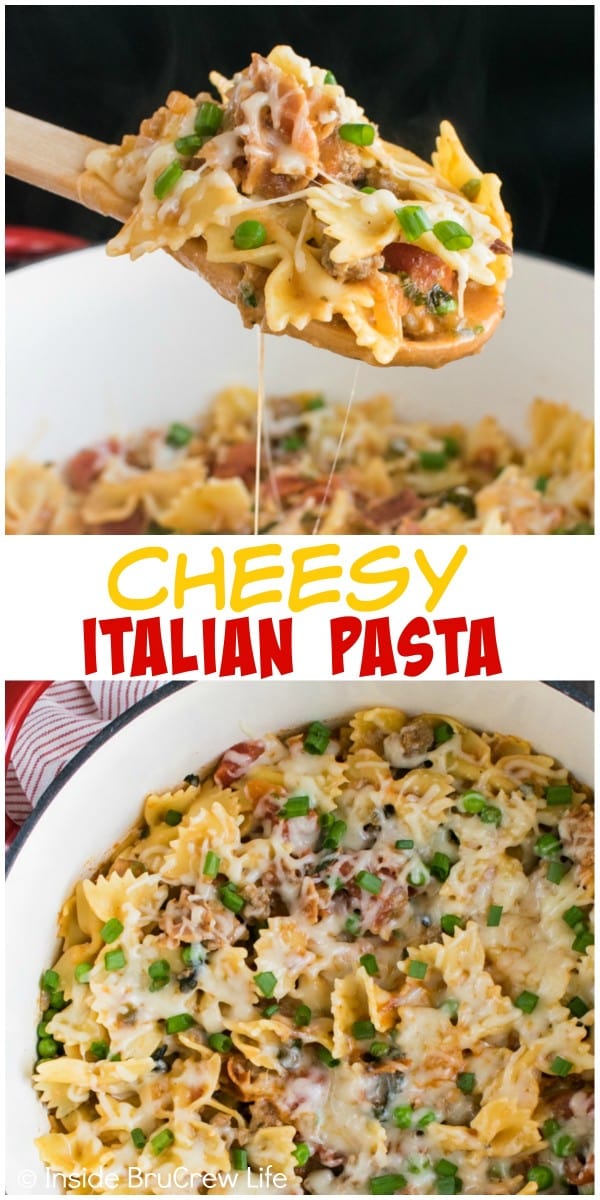 *I was provided with an all expense paid trip to Chicago, IL through Best Food Facts. They also compensated me for time creating this recipe and post. All opinions are 100% my own. Thank you so much for allowing me the opportunity to share brands and companies I believe in.