Layering fruit, yogurt, and granola in a cute jar is an easy way to have breakfast on hand as you walk out the door. Try these Cherry Yogurt Parfaits when you need a quick breakfast on the go.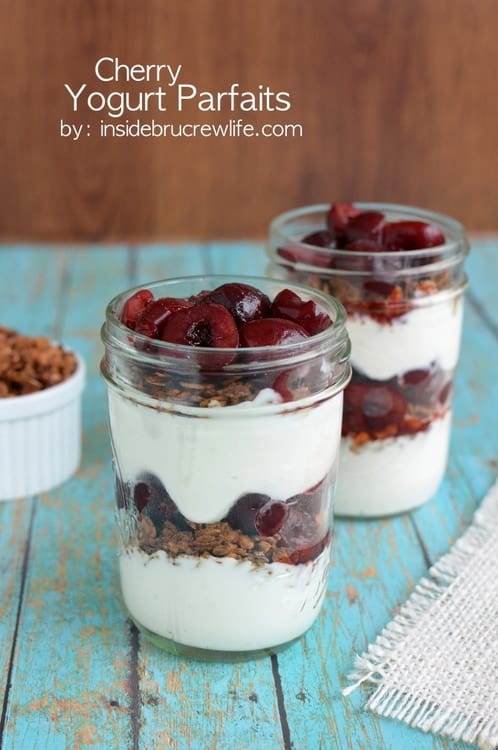 My three kids are really not huge breakfast eaters, so I am always on the lookout for easy new ideas that will get their attention first thing in the morning. Most of the time anything chocolate does the trick, so I try to make a batch of these Double Chocolate Banana Muffins every so often.
But I do not want them eating chocolate for breakfast all the time either, so I try to offer some variety. Muffins, pancakes, and cold pizza are a few of the things they will usually go for if it is in our refrigerator.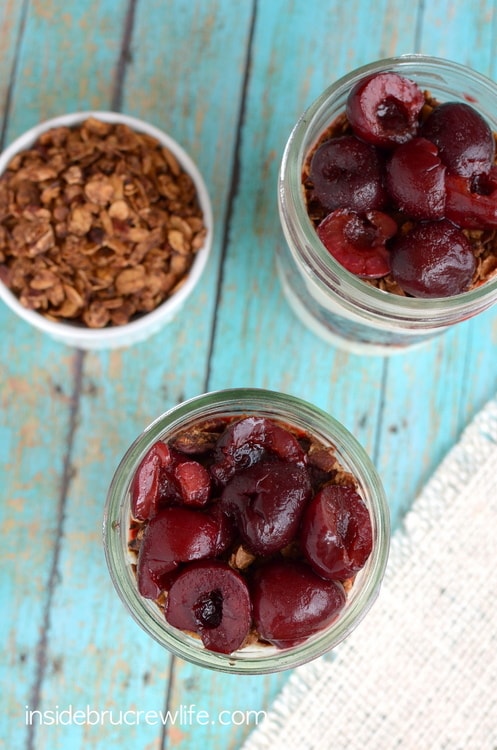 There is only one problem with breakfast. I am not a morning person...at all! Seriously, if I tried to make breakfast in the morning, it would probably end up burnt. Hot ovens, sharp knives, and a half asleep mom just isn't the best combo! So, anything breakfast related has to happen in the afternoon or the late evening.
These yogurt parfaits are fun and easy way to change up breakfast. You can choose any fruit, yogurt, and granola flavor to layer together in a jar. I had some cherries in our freezer and a box of chocolate granola in our cupboard that went together so well for these ones. Go ahead and use whatever fruit and yogurt you have on hand for these. There are so many different versions you could do.
The night before I cut up some fruit, then layer it with the Greek yogurt and granola. The next morning the kids can grab whatever fruit parfait they feel like munching on before school. Word of warning...only make enough for the next day because the granola does start to get soggy. But an easy fix for that would be to leave it out and add it the day of.
I'm thinking that if I serve fruit for breakfast today, that means we can have chocolate for breakfast tomorrow 🙂