Looking for a fun way to make an easy cupcake that tastes like it came from the bakery? Try adding chopped candy pieces into your batter. These P
eanut M&M Cupcakes
were an absolute treat.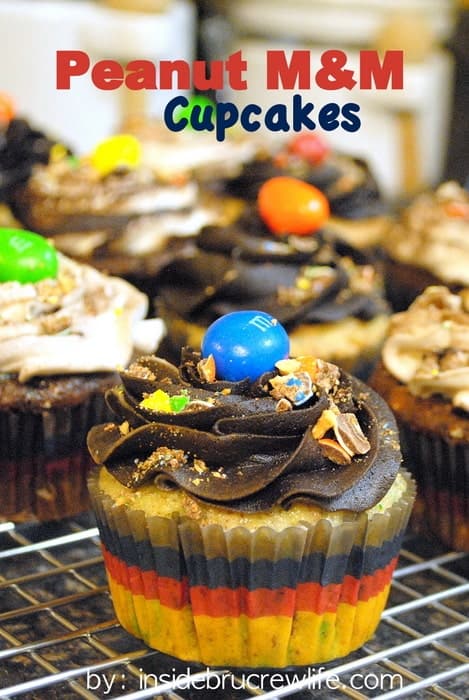 Dear Fat Rolls, (aka…thighs, hips, and stomach)
I have put up with you for a while.
But this fluctuation up and down is crazy!
So, you deserve the truth.
I am over you!!!!
Really and truly! 100% done!The time has come to banish you once and for all.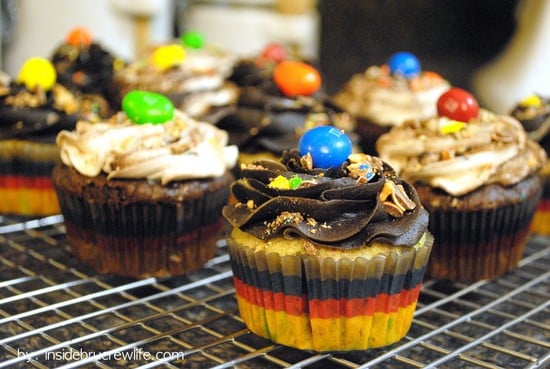 Why are you laughing???
I'm serious!
Summer is coming and my shorts are tight:-(
Yes, I know that is my own fault for loving sugar like I do.
(Curse you delicious baked treats!!!!)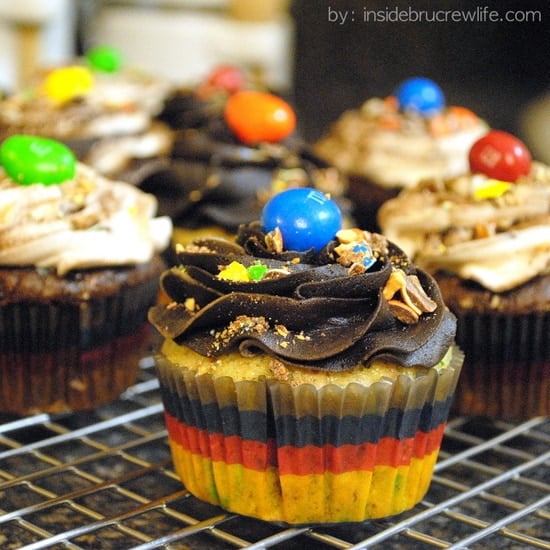 Let me break it down for you…
P90X has been ordered.
Now who's laughing???
What do you mean we'll see?
Ok, jelly belly…it's on like Donkey Kong!
Love,
Your Seriously Motivated Host
P.S. I am scared to death of this video series 🙁
I've heard it hurts!!!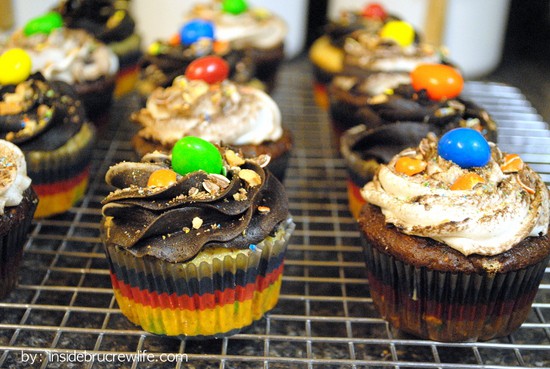 I guess that means I should really stop making things like cupcakes filled with candy, huh? I have a very hard time resisting treats this decadent!!!!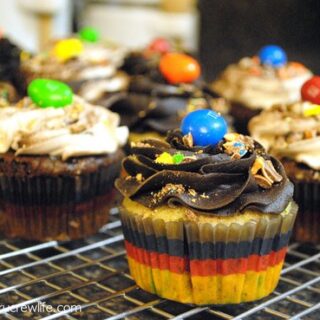 Peanut M&M Cupcakes Recipe
Vanilla cake mix with Peanut M&M candies makes an absolutely delicious cupcake when topped with chocolate or vanilla frosting.
Ingredients
For the Cupcakes
1 vanilla cake mix (+ ingredients from the back of the box)
2 1/2 cups chopped Peanut M&M candies, divided + extra
For the Chocolate Frosting
1/2 cup unsalted butter, softened
1/2 teaspoon vanilla extract
2 Tablespoons heavy whipping cream
pinch of salt
1 3/4 cups powdered sugar
1/4 cup dark cocoa powder
For the Vanilla Frosting
1/4 cup unsalted butter
1/4 cup shortening
pinch of salt
1 1/2 teaspoons vanilla extract
2 Tablespoon heavy whipping cream
2 cups powdered sugar
Instructions
Preheat oven to 350 degrees. Place 24 cupcake liners in muffin tins.
Prepare the cake mix according to your box directions. Stir 2 cups of the chopped M&M's into the batter.
Fill cupcake liners 3/4 full and bake for 20-22 minutes. Let cool completely.
In a mixing bowl, beat the butter and vanilla for the chocolate frosting. Slowly add the whipping cream, salt, powdered sugar, and cocoa powder. Beat until creamy.
In another mixing bowl, beat the butter, shortening, and vanilla until creamy. Slowly add the salt, heavy cream, and powdered sugar until creamy.
Frost the tops of the cooled cupcakes with either vanilla, chocolate, or a swirl of both.
Top with the last 1/2 cup chopped M&M's and a whole M&M. Keep in a sealed container on the counter.
Nutrition Information:
Yield:

24
Serving Size:

1
Amount Per Serving:
Calories:

324
Total Fat:

14g
Saturated Fat:

7g
Trans Fat:

0g
Unsaturated Fat:

6g
Cholesterol:

21mg
Sodium:

181mg
Carbohydrates:

47g
Fiber:

1g
Sugar:

36g
Protein:

3g
Nutrition facts are an estimate and are not guaranteed to be accurate. If you need special diet advice, please see a registered dietician.