This bright and delicious Lemon Poppy Seed Bundt Cake recipe will bring a ray of sunshine to your kitchen. The sweet, lemony, and moist cake is easy to make with just a few ingredients and tastes amazing.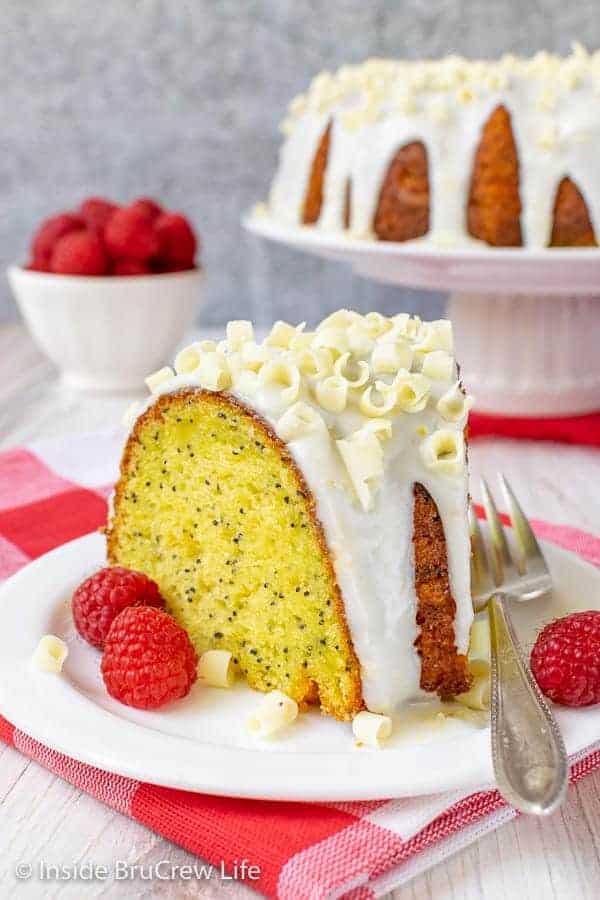 Raise your hand if you love lemon desserts. I have to admit for the longest time, I thought I didn't like lemon. Sour things give me the shivers, so chocolate and peanut butter were my go to.
I didn't avoid it completely, but it definitely wasn't my first choice. Then a friend asked me to create a recipe for Lemon Bars that she could use in her bakery, and I jumped at the chance to help out.
Either I grew up and my taste buds evolved, or I just realized that lemon is delicious. Whatever the case, I have a new found love for lemon treats. Well, in small doses and loaded with lots of sugar. LOL!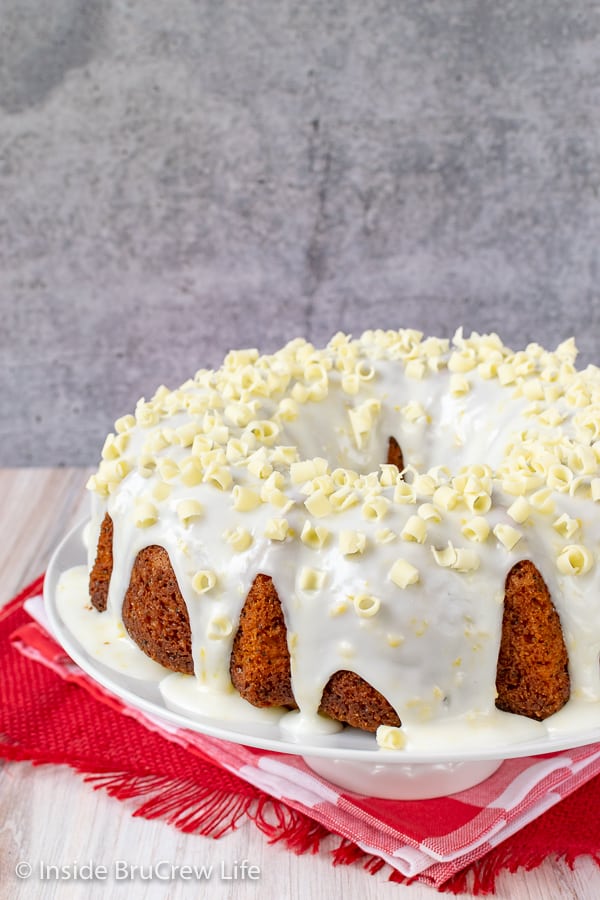 Over the years things like these Lemon Coconut Cupcakes and these Mini Lemon Cheesecake Pies have turned me into a lemon lover. Ok, so maybe that's stretching it slightly.
Peanut butter cups still get my first vote every time. But at least I don't shy away from using lemon anymore, so there's that.
Before we moved last month, I challenged myself to use up as many pantry items as I could. Mainly because I didn't want to pack them and transport them to the new house.
I had a lone lemon cake mix that I had picked up months ago just because I wanted a lemon bundt cake. The poppy seeds were an extra addition at the last moment. Mainly because I realized I had two containers in my spice bin. The white chocolate curls on top were also a happy find at the back of the sprinkles bin.
It was a good feeling to be able to use what I had on hand instead of running to the store. Maybe I should bake like that more often...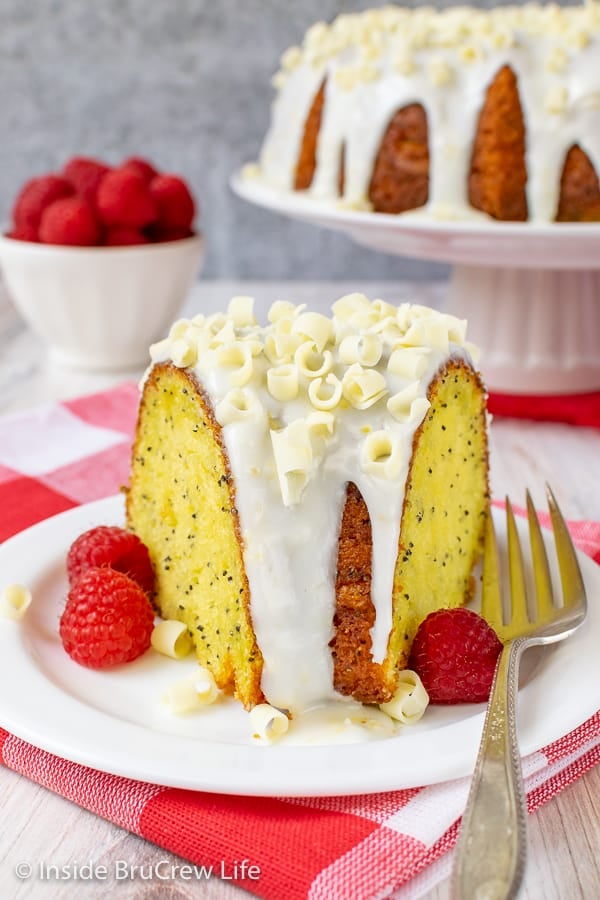 Let's talk about making a bundt cake. They are so much fun to bake and share because of their shape and presentation. I can honestly say bundt cakes are probably my favorite type of cake to bake.
Baking a bundt cake does come with a few challenges though.
Tips for baking the perfect Bundt Cake:
Grease the pan thoroughly. Use butter or shortening to coat the entire surface inside the pan. Make sure you get in every crevice or cranny. Then sprinkle flour in the pan and tap and rotate the pan until there is a thin layer all over. Flip the pan over and tap out the excess flour. An easier method is to use a nonstick baking spray. Be sure to spray a generous coating all over the inside.
Fill the pan. Too little batter will result in a thin cake, but too much batter will result in a mess. A good rule of thumb is to fill the pan ⅔ full. PRO TIP: Fill your pan with water, counting the cups as you go to see what size pan you have.
Do not open the oven door until it is time to check for doneness. The loss of heat can result in the cake falling if it is not finished baking.
Cool the cake in the pan for a short time. Most cakes need 10-15 minutes in the pan to cool and release from the sides of the pan. If you allow the cake to cool completely in the pan, the cake can potentially stick to the pan and not fall out in one piece. Tap the pan gently on the counter, then place a plate on top of the cake. Slowly flip the cake over and shake gently until you feel the cake fall out. Lift off the pan and let it cool.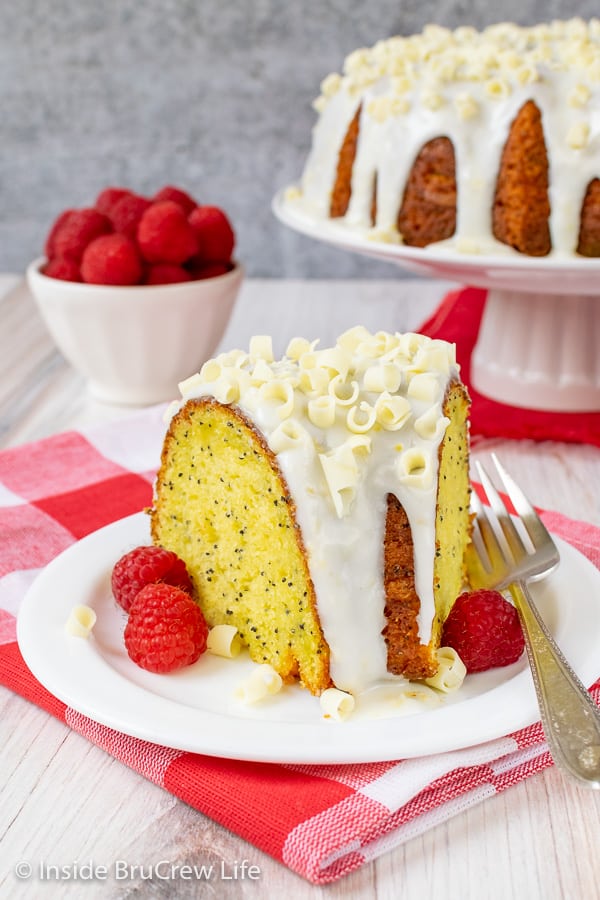 How to make a Lemon Poppy Seed Bundt Cake:
Prepare the bundt pan and set it aside. (full recipe at bottom of post)
Place the cake mix, pudding mix, eggs, oil, sour cream, and milk in a mixing bowl. Beat on low 1 minutes; then beat on medium for 2 minutes.
Stir in the poppy seeds gently and pour the batter into the pan.
Bake and cool as directed.
Whisk together the lemon glaze ingredients and spoon over the top of the cooled bundt cake. Sprinkle with white chocolate curls, if desired.
How many slices will a bundt cake yield?
Most bundt cakes will serve 12-16 people, depending on how small or large you cut the slices and how large your pan is.
Other ways to decorate a lemon bundt cake:
Powdered Sugar
Cream Cheese Frosting
Sprinkles
Lemon slices
Fresh Berries - raspberries, blackberries, blueberries, strawberries
Can I freeze a bundt cake?
Yes, you can. Bake the cake ahead of time and make sure it is completely cool. Wrap the unfrosted cake in two tight layers of plastic wrap before placing it in the freezer.
When you are ready to serve the cake, remove it from the freezer and let it thaw at room temperature while still wrapped. Add the glaze and toppings before serving.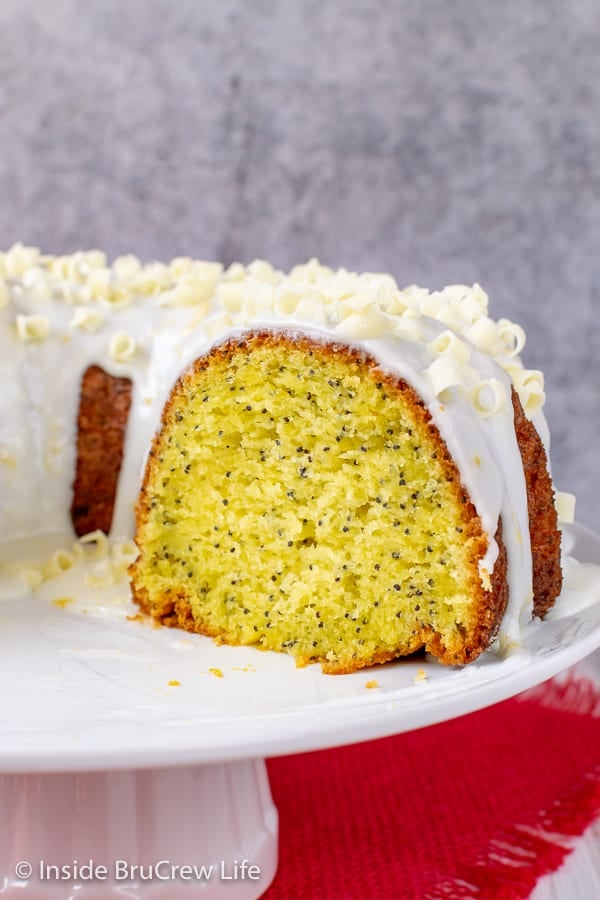 More easy bundt cake recipes you may like:
Other lemon desserts: