This creamy Chocolate Coconut Poke Cake will get rave reviews from the coconut lovers in your life. Make a pan and watch it disappear!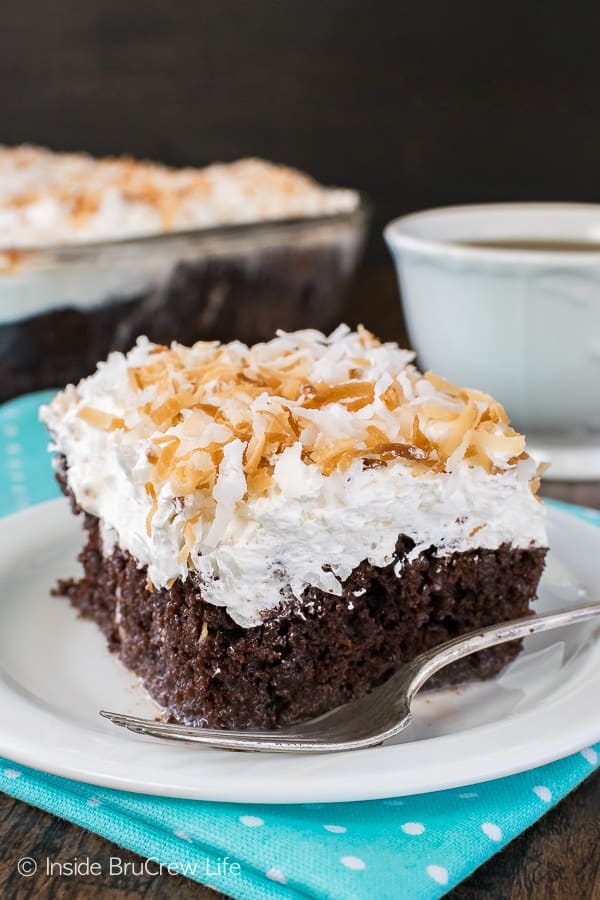 (photos updated April 2017)
You know the days...the ones that make you want to consume chocolate at an alarming rate? Well, it was that kind of weekend. And not because it was Easter, and the bunny brought lots of chocolate.
First thing that made me want to dive into the chocolate bowl was doing a research paper with the 2nd grader over a holiday weekend. Yes, we knew about it for a couple of weeks and yes, we could have (should have) worked on it before.
We did actually do the research part of it last week, so all we had left to do was write it in his own words. I now understand the phrase "like pulling teeth". Sheesh!!! He wanted to take breaks, wanted to play with the kids, wanted to eat something, and wanted to not do it at all. I had to be the mean mom and make him sit at the desk for a whole hour.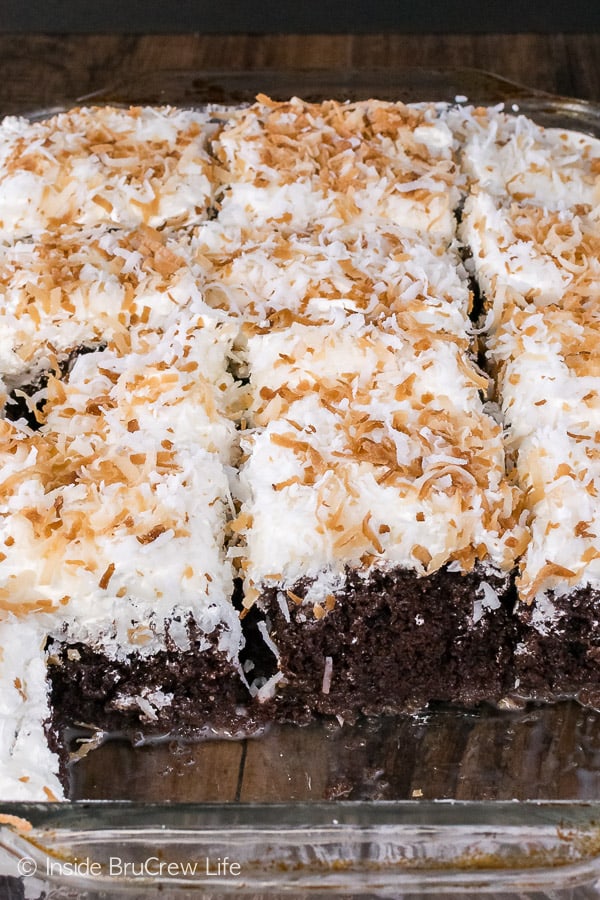 Then we started getting ready for church Friday night. Not a big deal...until our daughter started to get dressed. Oh my word!!!The first dress "made her look fat", and there was no convincing her otherwise!
The next dress she just "didn't like it". There were many tears and outbursts until she chose another dress. And she is only 10, so I'm getting skeeered for the teen years.
Bring on more chocolate!!!!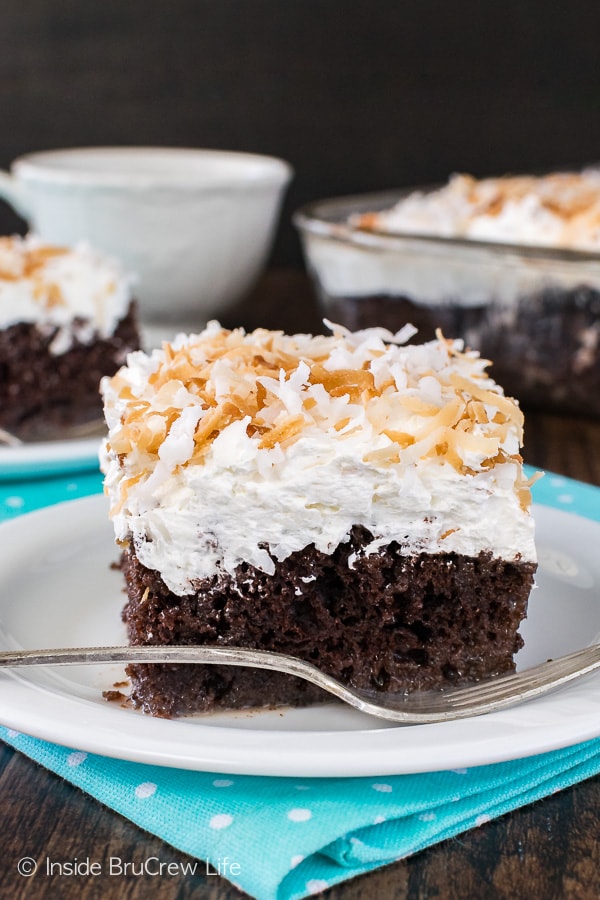 Fast forward about 4 hours, and we are now home from church. I walked into our bedroom and was confronted with the wrappers to all the Easter candy!
I swear our dog goes into EVERY room and sniffs food out. She finds anything and everything that is food if it isn't put up. I had the kid's Easter stuff in tied up plastic bags by my bed. Bad idea!!!! She tore the bags apart and ate every single piece of chocolate!!! AAAACCCCKKKK!!!
I needed that chocolate!!!!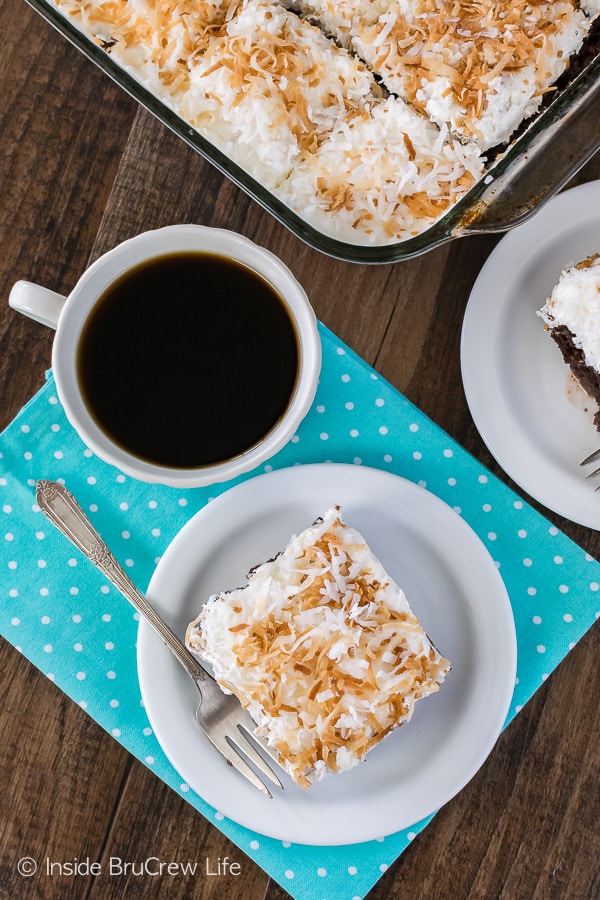 Now just so you know, she is fine. She only ate three small cheapy chocolate bunnies and a few Reese's Pieces. But oh, I was SO not happy with her!!!!
The last thing that makes me want to bury myself in chocolate. I am officially on the downward slope to 40!!! Today is my birthday, and I am now 36!
Chocolate needs to be a part of today for sure. Maybe I should make another yummy chocolate coconut cake? If you have had a bad day or WEEKEND, I suggest this yummy cake. It will make all the trouble melt away!!!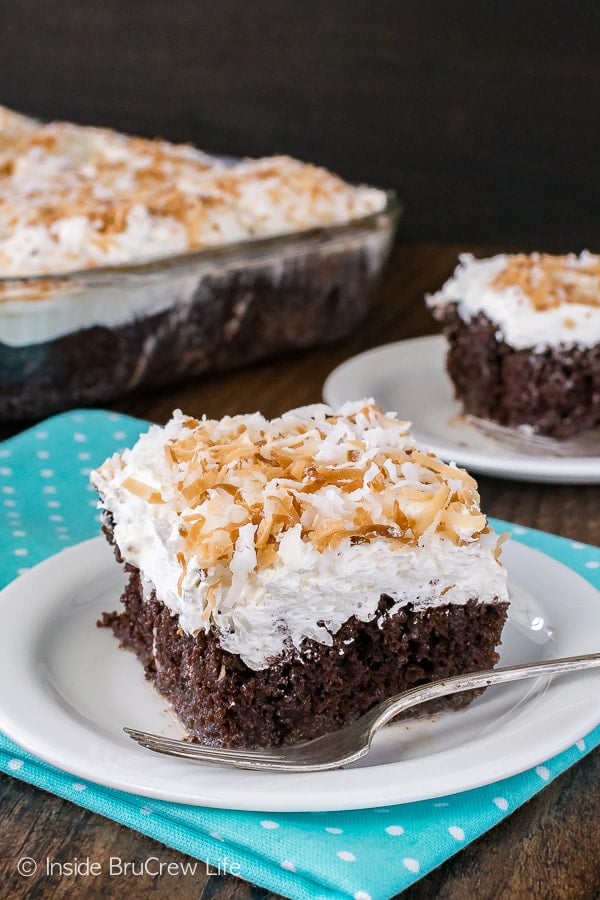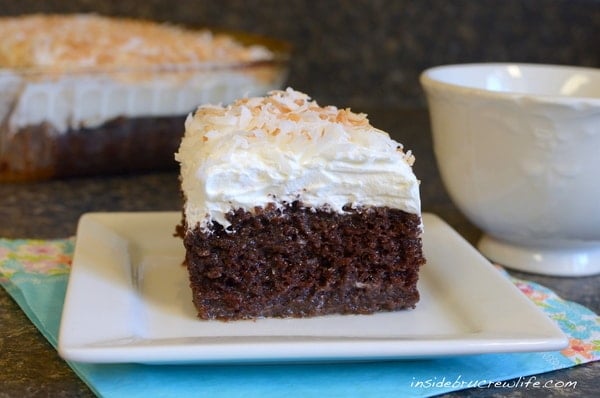 (original photo from April 2012)