Add these Chocolate Banana Marble Muffins to your morning routine. A sweet gooey breakfast muffin is so hard to resist.
*Stevia In the Raw® sponsored this post. I am partnering with them to create recipes for the fall program. All opinions expressed are 100% my own.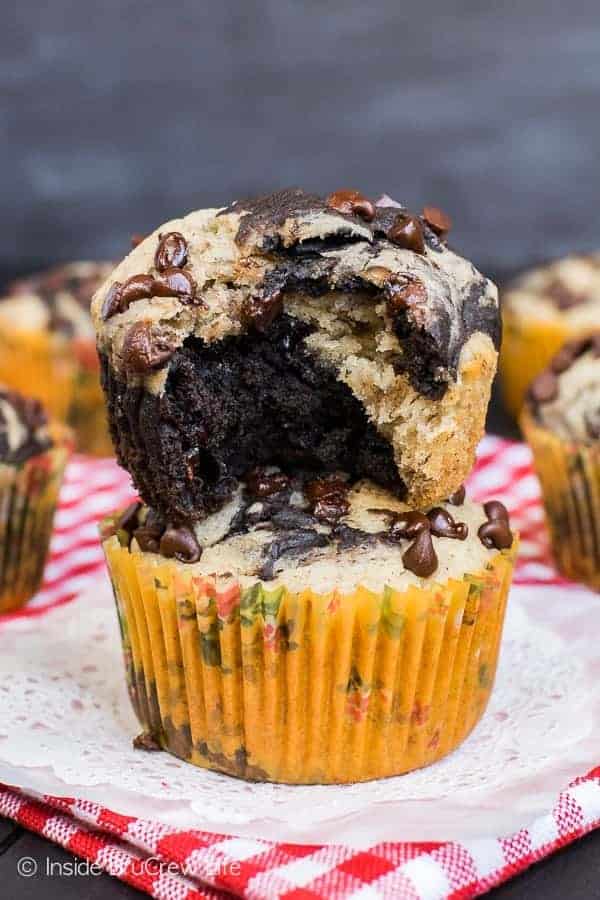 CLICK HERE TO PIN THE RECIPE FOR LATER!
We are slowly getting back into a good routine now that school is back in session. I love how relaxed and lazy we get over the summer months, but by the end of July I start to crave a routine and a schedule. There is something comforting about knowing when and what you will be doing.
Our daughter has picked up on those habits as well. She loves to know what the plan is going to be for the day or weekend. I also noticed that she is very particular about how things have to be organized and put together.
When we did our school supply shopping last month I noticed that she was very meticulous about how things were placed in her binders and backpack. Now if only I could get that to carry over to her bedroom. Most days it looks like a tornado has blown through there.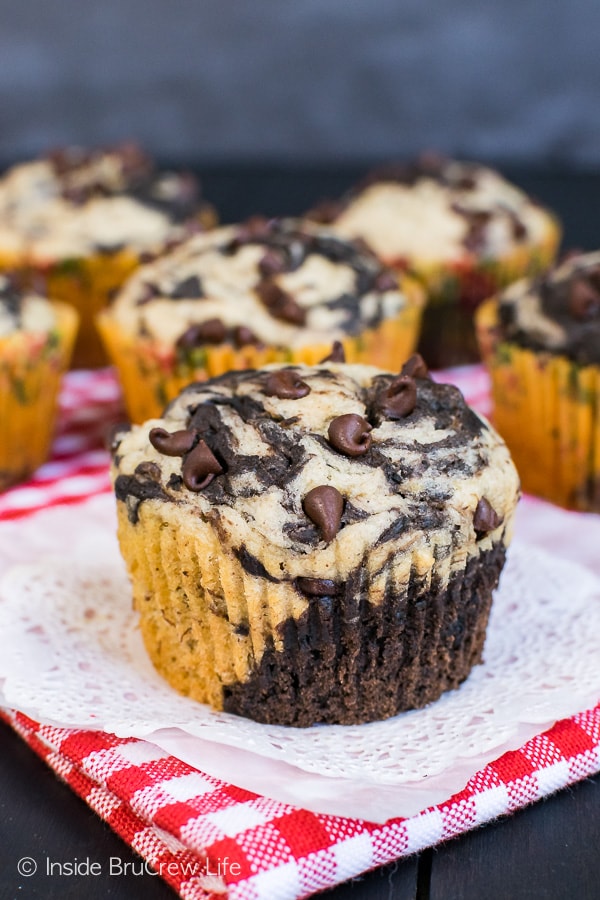 Now that the kids are back in school, I am ready to start baking up a storm. Not that I really ever stopped baking, but during the summer months I definitely slow down. A little bit anyway. A pan of homemade chocolate chip brownies is usually a must have every week.
This fall I am so excited to partner with Stevia In the Raw® to show you how you can continue to bake goodies while saving up to 700 calories for every cup of sugar that is replaced with Stevia In the Raw® Baker's Bag. Replacing half the sugar in your recipe with this product is such an easy way to to cut out unnecessary calories.
Our kids have definitely inherited my "sweet tooth", so I am always looking for ways to bake with less sugar in the treats that I make for them.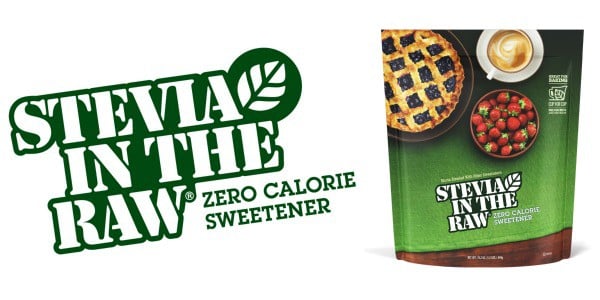 This zero-calorie sweeter is perfect for all your baking and cooking needs. It contains an extract that comes from the sweet leaves of the stevia plant, and one cup of Stevia In The Raw® Baker's Bag has the same sweetness as one cup of sugar, so it measures one for one, just like sugar.
Look for it in your local grocery store in the baking aisle.
When you are baking with it though, it is recommended that you only replace half the sugar in order for your baked goods to brown, rise, and caramelize. A little bit of sugar is necessary in baking to achieve the best results.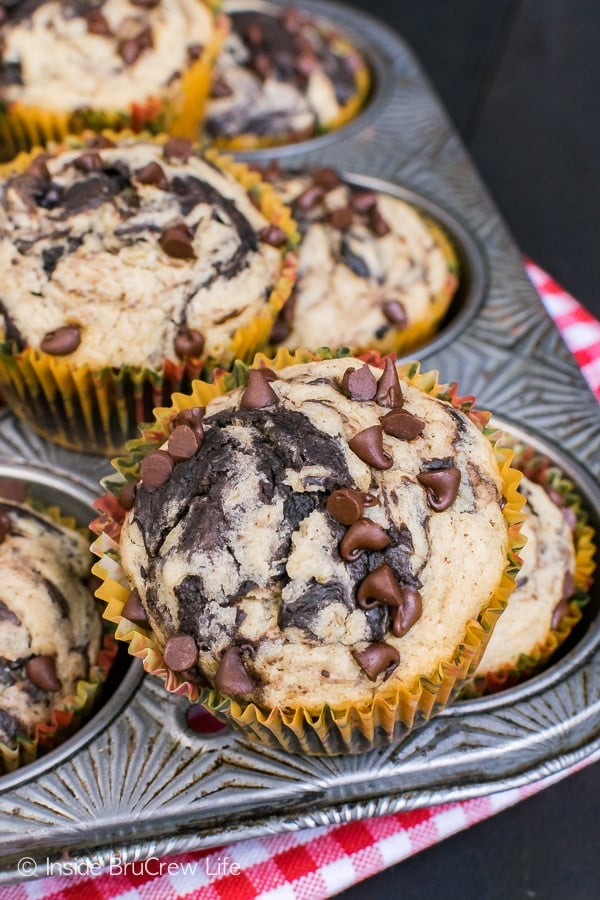 We like to make muffins each week because they are easy to grab in the morning for breakfast or in the afternoon for an after school snack.
I couldn't wait to modify one of our recipes with some of the Stevia In the Raw® Baker's Bag that they sent me.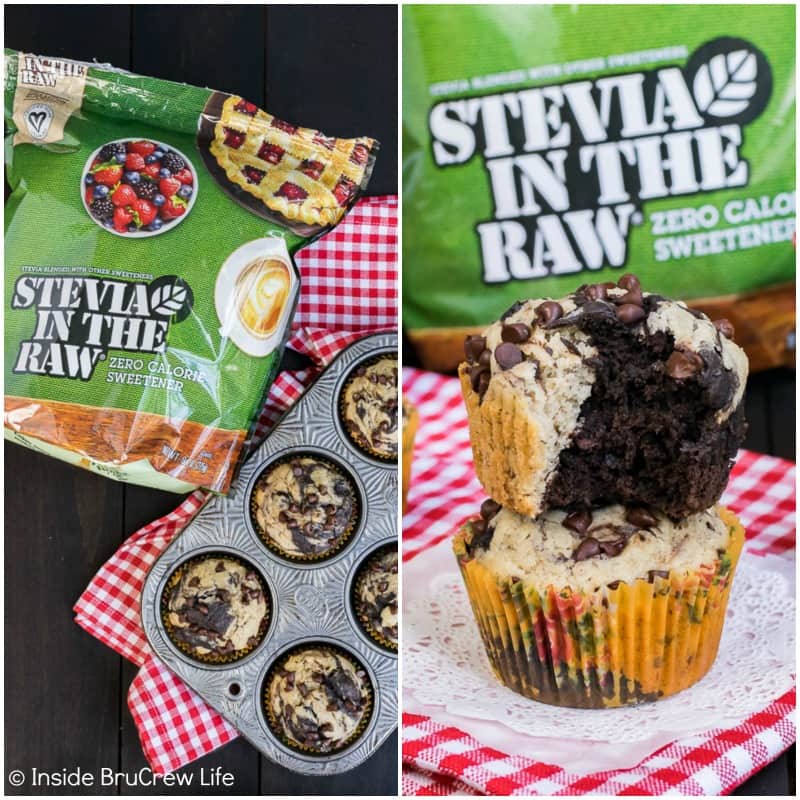 We have a glass container on our counter that holds bananas, apples, and oranges. It's important to us that the kids learn to reach for healthy sweets over the cookies and cupcakes that I bake regularly. But most weeks there are always extra bananas that have reached their prime.
Of course, that just means another batch of muffins or bread will be happening soon. It's always a fun challenge for me to use up these bananas creatively.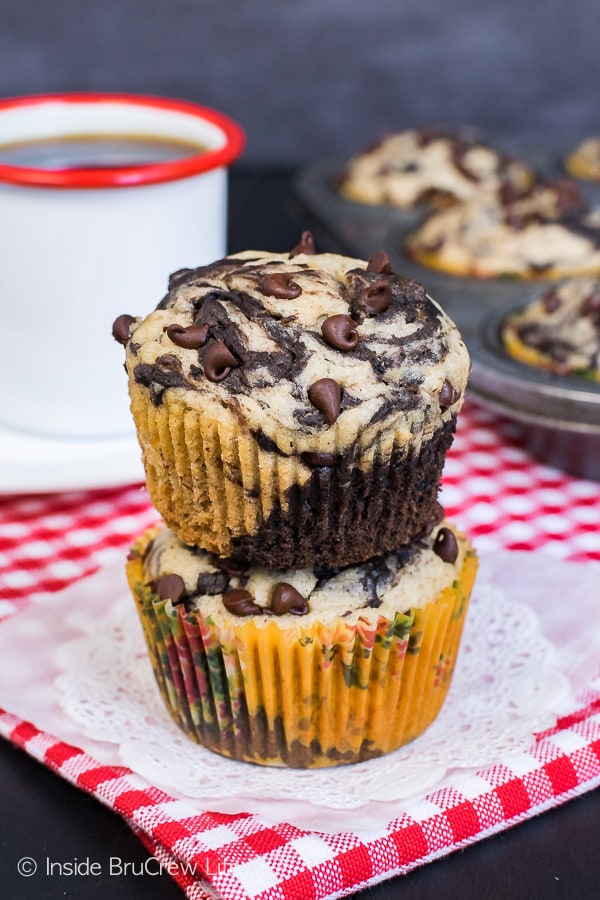 This week I updated and tweaked these caramel mocha chip banana muffins. This new recipe creation turned out to be the best banana muffins that have ever come out of my kitchen!!! I realize I say that all the time...
Seriously though, these muffins are my newest favorite breakfast treat. My daughter agreed that this recipe was a keeper, and that we need to bake a few more batches this fall.
Here are a few tips for you to make your own batch of delicious chocolate banana marble muffins:
Set your butter out earlier in the day. It is easier to cream soft butter with the Stevia and the sugar.
Make sure your bananas are extra ripe. The browner the better is key when you are making baked goods.
Beat together all the wet ingredients first, then stir in the dry ingredients just until combined. Do not over mix your batter.
Divide the batter evenly into two bowls. You should have about 2 cups in each bowl.
Add cocoa powder and mini chocolate chips to one bowl and mix until combined.
Spoon the chocolate batter into one side of 18 muffin liners. The batter will be thick so it will stay on the one side easily.
Spoon the banana batter evenly into the other side of the liners.
Use a toothpick to gently swirl the two batters together.
Sprinkle a few extra chocolate chips on top because it just makes them look a little prettier. More chocolate is always a plus in my book. Can I get an amen on that?
Bake for 17 to 18 minutes. Do not over bake the muffins! Remove and let them cool a few minutes before devouring.
Store leftover muffins in a tightly sealed container after they cool.
Reheat each individual muffin for 10 seconds in the microwave for a gooey chocolate breakfast treat.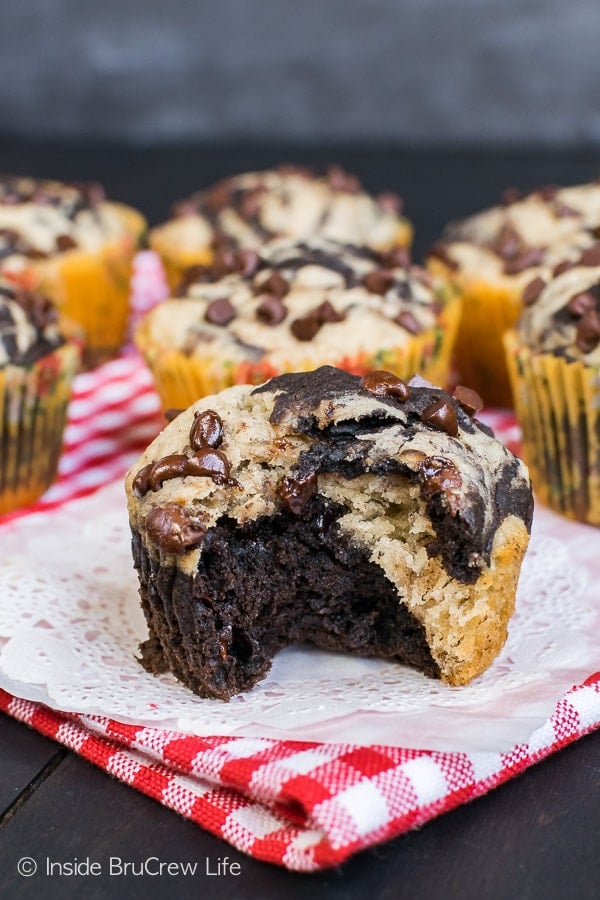 Connect more with In the Raw®:
Facebook | Instagram | Pinterest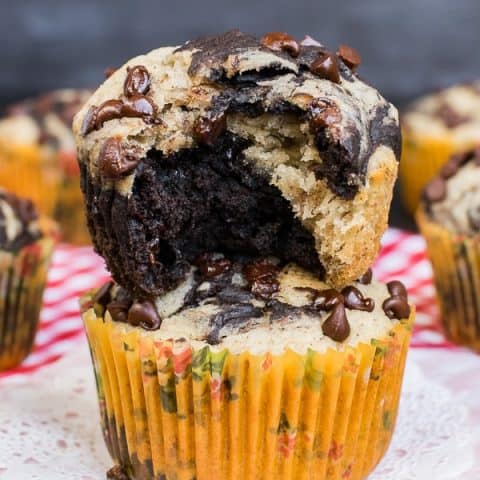 Chocolate Banana Marble Muffins
These Chocolate Banana Marble Muffins have swirls of banana and chocolate goodness in every muffin. Serve them warm for an even better breakfast treat.
Ingredients
1 cup butter, softened
½ cup Stevia In the Raw® Baker's Bag
½ cup sugar
1 egg
¼ cup Greek yogurt
1 ½ cups mashed ripe banana
1 teaspoon vanilla extract
2 ¼ cups flour
¼ teaspoon salt
1 teaspoon baking powder
1 teaspoon baking soda
1 teaspoon cinnamon
½ cup dark cocoa powder
½ cup miniature chocolate chips + 2 Tablespoons
Instructions
Preheat the oven to 350 degrees. Place 18 paper liners in two muffin tins.
Beat the butter, Stevia In the Raw® and sugar until creamy.
Add the egg, yogurt, banana, and vanilla and beat again.
Stir together the flour, salt, baking powder, baking soda, and cinnamon. Slowly beat the dry ingredients into the butter mixture. Do not over mix.
Remove two cups of the batter and place into another bowl. Stir the cocoa powder and ½ cup mini chips into this batter.
Spoon the chocolate batter evenly into one side of the cupcake liners. The batter will be stiff so it will stay put.
Spoon the regularly banana batter into the other side of the liners. Use a toothpick to gently swirl the two batters together.
Sprinkle the remaining mini chips on top of the muffins. Bake for 17-18 minutes. Do not over bake. Remove and cool slightly before serving.
Store the leftover muffins in a tightly sealed container. Reheat each individual muffin for 10 seconds in a microwave to make it warm and gooey.
Recommended Products
As an Amazon Associate and member of other affiliate programs, I earn from qualifying purchases.
Nutrition Information:
Yield:

18
Serving Size:

1
Amount Per Serving:
Calories:

222
Total Fat:

12g
Saturated Fat:

7g
Trans Fat:

0g
Unsaturated Fat:

4g
Cholesterol:

38mg
Sodium:

214mg
Carbohydrates:

32g
Fiber:

2g
Sugar:

10g
Protein:

3g