Chocolate Peppermint Popcorn: Chocolate and peppermint coated popcorn with Peppermint Oreo cookies and Peppermint M&M's is one snack mix you will not want to miss. It is so fun, bright, and tasty!
*Be sure to sign up for the BruCrew email to get these delicious recipes in your inbox.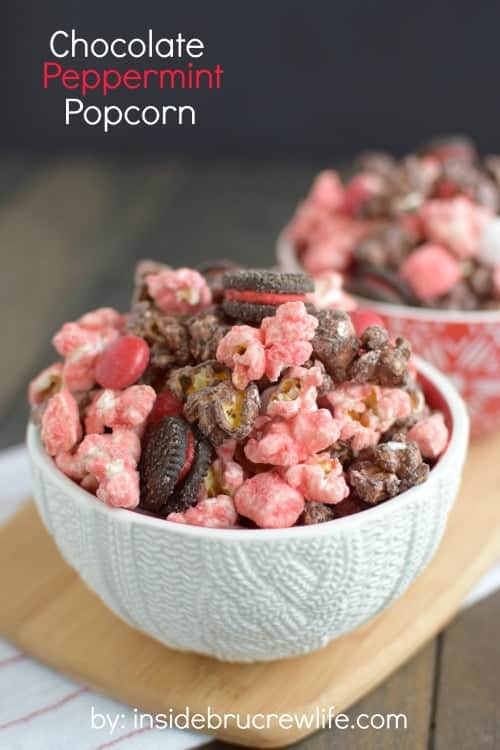 A few weeks ago my daughter had to do a fun project for Home Ec. They had to bring a party favor related to the holiday that they were assigned.
How perfect was it that she got Christmas for her project?!?!?!
With all the fun I am having creating cute food packages, we knew we could do something fun and easy for her project. The email from her teacher said to use things from around the house to create this food gift.
How convenient was it that I had already bought some cute stickers, bags, and bows at Michael's. I really had no idea how they were going to be used when I bought them...they were just too cute to pass up, so they came home with me.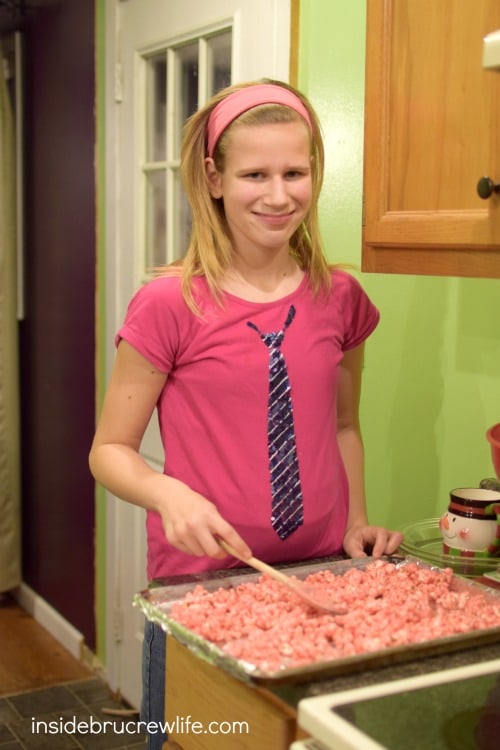 We decided that chocolate covered popcorn would be a fun and easy treat to fill our bags with. My cute little assistant was in charge of drizzling and spreading the popcorn in the pan.
Half of the popcorn got melted chocolate drizzled over it, and the other half got peppermint chocolate drizzled on it. Yup, you guessed it! My beloved Peppermint Crunch Chips were used again. Nope, I'm not even close to being tired of them! Seriously, they are so good!
I'm pretty sure eating handfuls of these chips are totally sabotaging my workouts...but again, totally worth it!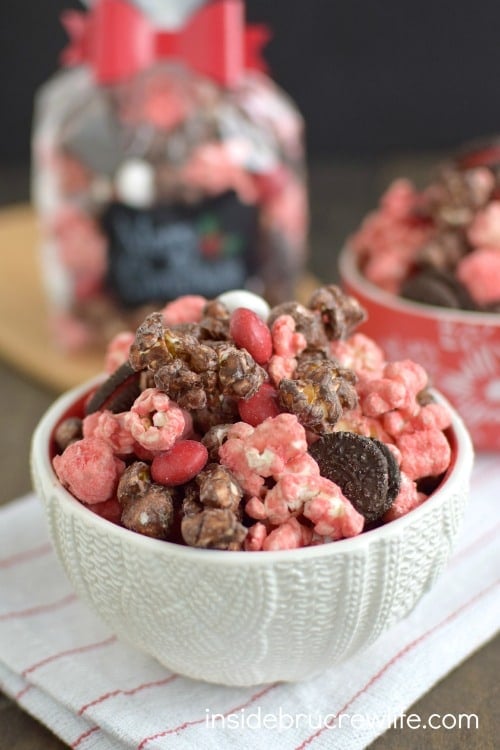 Now I have been getting quite a few emails from you guys asking where to find these amazing Peppermint Crunch Chips. I have bought them at Walmart and Target this year. At Walmart they are in the holiday baking section that is in the middle of the aisle. In Target they are hiding on the bottom shelf of the regular baking aisle...well, at least that's where they are in mine. If you find them somewhere else, let me know, so I can relay that to everyone looking for them.
If you absolutely cannot find them, go ahead and use white chocolate chips with crushed candy cane added to it after you melt it.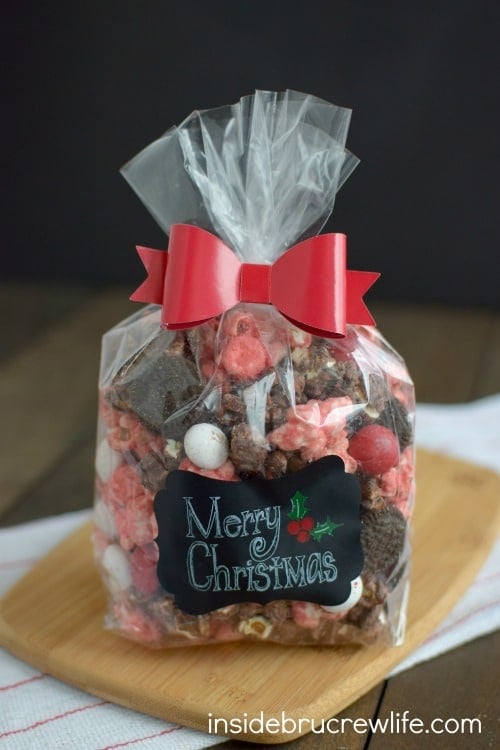 Divide your popcorn and marshmallows into 2 bowls. Cover one bowl in melted chocolate and one bowl in melted crunch chips. Spread each flavor of popcorn on separate lined baking sheets. Refrigerate for about 5 minutes, then have your assistant remove the pan and break into pieces. Stir in the mini Peppermint Oreo cookies and Peppermint M&M candies.
Fill plastic treat bags with the popcorn mixture and tie closed with a small piece of twine. A little Merry Christmas chalkboard sticker and paper bow finish off the festive package.
Now who wouldn't want to get a bag of this goodness? Cute and delicious and ready in no time at all! Sounds like a winning party favor to me!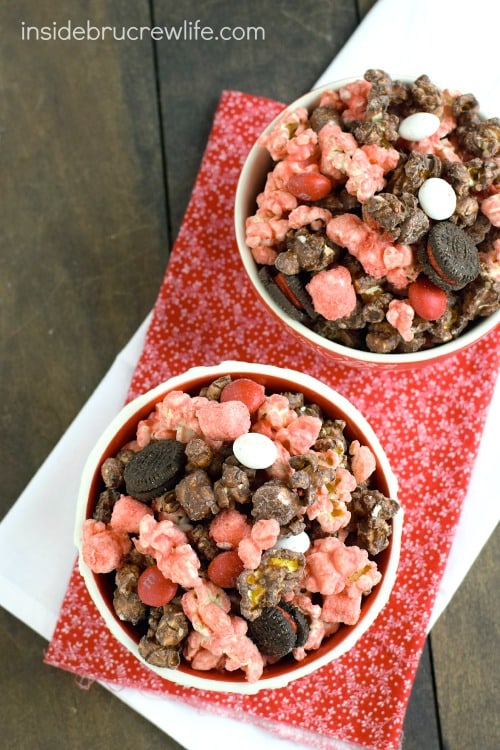 Stay up to date on all the BruCrew baking here:
FACEBOOK | PINTEREST | GOOGLE+ | TWITTER | INSTAGRAM | BLOGLOVIN
Sign up to receive an email in your inbox for each new recipe:
EMAIL SUBSCRIPTION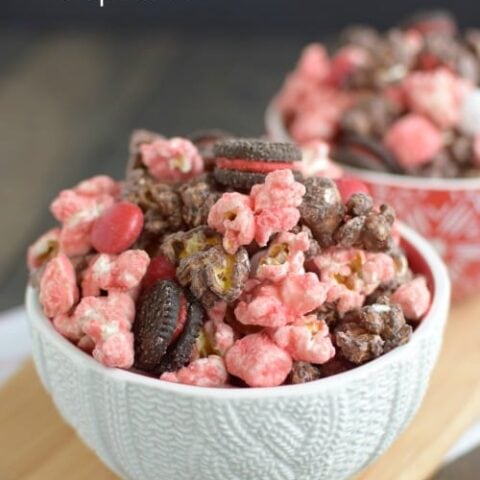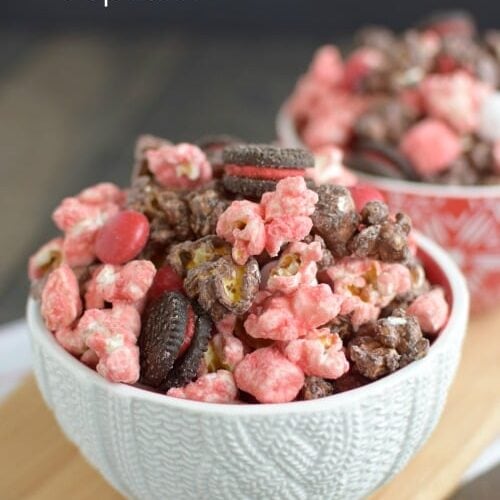 Chocolate Peppermint Popcorn
Chocolate and Peppermint are a great way to coat popcorn to make it festive for the holidays. Extras like marshmallows, Oreos, and M&M candies give it a fun sweet twist.
Ingredients
8 cups popped popcorn
2 cups miniature marshmallows
1 cup Andes Peppermint Crunch Chips
2 teaspoons shortening
1 cup chocolate melting wafers
1 - 9.9 oz. bag Peppermint M&M's
2 cups mini Peppermint Oreo cookies
Instructions
Remove all seeds from the popcorn. Divide the popcorn and marshmallows into 2 large bowls. Set aside.
Place the peppermint crunch chips and 1 teaspoon shortening in a microwave safe bowl. Heat for 1 minute and stir. Heat again for 30 seconds. Stir until melted and creamy. Pour over the popcorn in one bowl. Toss and stir the popcorn until completely coated.
Spread out the coated popcorn on a lined cookie sheet. Refrigerate 5 minutes. Break into pieces.
Repeat with the chocolate melting wafers and remaining popcorn. Refrigerate 5 minutes. Break into pieces.
Place both popcorn mixtures, M&M's, and Oreo cookies in a large bowl. Keep tightly sealed. Makes 12 cups of popcorn.
Notes
*I like to use shortening to thin my chocolate when it melts, so that it will drizzle and coat the popcorn easier. Feel free to leave it out if you prefer. Make sure you do not over heat your chocolates and scorch them.
Nutrition Information:
Yield:

12
Serving Size:

1
Amount Per Serving:
Calories:

315
Total Fat:

15g
Saturated Fat:

8g
Trans Fat:

1g
Unsaturated Fat:

6g
Cholesterol:

9mg
Sodium:

118mg
Carbohydrates:

41g
Fiber:

4g
Sugar:

26g
Protein:

5g
Nutrition facts are an estimate and are not guaranteed to be accurate. If you need special diet advice, please see a registered dietician.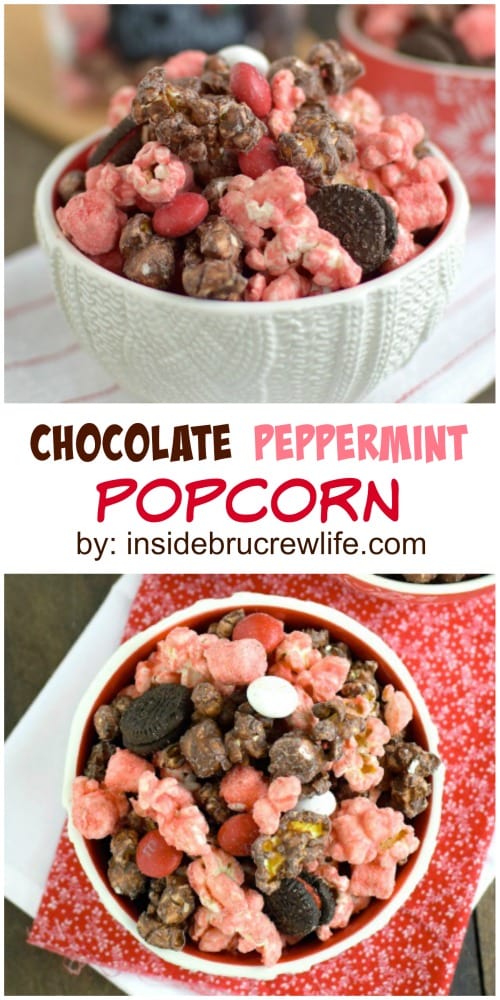 More fun chocolate covered popcorn treats that would be great to make as gifts: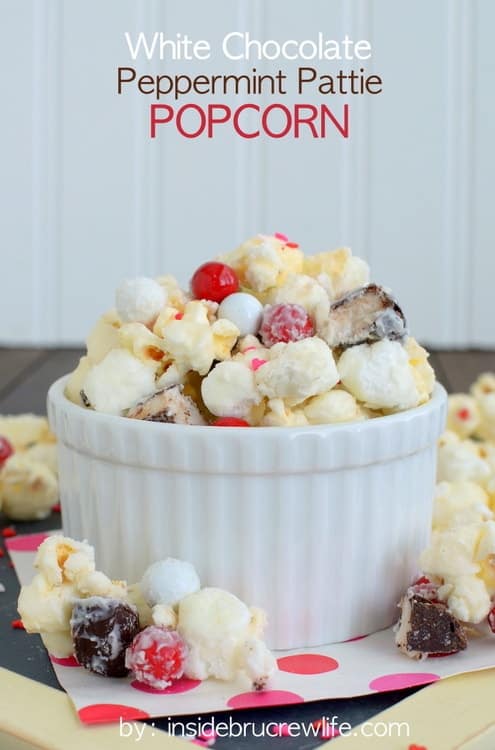 White Chocolate Peppermint Pattie Popcorn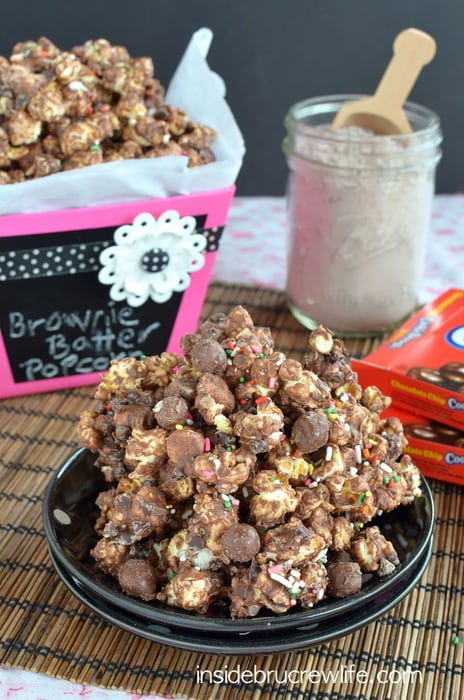 Brownie Batter Cookie Dough Popcorn